On Taylor Swift's 'Midnights' and the beauty of staying the same.
On Taylor Swift's 'Midnights' and the beauty of staying the same.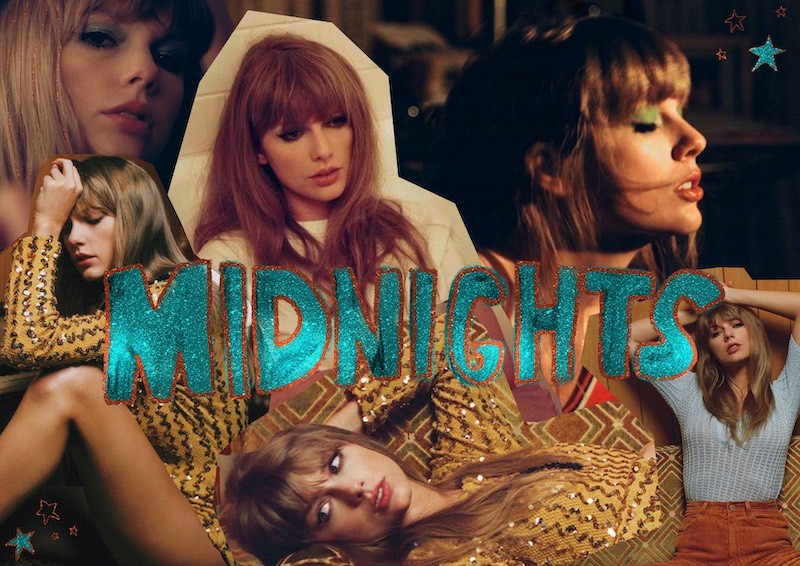 In 2012, Taylor Swift tweeted: "I think it's important that you know that I will never change, but I'll never stay the same either." Ten years later, she embodies this mindset on 'Midnights'.
In the 24-hour media cycle world that we live in, everyone wants an instant reaction. And everyone moves on just as quickly. There's beauty in sitting with something — letting it seep in and linger — rather than trying to define, conceptualise, or make sense of it quickly. It's within that reflection, not reaction, that Taylor Swift is at her best. Feeling her feelings, regardless of whether it's emotions felt through nostalgia or something she's experiencing in the present day, is how she makes her thoughts tangible. 'Midnights' is a collection of 13 (or, if we're listening at 3am, 20) songs that represent those moments.
At the time of writing, 'Midnights' will have been the soundtrack of people's lives for 2 full weeks. In those 14 days, it broke records after Taylor was the first artist to take over the entire Top 10 of the Billboard Hot 100 and sold over 1.6 million physical records. Working closely with Jack Antonoff and his deft touch on expressive, colourful sonics, Swift navigates everything from choosing a career over love to learning how to shimmer again after being taken for granted in a relationship. The themes are exactly what to expect from Swift after writing, recording, and releasing 10 studio albums, but what feels unique to 'Midnights' is how predictable it is in the best way — but only if you've grown up alongside her.
At first listen, 'Midnights' sounds like the love child of '1989' and 'reputation', dripping in electro-infused synth pop and tied together with sprawling soundscapes. 'Lavender Haze' poses the statement that Swift asks throughout the record — meet her at midnight — and solidifies the album's synth and sonic identity. Aligning themselves with the aches and anguish felt in the early hours of the morning, Swift and Antonoff lean into darker tones. Songs like 'Maroon' and 'Midnight Rain' see Swift close her eyes and place herself in past relationships and the lasting imprint they had on her, a "real f*cking legacy," in her own words. 
After 10 albums and well over a decade in the industry, Swift has had to constantly reinvent herself by pulling at new facets in her artistry in order to stay "shiny" and relevant. On 'Midnights', Swift stops picking herself apart to find fresh attributes in order to appease the industry. Instead, she reflects and dives into her own self-concept. She knows she's a calculated 'Mastermind' and, in an industry that is always looking for the next best thing, that's not something she should be ashamed of, singing "I'm only cryptic and machiavellian because I care."
As a lover of self-referring to her past work, Swift touches on themes explored on songs like 'Stay Stay Stay' and 'All You Had To Do Was Stay' on 'Question…?' and the toxicity of an imbalanced relationship on 'Dear John' and 'Would've Could've Should've.' The most intimate moments on the record, like 'Snow On The Beach' with Lana Del Rey and 'Sweet Nothing,' which was penned with Swift's beau, show that even the simplest of lyrics by Swift can be tied together and felt deeply. The stand-out of the slow musing tracks is 'Labyrinth,' a song that charts Swift's fear of letting go and entering a new relationship. On 'Labyrinth,' each synth pulse sounds as if Taylor is learning how to get out of the labyrinth of her mind and trust someone's pure intentions. 
Even the sillier lyrics — "Karma is a cat / Purring in my lap 'cause it loves me," or "Draw the cat eye, sharp enough to kill a man," — are quintessential Swift. Her ability to have songs with lyrics that are the sonic equivalent of a punch in the gut, like 'The Great War' and 'Anti-Hero,' show that she contains multitudes. Her lyrics can be cheesy and cathartic and live alongside together. She said it best: embrace cringe. 
Sometimes growth isn't realised and change isn't felt until there's distance between the two points. One of the most powerful tracks on the record, 'You're On Your Own, Kid,' explores Swift's entire life, from feeling the same unrequited love she wrote about on her debut record and 'Fearless' to going back to events discussed in 'Miss Americana', her doc where she discussed her struggles with disordered eating ("I gave my blood, sweat, and tears for this / I hosted parties and starved my body / Like I'd be saved by a perfect kiss"). Every move she made that she first perceived to be wrong brought her to where she's meant to be, regardless of how painful the memory might be. 
As a lover of chaos, Taylor dropping 7 additional songs to create a deluxe album perfectly titled as the "3am edition" is true Swift fashion. For the fans, the deluxe songs have famously become favourites, like 'New Romantics' from '1989' and 'right where you left me' from 'evermore', and the tracks on 'Midnights (3am edition)' are no different. 'The Great War' touches on Swift's self-destructive tendencies as previously explored on 'Anti-Hero' and songs like 'Glitch' and 'High Infidelity' gives listeners a bit of context into speculated events in Swift's publicised life. 
The final track of the 3am edition is 'Dear Reader', a song where Swift pleads with a reader (or listener) to avoid going to her for advice despite her shining bright. For an album that touches on self-doubt and mistrust, 'Dear Reader' acknowledges Swift's feeling of not being good enough. It's a powerful admission by someone who, even with the perspective she has and the 10 albums worth of guidance for her fans, feels unworthy of being their lighthouse in their stormiest seas. Although it ends the album on a somber note, it proves that Swift is constantly contemplating whether she's enough for the people that love her — something every listener can relate to.
At its core, 'Midnights' is more about reflecting rather than reinventing. It might just be the record where Swift realises that she doesn't need to constantly pull at new personality strings in order to appeal to the industry that has, at times, put her through hell. She's comfortable with her life, her love, her career, and acknowledging that sometimes she's the cause of her own demise. Gone are the days where naysayers can say she solely writes about relationship drama for tabloid fodder. At times, memories might feel like weapons for Swift but they are the catalyst to everything she's become. And who she has become is something to be marvelled at. For some critics, it might be all too similar to her past work. But for those that have grown up with her — that have watched Swift go from a twangy country singer to one of the biggest popstars in the world — it's a body of work that shows her growth while still honouring the path she's walked from album to album. 
'Midnights' is available now. Watch the music video for 'Anti-Hero' below...
Load next