Laneway Festival 2016 - Part IX - Flume.
Laneway Festival 2016 - Part IX - Flume.
[All photos by Cam Downey]
The hype was real by the time Flume was ready to hit the stage. Crowds edged forward as the previous act drew to a finish and Flume's name lit up the wide screen stage set behind the electronic equipment set in the centre. A lengthly intro got everyone ready and screaming, as Flume's biggest hit 'Holdin' On' got the late night festival vibes going.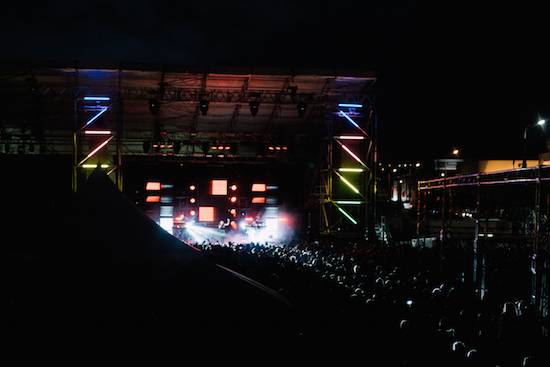 Smooth sliding into 'On Top' got the crowd bopping, along with 'Insane' featuring a space themed background in recognition of the track's featured artist Moon Holiday. Flume then mixed it up with some new content like 'Smoke & Retribution', released only four days before the festival, though everyone was into singing every word when Flume blasted out his most famous remix of Lorde's 'Tennis Court'. Sliding back and forth between content from his up and coming LP and content from his self-titled debut album, Flume closed the set with another newly released song 'Never Be Like You' with the LP's floral cover art as the stage set.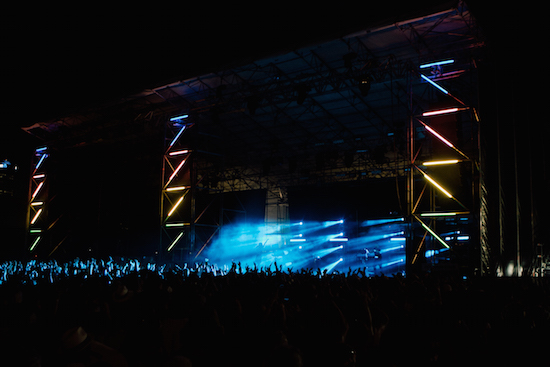 One of the greatest things about Flume's performance was his interaction with the crowd. Electronic shows can be hard to connect with when someone is hidden behind a keyboard and a laptop the whole time, but Flume seemed to be the only artist to give a shout-out to the fact that it was Auckland Anniversary Day, and he also noticed the crowd's excitement and gave praise and recognition to their efforts. Amazing stage production and phenomenally produced lighting occasionally illuminated Flume who was both in and out of his own little electronica world, smoothly drawing the hot and hyped crowds of Laneway to a close.
Load next