Coup De Main x NZ On Air | The Veils
Coup De Main x NZ On Air | The Veils
It's an exciting time to be a fan of The Veils - they've just dropped their new album, 'Total Depravity', and they've also just been announced as part of the Laneway 2017 line-up.
About playing the festival, Finn said: "It's exciting enough for us to be coming home to play in Auckland, but playing Laneway makes it doubly exciting - like winning a sail then finding out it's full of hula hoops and chocolate."
We asked Finn who else he was excited to see of the line-up, to which he said: "What a great treat this is. We are especially excited to see Refused, The Chills, Fazerdaze and Tame Impala. Outsider rackets, big and small. There is much fun to be had." P.S. Click here to read the full line-up announcement.
We spoke further to Finn about the new record below…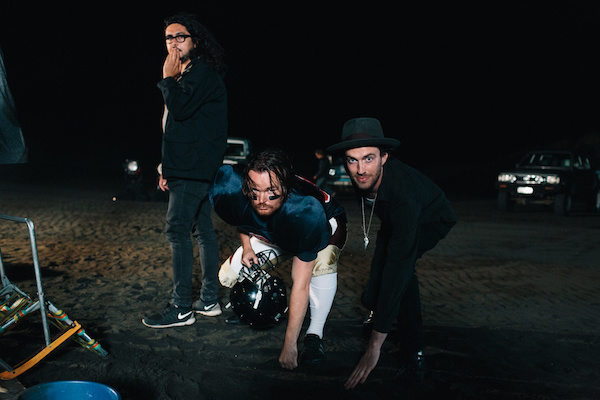 COUP DE MAIN: You've said about the stories in the album, that "some experienced first-hand, others fabricated for my own amusement." Where do you take inspiration for your writing, especially if it's something that comes not from your first-hand experiences?
THE VEILS - FINN ANDREWS: I think everything obviously comes from experience of some kind. It's more about if you closely adhere to that experience or if you extrapolate from it. There are some fairly surreal perspectives on the record, but they all feel very real to me.
CDM: How does your song-writing process work? Is it something that has changed over time and experience?
FINN: I've thought about this a lot recently and honestly I don't think anything has changed since I first wrote our song 'Lavinia' when I was 14. At that time I thought I was just lost in it because I was young and hadn't learned enough yet, but now I see it always feels sort of like that. I guess I'm just more comfortable being lost now.
CDM: How did the production process with El-P work? Was there an instant chemistry when it came to your collaboration-style?
FINN: Yeah we just got on so well, and we like such similar music it was fairly painless really. We had moments of tension, but that is normal. We both knew that ultimately we were after the same thing.
CDM: Our column is about NZ artists, so what other NZ musicians are you loving currently?
FINN: Well I've been amassing a pretty excellent Flying Nun collection over the years. I have a whole shelf of vinyl from Chris Knox, The Chills, The Dead C, The Bats, and various Shayne Carter things. More current things would be Connan Mockasin of course, James Duncan, and Tiny Ruins. You're spoilt for choice these days.
CDM: If you were to curate your own music festival, who would you want to play and what would the festival be called?
FINN: It would be called 'Fucking Long and Fucking Good' and it would just be The Veils playing for three days straight.
CDM: What's the most despicable thing you've ever done?
FINN: I would of course like to think I've never done a truly despicable thing, but then again you don't always know...
CDM: If you could pick any five people (living or dead) to be in your entourage, who would you choose?
FINN: The dead ones would certainly be the most fun to go out with. I'd go, Screamin' Jay Hawkins, Hunter S. Thompson, Elvis, Whitney Houston and Johnny Cash.  
CDM: Who is your most famous fan?
FINN: I really have no idea.
CDM: Do you believe in magic?
FINN: I believe in currently unexplainable things, magic can get dicey.
CDM: What is your spirit animal?
FINN: I went to a commune with my parents when I was a kid and everyone else got given cool spirit animals like tigers and panthers. I got a mouse.
CDM: How long could you go without talking?
FINN: So long as I could write things down I could give up talking for a VERY long time.
CDM: If you could steal one thing without consequence what would it be?
FINN: An absurdly large quantity of cash, obviously.
CDM: Have you ever written a love letter?
FINN: Of course.
CDM: What is your first proper memory, ever?
FINN: Climbing a tree with Dad.
CDM: If you were a country, what would be your national anthem?
FINN: Leonard Cohen: 'Everybody Knows'.
CDM: Stretch your right arm out as far as you can reach, what can you touch?
FINN: Unsurprisingly: cigarettes and a wide-brimmed hat.
For more from The Veils, check out:
facebook.com/theveils
twitter.com/theveils
instagram.com/finn_andrews
Watch the 'Axolotl' music video below…
Load next