Introducing: Vesperteen and his new EP, 'The Hype Is Dead'.
Introducing: Vesperteen and his new EP, 'The Hype Is Dead'.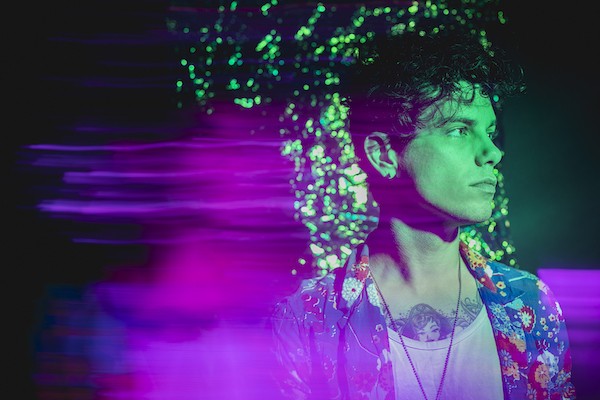 Versperteen (real name Colin Rigsby) has just released his new EP 'The Hype Is Dead', following up his self-titled EP from 2015. Prior to Versperteen, Rigsby was in House Of Heroes alongside Twenty One Pilots' Joshua Dun - who he's remained close friends with, and drums on the new Versperteen release.
About the EP, Colin said: "I had the phrase "the hype is dead" floating around in my notes for months. In the back of my mind, it had already become a theme for my next release because it represented how I was feeling about the public perception of myself as an artist. It's a sarcastic, tongue in cheek expression about my own insecurity in feeling like no one cares anymore. It's overall a satirical commentary on my own fear and the idea that all anyone gets these days is 15 minutes of "fame".
We spoke to Colin about recording the new EP, working with Josh Dun, and more…
COUP DE MAIN: The art that you've released on Instagram for each song on the EP is really cool, especially where it shows all the different locations you recorded the songs. What was it like, recording in so many different places?
VESPERTEEN: I loved doing each song in a different location. It brings a unique vibe and inspiration for each one. It keeps things fresh for the creative spirit. If I was in the same city and same room for two months, it would get a bit stale.
CDM: 'Memory' is a really emotional song, how do you think people can move on from someone that they're struggling to stop thinking about?
VESPERTEEN: I think we have to process it first. Head on. Not part of it. All of it. Deal with it properly and then letting go becomes much easier.
CDM: What was it like working with Josh Dun on 'Speed of Light'?
VESPERTEEN: Josh and I have been friends for a long time. It was cool to have a guest drummer on a song because that's a rare thing to do. And more special because he's my friend. He's an awesome drummer.
CDM: In contrast to 'Memory', 'Speed Of Light' seems like a more romantic sentiment - "hearts will beat at the speed of light." Do you believe in love at first sight?
VESPERTEEN: I wouldn't say "love it at first sight" but I do believe in a magical 'knowing' that is possible when meeting someone. I felt that way when I met my wife. Like I felt like I'd been looking for her for years and I'd finally found her.
CDM: What do you think is the strongest human emotion?
VESPERTEEN: It's gotta be love or pain, right? Maybe the strongest is felt when it's a combination of those two. Maybe a relationship ending when one person is still in love. Yeah, I'd say losing a person you love tremendously is the strongest combination of human emotions. To love, and pain just going up in flames.
Listen to 'The Hype Is Dead' EP below…
Load next