Interview: Maxwell Young on his new single 'No. 5', his songwriting, and more.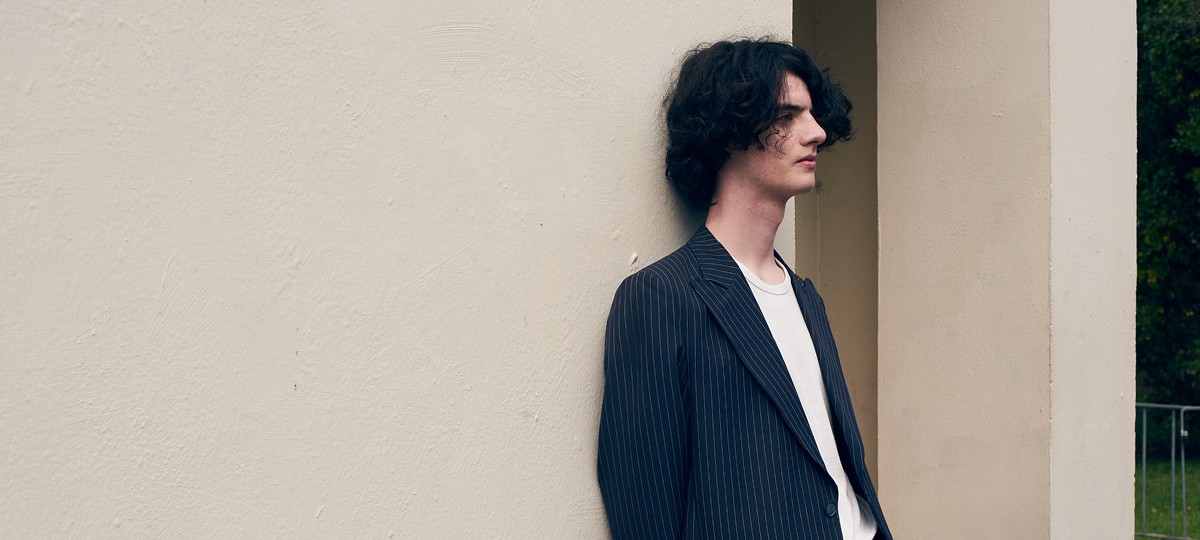 On the brand new single 'No. 5', rising New Zealand artist Maxwell Young has truly found his sound - calling it "the most cathartic & important song I've written & released."
Following the 'Only Romantics' EP from this year, and the 'Daydreamer' EP from last year, which saw him collaborate with Lontalius, Instupendo, and Clairo, Maxwell Young continues to push his sound to the next level.
We caught up to discuss reflecting on music, what's next for him, and more...
I find making music the most cathartic process when it works. If the process of making a song was satisfying enough in expressing something on my mind, it's a successful song to me. It can be really difficult to achieve that in a way that isn't contrived.
[This interview is available as part of our NZ On Air physical print zine which is free! Click here for more info.]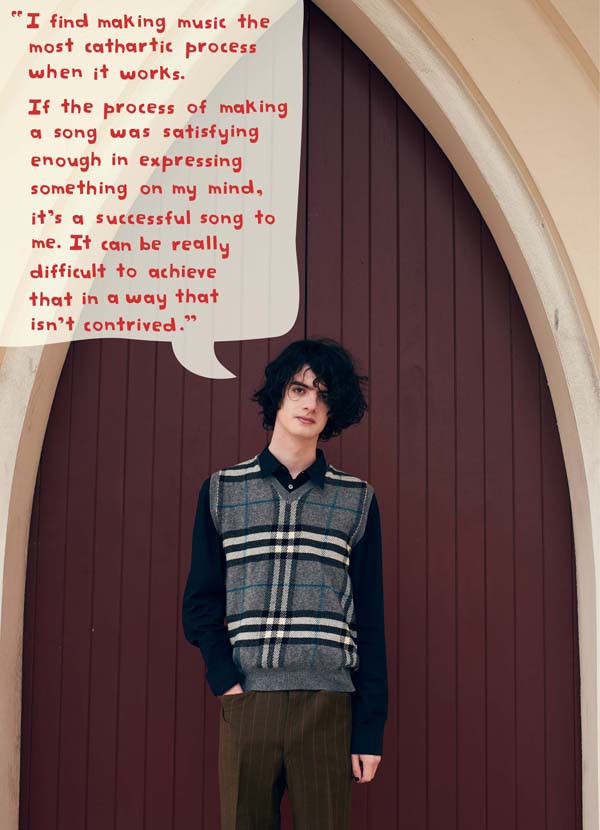 COUP DE MAIN: You told us in our first interview that your music is always a reflection of your experiences and how you're mentally dealing with them. Do you find it cathartic to release and share these experiences with people listening to the music?
MAXWELL YOUNG: I find making music the most cathartic process when it works. If the process of making a song was satisfying enough in expressing something on my mind, it's a successful song to me. It can be really difficult to achieve that in a way that isn't contrived. However, I'm often quite doubtful of my intentions with releasing things. Doubtful of whether that process is anything more than egotistical and setting myself up for disappointment, but think these are jaded feelings I've slipped into a bit this year that I can push aside. The goal is to provide soundtracks for personal moments like I constantly desire soundtracks for my life.
CDM: How does your songwriting process work?
MAXWELL: I make music every day without much of a clear process, so the songs that result in completion are the happy accidents that I've capitalised on feeling something from, before they grow old to me.
CDM: What was it like performing your new single 'No. 5' in your live show ahead of its release? Do you find it a good way to test songs out before you release them?
MAXWELL: I've performed it twice so far. Both times I've felt as if I'm having a panic attack onstage.  
CDM: The song is so good! What was running through your mind writing the song?
MAXWELL: Thank you so much! It's definitely a self-doubting song and a sort of admission of false hope. There's a line in the erratic second half where I sing, "80 years in the same room, I'm about to gouge my eyes out." This is referring to how it feels a lot of the time working away at something in endless isolation feeling like you're getting nowhere, akin to Jack Torrance in 'The Shining'.
CDM: The line towards the end, "Cause I'd thought, I'd thought / I had so much to say" - do you think that as a creative you often second-guess yourself in terms of what you have to say as an artist?
MAXWELL: Yeah absolutely. I've become so aware, as my writing is largely diaristic and about mindless love things and anxieties. I worry that it doesn't even matter if the songs are relatable if no-one's hearing them.
CDM: How have you found your recent live shows?
MAXWELL: Much better energy now that I've got a really talented band. They bring a more confident and focused energy out of me on-stage. I've been improving on talking to the audience. I used to think it'd be too corny, but now I see it as an opportunity to share the overthinking I put into my songs in a situation that's probably the least narcissistic.
CDM: Do you prefer performing live shows, or writing/working on your music?
MAXWELL: My new band makes live something I want to focus on more, but undoubtably for me, writing comes first. It's been a very strong part of how I see myself and cope with various emotions since my childhood.
CDM: Why are your visuals and creative direction so integral to Maxwell Young? Do you think of them as an extension of your music?
MAXWELL: I really do think of them as an extension, I just get sad 'bout it.
CDM: When working on music, do you have a realised idea of what you want the visual accompaniment to be?
MAXWELL: I come up with elaborate ideas all the time and try to create them, but having no budget can be really frustrating in figuring out how to execute on them. Part of why I haven't released music videos is this, however, also part is fear of my skill level in visual mediums being nowhere near my level of taste. That's what makes people give up in pursuing creative careers most of the time.
CDM: Your song 'Daydreamer' from last year saw you comparing yourself to Joseph Gordon Levitt in '(500) Days Of Summer' - do you often find yourself drawing inspiration for songwriting from other forms of pop-culture?
MAXWELL: Absolutely. Everything inspires. I pride myself on constantly researching and trying to learn more, whether that's out of imposter syndrome or genetics. I'll say that movies are fantastic for songwriting as they're all encompassing of visuals, narrative and sound, whether diegetic or not.
CDM: How have you found exploring your own production style since releasing the 'Only Romantics' EP?
MAXWELL: I've been interpreting different genres into my music, such as garage, figuring out how much to leave in and how much to leave out, and how to make things consistent but different.
CDM: How is work on your debut album going?
MAXWELL: Next I'll be releasing more singles that I've made over the year. I'm still figuring out what a Maxwell Young debut album sounds like but I'm learning a lot and won't release one frivolously.
CDM: You've collaborated with the likes of Clairo, Lontalius, Instupendo, and have fans in the likes of The 1975's Matty Healy. How do you think the internet has changed the way artists can make music and connect with other musicians? It kinda puts everyone on a level playing field.
MAXWELL: I could speak to how much I love the internet, but it's all I've known. When I was twelve I listened to Soundcloud as much as iTunes and have had the fortunate opportunity to grow up getting advice from artists I really looked up to back then, to now being able to work together with them. I think I've embarrassed myself online over my teen years as I've been so open, but it's perhaps part of what defines me.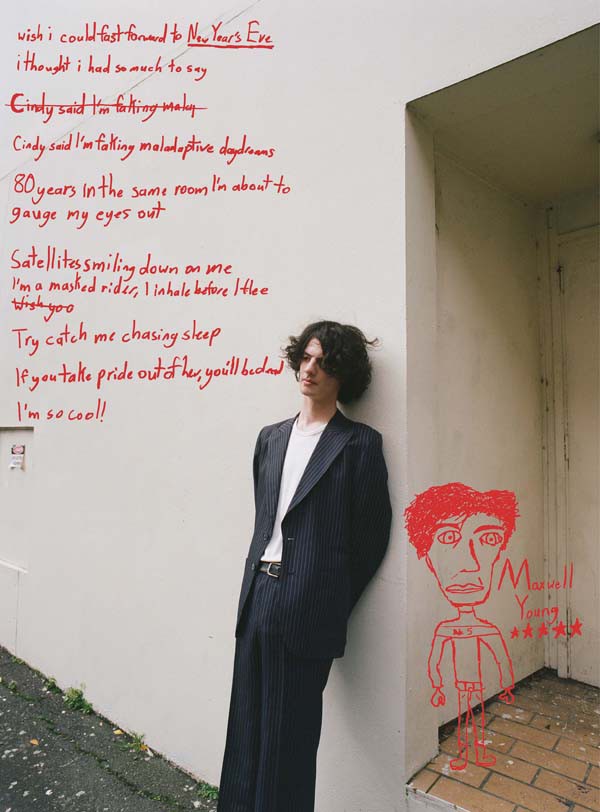 PHOTOGRAPHY BY KAREN ISHIGURO
GROOMING BY LOCHIE STONEHOUSE
Listen to Maxwell Young's latest single 'No. 5' below...