Fans review: 'MELODRAMA' FOREVER!
Fans review: 'MELODRAMA' FOREVER!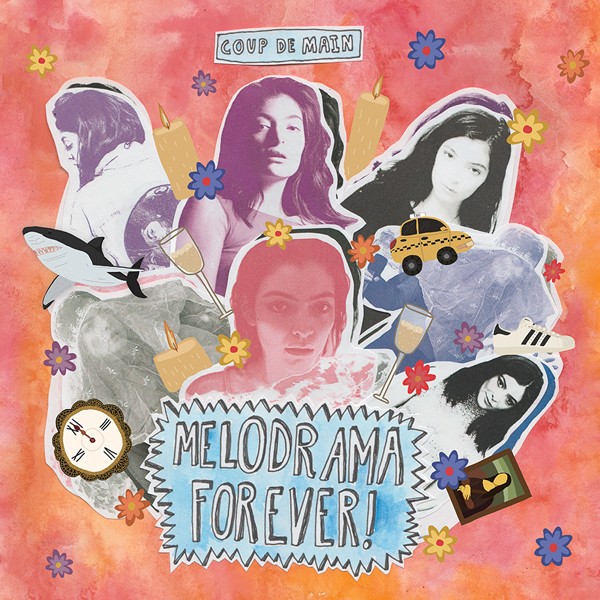 With a score of 92 out of 100 on review aggregate website Metacritic, and #1 debuts across New Zealand, Australia, Canada, and the United States, it's just a fact of life that Lorde's sophomore album 'Melodrama' is already one of this year's most beloved releases.
So, in celebration of Lorde's musical gift, we asked fans to share with us some thoughts about their favourite song on the album...

Our introduction to a new Lorde, one with a myriad of new life experiences under her belt, came in March with the release of 'Green Light'. I'll remember this particularly because this single release (and record) came at a time when I was discovering many new places and people for the first time - to hear such poised words from someone well travelled and experienced was heartwarming.
The lyrical matter of 'Green Light' introduced us to a topic well speculated by media, but never addressed by Lorde herself. The grace with which she addressed her heartbreak ("did it frighten you? how we kissed when we danced on the light up floor") gave us personal, first-hand insight - the kind of shoes you can almost step right into - the same way 'Pure Heroine' did.
There was an elevated confidence in the sound of 'Green Light': the punchy, euphoric instrumental, a tempo at which you couldn't resist to dance, and the introduction of introspective "I" pronouns that would lace the record that became 'Melodrama'. We were treated to a considerable wait before the release of 'Green Light', with promises that it would all be worth it. 'Green Light' definitely satisfied the hunger for brand new sounds and ignited the countdown to 'Melodrama'.
- Ben (@benvdub)

Two seconds into the song when a first "midnight, lose my mind" hits you like a storm, you can sense from the start a sense of chaotic-ness in the song. One of my favourite moments is also when the horns start playing and you find yourself surprised and at the same time in complete awe - never thought I'd hear horns on a Lorde song, but they succeed in making the song even more toxic and hypnotic, and suddenly you're somewhere else thinking about that party where you and your friend are so drunk and faded to the point where all sentences coming out of their mouth stop making sense at all, and you have this little thought in the back of your head, you know you should call a cab and get home, it's really late in the am and you start to feel really intoxicated, but who cares? You'll still dance until your feet hurt, because everything is perfect now, a total escape from reality... now you're at the point where the party is ending and you know the second you get in that car and get home, the party is over and you're back to reality, waiting for the next one to find a way to run away from your problems and responsibilities.
This is my favourite track on the album specially for its complexity, and you can tell by the production on this song that a lot of time was invested on delivering this gem.
- Armin (@urlbadman/@LordeDaily)
Every track on 'Melodrama' acts as a short chapter of a larger story, one that illustrates the highs and lows of a party Lorde once threw. My favourite track off the record is 'Homemade Dynamite'. I love how the story-telling is classic Lorde with very eerie, poetic lyrics, but the melody and production is fluorescent and sanguine. This track features one of my favourite lines off the entire record, "Might get your friend to drive, but he can hardly see. We'll end up painted on the road, red and chrome, all the broken glass sparkling." I love the way gentle, alluring words are used to illustrate such a morbid event. Lorde is the goddess of juxtaposition.
I believe the term 'Homemade Dynamite' refers to the alcoholic mixes, drugs, music, parties etc. that many young adults create by hand as means of escape from a pressing reality. Lorde shows that in the end, these things may end up ripping us apart but they play a vital role in our metamorphosis from youth to adulthood. Like all of Lorde's best lyrics, I also believe the song's message may have a more universal meaning, epitomising the power young people possess to send an explosion of change across time and space with ideas that they self-construct.
I specifically enjoy the pre-chorus and chorus of 'Homemade Dynamite' because it sounds like a maturation of 'Royals'; the way the hook seems to rapidly tumble into a beautiful layered vocal at the chorus. In parts of 'Homemade Dynamite' where Lorde could've included additional production, she instead uses quirky vocal tricks to help mesh the lyrics and sound. My favourite part of the song is when Lorde makes an explosion sound-effect with her voice. It seems simple yet intimate.
Although I believe 'Melodrama' is best when experienced as an entire piece, 'Homemade Dynamite' is the track I have been most intrigued by and everybody should go purchase it along with the entire album (if they haven't already).
- Robbie (@robbiesbaker/@LordeNews)
It took a few listens to the album to be certain, but 'The Louvre' is my favourite song from 'Melodrama'.  
It perfectly captures the feeling of having a crush on someone ("I overthink your punctuation use / Not my fault, just a thing that my mind do"), and thinking you're ideal for one another ("But we're the greatest / They'll hang us in the Louvre / Down the back, but who cares - still the Louvre"), as well as the feeling of vulnerability that accompanies the euphoric feeling of liking someone who maybe likes you back too ("Megaphone to my chest / Broadcast the boom, boom, boom, boom / And make 'em all dance to it").
I love that the verses instrumentally sound really different from anything she's ever done before, and that the chorus quite literally sounds like the inside of your chest when you're nervous and excited.
- Georgia (@whygeorgie)
Somewhere amongst the thrill of 'Melodrama''s intoxicating highs and broken glass, 'Liability' finds a moment of quiet, sobering introspection. Here, Lorde takes the blame for the break-up, in a way that is so honest and raw that I wish I could sit next to her in that taxi to offer a shoulder to cry on. The simple, descending piano chords allow 'Liability''s lyrics to soar, with their bruising and heartbreaking vulnerability: the line "I understand, I'm a liability / Get you wild, make you leave" sounds like someone recognising and regretting their destructive personality, and yet I still find myself feeling sorry for her.
Yet, there is hope in 'Liability' which draws me in every time, and that hope is perhaps why it has become my favourite on the album. It's the realisation that her relationship with herself, the only love she hasn't 'screwed up', won't let her down.
I had the privilege of witnessing Lorde's Glastonbury set from the front row, and hearing her describe 'Liability' as the 'little suit of armour' she can wear whenever she feels the 'bottomless pit feeling of being the biggest loser that you know' gave the song a new meaning for me. Rather than the self-pity and blame it appears to offer at first, it instead acts as a reminder that 'you're not too much for everyone. You're just kind of magical'. So Lorde, thank you for taking off your little suit of armour, and allowing us to try it on whenever we need reminding of that.
- Jack (@JackKenny)

'Hard Feelings/Loveless' was always going to be my favourite track. I knew that as soon as I set my starry eyes on the tracklisting. I love the way it makes me feel, it's like I'm all alone on the coldest darkest night, but as soon as 'Loveless' kicks in it's suddenly the warmest Summer afternoon and I'm surrounded by my favourite people.
It goes without saying that my favourite part of the song is the distorted beats. Each sound intricately embodies each emotion so perfectly, because sometimes you can't say everything you want to say and you can't have everyone feel the way you want them to feel with just lyrics.
The track also encases the most important lyric of the entire album for me, "I care for myself the way I used to care about you."
So yeah you could say, MELODRAMA FOREVER.
- Lauren (@Lozzaeh)

When I hear the violins greet us, they feel graceful and of importance. Almost like in those 2000 teen dramas where the girl is day-dreaming of better things, suddenly awoken by the humbling environment of school. Ella's voice punctures through, opening a wound. The raw sound of her voice and a piano helps paint the sobering experience she sings about. It reminds me of all the parties I'd go to, but more specifically the ones I've hosted. The feeling of being so full and alive quickly turning into standing there in my living room alone at 3am wondering why this was a good idea. I'd stand there a little longer, capturing those moments before sleep would make me forget them.
'Sober II (Melodrama)' is my favourite song off the album because it juxtaposes parts of music and lyrics to create a feeling of chaos. The violins that play us into the song vs. the simplicity of the first verse. It creates drama then dissolves into something so, so bare. I love it. I love the layered vocals, they remind me of that voice inside your head, trying to reason with you. The violins again carry us to the next part, and with that, the heavy beats pound their way to centre stage.
The "glamour and trauma" are really present in both music and lyrics and that's why I love this song so much. The screams, distorted vocals and especially the beat paired with the violins at the end are so beautiful. The juxtaposition of the two really ignite something within me. There are so many facets to this song, and it wouldn't be melodrama without it.
- Kimberley (@lordeella)

It may at first sound like one of the more melancholic tracks on 'Melodrama', but 'Writer In The Dark' is actually the album's triumphant centrepiece. The first verse gives us some of the record's saddest lines ("Sorry I was never good like you," "Did my best to exist just for you"), before that key lyric swoops in to reaffirm Lorde's strength: "Bet you rue the day you kissed a writer in the dark."
Being a writer allows Lorde to come out on top of any situation in which she finds herself. It gives her "a secret power" and the autonomy to determine her own narrative, allowing her to tell the tale of a damaged romance on her own terms. There may be two sides to every story, but she's only responsible for telling one.
The song demonstrates a vocal power and range that we've never before heard from the 20-year-old. It's hard to ignore the influence of Kate Bush on the way she cries "I'll love you 'till my breathing stops / I'll love you 'till you call the cops on me" in the chorus. It's a truly arresting moment, one that packs a punch from the very first listen and continues to stun on the hundredth. 'Writer In The Dark' is a song about Lorde, about 'Melodrama', and about the way in which she has the talent and audience to determine the way in which her life is recounted. Rumours may "have big teeth", as she warns us at the top of the album, but their power pales in comparison to that of a writer. A writer will always get the final word.
- Rory (@rorhor)

'Melodrama', for me, came at the most perfect time, when I was feeling completely alone and hopeless. I experienced heartbreak twice within four months, so believe me when I say every single line on that album resonates with my life.
When I first listened to 'Melodrama', 'Supercut' had me hooked at first listen purely because of the melody and the vibe it gave off. It gave me this empowering feeling, and the lyrics reassured me of that feeling - when you're suffering from heartbreak, looking back at the best memories is an important part of the recovery process. Analyzing every part of a failed relationship came as naturally to me as it did for Ella. And in my head I tried so hard to believe it was a good relationship, but in time I realised it really wasn't. That I believe, is what this song is about, and that is why I love it.
- Isabelle (@isabellesus)

The first few seconds of 'Liability (Reprise)', before even hearing the words, you know that it's going to take you on an emotional journey. Every time I listen to the song, I have to stop everything I'm doing and just take it all in. It's such a special song.
It's one thing to sing a song, but for the artist to sing it in a way where you can actually visualise the lyrics and feel it is magical - along with her signature harmonies and husky tone, it's a song which has me reflecting as I stare out the bus window. It's an ocean of emotions, each wave offering a different feeling. Nostalgia. Comfort. Pain.
It's lyrically simplistic and the aural sensations the song creates is just beautiful. I have the song on repeat and am happy to let it take me on a different journey every listen.
- Hele (@LordeUpdates)
'Perfect Places' is my favourite song on 'Melodrama' because to me, it is really comforting. You can't listen to it without dancing, and it has a really joyful kind of vibe to it that makes me instantly happy. But the lyrics kind of juxtapose the music by pointing out exactly what becoming an adult for a lot of people has felt like - chaos. In our own lives and the outside world with so many political changes, which creates a really unique atmosphere for coming-of-age.
So to me, it feels like the song is acknowledging all of that madness and talking about all the ways we try to escape from it, but ultimately it's going to be okay because we're all going through it together.
- Elli (@lorde_almighty)
Load next