Interview: LANY... finding a place in the sun.
LANY have never been a band that takes the easy route. Having kicked off their career back in 2014, Paul Klein, Les Priest, and Jake Goss' collective hardworking attitude over the past six years have led to three studio albums, four EPs, and endless headline tours, as well as support slots for the likes of Halsey, John Mayer, and Troye Sivan. And only last August when speaking with frontman Paul Klein for their 2019 Coup De Main cover story, he shared that the title for their third album was already decided upon, all the while midway through an enormous 100-date tour for their 2018 album, 'Malibu Nights'. Though 'Mama's Boy' was just a title at that time, Klein's ethos of never slowing down was in full force, with an album plan for 2020 already set in the stars.
Where 'Malibu Nights' saw Klein grieving a broken heart in an era shrouded in moonlit imagery, the upcoming 'Mama's Boy' (out October 2nd) is a brighter ode to family, home, and faith told through earnest love songs with forthright lyricism. Klein's roots are evident throughout - a neon Americana cowboy graces the album cover, and in the just-released 'Cowboy In LA' (which happens to be John Mayer's favourite on the album), Klein references the influence of his hometown, singing, "Oklahoma, it made a man out of me," with further nods to square dancing and rodeos included.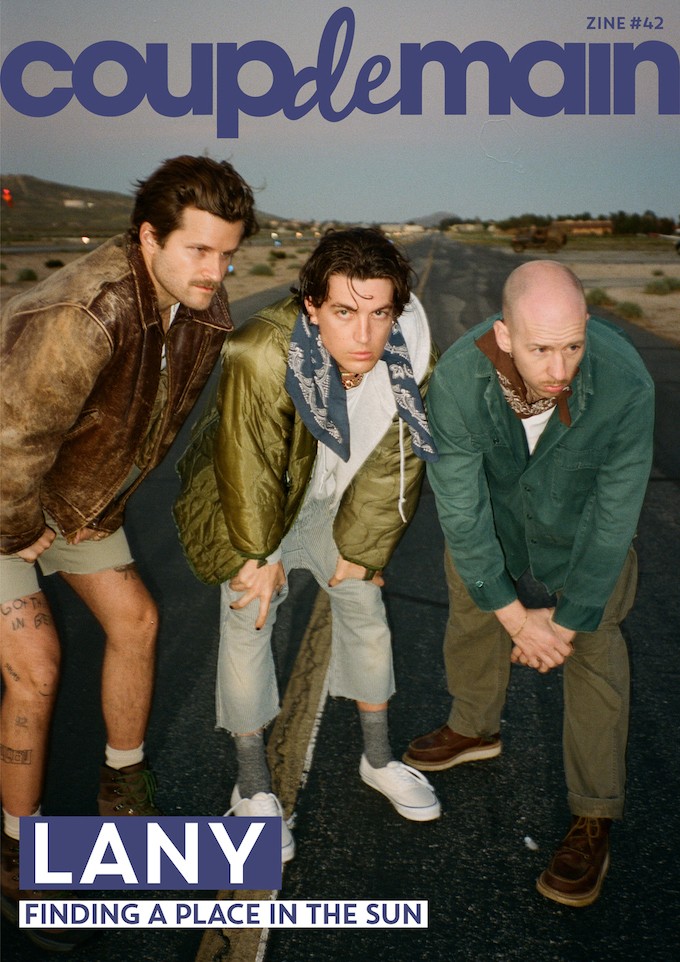 Click here to order a CDM x LANY zine (i.e. a mini-magazine featuring photos and quotes from this cover-story).
On a trip to Nashville during the creation of the album, Klein shared, "Someone asked me where I was from, and somewhere, out of my spirit, I just said 'Man, I'm from Oklahoma!' It was a weird sense of pride, to be from the middle of nowhere," and that pride has come to the forefront of the album. Klein describes his hometown of Tulsa, Oklahoma, as "a place commonly referred to as a 'flyover state' - never noticed, hardly talked about, rarely remembered," but also acknowledges the importance his heritage has in making him who he is: "I understand that everything I am today is because of where I'm from."
He delves into moments from his childhood on the tear-jerker, 'If This Is The Last Time', where there are nods to both his Mama ("I know you did all you could / Just to make sure my life was good"), and his Dad ("Taught me how to fish, taught me how to ride a bike"), who also feature in the accompanying music video alongside fellow bandmates, Goss and Priest, and their families.
On 'Mama's Boy's opening track, 'you!', Klein declares, "You're the sun to the moon," using the polar opposite symbolism of the sun and moon to highlight a change in perspective on this project. "We only see the moon because of the reflection of the sun. And 'Malibu Nights' was a breakup album, there's a lot of sadness, and the moon was the symbol, but I want this album to now be about sunlight, hope, and sunsets, and things like that," Klein shares in discussion of the song.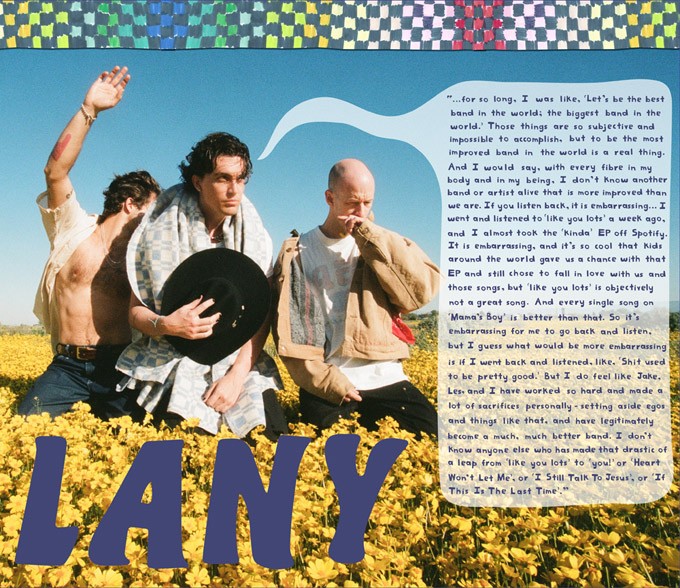 Much of the album feels like an open book - in 'I Still Talk To Jesus' he admits some hard truths about his relationship with faith, and in 'Sharing You' he acknowledges, "I'm sorry I get jealous, or if I ever act selfish," and conversation with Klein discussing the themes of the album feels just as open. "I am the farthest thing from perfect, and I'm the first one to admit when I'm wrong," he shares, and its this ability to recognise characteristics in himself that makes LANY music feel so self-aware.
At the heart of the matter is Klein's pride for his bandmates and the journey they've taken together since 2014, and he speaks proudly of his bandmates when discussing making the album. Talking about 'I Still Talk To Jesus', Klein shares, "That song I'm just so proud of, and the way that Jake and Les came around that song." Though 2020 has put a pause on the possibility of touring the album until next year, Klein's overall hope for the project is that "there's not one person in the world I don't want to hear 'Mama's Boy'."
We spoke with LANY's Paul Klein ahead of the release of 'Mama's Boy' to discuss the band's growth, exploring hard feelings in songwriting, musical easter eggs, and more...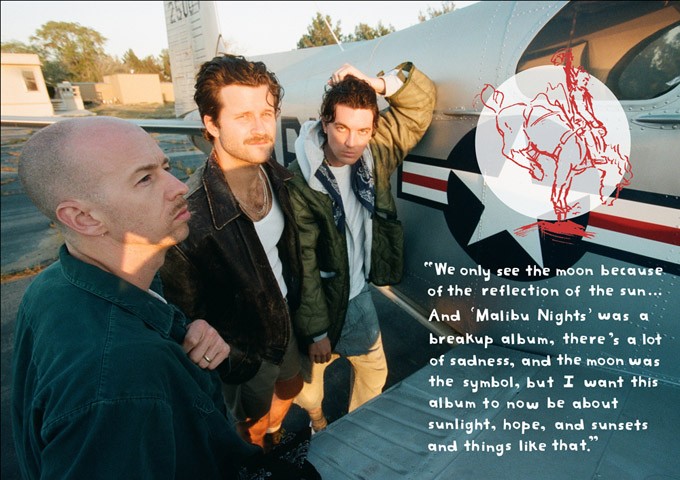 COUP DE MAIN: 'you!' is such a big statement as the opening track for the album - and especially, sonically. At what point in making this album did this song come about?  
PAUL KLEIN: I would probably section the album process into two categories: You have the writing process, and then you have the recording process. That song was kind of just really right in the middle of the writing process. Maybe it was all in the same week, that myself, Sasha [Sloan], and [King] Henry wrote 'you!', 'Cowboy In LA', and 'Heart Won't Let Me'. That was a big week. They live in Nashville now, but during that time, they were in LA, so I would drive all the way across town. There are some days that you just know... Like, I knew when we were going to write 'Cowboy In LA' - I had that title. It is something that Sasha and I had discussed, but I wasn't exactly sure what we were going to write the day that we wrote 'you!'. All I knew was, "Why haven't I tried to write my take or my version on a 'Yellow' by Coldplay?" It's just so crazy, that album 'Parachutes' turned twenty this year, I think last week. I just went to the grocery store last week and 'Yellow' was still being played over the speakers in the grocery store in California. That's so crazy, it is so timeless, and that's one thing that we've really tried to accomplish with this album. I wrote a newsletter to our fans that will go out on Thursday, like: I don't have kids now, but one day, I feel like when I do have kids and they get old enough and they see 'Mama's Boy' in a vintage shop or something, that they would be very proud of not only the way it looks but the way it feels and sounds and the songs on it. I just feel like they are going to hold up and stand the test of time. And that was one of the things we tried to do with 'you!'. Definitely, that is our most ambitious track for sure. I mean, Jake [Goss] is going absolutely ballistic on the drums. We have so many guitars, which is something that you haven't heard from us before, and the synths take a backseat but then it creeps in halfway through the song; that arpeggiated synth that I feel like is so signature of us. I'm glad you like it.
CDM: You make really bold romantic statements in the song - "You're the air in my lungs... I'm nothing without you." Is the ultimate love when someone feels like they are only complete with the other person? 
PAUL: Not necessarily. Truthfully, relationships, the ones that work out are when two whole people come together, versus two half individuals. I think it's impossible to love somebody before you love yourself, so I would not agree with that. But as far as the lyrical content, it was really cool and it was a fun exercise for me to get outside of very distinct details. In the past like with 'pink skies', there's no real room for imagination because I'm literally painting the entire picture with pink skies, Malibu indigo, and green eyes. But with 'you!' it was really fun and cool to make these big, broad, sweeping, elevated but universal statements that aren't bound necessarily by time/place/setting/gender.
CDM: You also sing, "Looking in all the wrong places / you're the one I needed this whole time." Do you think that we tend to look for love in places where it might not actually be best for us?
PAUL: Of course, that's nothing new. I think that goes back to the start of humanity. Maybe it's just easier to look in the wrong places because of the internet. I think part of growing up and a lot of our teenage years and our formative years and young adult years, we spend a lot of time looking for something in all the wrong places - that's part of growing up and learning what places are right and what places are wrong.
CDM: Does it come with experience?
PAUL: I don't want to be super crass, but I had somebody in my life pull me aside while I was growing up, like, 'If you just keep yourself out of these situations, you're gonna go so far.' So I had some counsel and some, 'Hey, maybe don't do a ton of drugs because you're gonna throw your life away and hey, don't cheat on your partner because that's a terrible story to tell,' and things like that. So there are no-brainer common sense things that I've applied to my life to keep me out of trouble for the most part. But I'm not perfect and I've spent plenty of time looking for love in the wrong places. I think we all have, right? So it does come from learning and experience, but it also comes from some sort of mentorship - somebody a little older or a little wiser in your life, whether it's a parent or a friend, just guiding you and giving you wisdom.
CDM: I also really like the line, "Walked me through the fire, you were there." Is being there for someone the ultimate act of showing someone you care?
PAUL: I've said this from day one, you make time for the things you love and the people that you love. I've been so lucky and blessed to have people in my life when I was incredibly broken and incredibly low that made time for me, and that walked me through the fire and through the valley. Because life is all about peaks and valleys, isn't it? The highs are high and the lows are low, and I think I've just been very fortunate to have people in my life who were there for me.
CDM: It's a big call in 'Cowboy In LA' when you sing, "When you're with me, it's better than Malibu," especially knowing how much you love Malibu… So I wanted to say, shout-out to that line.
PAUL: Thank you! Well, there's a lot of cool things. Like, for instance, the line in 'you!', the "you're the sun to the moon", that was on purpose. We only see the moon because of the reflection of the sun. And 'Malibu Nights' was a breakup album, there's a lot of sadness, and the moon was the symbol, but I want this album to now be about sunlight, hope, and sunsets and things like that. So being able to reference that on the first track of the album, the sun to the moon, and then in 'Cowboy in LA', I kind of play off the Malibu thing.
CDM: There's also a lyrical throwback to "this hurts like hell" from 'Thru These Tears'. Do you like including those musical easter eggs for fans?
PAUL: Yeah. When you write your own songs, and you're as intricately involved in the record process as I choose to be, these things are going to circle around, they're going to keep popping up, and literally, I live for it. That's the most fun thing. We call them seasons, and each album feels like a season. Within a season, you have this world and this temperature and this mood and this aesthetic, and leaning into that, it's a lot of hard work and it's a lot of brainpower. But at the end of the day I signed up for this, this is basically all I do with my time and my life. And I have a lot of fun with it. I find great fulfilment in going that extra mile for the fans.
CDM: 'Heart Won't Let Me' really captures the intensity of knowing that something is wrong, but struggling to take action on that. Why do you think it's hard for people to end something, even though we know it's wrong?
PAUL: Doing the right thing is usually the hardest thing to do. And a lot of times, getting out of something sounds and feels more exhausting than it is to just stay in something. I also think you can personally get to a point where you're so exhausted in a relationship that you literally don't have the energy to get out. So there's a lot of nuances and things like that when it comes to the human heart and soul, and feelings, and decision-making and stuff, but I'm really proud of that song. I think that's going to be pretty big.
CDM: You sing, "I never listen to my head." It's so common to get caught up in the romance and not listen to what your head is saying. How do you think people can make sure to stay in touch with both their head and their heart?  
PAUL: You're asking me these great questions that I don't know if I'm qualified to answer; I'm just a songwriter. I don't know... It's something I'm learning to do in real-time, as we all are. Metaphorically, looking yourself in the mirror - which is something that I feel like I did on this album - is not easy to do, but it's incredibly advantageous and important to look yourself in the mirror and ask yourself the tough questions. So I would encourage people to develop the strength and courage to do that. Then also just having people around in your life that feel close enough to you to say, 'Hey bro, we should try to make some life changes and you should think about this instead of getting caught up in your feelings.'
CDM: It's important to have people in your life that aren't afraid to have those hard conversations with you.
PAUL: It's a rare find for sure, because people feel like, 'I don't want to put myself in a weird tricky position.' But have those friends in your life and invite them to kind of help you make some better decisions.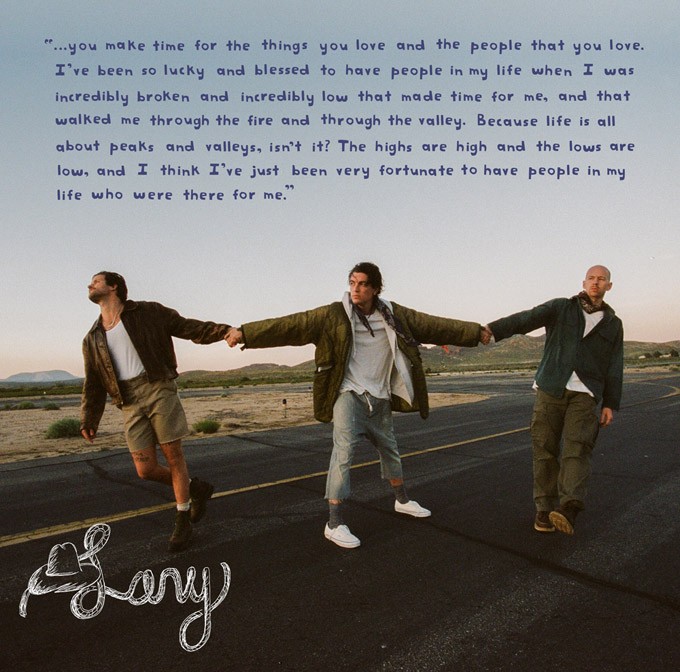 CDM: It's interesting how 'If This Is The Last Time' has become such a topical song at the moment with everything going on in the world. When did you write that song? Was there something in particular that sparked it for you?
PAUL: It was just me being on tour, and away from my loved ones for so long, that's where that inspiration came. But as we moved into 2020 - we had already written the song in 2019 having no idea what these issues were going to be - it became super clear that we needed to really perfect that song and do it justice. It felt like it was a song for the climate of the world at the time. So we're lucky enough to have written that song; I think it's really powerful.
CDM: "I don't wanna cry, I'm bad at goodbye / If this is the last time," you sing in that song. Do you think there's a good way to say goodbye to someone?
PAUL: I think it's easier when the relationship that you have with somebody is healthy and positive. Like I've said before, my family's not perfect. I am lucky enough that I have a family where both my parents are still alive and on top of that are still together, which is so rare, but we are definitely not perfect. Just like every other family, we have our ups and downs and arguments and things like that, but settling that score and... whether there are things that people need to apologise for or ask for forgiveness for, I think when you've fostered a healthy relationship with somebody, it's going to be easier to say goodbye. I mean, it might be harder because you hate to see them go, but at least you have that peace of mind that y'all were good.
CDM: What was your family's first response to hearing the song?
PAUL: My parents definitely bawled and they were incredibly thankful and appreciative. It was probably the most meaningful gift I could ever give them. And that was really, really powerful to play for them in the car for the first time.
CDM: You've often referred to your faith in your music, but never as outrightly as in 'I Still Talk To Jesus', which feels like such an honest story of your relationship with religion. What was it like, reflecting on that part of your life in song-form?
PAUL: I wrote that song title 'I Still Talk To Jesus' down on my phone, I believe, in January of 2019. It actually came from when I was watching the Kings Of Leon documentary, 'Talihina Sky'. In very quick passing, it wasn't an epic, climactic moment in the documentary, he was drunk holding a wine glass, and he was like, "Yeah, you know, I still talk to Jesus." That hit me like a ton of bricks, so I wrote that down in my phone. I just knew that I wanted to write that song, but I wanted to be very selective about when I wrote it and who I wrote it with. I wrote it with Shane McAnally and Sasha. I think what's so cool is, Shane is literally the gayest person I've ever met in my life - he's flamboyantly gay and it's incredible and amazing, and he's also one of my favourite people - but traditionally, I just wouldn't expect... and then Sasha is an atheist, and writing a song with that song title was really special and cool. I wouldn't have wanted to have that moment with anyone other than those two people.
CDM: The gospel choir adds so much to the song! When you were creating the sound for that song, did you think a lot about how you wanted it to sound?
PAUL: I think there are elements of church music that have spanned over centuries - one of them would be a choir, and the other one would be an organ, and both of those things are on this song and very prominent. Like, why would you not put a gospel choir on this song about still talking to Jesus? It just made the absolute most sense to me, and I've said this about a couple of songs on this album, but that song I'm just so proud of, and the way that Jake and Les [Priest] came around that song. The percussion on that song is unbelievable. The clap and the hi-hats, Jake and Les did an awesome job.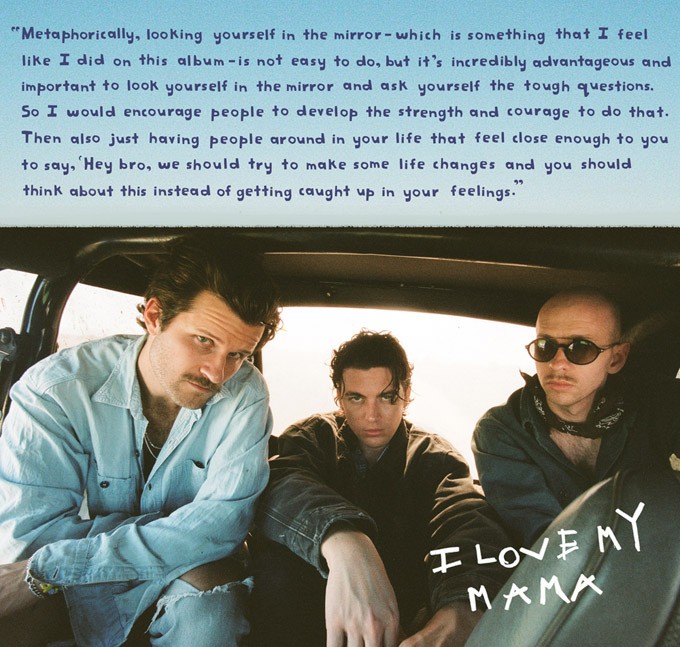 CDM: You sing, "I know that I need it," in the song. Is faith still such an important part of your day-to-day life?
PAUL: Yeah, it is. I feel very blessed and fortunate to have this job and to do what I do. I would never be arrogant enough to assume that I did this on my own. I actually would prefer to believe that I didn't do this on my own, and that there's something bigger than all of us, that this was the plan for my life and the plan for your life. I want to invite that idea and that presence in my life because I don't want to be a God; that sounds like an impossible task. I would rather lean on God versus trying to be a God.
CDM: One of the standout lines for me is in 'Paper' when you sing, "We lay in bed and make love to our phones." It's hilarious, but so true! The way we consume technology has really altered our real-life relationships. Is that something you think a lot about?
PAUL: I don't, it doesn't consume my thoughts. But I think I've just accepted that we do live in an unprecedented time with unprecedented access to people and things and places. And of course, it affects the way that we live on a day-to-day basis. During this pandemic and quarantine, it could be really easy to be on your phone more than ever. Sometimes you fall in that trap, but what I'm learning is that it is just so much healthier to pick your head up off your screen and go outside. I've been going on walks every single day. It's so cool. It sounds so dumb, but I'm a walker.
CDM: There's something about fresh air, which is just good for the human spirit.
PAUL: It's amazing. I've been really enjoying my walks every single day.
CDM: The idea of a relationship looking good on paper is so interesting as you sing about in that song, especially in a world where dating apps and face value seems so important, and people have their check-lists of what they are looking for in a romantic partner. Do you think there's a big difference between what a relationship looks like on the outside, to what the actual dynamic is like?
PAUL: Definitely, you would hope. You would hope that what you see is what you get, but clearly that is not the case and never has been the case. But that song, what's so interesting, not that you asked, but 'Paper' was technically the first song written for 'Mama's Boy', and it was the last one we finished. I was making changes to that song a few hours before we had to turn that the album in. It's really about another thing that we're talking about, but there's a lot of people in relationships because it looks good on paper for them to be in a relationship. You especially see that with so many celebrity couples that chase each other's clout, that are kind of like, 'I'll get this from you and you'll get this from me.' Then even on a lower level, a more normal level, so many people stay in something because it just looks good on the outside to their friends, and it's just toxic and terrible.
CDM: Why do you think that song took so long to get to its final stage?
PAUL: I'm not sure, I wrote it with Sasha and Henry back in January 2019. We all just believed in the song so much we didn't want to mess it up. Sometimes when you write a song, you can sit with it for too long and kind of psych yourself out. Does that make sense? So I think maybe we experienced a little bit of that. But then once we got the vision, we got the vision for it.
CDM: In 'Sharing You' you say, "Pretty good with words, with you I don't know what to say." Do you find that you're best able to express yourself through songwriting? Or do you find direct communication with people easier because you have to emote through songwriting?
PAUL: Through therapy and stuff, I've learned that I'm a verbal processor. Often times if something is really important to me, or I still don't know what I believe about a certain situation yet, I sometimes have to say it, and then go, 'Actually I don't mean that.' So I think being a verbal processor means that you like words and you're potentially good with them. I also had an English teacher in ninth grade, Mrs. Spear - I don't know if she will ever read this, but she changed my life. Just everything about grammar and articulating points and putting together sentences and things like that, she really changed my life. Touching on 'Sharing You', one thing I love about this album is that there are so many sweet love songs. Like, so many sweet love songs. There's only one song that's not super sweet and that's 'sad', but it's still a bop. I just love the sweetness of that song. That you just don't want to share that person with anyone else.
CDM: You talk about jealousy and selfishness in 'Sharing You', which are traditionally quite hard emotions to acknowledge existing in yourself. Do you think songwriting is a good way for you to be able to reflect on yourself, and maybe explore those feelings that aren't as positive?
PAUL: Sure. I mean, I am the farthest thing from perfect, and I'm the first one to admit when I'm wrong. To be honest, in a relationship, I would prefer to be the one who's in the wrong. Can you imagine always being right? How frustrating that would be? I'm like, 'Dude, I hope I'm wrong.' So, I have no problem admitting that of course, I get jealous. Of course, I get insecure. Of course, when you're in the beginning stages of a blossoming relationship, but you've yet to define what the expectations are, of course, that's an unsettling feeling. And you don't want to share them, it's called being a human. I guess I like to write about that stuff.
CDM: Kind of tying in with that, you're very self-aware on 'Bad News' when you say, "I'm never in town, I'll probably let you down." Do the realities of being a touring musician (outside of the pandemic) make having a stable relationship basically impossible?
PAUL: Of course, doing what we do comes with incredible sacrifice. One of the things that you sacrifice is any sort of sense of normalcy - everything is an inconvenience and everything takes extra effort. I couldn't have written that song four years ago. That thought probably would have never even come to my mind. I think that's what's really beautiful about growing up with a band, if the songwriter in the band, or if the band is writing true to their life experience, then you see it unfold. Four years ago, I was hardly ever out of town, I was wishing I could get out of town, I was just dying to play shows. But now, it's like, I'm never in town and don't want to let you down, so I wrote a song about it.
CDM: Is it interesting for you to look back on older LANY material and see that growth that you've had, not just as a songwriter, but in your life experiences?
PAUL: To be honest with you, I could talk about this for a long time. But for so long, I was like, "Let's be the best band in the world; the biggest band in the world." Those things are so subjective and impossible to accomplish, but to be the most improved band in the world is a real thing. And I would say, with every fibre in my body and in my being, I don't know another band or artist alive that is more improved than we are. If you listen back, it is embarrassing... I went and listened to 'like you lots' a week ago, and I almost took the 'kinda' EP off Spotify. It is embarrassing, and it's so cool that kids around the world gave us a chance with that EP and still chose to fall in love with us and those songs, but 'like you lots' is objectively not a great song. And every single song on 'Mama's Boy' is better than that. So it's embarrassing for me to go back and listen, but I guess what would be more embarrassing is if I went back and listened, like, 'Shit used to be pretty good.' But I do feel like Jake, Les, and I have worked so hard and made a lot of sacrifices personally - setting aside egos and things like that, and have legitimately become a much, much better band. I don't know anyone else who has made that drastic of a leap from 'like you lots' to 'you!' or 'Heart Won't Let Me', or 'I Still Talk To Jesus' or 'If This Is The Last Time'.
CDM: When you look back on those like sacrifices do you feel justified in making those decisions, even though they were probably hard at the time?
PAUL: Yes, 100%, because I'm so pleased with where we're at as a band, and I wouldn't have changed the way that we got to where we're at right now. And we wouldn't be where we're at if we hadn't made those sacrifices. So, yes, I'm so glad we did those things.
CDM: You reflect a lot on 'sad' when you sing, "I wish that I had loved you better." That hindsight and looking back on what you would have done differently is interesting. Do you often find yourself thinking back on past situations and re-imagining them?
PAUL: Yes, but I also just think that reflection on relationships is another human activity that not a ton of people can articulate that well. I just thought it was such a cool chance, and also the idea of 'I wish I could make you sad', it sounds kind of savage, but you know what I mean when I say that - you wish you could make them feel the way that you're feeling about them. There are about fifty versions of that song, by the way. We just changed the key a couple of times and changed the chords, the production was so different. But the way it turned out, I'm so, so pleased with it.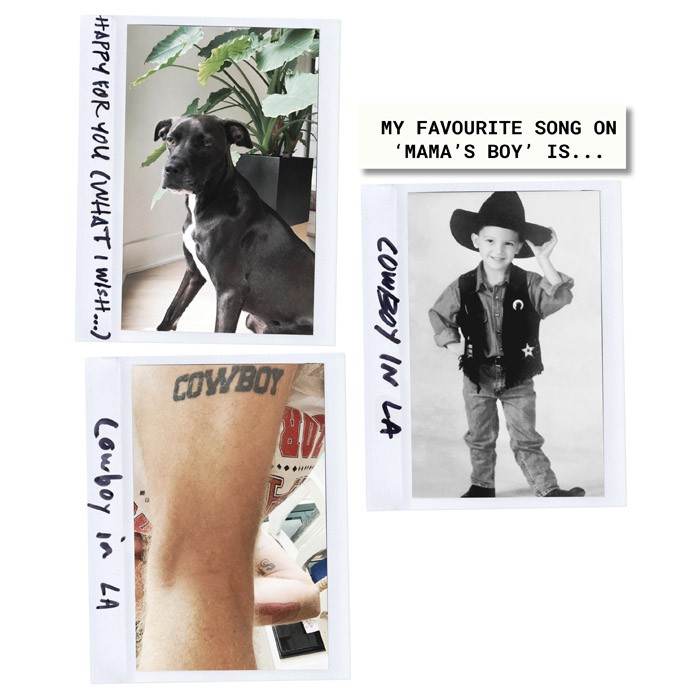 LANY's new album 'mama's boy' will be released on October 2nd - click here to pre-order.
Watch the 'you!' music video below...