Interview: Truthsaying, fortresses, and musical communion with Holly Humberstone.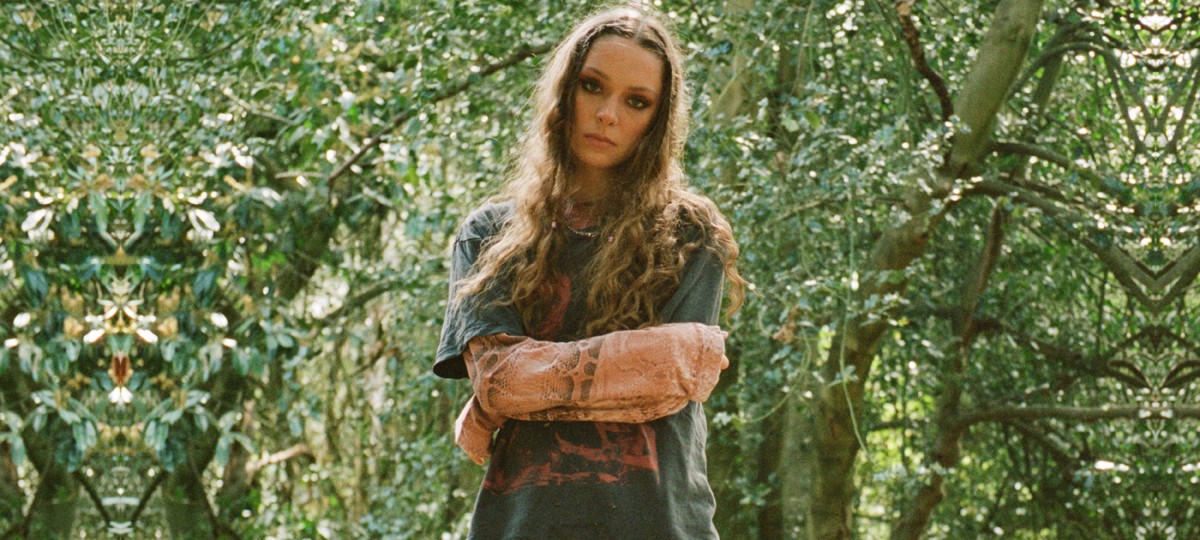 "The best relationships and connections that I have formed with people are the ones where I've seen another side of myself come out through the relationship that I hadn't seen before," self-analysed British singer-songwriter Holly Humberstone during a recent conversation via Zoom in opposite timezones. Warmly, the 21-year-old storyteller added, "That's how I feel when I'm with my best friends; I feel really special and I like who I am and they make me feel good about myself. I think that's probably one of the best things about connections and relationships, but it definitely is kind of rare that you can find people that make you feel like that, so when you do, you have to really cling on to those relationships."
And that kind of special connection is not unlike that of the empathetic Humberstone and her rapidly growing audience. Already having logged over 150 million streams to date, the fruit of Humberstone's Covid-hindered labour has been quick to grow in the last year - not bad for someone who was only just able to play her very first-ever run of American shows (all sold-out!), and grew up in a ramshackle middle of nowhere house located in the countryside near Grantham, East Midlands. In a home where TV was banned, one imagines a childhood spent running amok ("Dirty knees and honey bees," she reminisces in 'Haunted House'), akin to the island rumpus of Maurice Sendak's 'Where The Wild Things Are'. Born to two NHS doctors, Humberstone is the third youngest of four sisters, and honed her songwriting skills as a child, with her poetry-loving father encouraging her to make up songs inspired by books he would prop up in front of her while she played the piano. "I've never written a whole song without music but I often write little poetic ideas that I'll later put into a song," Humberstone shared with me via email early last year. "I've always felt like the lyrics need to be good enough without the production, and really mean something."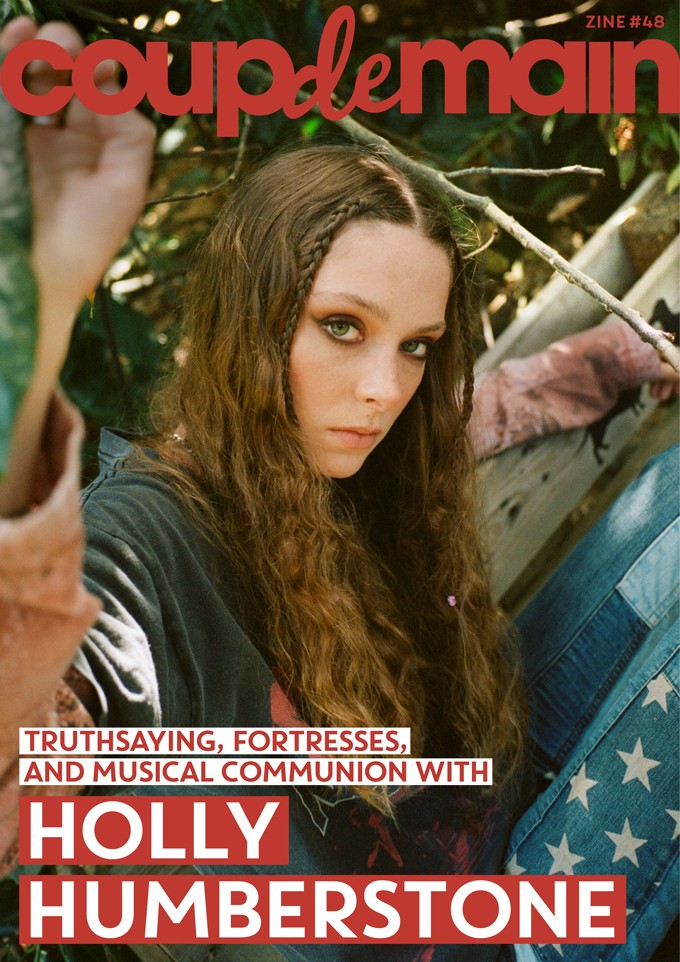 Click here to order our limited-edition CDM x Holly Humberstone zine (i.e. a mini-magazine featuring photos + quotes from this cover-story).
An emotional excavator, Humberstone understands that falling in love with someone else is somewhat also about falling in love with yourself - embracing the dizzying rush of feeling seen; the tingly thrill of being heard; those fluttery butterflies that precipitate an understanding between kindred spirits - and her balmy songs emote mutual vulnerability in spades. Like a weighted blanket, Humberstone tucks you in, sagely assessing your need for a truth saying comrade, help to lay the foundations of an outward fortress, or simply just for your hand to be held whilst unloading all of your innermost thoughts in communion. "Sister, I'm trying to hold off the lightning and help you escape from your head," comforted Humberstone in debut single, 'Deep End', ushering listeners into her safe space as she vowed to be a rock through thick and thin - "Throw me in the deep end, I'm ready now to swim / The air in my lungs may not last very long, but I'm in." Originally written as an open letter in song-form for her youngest sister, 'Deep End' showcases Humberstone's knack for sitting with sadness in the palm of her hand and electing to extend understanding instead of pity.
On the precipice of the world's travel borders fully reopening, Humberstone is ramping up to release her second EP, 'The Walls Are Way Too Thin', next month on November 12th. The thoughtful EP plays out like a self-growth checklist, opening with the poignantly reflective 'Haunted House' ("They say this house is haunted / But all these ghosts I've grown with"), before drifting into the thorny title-track, co-dependent 'Please Don't Leave Just Yet', and scornful 'Thursday' ("Let it burn, this is hell on earth and you're enjoying the weather"). But it's in stand-out track and emotional turning-point, 'Scarlett', that Humberstone truly shines, embodying the headspace of her best friend who is brutally told by a former flame: "Scarlett I don't need to be responsible for everything you're feeling / You're emotional grim reaper / I feel bad for you / I can't entertain these games, hate to rain on your parade / It's just the way I'm feeling." Like all the greats, 'Scarlett' is both a starlit night and a starless sky, just the tip of a heartbreak iceberg, but triumphantly reverberating from the unbridled euphoria of having liberated one's self from the cruelty of another's unfeeling mood swings. It's true: best friends, they always know best, and my own best friend, she would tell you too, Scarlett, it's important to choose yourself.
Parlaying into EP closer, 'Friendly Fire', Humberstone shrugs off a crumbling relationship ("We had a shelf life but neither believed it"), now accepting that endings are not a sign of defeat, but rather the natural evolution of growing up, and out, of former connections. "Making a mess ain't as fun as it used to be / Life can't always be one giant firework display," surmised Humberstone on 2020 EP closer, 'Livewire' - a sentiment that still feels especially present in her latest work, and an important lesson learnt as she looks to the horizon, nestling into the home she's been building herself; inside of two EPs, and untold future releases.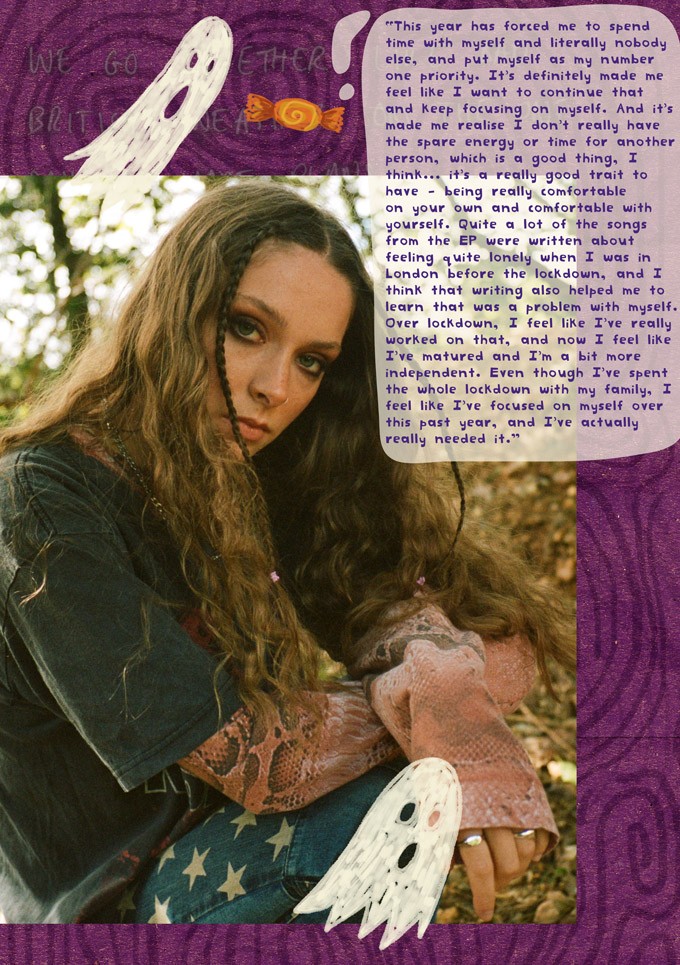 COUP DE MAIN: When we spoke last about your debut EP, you mentioned the epiphany of learning that you don't "have to settle for less or feel validated by a shitty relationship," and that as you've grown older, you now realise your self-worth a lot more. How does it feel looking back on a song like 'Vanilla' now?
HOLLY HUMBERSTONE: I still feel like I have a weird thing where I get bored of my songs quite easily, so I haven't really thought much about the songs from the first EP because I tend to move on and then kind of leave them there. But yeah, I'm really proud of the whole of the first EP, and I still have the same feelings towards 'Vanilla'. I think 'Vanilla' is one of the ones that I felt was really, really truthful, and I was really, really extra proud of. So looking back on that, I still feel the same way about it and I feel like a bit of a bad bitch. It's an empowering one for me to listen to, still, because it was about feeling like I deserved more than this crappy guy, so I still feel really proud of that and it makes me feel good when I listen to it.
CDM: Seeking validation from other people is so ingrained into us all from birth, and it can be hard to escape the social conditioning that being single feels like a failure - like, you've done something wrong and are missing out on life. Do you think this has been exacerbated by Covid, with people finding it hard to meet anyone new for such a long period of time?
HOLLY: I think so. Personally, I was in a relationship at the start of Covid, and it's ended during Covid, so it's affected me and my relationships - but also, it's made me realise how much I value my own time. I've been spending so much time with just myself, and before Covid, I was such a busy person, and kind of chaotic, and I loved being that way, but I never really had a lot of time to just spend with myself and focus on me. This year has forced me to do that, and it's forced me to spend time with myself and literally nobody else, and put myself as my number one priority. It's definitely made me feel like I want to continue that and keep focusing on myself, and it's made me realise I don't really have the spare energy or time for another person, which is a good thing, I think. I don't know if other people have kind of felt like that, but for sure, I have.
CDM: It can be hard learning how to be comfortable with only your own company. That's great you've felt that.
HOLLY: I think it's a really good trait to have - being really comfortable on your own and comfortable with yourself. Quite a lot of the songs from the EP were written about feeling quite lonely when I was in London before the lockdown, and I think that writing also helped me to learn that was a problem with myself. Over lockdown, I feel like I've really worked on that, and now I feel like I've matured and I'm a bit more independent. Even though I've spent the whole lockdown with my family, I feel like I've focused on myself over this past year, and I've actually really needed it.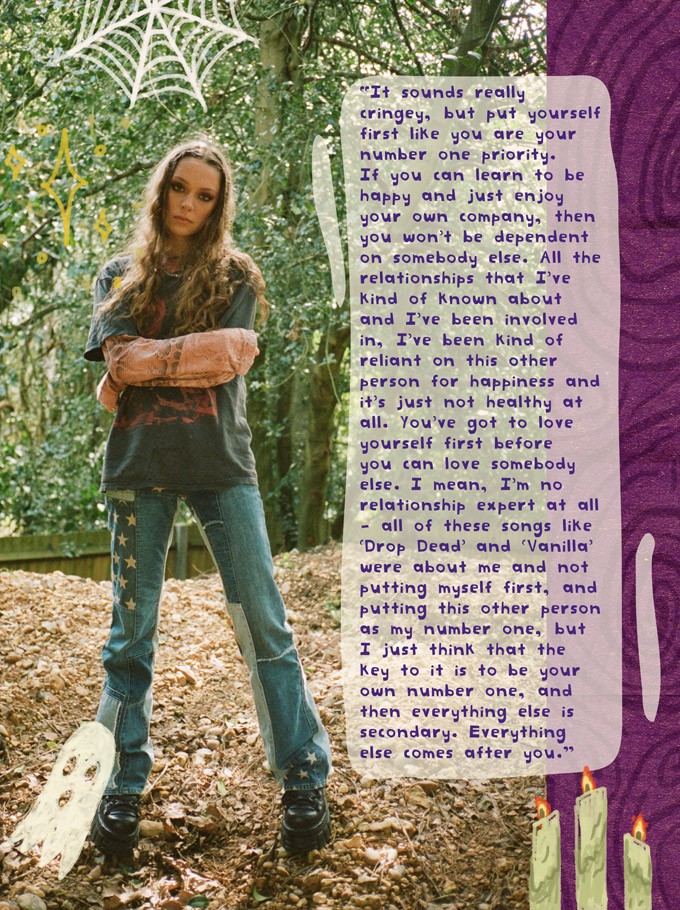 CDM: Feeling connected with another human can be a powerful cure for loneliness, but unhealthy relationships can also lead to co-dependency. How do you find a balance between the two?
HOLLY: It sounds really cringey, but put yourself first like you are your number one priority. If you can learn to be happy and just enjoy your own company, then you won't be dependent on somebody else. All the relationships that I've known about and I've been involved in, I've been kind of reliant on this other person for happiness and it's just not healthy at all. You've got to love yourself first before you can love somebody else. I mean, I'm no relationship expert at all... All of these songs like 'Drop Dead' and 'Vanilla' were about not putting myself first and putting this other person as my number one. The key to it is to be your own number one, and then everything else is secondary. Everything else comes after you.
CDM: I think you sum up perfectly in 'Please Don't Leave Just Yet', that push and pull when you're really self-aware of your feelings, but you just can't disconnect.
HOLLY: For sure. I wrote that song about knowing that somebody is really bad for you and knowing that it's gonna hurt tomorrow or the day after, or sometime down the line, but not wanting to have to deal with that quite just yet and wanting somebody to stay, even if it's an extra five minutes or an extra day, just so you don't have to confront the feelings of being alone. I wrote that about a past relationship as well, not quite wanting somebody to leave and not wanting to be on your own, and having to confront those thoughts of loneliness just yet. That song is a bit of a pathetic song, I remember writing it and being like, 'Gosh, I feel quite pathetic,' but it felt good to write. And I wrote it being aware that I had been having those feelings and that I can sometimes be like that. I feel like quite a lot of people have that where you don't want to be dependent on somebody so much, but you just are, and you just can't help it and it's really obviously not a good thing.
CDM: What was it like working with The 1975's Matty Healy on 'Please Don't Leave Just Yet'?
HOLLY: So cool. He's an icon and The 1975 have been pretty much the soundtrack, or one of the soundtracks, to my teenage years. I'm such a huge fan, and I feel like they influenced my writing, even before I got to work with Matty. One of the good things to come out of lockdown was that people were free - I knew people were about, and he'd usually be off around the world doing his rockstar shit, but I was like, 'I know you're in London, come work with me, please.' And he was really nice. He was down to work with other musicians, and also, he's a real music-obsessed person and just genuinely a music fan of different types of music. He was so, so down to work. It was pretty surreal. We had a few days writing together. Maybe there's possibly more songs to come that we've written together, who knows? And it was amazing to see how he works. He's an actual genius. I feel like I've learned a lot from him and I've taken little bits of how he worked and digested them. Hopefully, I'm a better writer for it, on my own. He's just the coolest person ever. Mad talented genius. It also taught me to have confidence in myself. Quite a lot of the time when you're going into a lot of sessions with a lot of different people, they're not always going to go how you want them to go and you're not going to click with everybody and write a hit song every day with somebody new. Sometimes it's quite hard. It's quite easy to doubt yourself, and if you've had a shitty day, to think, 'Oh god, I'm a terrible writer, I'm never going to write a good song again.' I think everybody struggles with that, who goes through sessions, but it was really encouraging to work with him. He was just such a good energy. It just made me feel way more confident in myself and my own ability, just to be in the room with somebody like that.
CDM: That's really nice to hear. A lot of the time when musicians tell me about writing sessions with strangers, it sounds kind of intense and awful. Like speed-dating. It sounds so hard.
HOLLY: It is really hard. Especially with my songs and with my lyrics, and the way that I work, I can't write unless I feel really comfortable because of how vulnerable my subjects are. I have to really trust the people that I'm working with and I have to feel really, really comfortable to be able to open up with somebody. It's literally impossible, meeting 40-year-old men every day who are writers and have written amazing stuff... They're all amazing, but it's impossible to click with everyone. How am I supposed to bare my soul to a different 30-year-old man every day? It literally is that brutal. Also, Matty is a frontman. He's an artist. He's writing about his experiences. And so he's not just another co-writer, and he understands how it is to write about personal experiences that he's going through, and then having to perform them in front of people and having to do promo about them, and stuff like that, and bare his soul as well. He also understood that. And yeah, he just created a really comfortable, lovely, creative environment for us to work in, and he's just a G.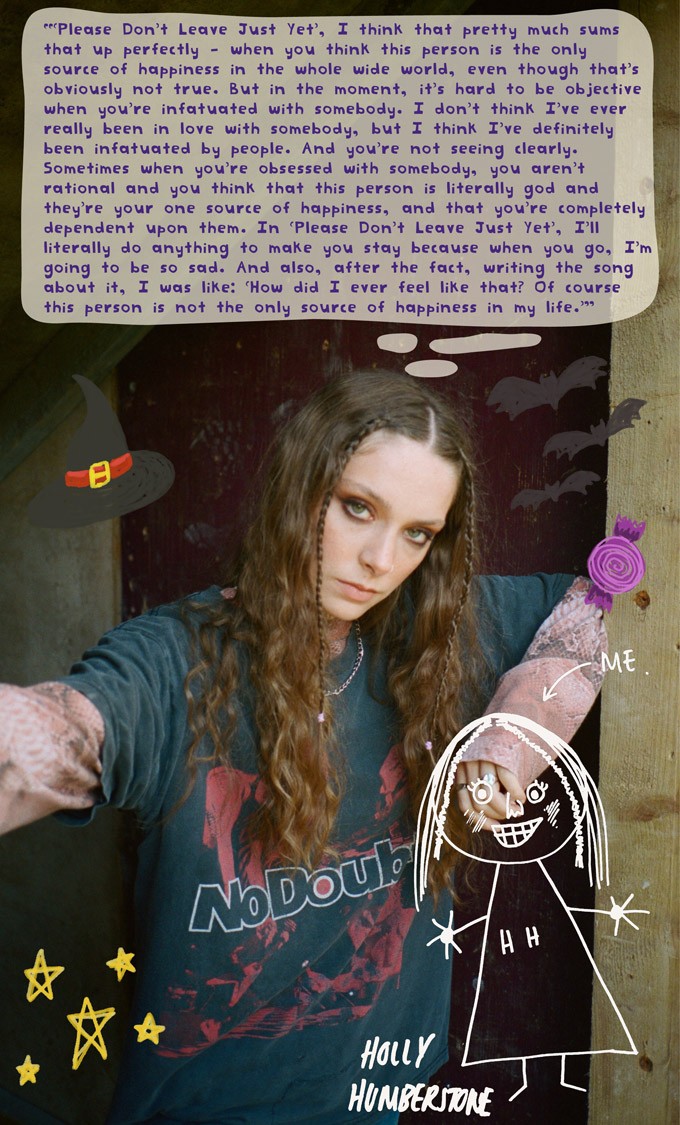 CDM: Does loneliness make it easier or harder to be vulnerable?
HOLLY: Probably easier. When I'm lonely, I'm not as strong as I usually am. I just seem to be unable to filter my thoughts. When you're lonely, you are left with your own thoughts, and I feel like that's when I've been able to write the best, personally, when I'm feeling really raw and I'm not able to stop myself from having to confront my thoughts. I remember writing quite a lot of this second EP on trains back and forth to London, and in my little tiny room in London when I didn't have any distractions and I just had to literally confront everything that I was feeling. Yeah, I think it makes you more vulnerable, for sure.
CDM: It's so easy to want to do nothing, and give nothing, because then you lose nothing. In your experience, have you found connection to be more fulfilling than avoiding connection?
HOLLY: I think so, and not necessarily just romantic relationships. I think connection is so fulfilling. Personally, for me anyway, for my creativity and for my mental well-being, I find I'm most happy and inspired when I'm around other people. As much as I love my own company, I think I need to be getting experiences and connecting with other people, especially after the year that I've had, I really crave that more than anything. So yeah, I think it's worth it. And I love my friends, and I love being around them, and they inspire me. I'm not sure about romantically, but with my friends and my sisters and my family, I think those are the kind of relationships that inspire me the most personally.
CDM: What other defence mechanisms make relationships, or friendships, more difficult?
HOLLY: I think I've struggled with not wanting to trust people, not feeling comfortable in myself, and the fear of fully committing to somebody. Because we've all been hurt, haven't we? And that's a fear that I've had - not wanting to fully be your true self with someone or be vulnerable because you're afraid that you might get hurt, or that you're going to be even more hurt if you know that you've shared everything with this person and they still didn't like you. I think I've grown in confidence, and as I've been through relationships and been through experiences, you kind of just have to let people take you as you are and not try to change yourself because you think somebody is going to like you in a different way. Be your authentic self and don't try to be who they want you to be, it's probably gonna make for a healthier relationship. But I'm no expert, I'm kind of the opposite.
CDM: Would you rather love or be loved?
HOLLY: I'd rather have both, if I could, in an ideal world, but I'd probably rather love because of my writing. And I feel like my connection with people, as I said before, is what I write about the most, and experiences that I have with people. I think it's the most important thing: to be honest in the world and to have connections. So yeah, I'd probably rather love, but also it would be nice to be loved too; it would be nice to have a little something back. I'd rather love because I feel like it's probably the strongest thing that you can feel, and I'd rather feel than not.
CDM: Also, being loved can still be lonely. You could have a one-sided love where you might be loved by someone, but you might also still feel lonely.
HOLLY: Yeah, you're right. I think I'd rather feel, than not, for sure. Even if it was unrequited love, I'd still rather feel, than not at all. I agree. At least I'm feeling something. And doing it for the writing.
CDM: With conditional love, there is always a competitive aspect. Is the worst thing about love when it feels like there is a fight to be the one who will hurt less than the other?
HOLLY: I guess so, but again, that's a sign of an unhealthy relationship. If you're in a competition of who's less dependent on the other person, then it's not a good relationship - you need to be comfortable and secure and you have to trust in the other person. If that's not the case, then you're probably not trusting the other person, and it shows that you don't fully care for the other person. Surely, if you really, truly care about each other, you don't want the other person to get hurt either - you'd rather take the rap. That's what I think, anyway. In my past relationship that had kind of broken down over the lockdown, I wrote a couple songs that are going to be on the EP about it, and about feeling not connected to the relationship anymore. I didn't feel the way that I should feel about this guy, but I didn't want to break up with him because I didn't want to hurt his feelings. I really truly loved him, but not in the way that I should have, and I wanted to protect him as much as I could because I still really cared for him. And that's how it should be. That's how I know that it was a healthy relationship, because I did care about him, and I was in it for both of us. If it's a competition of who's going to get hurt the least, then it's not a very healthy relationship, and you don't have much empathy, to be honest.
CDM: In healthy relationships, falling in love with someone else is a little bit about falling in love with yourself too - seeing, understanding, and appreciating what they love about you. Is that the best thing about connecting with another human? The rush of feeling seen, heard and understood?
HOLLY: Yeah, I think it's one of the best things, Again, I think this probably applies to friendships, or family relationships, and includes romantic relationships, but I think one of the nice things about having somebody that you really care about is that you like who you are around that person. I think that's how I can tell if a relationship is a healthy relationship or not. I've had friends or relationships where I'm doubting myself, and I'm feeling kind of insecure, and I'm second-guessing myself, and it doesn't make me feel good. That's how I know if it's good for me or not. But the best relationships and connections that I have formed with people are the ones where I've seen another side of myself come out through the relationship that I hadn't seen before. That's how I feel when I'm with my best friends; I feel really special and I like who I am and they make me feel good about myself. I think that's probably one of the best things about connections and relationships, for sure, but it definitely is kind of rare. It's rare that you can find people that make you feel like that, so when you do, you have to really cling on to those relationships.
CDM: Healthy relationships require growth and contribution from both people, and really honest communication. What else do you think is important?
HOLLY: Communication is so important. And I think you have to be friends first - talking about romantic relationships, I think the successful ones that I've been a part of, I've considered them to be successful relationships despite whether I was truly in love with this person or not. If we were friends, I think those are the best ones because you know that the connection is there and you have a good time together. Above everything else, that's the most important thing. I think you have to be mates first. That's just gonna set you up for a sick time.
CDM: It's been proven by research that women do more emotional labour for other people than men, but no one ever teaches us how to build strong emotional boundaries - it's just something that we develop from living long enough to grow them. Should this be more openly discussed so there's more awareness of the extra burden that emotional labour puts on women?
HOLLY: I think so. I think it is slowly being more discussed, though, in music. There are so many female singer-songwriters at the moment that are talking about how they feel, and being so vulnerable in their writing, and just being completely unfiltered. Like Phoebe Bridgers, or Olivia Rodrigo, or Gracie Abrams. People just being so: 'This is exactly how I feel, I'm not going to hide anything, this is 100% straight from me; unfiltered thoughts.' It's a really good trend that's coming about, and I want to be a part of it. I want to be vulnerable and talk about how I feel. But I think everybody needs to be talking about how they feel - everybody, especially on the mental health side of things. It seems like sometimes it's taboo to talk about stuff that's really, really making you feel bad, and I think we need to just talk about things more. Especially over the lockdown, I've felt like I've had quite a lot to carry with relationships, and stress being put on these relationships, and feeling like everything's kind of falling on me. And obviously, with all the stresses of a global pandemic, and being on social media all the time, and starting out my career, I just feel like there have been so many pressures coming at me from every different angle. I found that having that really, really vulnerable music that's all kind of come out over the past year, has been so important for me - the connection that I've gotten from people like Gracie, or people like Phoebe, or the Taylor Swift albums, has just been really, really needed. I didn't realise how much I was craving that human connection. I'm very grateful to them. I feel like all that music got me through the year.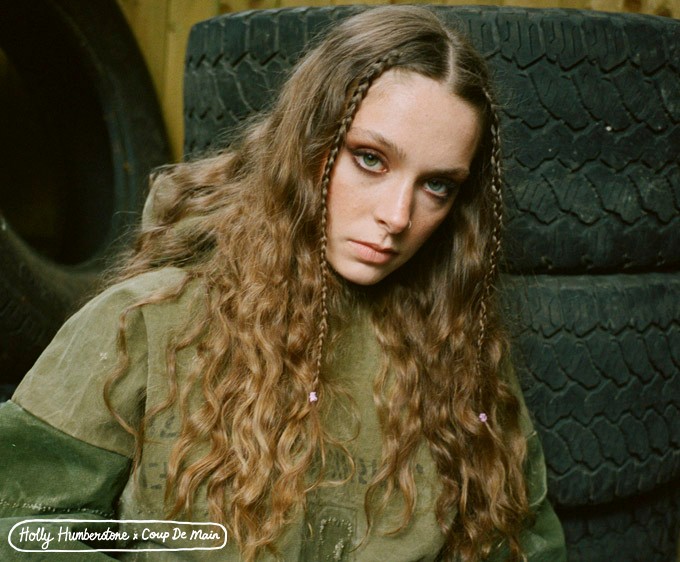 CDM: In normal times, when people are starting off their career they get to play shows and see their fanbase grow, literally, and you can meet fans and have two-way interactions. How's it been for you getting to play your first festivals?
HOLLY: So bizarre, honestly. Like, Latitude, for example, that's a huge festival and I was not expecting anyone to come to my gig. There was a packed-out tent and it was so, so surreal. It was so weird because I've put all this music out over the last year and I've never seen these people in the flesh. I've only seen numbers and figures on Spotify or on social media. I've never seen any physical proof that these people really exist and that people are actually actual people who are listening to my music, and that they like my music. So seeing people actually come to watch me is just very strange. And having people know the words is just really, really cool and weird. It just makes me excited. And it's so encouraging to be honest. It's been hard to stay motivated when I haven't been able to get to gigs and feel that human connection with people, and meet these people, and get that kind of encouragement, so yeah, it's just really inspiring and so nice. Just lovely and heartwarming.
CDM: When you go on Spotify and you see that you have 2.2 million monthly listeners, what does that look like in your mind?
HOLLY: I don't know. I really can't picture it. I can't fathom it. I can't picture that many people. It's very, very strange. These songs are so personal to me, they've helped me through various things, and they've helped me process everything over the last few years. I'm so vulnerable in these songs. And it's just so weird and cool that these songs are connecting with strangers that I don't know. I'm connecting personally on a really deep level with these people that I don't know through the songs all over the world. It's sick. It's very strange, it's really weird to think about, but it's cool. And I just want to keep growing the family and keep releasing music and keep giving people more stuff to listen to that I love.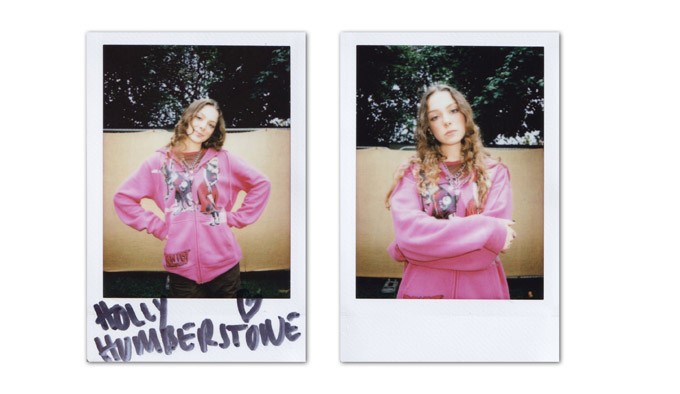 CDM: In 'Thursday' you repeat variations of the refrain, "All I do is wait for you," which reminds me of a passage from Lisa Taddeo's book 'Three Woman' in which she writes: "Throughout history, men have broken women's hearts in a particular way. They love them or half-love them and then grow weary and spend weeks and months extricating themselves soundlessly, pulling their tails back into their doorways, drying themselves off, and never calling again. Meanwhile, women wait. The more in love they are and the fewer options they have, the longer they wait, hoping that he will return with a smashed phone, with a smashed face, and say, I'm sorry, I was buried alive and the only thing I thought of was you, and feared that you would think I'd forsaken you when the truth is only that I lost your number, it was stolen from me by the men who buried me alive, and I've spent three years looking in phone books and now I have found you. I didn't disappear, everything I felt didn't just leave. You were right to know that would be cruel, unconscionable, impossible. Marry me." Do you think it's possible to get closure from someone who refuses to communicate openly with you?
HOLLY: No, I think that's impossible. I've been through stuff like this where I felt exactly like that, where for some reason, you are completely waiting for this person. And I do feel like maybe it's that women are more emotional - and I mean that in the best way possible way, like, in a really good way. I have three sisters and all my friends are girls and I spend all my time with girls, and in my experience - this is really, really savage - I think that the emotional age of men is a lot younger than ours. I feel like women mature beyond their years, and men aren't quite up to their age, emotionally, quite a lot of the time. Obviously, there's exceptions, but I think women are generally more mature emotionally. I can establish such a strong bond to somebody, but they're kind of just aloof, and this has happened on multiple occasions, and it's really hard to hold the guy down without them drifting away, or their attention kind of drifting. And for some reason, they never know how to deal with it in the right way. This is just from what I've experienced. I wrote 'Thursday' about my best friend who was going through a break-up. I was her first port of call and I helped her through everything and I felt like I was going through the relationship with her. It was really hard for me to see her in denial about him wanting to break up with her for so long, and the way he did, it was really horrible and heartless. They'd been together for a long time, like three years, and you'd think after three years that he would care more about her and understand how her brain works and how the way that he broke up with her would hurt her. Basically, he completely ignored her, and just completely went off the grid. And I feel like this is 99% of break-ups. This is how they happen. I just don't understand it. It's really sad. It just shows that he either was really, really stupid and didn't understand that after three years of being with her that would hurt her feelings and there were better ways to go about breaking up with somebody, or he just didn't care. He had no empathy at all, even after three years of being in the relationship. But yeah, I definitely feel like it's a thing, I've seen it with so many of my friends. I think men are emotionally inept, sometimes. Obviously, there are exceptions, but that's just what I've found from my experience. I think we're emotionally complex and more mature.
CDM: Is closure necessary in order to move on from a relationship, or even just a friendship?
HOLLY: Personally, I think that it's really hard to move on without closure. If you don't have closure, you can keep some kind of false hope about this person maybe coming back. I find it really hard to disconnect with somebody and put myself first, when I still feel like there's a possibility of having something with this person. That was definitely what my best friend Scarlett was going through. The nicest thing to do sometimes is to give somebody closure and to tell somebody the truth and to be open with how you're feeling - and quite a lot of the time, that's the least they can do. It's the kindest thing to do. It's just really shit when somebody doesn't be honest with you and doesn't tell you how they're feeling so you can't move on and you're still kind of rooting for this person that there really is no hope for. And I'm a bit of a hopeless romantic, where I kind of fantasise about my life with this person--
CDM: Relatable.
HOLLY: Yeah, it's really bad. I don't know why I do it. And I really wish I could just like somebody a little bit, and then it builds up in a natural way, but for some reason, I always am literally picturing my life living in a château in the south of France with this person for the rest of my life, with a lake and some kids running about and some dogs, and it's not healthy and it's just kind of silly. I also think I try and see the best in people, so I'm constantly rooting for people. It's hard when somebody doesn't respect you enough to tell you the truth, and to give you the closure that you deserve.
CDM: There's another line from that book in which she also writes: "Some women wait because if they don't, there is a threat of evanescence. He is the only one in the moment, whom she believes she will ever desire." Have you ever felt similarly?
HOLLY: For sure. In 'Please Don't Leave Just Yet', I think that pretty much sums that up perfectly - when you think this person is the only source of happiness in the whole wide world, even though that's obviously not true. But in the moment, it's hard to be objective when you're infatuated with somebody. I don't think I've ever really been in love with somebody, but I think I've definitely been infatuated by people. And I don't think you're seeing clearly. Sometimes when you're obsessed with somebody, you aren't rational and you think that this person is literally god and they're your one source of happiness, and that you're completely dependent upon them. In 'Please Don't Leave Just Yet', I'll literally do anything to make you stay because when you go, I'm going to be so sad. So yeah, I've definitely felt like that. And also, after the fact, writing the song about it, I was like: 'How did I ever feel like that? Of course this person is not the only source of happiness in my life.'
CDM: It's so weird to think about if when you're spending so much time thinking about someone, are they spending as much time thinking about you?
HOLLY: Yeah, it is weird. And you think: 'Oh, my gosh, what if they are thinking about me now and I'm thinking about them at the same time?' I've never really done this before, but I think I'm trying to go into things now with the mindset of: 'I'm whole enough already and I'm the finished product and anything that a relationship or somebody can bring is just the topping. You're an extra, I'm enough already.' And what can you add to an already finished product? If you change your perception on relationships, that's just way healthier. But also, it's so easy to feel like that when you're obsessed with someone and to not think that that's true.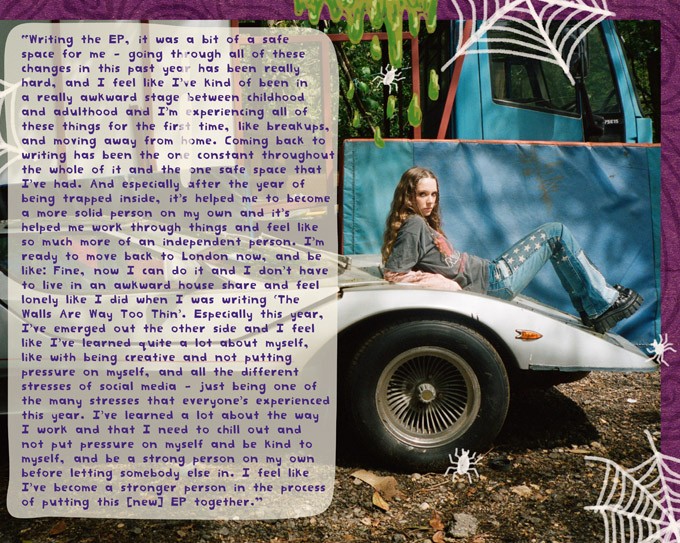 CDM: The little "hello" you say at the beginning of 'Friendly Fire' really adds to the feeling that your songs sound like voice notes sent in song-form.
HOLLY: I think I was just testing the mic out, but quite a lot of the time, actually every song that I've released, has been the version of the song that I wrote on the day that I wrote the song. I don't really like to go back and change bits from the original demos because I find that I can't get the vocal as emotional and it just doesn't feel as raw and I'm not connected to the song as much as I was when I'd just written it. When I'm writing, I'm thinking about all of these things that I'm writing about - and especially 'Friendly Fire', it was the relationship that kind of ended over lockdown and it was before I had admitted to myself that I wasn't fully invested in this person anymore and I wasn't really happy in the relationship, but I really didn't want to hurt this person. I was really, really in two minds about it: I've got to put myself first and do what's best for myself, but also, I really care about this person, I love this person so much and I don't want to hurt them. I remember going to the studio and writing 'Friendly Fire' and just being kind of like: 'I'm so desperate not to hurt you that I'd rather hurt myself.' I was really struggling to deal with all of these thoughts that I was having. And when I listened back to that song, it was like, I'd just written it. There are some songs like that song, and like 'Haunted House', where I feel really, really emotional when I'm actually recording the vocals. The whole day is such an emotional, intense rollercoaster for me, and listening back to those lyrics I remember how hard it was to get through singing it. I really like how raw they are, and they are so fresh, and just me, really vulnerable. They're my most vulnerable forms of myself captured in little moments.
CDM: I love the concept and symbolism of 'Friendly Fire', that falling out of love isn't necessarily ill-intentioned.
HOLLY: Also, I was blaming myself quite a lot. I was like: If I hurt you, the friendly fire is on me, it's kind of my fault, don't take it too personally, this is nothing to do with you because you're a great person. I was putting a lot of it on myself as well and blaming myself for this relationship falling apart.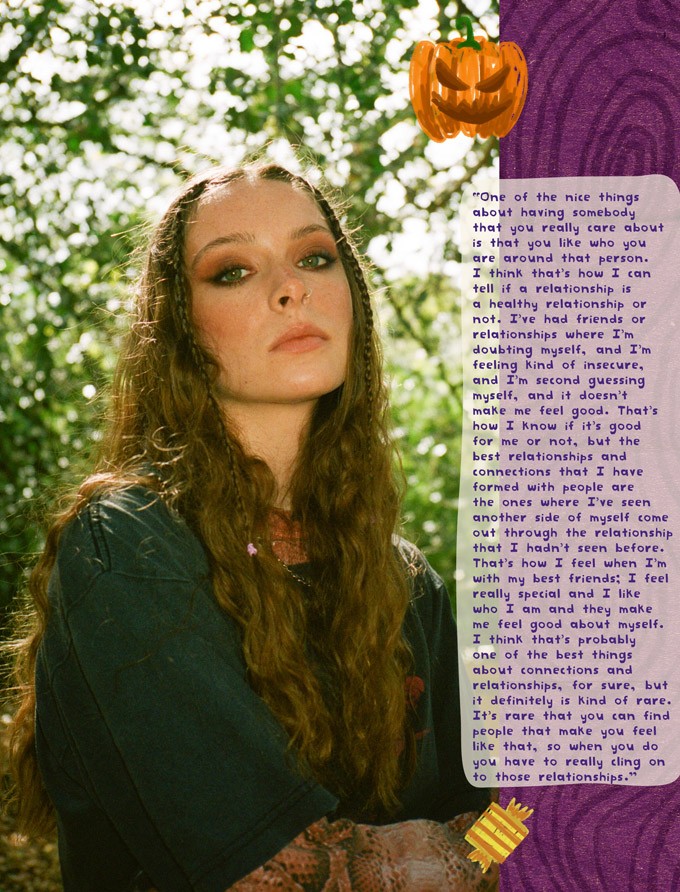 CDM: Please tell your best friend Scarlett that I'm super sorry she had to endure a terrible relationship and break-up, but thank her for all of the song inspiration. I'm so obsessed with 'Scarlett', I think it's my favourite song I've heard of yours so far. I love the line, "We go together like bad British weather on the one day I made plans." When you're writing lyrics, do you ever get a moment of smugness where you feel super proud of something you've just penned?
HOLLY: Oh my gosh, thank you, 'Scarlett' is my favourite song as well, that I've written. I wrote 'Thursday' about the same situation too. It was about my friend, Scarlett, and I'd been through this whole relationship thing with her. She'd come to me with everything that she was feeling, and I remember writing 'Thursday' earlier in the year when he hadn't quite cut the ties yet and he was leaving her hanging on and just putting her through hell, like we were talking about before; just giving her no closure. I wrote 'Thursday' about that period of time. And then I wrote 'Scarlett' way, way, way, way, months down the line at the end of the summer, and she was like: 'I'm so tired of being upset about this guy.' And I could see it as well. I was like: 'Do you not realise that he's such a terrible guy?' I just couldn't understand how somebody so great like Scarlett could be still upset about this bang average guy. Like, come on, he treated you so terribly and he put you through that shit. You're so much better than that, turn all this heartbreak and sadness into bad bitch energy. You're better than that! So yeah, they're about the same relationship in different stages and about how she was feeling at different stages of heartbreak and getting over it. But, back to your question. There are definitely moments where I was like, 'Shit, this is the best song ever.' Like when we were writing 'Scarlett', the first bit that we got was actually that line, "We go together like bad British weather on the one day I made plans." And we literally had that line for months and months and months, and I was waiting for the rest of the song to present itself, and then we pretty much wrote the rest of 'Scarlett' in a couple days and it came out really quickly. I still have the voice memos from when we wrote the song. I think you know when it's a good song / when it's the best song ever, when you're just having so much fun writing it - it's never like work, it's always just so much fun, you're bouncing up and down and it's never a chore to finish the song. But yeah, for sure, definitely that lyric, and definitely the second verse, I think, is my favourite verse I've ever written.
CDM: I also love, "You're emotional grim reaper, I feel bad for you," from 'Scarlett' too.
HOLLY: All of that bit was just the best, and I liked how kind of self-deprecating the song was. I also like how it's kind of funny and I'm taking the piss out of her as herself in the song. But it's not always that that happens, sometimes the songs are a bit of a chore to get through and sometimes they take longer to write. For example, 'The Walls Are Way Too Thin' took months and months to write and to get right, and it was a bit more of a job to get through it and to get it right. I also really love that song, but 'Scarlett' is just my favourite because I remember writing it and just being like, 'Whoah, whoah,' and just kept thinking of more ideas. This is my favourite song that I've ever written. It was so much fun.
CDM: When you say, "I know I adore you, I don't need you now," in 'Scarlett', it feels like a big emotional turning point for you on the EP.
HOLLY: For sure. I think it also had to come later in the EP because I think quite a lot of the EP was about, like we were speaking about before, about being dependent upon other people. 'The Walls Are Way Too Thin' was about me moving to London and being on my own and feeling like I couldn't be on my own, and that I missed my friends, and that I was lonely in this random place. 'Haunted House' was about not wanting to let go of my childhood and being dependent on this house and not wanting to grow up. 'Thursday', again, is about being dependent on this person. 'Please Don't Leave Just Yet', again, is about being dependent upon somebody else for my own happiness. And then 'Scarlett', that's another reason why it was really fun to write because it felt like such a release, and being like: 'I still have these feelings, but I know that I'm good on my own, and I'm myself and I don't need you, and I don't need you to be happy anymore.' It was just letting go of all of that stuff. It's such a freedom song for me to listen to. It's like--
CDM: Bad bitch energy time!
HOLLY: Yeah, it really is bad bitch energy. I feel like such a boss listening to that song and playing that song live. I think that's why I'm so proud of it as well. It's so easy to write all of these songs where you're feeling sorry for yourself and it's just like, 'Oh, woe is me,' which is actually one of the lyrics in one of the songs and pretty much sums up the rest of the EP, and then writing a song like 'Scarlett' is just like, 'Actually, fuck this, I'm sick on my own, I am seeing all of these ways that you've treated me badly and I don't need it.'
CDM: I once got this Co-Star notification: "Now is a good time to construct a solid home inside yourself so that you can stop looking for a home in everyone else." Have you ever felt like that rang true for yourself too?
HOLLY: 100%, it's a thing that I've been through over this past year while writing this EP, and coming back to writing the EP. It was a bit of a safe space for me. Going through all of these changes in this past year has been really hard, and I feel like I've been in a really awkward stage between childhood and adulthood and I'm experiencing all of these things for the first time, like breakups, and moving away from home. Writing has been the one constant throughout the whole of it and the one safe space that I've had, and especially, after the year of being trapped inside, it's helped me to become a more solid person on my own and it's helped me work through things and feel like so much more of an independent person. I'm ready to move back to London now, and be like, 'Fine, now I can do it and I don't have to live in an awkward house share and feel lonely like I did when I was writing Walls.' Especially this year, I've kind of emerged out the other side and I feel like I've learned quite a lot about myself, like, with being creative and not putting pressure on myself, and all the different stresses of social media - just one of the many stresses that everyone's experienced this year. I've learned a lot about the way I work and that I need to chill out and not put pressure on myself and be kind to myself, and be a strong person on my own before letting somebody else in. I feel like I've become a stronger person in the process of putting this EP together.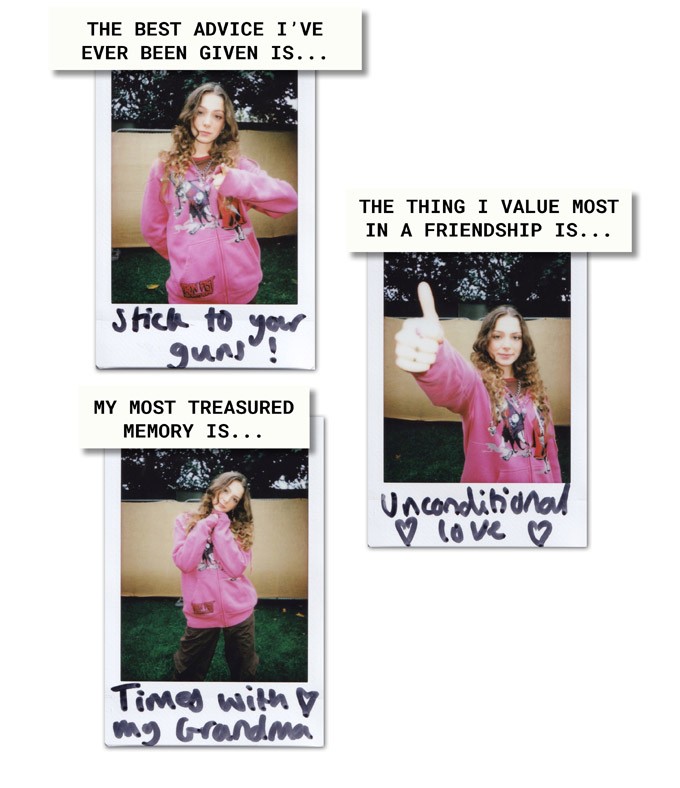 Holly Humberstone's new 'The Walls Are Way Too Thin' EP is out on November 12th.
Watch the music video for 'Scarlett' below...