Happy 'Badlands' week - a Halsey appreciation post!
Happy 'Badlands' week - a Halsey appreciation post!
Halsey is something of a phenomenon, and it's through her very excellent debut album 'Badlands' [out today!] that she solidifies her position as a force to be reckoned with in the pop world.
We here at Coup De Main have been fans of Halsey for a while now, featuring her as one of our 'Must Know Artists of 2015', as well as interviewing her earlier this year about the upcoming album release.
In order to celebrate the release of 'Badlands', we have compiled ten things that we appreciate about Halsey. But first, a little info on the album:
"Badlands is a place, but it's also a state of mind. It's a city, a glittering, humming metropolis, surrounded by impassable desert, and it's the feeling of being trapped inside your own mind. It's the name of Halsey's cinematic debut album, a conceptual effort that draws the listener on an epic journey through time and space. It's an idea that began only with the word: Badlands. 
"I didn't even know what it meant, but my brain exploded into a cartoon rainbow when I thought about it," Halsey says. "I got obsessed with the concept. The album follows a storyline and that storyline developed as I was writing the album over the past year of my life. In the midst of the process it hit me that Badlands was a metaphor about my mental state – the idea of being trapped in this booming city moving with the velocity of revolving doors and people. It's busy, it's toxic and it's surrounded. So I can't leave and no one else can get in. That's what it was like to be inside my head."
Halsey, the musical moniker for 20-year-old, New Jersey-raised musician Ashley Frangipane, commenced work on Badlands last October, focusing on how to build tactile space with sound. She selected producers, some of whom she found on Soundcloud, not by their resumes or major label experience, but on their creativity. Halsey worked until May, crafting the city and its surrounding wasteland in both instrument and lyric, creating anti-pop songs that embrace a hooky sensibility without actually cohering to the mainstream. "All of my songs are almost hits," she explains. "The idea was: How can we create the concept of space with sound? How can we create the feeling of being somewhere? I wanted to use the science of sound to create space while using pop melodies to brainwash the listener into wanting to stay in that space."
The songs appear on the album in almost chronological order to how they were written, with the exception of "Ghost," a single from the EP. The concept is more in the haunting, ethereal sound than the lyrical narrative, and Halsey touches on her own life, its relationships and instances, in each song as the overarching mood carries her out of the Badlands. "Drive," a track that lands midway through the album, marks a shift in the story, Halsey's decision to leave the Badlands, both mentally and physically. "It was a really therapeutic thing for me," she says. "The songs that follow take on a much different shape and a much different journey. 'Drive' is the first happy song I've ever written. 
Much of the album was written and recorded as Halsey was also touring. Her time onstage, as the crowds began to sing her own words back to her, aided in the process. She began to consider which moments were the most impactful and how to best spin her stories. For Halsey, a song must resonate, but there is no expectation for how it should do so. Badlands is a concept, pulled together by a central idea, but it can also exist in its pieces. "It is certainly a journey," she notes. "But at the same time I'm a songwriter and this is a science to me. Any of the songs can be enjoyed without knowing the story or the concept behind them. I want to give people the chance to dive into something that's more adventurous and more calculated, but a song can be just enjoyed."
If you follow the trail alongside Halsey, the journey that takes you from inside the Badlands and then allows you to escape them, you will find yourself in another place, forever changed by the voyage. The honesty and authenticity of the music pushes you forward, urging reflection. The album is a coming-of-age story and it is meant to be transformative, no matter how you choose to listen to it. 
"Creating this album brought me a lot of finality and validation," Halsey says. "Starting an album is a horrifying thing for any artist, and it was even more anxiety-ridden because everything I do is conceptual and consistent. I could never put songs on an album with a message and a purpose behind everything. The records I have loved in my life are the ones that have taken me to another universe. Records that feel otherworldly, unique and with their own language. I can confidently say that I made a record that doesn't sound like much else out there."
Without further ado, here are ten things that we appreciate about Halsey…
#1. Her album campaign has been the coolest EVER. In Los Angeles, The Badlands Air Travel Agency opened yesterday for one day only, and was a place where 300 fans could score tickets for a special release-day 'Badlands' show, as well as get other exclusive t-shirts, postcards from Badlands, and more! Why am I not in Los Angeles for this? Good question.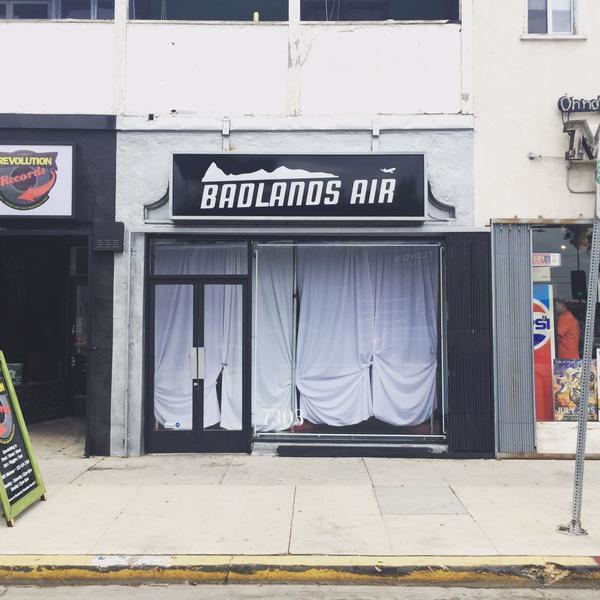 #2. Coup De Main was lucky enough to interview Halsey a couple of months ago, where she said some super insightful things - not just about her album, but about slut-shaming, the class-divide in society, and the music industry. Click HERE if you wanna read the full interview, but I've also included a couple of my favourite questions + answers below:
CDM: 'Castle' makes quite bold statements as your album's opening-track - especially the line: "And there's an old man sitting on the throne that's saying I should probably keep my pretty mouth shut." Was it inspired by your personal experiences with the music industry?
HALSEY: Yeah absolutely, and I think it's kind of figurative. It doesn't speak to my record company specifically - my record company is actually incredible, they let me do pretty much whatever the hell that I want, they're incredibly encouraging and they understand that this is my project and they have left it in my hands to do what I want with it. I think the old man is kind of just representative of a patriarch. When I first started out there were moments when I'd be wearing something and then I'd rock out on stage and think something like, 'Is this too revealing? Is this too blah blah blah?' Or, 'Should I not say this? Maybe I shouldn't curse.' And then I think I eventually just starting being like, 'Why the fuck do I care? Why do I care? If I'm not offending anyone's race or creed or beliefs to a level of political incorrectness, then why do I have to fucking please anyone? I have no-one to please.' I think that is kind of what that song signifies - my entry into the music industry, and the realisation that I don't have to follow anyone's rules.
CDM: Like with most industries, the media industry is dominated by male voices, who traditionally - and as convention - belittle and trivialise the opinions and thoughts of teenage girls. E.g. Just because a young girl loves One Direction, doesn't mean that her political viewpoints are any less valid; the two are not tantamount. What are your thoughts on the rise of young girls blogging their own think-pieces and engaging with their peers on an intellectual level online?
HALSEY: I think it's incredible. I agree 1000% that your taste in music doesn't undermine your intelligence, nor does your love for things that teenage girls love make you less mature, or less socially aware. I mean, I fucking loved One Direction in high school, I get shit for that all the time - 'I'm not indie enough, I'm not alternative enough, I'm not smart enough, I'm not edgy enough, I'm not whatever because I like One Direction.' I fucking like One Direction! I like pop music! I thought they were great. I thought they were a tremendously successful project and it's something that I enjoyed because the music was catchy; I was fucking sixteen-years-old! All the while I was in AP classes and I was dating guys who were taking drugs and I was watching my friends die. Liking One Direction didn't take away from any of the life experiences that I had, if anything they were just a part of my eclectic and well-rounded taste in music and I think it's amazing that girls are blogging and that girls are sharing information. Young adults in general, not just girls. I see so many kids on Twitter and on Tumblr who are sharing information with each other - educating each other on their religions, educating each other on what's going on in their countries because the Internet has opened up a global forum for people to talk about what's happening all over the world. Educating people on other viewpoints from certain race and from certain class and from certain religion. I think that's a fucking incredible thing that the Internet has given us, and I think a lot of it comes from fandom. I think a lot of girls who love bands like One Direction or love bands like 5 Seconds Of Summer and Fifth Harmony feel comfortable with each other because they all like the same thing. That comfortability is what lets them feel like it's okay to educate each other. So if anything I think that love for One Direction is making people more intelligent, so fucking fuck that!
#3. In the lead-up to the album's release, Halsey took to the Jimmy Kimmel Outdoor stage, where she performed her single 'New Americana', to a bunch of her dedicated fans - who absolutely worship her during the performance. Check it out below:
#4. She did an incredible performance of 'Hold Me Down' for Vevo Lift, which was just her and an electric guitar. No words can describe how good she is, just watch it:
#5. As part of being a Vevo Lift artist, Halsey has been creating a bunch of original content for them - however she's taken it a step further than most artists who are featured in this series. In one of the videos, she takes three super lucky fans to a tattoo parlour, where they get matching tattoos. It shows her real dedication and love for her fans - check out the video:
#6. If vinyl is your kinda thing, then you're gonna want to get your hands on this 'Badlands' Urban Outfitters exclusive vinyl - which not only has a different album cover, but the album comes on a beautiful teal coloured vinyl. LOOK AT IT!
And click HERE if you wanna buy one (or ten - gift it to everyone you know).
#7. In this adorable interview with MTV, Halsey answered questions via gifs - from dreaming about Drake, to impersonating her doppelgänger (which is Robin from 'How I Met Your Mother' if you didn't already know). Check out our faves:
#8. The limited edition 'Badlands' box-sets are AMAZING. They come with pin-badges, postcards, prints, and more. Sadly the signed editions are already sold out [as expected], but if you got in early enough - go you! You can get the unsigned version still HERE. Check out a picture of it below:
#9. In the lead-up to the album's release, Halsey conducted a Twitter Q&A about the album, in which she answered fans questions about the albums concept and production. She was trending on Twitter because of the Q&A - and over 40,000 people were tweeting about her for that period of time. Check out some of the most interesting answers below:
@ashfthalsey it's a dream sequence sort of thing. A hallucination. A memory. #BADLANDS

— HALSEY (@halsey) August 24, 2015
@lowqualityjess Gasoline. It was so funny to make fun of myself like that. u can almost HEAR me laugh in a twisted way as I sing #BADLANDS

— HALSEY (@halsey) August 24, 2015
@Austin_krach99 roman holiday! I couldn't figure out what "ay" rhyming phrase to use and roman holiday just became the perfect fit #BADLANDS

— HALSEY (@halsey) August 24, 2015
#10. As if Halsey couldn't be any cooler, it's just been announced that she's going to be supporting The Weeknd on some of his U.S Tour. I couldn't be more jealous - seeing these two artists perform in the same night is going to be incredible.
Halsey's debut album 'Badlands' is out now - click HERE to purchase it via iTunes, and click HERE to read our review of the album.
Watch the 'Ghost' music video below…
Load next