A Halsey x 'Hopeless Fountain Kingdom' appreciation post.
A Halsey x 'Hopeless Fountain Kingdom' appreciation post.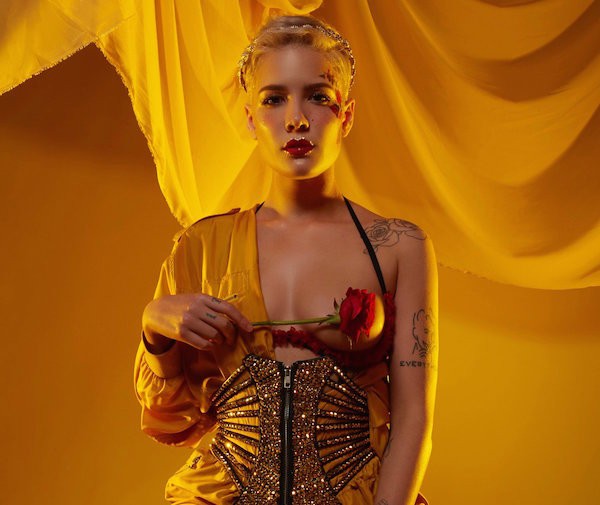 June 2nd is a very special day, as it has blessed us finally with a second Halsey album - in the form of 'Hopeless Fountain Kingdom', an album that we've been anticipating for a little while now, and in celebration of its release, we've put together a list of things that we appreciate about Halsey and her work.
But first, here's some info on Halsey:
"Halsey catapulted onto the scene in 2015, as her full-length debut BADLANDS bowed at #2 on the Billboard Top 200 and went RIAA platinum within one year of release. She quickly followed her amazing debut success with sold-out arena tours and received a 2017 GRAMMY® nomination in the category of "Best Pop Duo/Group Performance" for 'Closer,' her quadruple-platinum megahit with The Chainsmokers. Prepare to leave BADLANDS. Welcome to hopeless fountain kingdom."
Now here are five things we currently appreciate about Halsey…
#1. Her stripped performance of 'Eyes Closed' has been on repeat over and over again since we first heard it - with Ashley's vocals sounding the best we've ever heard. Watch it below:
#2. Following the release of new song 'Strangers' last week, Halsey released a teaser video featuring both her and Lauren Jauregui - showing them in what appears to be a 'Youth Brawl'…
#3. She recently did an interview with Zane Lowe for Apple Beats 1 Radio show, which saw her in conversation with Baz Luhrmann, where they discuss the influence of 'Romeo + Juliet' on the album as a whole. Watch the interview in full below:
#4. Her cover of DJ Khaled's summer jam 'I'm The One' is truly excellent - with Halsey changing the lyrics and turning it into her own song. Watch the cover below:
#5. Her dog, Jagger, is truly adorable - and deserves a whole appreciation post to himself, but instead here are some cute photos of him to admire:
Halsey's album 'Hopeless Fountain Kingdom' is out now - click here to purchase.
Watch the 'Now Or Never' music video below…
P.S. Read our interview with Halsey here.
Load next