Top 5 Ed Sheeran collaborations on new album '÷'.
Top 5 Ed Sheeran collaborations on new album '÷'.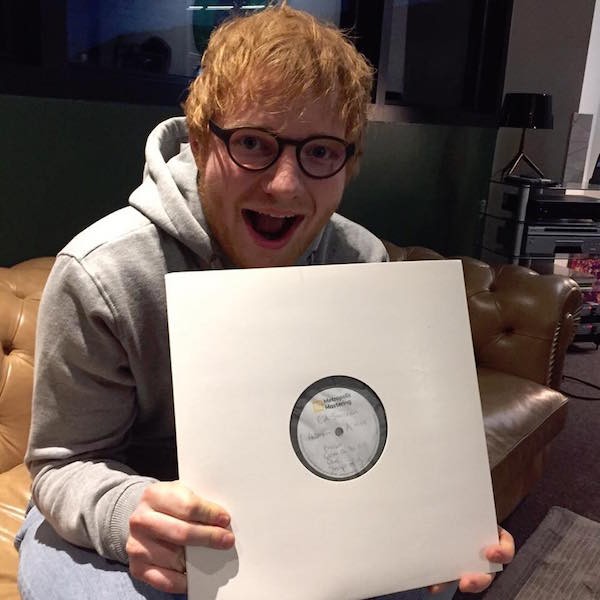 Since the release of Ed Sheeran's new album on Friday, he has broken worldwide streaming records - and now holds the record for the highest streams in one day, with 56.73 million streams, which is twice the number of the previous record set by The Weeknd's 'Starboy' of last year.
In celebration of the release of '÷', we've compiled a list of our top 5 collaborations that take place on the new album.
Before we begin, here's the official info on the album:
"÷ (pronounced "divide") - Ed's third studio album – is on course to become one of the most significant global album releases of 2017 and sees the 25-year-old Suffolk native in his finest form yet. The genre-defying LP is the result of an artist who consistently pushes himself in new directions, uncovering fresh musical ground using a seemingly limitless musical vocabulary. Drawing inspiration from a host of personal experiences and subjects, Ed takes you through a hugely personal journey; be that reflecting on past relationships, family memories, his musical career or his time off travelling the world in 2016. Musically ÷ is an array of beautifully orchestrated and emotive ballads, impassioned raps laid over hip hop beats, timeless acoustic guitar masterpieces and innovative, idiosyncratic pop music."
#1. In an interview ahead of the album's release, Ed revealed that he managed to get a John Mayer guitar solo on 'How Would You Feel (Paean)'.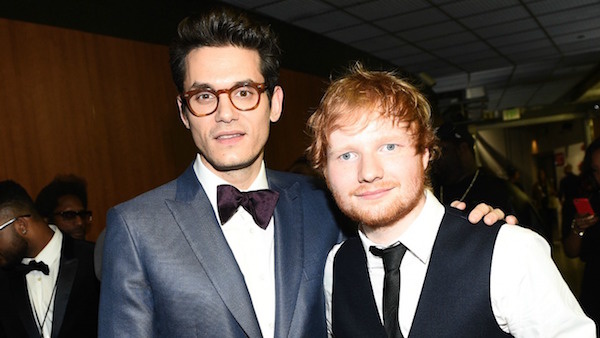 About the collab, he said: "I got John Mayer on a guitar solo that's uncredited that's quite cool. I did a really terrible guitar solo on a song and I was like, 'I bet John Mayer could do this better.' So I emailed him and he did it a lot better."
Listen to the song below:
#2. Another album highlight, 'Dive', was co-written with Julia Michaels - who's written for the likes of Selena Gomez, Fifth Harmony, Justin Bieber, as well as released her very own song 'Issues'.
#3. Ed has previously collaborated with fellow Brit Jessie Ware on her album with 'Say You Love Me', and now Sheeran's new album features Jessie's backing-vocals on three songs - 'Dive', 'Happier', and 'New Man'. She also co-wrote 'New Man' with him! Listen to it below:
P.S. The song also has a vocal feature from Francis And The Lights at the end (who's previously featured on songs by Chance The Rapper, Frank Ocean, Drake).
#4. Pop-writer royalty Ryan Tedder [of One Republic, but has also written for the likes of Madonna, U2, Adele, Beyoncé, Maroon 5, Demi Lovato, Ariana Grande, One Direction, and Taylor Swift] worked with Ed on another album track, 'Happier'.
He said about the song: "I've definitely got to a point in my life where I'm friends with all my ex-girlfriends now, like we're all cool and it's very much like I'm really happy that you're happy and with someone that you love, and they are really happy that I'm happy and with someone and there's a grown-up element to it. Happier was like that coming out I guess – me writing a grown-up song."
#5. In his recent interview with Zane Lowe from Apple Beats 1, he revealed that the guitar solo in 'Dive' is played by none other than Angelo Mysterioso. Though that name might not ring a bell, upon googling we have discovered that the pseudonym also featured on an Eric Clapton song, 'I Will Be There' - whose acoustic guitar and vocals feature on the song.
That feature has been rumoured to be none other than Mr. Sheeran himself (they both performed the song together in Japan last year):
So it appears that the pseudonym has been reversed for this song, with Clapton using it on an Ed Sheeran song. Watch an interview below between Ed and Zane where they discuss it [from around the 33-minute mark]:
Ed Sheeran's new album '÷' is out now - click here to purchase.
Watch the 'Castle On The Hill' music video below…
Load next