Interview: Deep diving with... Dominic Fike.
Dominic Fike is not a serious person. Or as he would tell you: "I'm just a dumbass kid from Florida." Surrounded by the hustle and bustle of his favourite Italian restaurant in Beverly Hills, I'm seated opposite the 27-year-old Floridian at a cozy outdoor table when he looks me in the eye and continues: "Please don't take all these things I say seriously; I'm just a fucking human. In Florida, the culture with all my friends and everyone I know there is we're riffing when we're talking - comedy is always so present, we're constantly just saying the worst thing that we can to elicit laughter to brighten up the day. A lot of my friends would be cancelled if they had my platform." To be exact, that's a platform of 3.2 million followers on Instagram, 19.5 million monthly listeners on Spotify, and a starring role in the most tweeted-about television series of the decade.
Then there's the mythos. That in 2018, Fike was in jail serving a short sentence for breaking the terms of a house arrest ruling (after being charged with battery of a police officer during an altercation between the officer and Fike's younger brother), when interest in a collection of his demos on Soundcloud sparked a frenzied bidding war between major labels - eventuating in a multi-million record deal he signed so that he could hire a lawyer for his mother who was facing drug charges at the time. '3 Nights' developed into a runaway hit (over 874 million streams and counting), and more recently this year, Fike found himself the only artist who scored songs on soundtracks for both box office smashes, 'Barbie' and 'Spiderman: Across The Spiderverse'. And of course, you already know that last year Fike rose to new echelons of fame with a starring role opposite Zendaya and Hunter Schafer in the second season of HBO's 'Euphoria'. But all of those stories have already been told. And in this moment, when Fike is focusing just on me (he's incredibly present and only once pulls his phone out to show me a funny photo), I want to also pay him the same respect - because the most important story today is not Fike's past reduced into superficial headlines, it's his supernova singularity in a world of cookie-cutter plastic. That's the real story.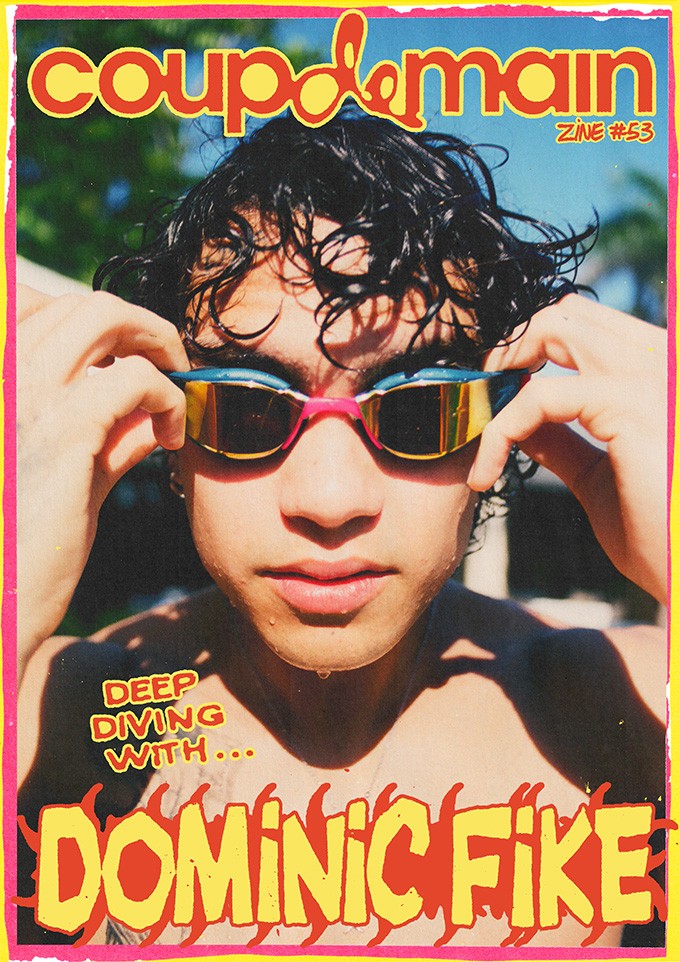 Click here to order our limited-edition CDM x Dominic Fike zine (i.e. a mini-magazine featuring photos + quotes from this cover-story) || Cover design by: Wyatt Knowles.
The Buddhist monk Thich Nhat Hanh once wrote that "understanding is love's other name," and this is also true of Fike's sophomore album, 'Sunburn' - a blueprint to better understanding the world of extremes that Fike was raised in ("Toast your dilemma baby / It's only temporary," he reassures on 'Frisky'), and a compassion booster for the ever-evolving struggles of his present ("I felt a hole in my soul this evening / I thought it would be different after I left treatment / I stood up to a demon / Mama you shoulda seen it," he recounts in 'Dark'). Fike burns bright because he's truthful, and while he may run a little too hot for some, he is such an open book on 'Sunburn' that his songs demand empathy - a reminder that love can also be a choice you make to relate to the humanity in other people.
On title-track 'Sunburn', Fike paints a complex portrait of life in Southern Florida, from narrating experiences of being unable to afford higher education, to the heartbreak of a mother struggling to provide for her family. But despite the hardships of his childhood environment ("Same shit, but different days where I'm from / I was screaming, feel a strain in my lungs / When I die baby lay me in the sun"), Fike will tell you that career-wise, he considers himself privileged just to have been afforded the opportunities of simply being born in the U.S. - and it's this genuine lack of ego that makes him someone you want to root for. "Everybody likes a good come-up story," Fike notes, while discussing his own somewhat blockbuster origin story.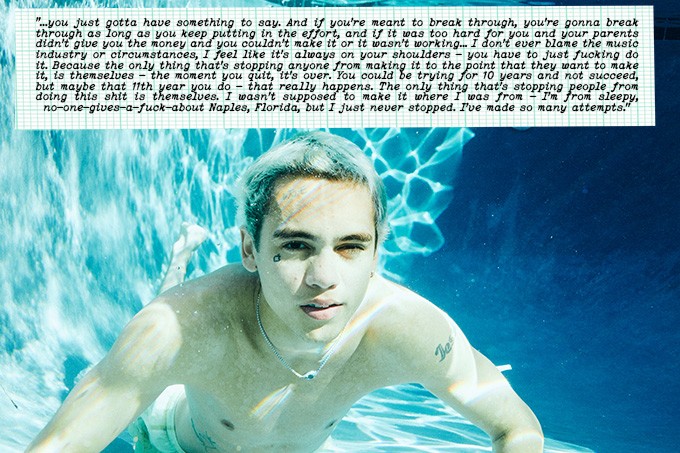 But back to the present. Fike asks if I'm hungry, and I advise that he doesn't have time to order lunch because he has to leave for a fitting at YSL in 14 minutes ahead of the music video he's filming tonight. "I just want to eat," he laments, but such is the price of his chosen vocation. Having just wrapped the North American leg of his Don't Stare At The Sun Tour, he'll soon head off to Europe, and this summer, Fike will return to New Zealand and Australia (for the first time since his 2019 Rain Or Shine Tour) - to headline Laneway Festival in February. It's all go for Fike. Or as he says in 'Dark' when reminiscing about easier days, "Now I work on holidays." And after working with him on this Coup De Main cover for the past three years (his manager refers to our collaboration as a time capsule), I feel uniquely qualified to confirm to you that Fike is not lying about his work schedule.
Fike used to worry about your opinion of him and his music, but these days he's more focused on himself, and just continuing to be wholeheartedly honest. What you see is what you get with him - and today, on this gloomy June afternoon with a passionfruit iced tea in hand; far removed from the notoriety that surrounds his public persona of wry bravado, there's nothing in his expression that could be interpreted as malicious or insincere. So when Fike says, "I just want to maintain that transparency with the audience that I'm still figuring it out," I believe him. Life is hard and Dominic Fike is just trying his best - isn't that true of us all?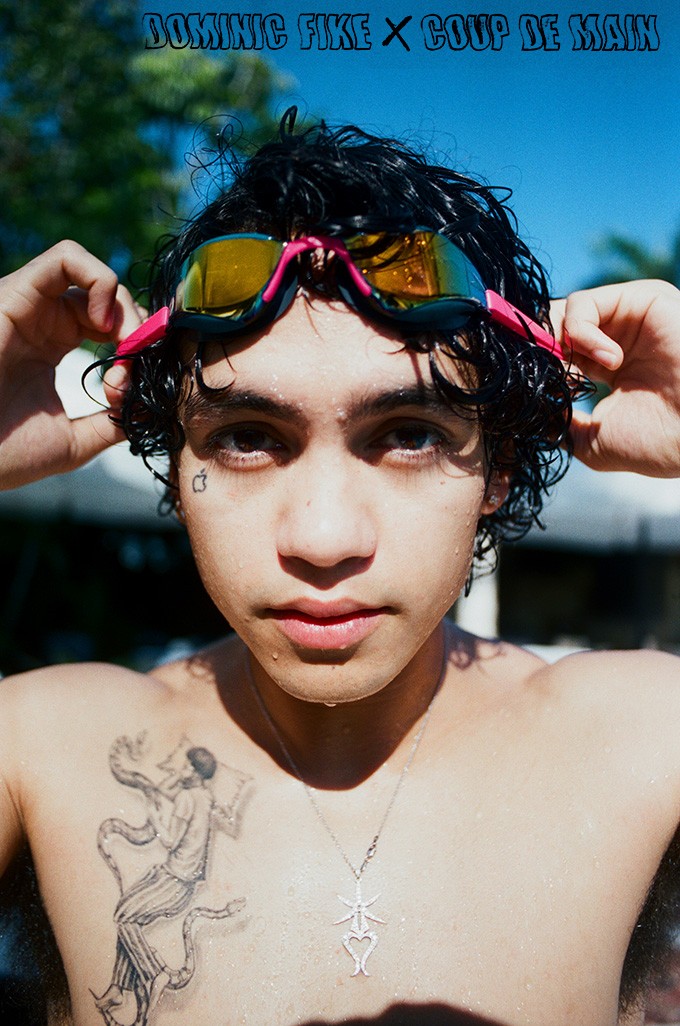 COUP DE MAIN: I know you don't love doing interviews... so I appreciate you making time for me today.
DOMINIC FIKE: Of course, no problem. Thank you for acknowledging the fact that I don't like interviews - I don't know what other way to put that.
CDM: You have to talk all about yourself for an hour with me your captive audience...
DOMINIC: Which I don't really enjoy.
CDM: It's sort of a test for narcissism... 'How much do you love yourself?!'
DOMINIC: Yeah, it's hard to not come off like a douchebag, you know?
CDM: Ironically, you recently hired a skywriter to write "Dominic Fike needs to stop talking" in the sky over Los Angeles, but you barely speak publicly. Why does Dominic Fike need to stop talking?
DOMINIC: It's just funny. It's something I would see online a lot because when I do speak publicly, or whenever I do have those random moments that I will be outspoken in public, it's always met with a backlash or just general confusion. And I've seen the comment online, "Dominic Fike needs to stop talking," I've literally seen people write that in many ways and different forms, but I just thought it would be funny. We were gonna put something up like "Dominic Fike is literally five foot three," or just a joke, like a self-deprecating sort of thing, and that one seemed the most tasteful and relevant.
CDM: There's a French fable, 'The Little Prince', in which the two main characters learn about human nature, and come to understand more clearly their own natures and their places in the world, through a combination of exploring the world and exploring their feelings. In the story, the central emotions of conflict - loneliness, loss, fear, and uncertainty - are alleviated only by love, and honest and intimate conversations. In a similar way, I think your new album also asks for empathy.
DOMINIC: Yeah, I think I'm constantly asking the listener to share empathy with me. When I'm making the music and really in it, I'm not - I'm not keeping the listener in mind, or anyone, or the career, or the label, I'm not really thinking about any of that. Just that we're exploring, we're getting there, and let's keep going. By the end of it, I'm not really conscious of what just happened, but I'm listening to it and like, 'Okay, this is enjoyable.' I'm always a little bit self-conscious about releasing just because I do this thing where I space it out and I have all these gaps, and I'm very non-communicative with my audience, so every time I do release something, it's like, 'Okay... We haven't talked in a while... <laughs> Here's this.'
CDM: Someone once told me that reading books is like absorbing someone else's life story. I'm lazy, so I feel that way about listening to albums.
DOMINIC: That's great, and it is like that. I mean, when you're being honest with someone... that's what I'm trying to do, just be honest, and kind of be naked in front of people. At the very least, you hope for empathy, or at least an attempt to understand - because a lot of the time, especially now and with the way that music is listened to and received and digested, people just press play. It's not like you really have to go out of your way to listen to an artist. It's like watching TV/Netflix, you can just keep flipping through shit. I was watching a movie yesterday and in the first 10 minutes, I was like, 'I probably don't like this movie, so I'll turn it off,' as opposed to back in the day when you would rent something from Blockbuster and you'd have to watch it. You'd get through the 10 minutes and be like, 'Oh, is this gonna suck?', but by the end of it, you'd maybe like it. So yeah, at the very least, what you kind of hope for is somebody to sit and listen to it like it's a blockbuster film. Like, there is no other option - you just have to sit and understand it. People don't really have to if they don't want to because there's so much going on... you don't have to listen to my music at all.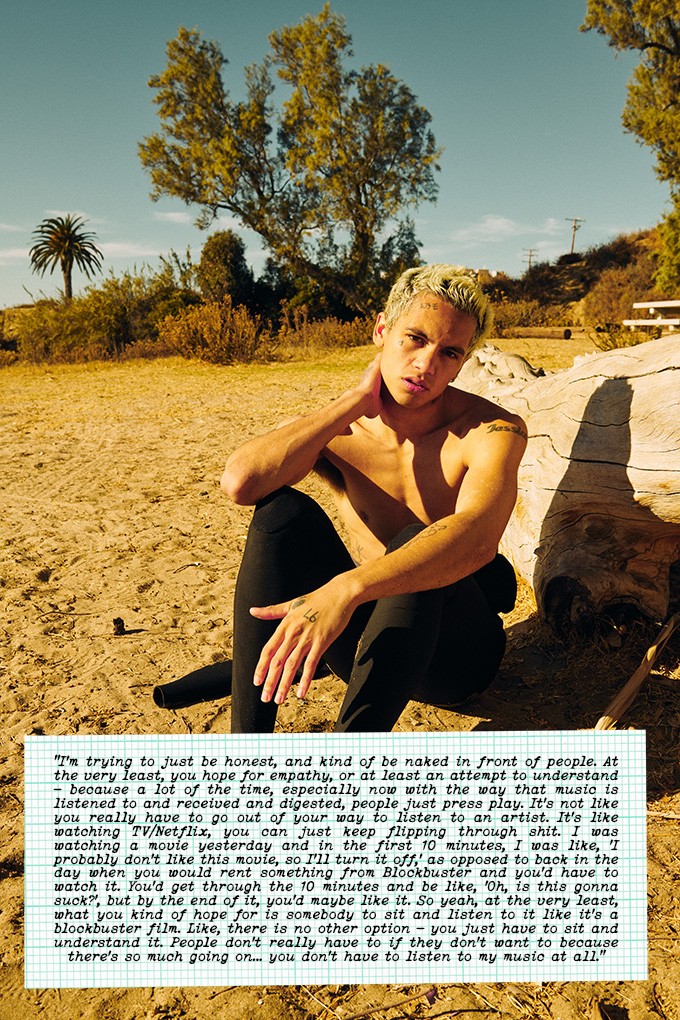 CDM: The songs on your new album detail very personal experiences, like 'Dark', 'How Much Is Weed' and 'Sunburn', but even when you're just riffing in 'Ant Pile', the emotional precision of your songwriting is still so powerful because you're narrating very specific experiences and stories. When you've finished a song, does it feel like a finger you've cut off to repurpose into song form? Or more like a hair that's randomly fallen off of your head?
DOMINIC: Both actually, but I like that last one better - it is kind of like a hair that's fallen off my head. I find that I'm constantly just exploring different genres and shedding skin all the time. Sometimes I'll sit in one skin for a while and be like, 'Okay, that one was boring.' Like, for instance, 'Ant Pile' - I just wanted to write a song and really be a songwriter that day; I didn't want to draw from past experiences like I did on a song like 'Dark', I just wanted to try a different angle. All these genres and things that I switched to are just me trying a different thing; I'm still just trying shit out. It's my second album, but I haven't been here for a while. It's a career and I'm very much still in my beginning stages - I don't want that to be taken away from me. Like, the fact that I still can speak from this underdog/beginner stage. When you get into label marketing, and you're being posted on ads, and you're in movies and shit, like the soundtrack shit I have been doing, I think that can take away from the image that is me being a fucking beginner. I'm still a younger person in this thing. I just want to maintain that transparency with the audience that I'm still figuring it out, regardless of whether I performed at Coachella, or I have all these really great opportunities that have been handed to me. I still feel like: 'Why am I getting these opportunities?!' I'm still at the beginning, but some people who haven't been along for the whole ride and are just tuning in now kind of see me as this already-established guy, you know?
CDM: You're not at the final stage of your Pokémon evolution yet.
DOMINIC: Absolutely not. No, not in any way.
CDM: When your songs are released out into the world, does it feel like they take on a new life outside of your own? Or are they forever living inside your head - like the soundtrack of your own life?
DOMINIC: They do take on a new life, and they mean different things for different people. A song like ['Dancing In The] Courthouse'... I don't like the song, I really don't - I hate that song. It has gone through so many evolutions.
CDM: Why don't you like it?
DOMINIC: I made it when I had been dumped by my ex-girlfriend a while ago. We were on and off, but I got dumped and I was doing a lot of drugs and I went to the studio. I was really sad and I was gonna just drown it all out and do a bunch of drugs and get really fucked up, but then my friend Kenny [Beats] was like, 'Dude, you should just write a song; you should just stay here and make a song with me.' And I was like, beer in hand / phone-call-ready-to-go, but I was like, 'Alright, fine, I'll do it.' My voice was all messed up from doing drugs the previous night and so I'm singing and I'm hearing this rap and I'm like, <sings> "Top of the world," and I was so mad because I couldn't hit this note. And then I gave it up, I left the studio and I was like, 'Fuck this.' It's just painful listening to it every time because I remember that day. It's not because I don't like the songwriting or the sonics, it's mostly the experience associated with it - I don't enjoy that song. But when it was released, it took on this new form - people use it for different things like getting up in the morning or when they have a problem, they listen to it as a mood-booster and I think that's amazing. Even if I don't like it, it's cool that it takes on this new form for someone else.
CDM: It's funny you just released a superhero song, 'Mona Lisa'--
DOMINIC: Which is nuts!
CDM: For the 'Spider-Man: Across The Spider-Verse' soundtrack, when 'Dancing In The Courthouse' feels like the real superhero song of your back catalogue. Ignoring the literal Bruce Banner reference, 'Dancing In The Courthouse' feels triumphant and inspirational - it makes you believe that good can conquer evil.
DOMINIC: That fucking Spider-Man song, oh my god.
CDM: Congrats!
DOMINIC: No! It's funny because I didn't really like that song either, and they wanted to use it for the movie. I was like, 'I guess, yeah.' And then it was released. And it's charting. And now, I'm forced to go play it on tour. My manager asked me, "Would you play that 'Mona Lisa' song on tour?" I was like, "Fuck no." Now I've seen it charting and I'm like, 'Oh no, I have to do it.' I'm getting more into it now because for some people it's fun - but I'm like, 'How are people listening to this and liking it?!' I'm listening and I'm like, 'What?!' So I went to the gym and I played it and I was like, 'Oh, I kind of get it,' and danced to it.
CDM: You teased this new album with a snippet of 'Frisky' and a piñata shaped like the number 2 back in January 2021...
DOMINIC: That was a while ago... this isn't even that same album.
CDM: Everyone thought the 2 meant Album #2... were you actually hinting at a two-year wait?
DOMINIC: No, I didn't. <laughs> And that was just something I never cleared up with fans. I saw the comments like: "Two years?!" NO! Was it a two-year wait?!
CDM: Yes, it's 2023 now.
DOMINIC: No way, look, I killed it!
CDM: You really used big brain power on that one.
DOMINIC: Subconsciously! No, I believe that was for the purpose of just announcing DF 2. And also, I have a song that I made years ago called '1' on SoundCloud. I remember specifically where I made it, I made it in a really shitty apartment - it wasn't my apartment, I was kind of homeless at the time I made this song, but it's the first time I started playing guitar and singing and I put it on online on SoundCloud under the name '1' because it was the first time I'd ever picked up a guitar and made the whole beat and then put it on SoundCloud. People thought that the '2' was a continuation of this series, of this new kind of rock sound, which was funny. It's interesting to see all the theories of that, but no, it was actually just to announce DF 2.
CDM: What happened to the album you didn't release?
DOMINIC: I spent hundreds of thousands of dollars at these nice studios making this DF 2 shit, and at the end of it... it's not that I didn't enjoy it, I just thought that what I was doing at the time, like my lifestyle, wasn't complementing the sonic palette I was trying to achieve. Addiction has been such a huge thing for me, and I listened to it and was like, 'This sounds like a guy who hates himself and is really fucked up.' I had to go to rehab and come back and make another one. And then I made another album, and I was like, 'I'm gonna go to rehab again because this one sucks too.'
CDM: So technically, 'Sunburn' is DF 4?
DOMINIC: It's a compilation of songs from DF 2, songs from 3, and it's essentially 4, I suppose. It's an amalgamation of songs that I have not hated throughout the years, or been okay with releasing. I know that sounds very self-critical, but man, I make a lot of songs and I have a lot of shitty ideas, and I'm okay with that. I'm conscious of it because I also know when I have a really good idea.
CDM: It's easy to be your own worst critic.
DOMINIC: So easy! I find that in Los Angeles and in the music industry here, it's also easy to be the opposite of that - it's also easy to be relaxed and let things go the way they are. 'Oh, this person produced on it, and maybe we'll just let this verse be empty, or this doesn't have to be the special part, or maybe the hook is not the strongest thing or the verse kind of sucks...' It's easy to be too lax about it and let these incredible moments pass you by when I'm - maybe to a fault at points - so obsessed with making something that I enjoy personally. I like to listen to my own songs, I do, when they're good - but when they're shitty they make me so mad.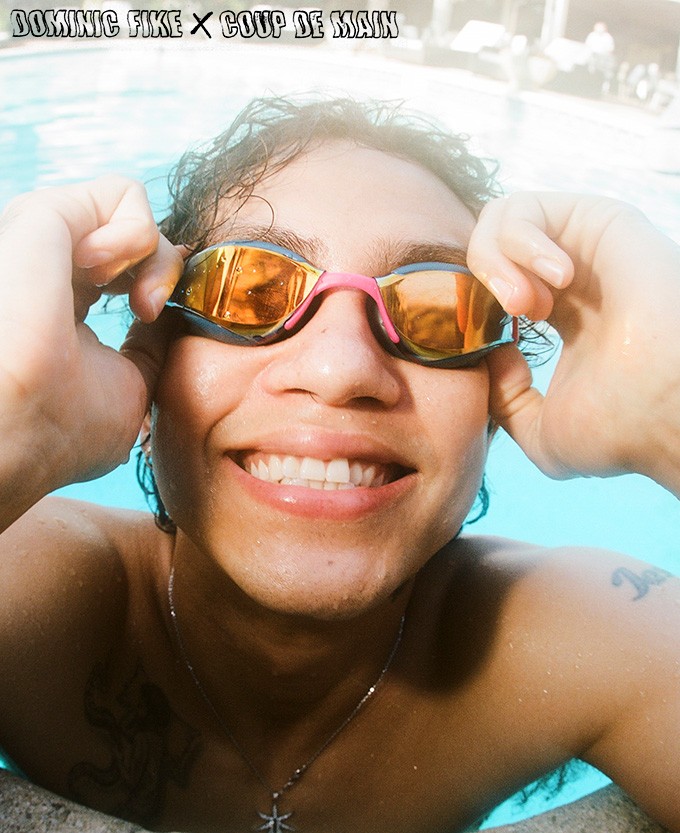 CDM: The first track on your debut album, 'Come Here', opens with the lyrics, "Baby, come here / I get so lonely at night..." and is very raw feeling. It's an extroverted song.
DOMINIC: That's a good song. That song's awesome.
CDM: In comparison, 'How Much Is Weed' opens your new album with, "Photo album but the colour faded from it / If I could go back and tell ya how it ends, I woulda done it / Don't look down..." and is more of an introverted song. Is this more inward-facing outlook reflective of how you're currently feeling about yourself and your own life?
DOMINIC: It is, yeah, "Photo album but the colour faded from it," it's these memories that I used to have but my knowledge has now kind of drained the colour from those memories. I don't want to keep using the label and music industry shit as a comparison, but it was basically kind of like looking at my past now and a lot of it seems a little bit sad. For instance, the drugs thing - I had a fun childhood for the most part, it was very crazy and I got the full scope of childhood, like all the romance, all the violence, all the heartbreak, and the shit that comes with being a kid and growing up in a weird place and having financial troubles and separation from parents and things like that. I got to experience all that really firsthand. But nowadays, when I'm refusing drugs and going to rehab for all these decisions that I made, I'm like, 'Damn, that really fucks up my perception of the past.' When I was 17, I was like, 'This is the funnest time ever.' But now that I'm 27, I'm like, 'Damn, I was really fucking up back then.' And then it's like, "If I could go back and tell you how it ends," which is in fucking shambles and drug courses and break-ups and loss of relationships and people, so "don't look down" is like just keep moving forward. I thought it was a good four lines or whatever it is.
CDM: "The garden with the snakes" in 'Think Fast' alludes to religious iconography. How meaningful is faith to you? What do you believe in?
DOMINIC: It depends on what day it is, and what I'm doing. I guess it's important. My mom is a really devout Christian and I'm typically Christian. And being in Alcoholics Anonymous, they're constantly talking about a higher power, so it has crept into my life and I've just been through so many near-death experiences recently that sometimes I kind of look for it, but at the end of the day, it's not that serious to me. I don't know anything about what happens after or before.
CDM: Weather is a reoccurring theme on this album - especially in 'Sunburn', "I'll be here like rain" in 'Dark', "I wanna get sunshine" in 'Think Fast', and of course, "Weather controls your day" in 'Dancing In The Courthouse'. What is it about weather that resonates so much with you?
DOMINIC: I have no idea. I mean, it probably has a lot to do with my mood. I noticed that on a day like this and being able to wear a sweater and being cosy, it's fine because I'm in this mode where I just want to curl up in a ball. The weather kind of dictates my mood so often and maybe has leaked into my songwriting for that reason. Growing up in a very sunny place, and then moving here... I grew up in a sunny and rainy place, with weird changes in weather every day. But coming here, how it's the same thing every day, it kind of contributed to my addiction because it was the same day every day. I could wake up and do the same thing - go to this hotel, get this mimosa, go hit up this person for this drug, and later, maybe we go to a nightclub, and the next day, if I'm still hungover, we're running, yah! And then we'll go out and we'll get champagne, make sure everyone's not that hungover, and then go back to the hotel and we can go out again that night. And we just continue because it's the same fucking day, every day here. Every day.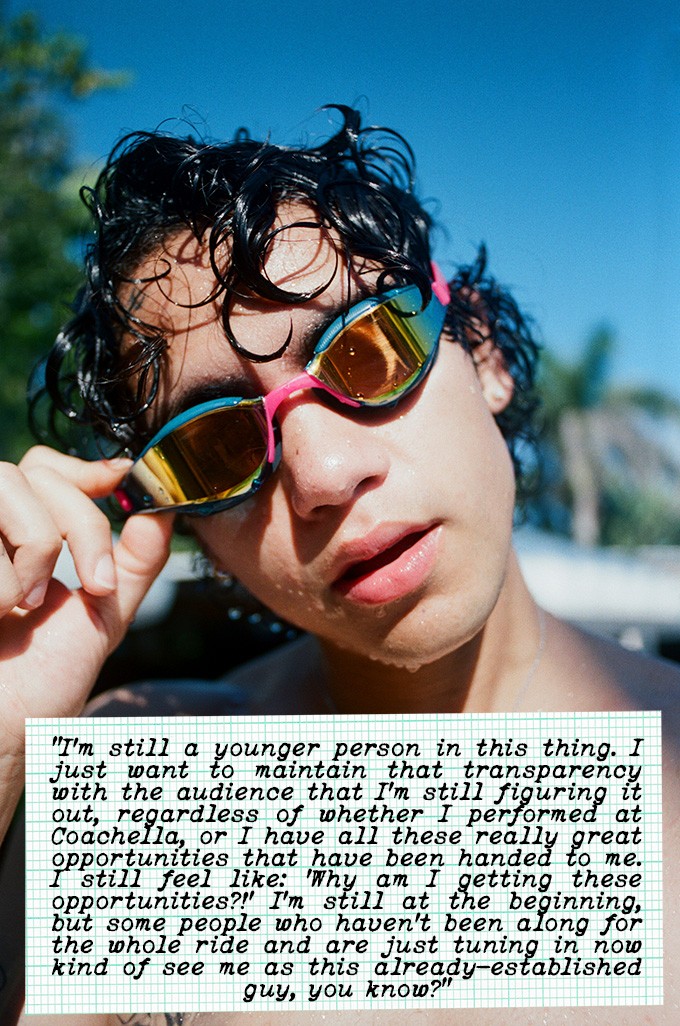 CDM: Why did you decide to name the album 'Sunburn'?
DOMINIC: Because it tied into the whole thing of trying to bring this new audience that I gained after 'Euphoria', to kind of bring them up to date on who I am as a kid and where I'm from. A lot of times, I would say things online and people would be confused or reprimand me for it, when really, I'm just a dumbass kid from Florida. I'm trying to drill that into them. Please don't take all these things I say seriously; I'm just a fucking human. In Florida, the culture with all my friends and everyone I know there is we're riffing when we're talking - comedy is always so present, we're constantly just saying the worst thing that we can to elicit laughter to brighten up the day. A lot of my friends would be cancelled if they had my platform.
CDM: You're not a politician.
DOMINIC: No, I'm not - people forget that too. I think everyone's kind of, in this weird way, treated like a politician. The internet's cool for saving time/space with communication, but I hate the way that humans are so negative towards each other and reprimanding each other and correcting each other, and how everything has to be right. We are losing what makes us special - our unpredictability. That shit's fucking annoying. And I hate to be a part of it.
CDM: Sometimes it feels like it's turned into a contest of morality.
DOMINIC: Which is so fucking lame. Because I know all of you guys are pieces of shit too. We're all the same. Yeah, it's like: 'Who's got a bigger moral dick?' Fuck off, dude.
CDM: Is there a song on your new album that best represents how you're feeling about life currently?
DOMINIC: The song 'Sick' because I'm just going through things with girls - not with my current ex. The writing resonates with me on certain days, but it's not a bad problem to just be going through a thing with a very special woman that you love. It's not a bad thing.
CDM: It's just complicated?
DOMINIC: Yeah, it's complicated. Again, champagne problems, like better than me not having that problem. When I go through relationships and I get broken up with, or something like that, I'm never like, 'Oh, I wish I didn't get in that relationship.' I've never wished that.
CDM: It's better to have loved and lost, than never at all?
DOMINIC: Hell yeah, I feel so strongly about that - that's true.
CDM: "When I die baby lay me in the sun," you say in 'Sunburn'... When you envisage feeling at peace, what does that look like to you?
DOMINIC: I have this image in my head... When I first started making money off this shit, you think that there's a final destination (or once you do this amount of work, or you do this music video, or you do this Coachella thing, or this big performance, then you take a couple years to make an album that you think you like, and then make 10 albums) and then you're done and then you're great and then you can chill. But the next thing you know, you're doing interviews about how good your career was 10 years ago, or that you're such a legend. That's not how it is. You have to actually actively stop yourself because there is no ceiling and you never really stop. Look at guys like... even Justin Bieber. I don't think that man is ever gonna-- he could theoretically stop, but in his mind there's probably another ceiling that he's not hitting - and for me, it would be maybe being okay with what I've accomplished. That feels like peace to me, being kind of content? And also, I've always envisioned myself in a house. It's always in a chair, in a throne-like type of chair, older, but I don't know what I would look like when I'm older. That's always scared me that I can't envision myself older. I just think that means I'm not supposed to be old.
CDM: You could do a digital filter on your face.
DOMINIC: It looked horrible. I was like, 'There's no way that this is real.' But I always envisioned myself in the chair older, and there's always my family, like my mom's here, my brother's here, and there's babies there. And they're all just having a lot of fun and they're kind of more occupied with each other, and I'm just watching and being like, <sighs> 'We fucking did it.' Everyone's safe. We're under the same roof. I don't know if that's ever gonna be a thing. I don't know how old I'm actually going to get, but that would be nice. That's my idea.
CDM: I'll start looking for a chair for you.
DOMINIC: Thank you. A red velvet throne.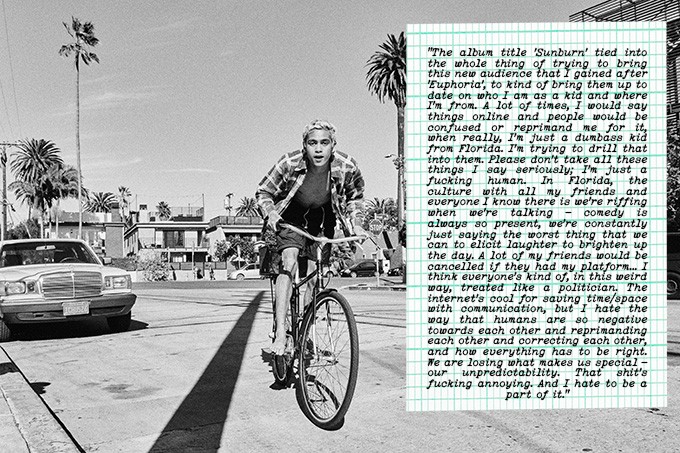 CDM: How do you feel now looking back on 'Cancel Me' from your first album?
DOMINIC: So good. I listened to that song the other day, it's so good. It sucks I can't play it live because of that last line, which I think was a good line - I know people were mad for like making fun of a movement. This is the first time I've ever spoken on that. But I wasn't making fun of a movement - it was tongue-in-cheek lyricism/writing again; dumbass kid from Florida. I could say worse shit. There's way worse shit I could say, trust me. The way that my brain works, every night I think of the worst lyric, and the best. So I still like that song. But that's another problem, the way that information is rapidly always circulating, and we all have an opinion on it. I don't think that I need to hear everyone's opinion on everything all day. People that feel the need to continue the narrative on Twitter and blow it up and be like, 'Look at how much of an asshole he is.' And then when people are like, 'Yeah, true.' And they're like, 'No, but seriously, repost it.' And then: 'Let's ruin this guy's life.' Like, what the fuck, dude?
CDM: It's a game to people now.
DOMINIC: It is. But yeah, 'Cancel Me' is just me being honest again. And that's fine, man. I've said worse shit on songs. If that's the worst thing that comes out of my mouth in this fucking period of time, I'm doing all right, to be honest with you.
CDM: Going back to 'Sick', it feels like a sibling song to 'Wurli', with you attempting to navigate toxic relationships in both. What do you consider to be red flags in any kind of relationship, romantic or platonic?
DOMINIC: Just a lack of empathy towards less fortunate people. I dated this girl and we took a trip somewhere, and seeing the way that she looked at people with less... We went on a trip somewhere to a village with 50 people, and a lot of kids didn't have clothing, and she had a very hard time being able to level with these people or being able to be a human towards them, or she would kind of be grossed out by them or like "ahhhhh". Wow, that was fucking nuts to me. So that's a big red flag. That really bugged me. It irked me. And I feel like having a sense of humour - I also had another girlfriend where I would kind of have to tone back my jokes because they would go a little far. I dated this girl Hunter recently, and I would just make the dumbest fucking jokes and I could always get her to laugh. I love that she loved my sense of humour. If you don't like my sense of humour, then it's probably not going to work. In the past, I have made it work, but I don't think I can do that anymore. I'm getting older. I don't have the energy. And I don't want to waste the time because it hurts.
CDM: Is it possible to be friends with exes?
DOMINIC: I have not yet achieved that. I haven't gotten it right yet, but I think I almost had it right last time / this time. I messed it up a little bit. But I do think it could be possible for a heterosexual male. Maybe. I just find that lesbians are so much better at it. They're so much more communicative and they're good at talking to each other. I dated a girl that was a lesbian before, and she was so good at communicating - she was like, "This is what I would do with my other girlfriend." And I'm like, "This is horrible, how do you guys do this?" And then when we broke up it was this full day of us like... I'm crying and she's crying, we're hugging, and it's five hours of "I love you but we can't," and then at the end of it she was like, "That's how lesbians break up." I was like, "I don't ever want to do that again."
CDM: In '7 Hours' you ask to be treated like you're worth it. What's your love language? Is it quality time?
DOMINIC: I think it might be words of affirmation.
CDM: Why?
DOMINIC: I don't know... It's not like my mom was ever bad at that or... I don't know why... It could be my new career path and how it sometimes seems like everything I'm doing is for other people, and if they tell me that it's good--
CDM: You're not fishing for compliments, but the reassurance--
DOMINIC: Is helpful.
CDM: Being taken for granted is also a pet hate of mine, and I dislike how it's normalised for people to be constantly checking their phone when you're trying to have quality time with them... I hung out with someone recently who texted me after to thank me for being present with them, which I was happy to hear, but thought was also kinda sad. In your personal experience, do you find it rewarding to engage with and communicate with other people? Or do you feel like most people don't listen or don't know how to listen to others?
DOMINIC: It's important. Yeah, I agree that I've had problems with that too, people that I'm trying to talk to and they zone out. I don't have a big friend group. Maybe, I have four friends - very close friends and I work with them all. One is my manager. One is my stylist. And producers. So yeah, of course I do.
CDM: In 'Frisky' you say, "Nobody round you makes an effort / And I wanna make an effort..." In any kind of relationship, what makes you feel special/safe/understood/seen?
DOMINIC: Again, words of affirmation are really big. I guess, quality time too, spending time and showing up, and putting in the effort behind the scenes. I had this girlfriend that was really good about gift-giving, like not only would it be very relevant to what I needed, but also she had taken the time to create something I could tell would have taken hours beforehand. I was like, 'Damn, you're really showing up even when I'm not around.' Which is so important to me. I appreciate that.
CDM: The writer Neil Gaiman once wrote in his 'The Sandman' comics: "I've been making a list of the things they don't teach you at school. They don't teach you how to love somebody. They don't teach you how to be famous. They don't teach you how to be rich or how to be poor. They don't teach you how to walk away from someone you don't love any longer. They don't teach you how to know what's going on in someone else's mind. They don't teach you what to say to someone who's dying. They don't teach you anything worth knowing."
DOMINIC: I've felt that way before, but I just don't understand how someone could teach you something like that. Those are only things that you can learn from experience and it's different for every single person. Reading someone's mind, or letting go of someone, or how to be famous, even that's different for every person - how it is for me to be famous as opposed to how it is for someone like Omar [Apollo] or Bakar or Beabadoobee. It's always different. We're all doing it in a different way. And I'm able to learn that from them too. I kind of can learn how to be in the public eye from someone like Kendall Jenner - when I talk to her I'm like, 'You're a fucking press train motherfucker.' Or Zendaya, she doesn't skip, she doesn't miss a fucking beat. You can take a little bit from each and every person, but there's a reason why they don't teach you that shit in school. Also, how is this teacher who is just a normal human being too - what are they paid, like $60,000 a year at best? - how is that person going to teach me how to be famous? How's that person gonna teach me emotional stability? I bet that person is probably still going home at night, like, 'Fuck!' - that's something you learn for yourself.
CDM: I've never been to Florida... Describe what Florida is like to me.
DOMINIC: It's humid. Heavy, but there's something so free about it. Something so non-judgmental about it. I mean, obviously there's a little bit of racism down there and a little bit of prejudice, but you can choose to involve yourself in that or not. I grew up with family that were racist, like my aunts, I would go over to their house and I was the only tan/brown kid and I would be constantly fucked with, but I didn't choose to let that affect me. But it's free and it's sexy. That's what the sunburn thing was, I love how we're just taking off our clothes and we're not really worried about presentation. It's the Wild West in Florida; that's the real melting pot. People in New York and LA think they're the melting pot, but not really, like it sort of is race-wise, but I'm talking about differences in opinion and differences in the way people grow up, or just how they live their day-to-day lives. It's all in Florida. It's this big fucking melting pot, for real.
CDM: Having had so much to overcome to get to where you are now, do you think there's something about that struggle and having had to work really hard, that's coloured your music more vividly?
DOMINIC: Absolutely. But about the nepo baby shit and industry plant thing, I don't mind nepotism babies. I love them. I have good friends that are nepotism babies.
CDM: I love Gracie Abrams.
DOMINIC: I love Gracie Abrams! I have a friend named Henry Kwapis who I think is one of the most fantastic drummers ever, and he does have something to say.
CDM: Is he Dijon's drummer? I just saw them live and they were perfect.
DOMINIC: Uh-huh. So good. Yeah, I just think that people won't be as interested in that story, it's not something that they can really relate to as well. Not everyone grows up with their dad being Will Smith. But I did find that shit helped me. Like, obviously, when I got out of jail and got a record deal, that was the only thing people talked about. I mean, some of it was music and 'the songs are good too, but look at what he went through as a kid.' That just makes it easy for people to relate to. Everybody likes a good come-up story.
CDM: In general, there's been a big decline of working-class people in the arts, and more specifically, it feels hard for struggling musicians to pursue their dreams now unless their parents can help support their living expenses. How do you think this is going to affect music?
DOMINIC: I think it's just about having something to say, that's all, you just gotta have something to say. And if you're meant to break through, you're gonna break through, as long as you keep putting in the effort, and if it was too hard for you and your parents didn't give you the money, and you couldn't make it or it wasn't working... I don't ever blame the music industry or circumstances, I feel like it's always on your shoulders - you have to just fucking do it. Because the only thing that's stopping anyone from making it to the point that they want to make it, is themselves - the moment you quit, it's over. You could be trying for 10 years and not succeed, but maybe that 11th year you do - that really happens. The only thing that's stopping people from doing this shit is themselves, I don't think that shit has anything to do with it. I wasn't supposed to make it where I was from - I'm from sleepy, no-one-gives-a-fuck-about Naples, Florida, but I just never stopped. I've made so many attempts. I'd been making music for seven years before that shit happened, which doesn't seem like a long time, but I was every day. It's all I thought about every day. And when I made the demos, I was honestly tired. Like, 'Man, I'm about to give the fuck up. I'm growing up, I gotta get a job, my mom's in jail, what the fuck am I doing? My brother's in jail and my sister's being taken away by child services. I need to do something with my life, but first I'm gonna make this demo tape.' And then it happened. It was crazy. But it was all just because of that effort. I had no idea about these studies about people not making it as much, or whatever, I just thought it was impossible. I remember talking to this kid and he's like, 'You're still doing that music shit?' And I was like, 'Yeah.' He's like, 'You know, like fucking one in a million people do that shit, right? One in a million do what you're trying to do. Like, that never happens.' I was like, 'Yeah, it's true.' But for some reason, I didn't stop and it worked out. Just do not stop doing the shit that you're doing.
CDM: "Build your own life story" you say in '4x4'... How much of life do you think is happenstance vs. creating your own luck?
DOMINIC: It depends. Obviously, I can speak from a privileged standpoint of being raised in the U.S. and having all this technology and these opportunities at my fingers, so for someone like me or a kid born in the U.S. with all these opportunities, I think it's a little bit easier to make this shit happen. But there are obviously places in the world where circumstance will fuck you over, like if you're in a third-world country that's being dominated or occupied by a foreign military and every day you are struggling to find a place that hasn't been shot up, chances are you're probably not DIY-ing your new mixtape. So I think it really depends.
CDM: During one of your Coachella sets earlier this year, you said: "When you quit drugs it's hard to get the serotonin back." How or where have you been finding happiness these days?
DOMINIC: Routine and real connection with people that I love, like as soon as I got sober and got back into this [past] relationship, the colours were different, her face was different, her voice was different. I was different in my routine, like working out, and I began surfing. I've just begun being an adult and really connecting with people and understanding shit around me and researching things that I enjoy, like deep diving into instruments and gear. Things like that and keeping myself occupied and staying busy has helped really get the serotonin back, I suppose. And just appreciating things and being present. You know, being here.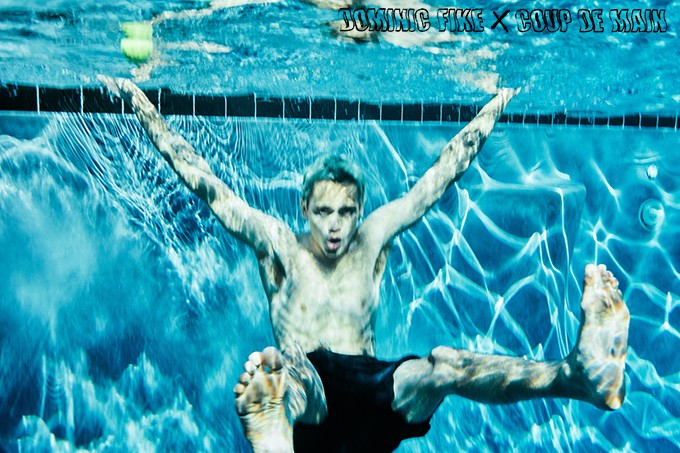 CDM: In 'Good Game' on your first album you were worried about becoming your father. On 'Dark' on this new album, you acknowledge that fear becoming reality.
DOMINIC: Whoah, I didn't even realise that. Yeah, I totally did that.
CDM: Generations of pain patterns can be inherited by hurt people hurting people. Why can it be so hard to shake off the inherited/learnt traits and behaviours of our parents?
DOMINIC: Those are the people that raised you - that's your superhero. Those are superheroes who you look up to. But me, I didn't really look up to my dad, it was kind of the opposite. I didn't know my dad that well or at all really, I knew him for a week, but people would be like, 'Oh, you're Dave's son... your dad was a piece of shit.' One time he robbed my uncle with a gun. One time he sold someone fake Percocet and they died. He was a real fucking bad guy - a villain. People would be like, 'Oh, you're a sweet boy, it's hard to believe that you come from this person.' That was huge and my mom hated my dad. She changed my last name. My name was Dominic Mills after my dad, but she changed it because she hated him so much that she couldn't bear to see him associated with me in any way. I'd always ask about him and she'd be like, 'Your dad's a piece of shit, that's all you need to know.' So it's this big thing for me, not becoming that - and I just didn't like the way people talked about him. I felt bad for him because he doesn't even know this is happening - he doesn't know his child's mother is calling him a piece of shit right now. I don't want that to happen to me, even though now it probably does happen to me - people call me a piece of shit all the time but for the wrong reasons.
CDM: Can people escape their past?
DOMINIC: I don't think it's healthy to try to escape your past. I think it follows you around and you've just got to deal with it.
CDM: What does it feel like when you're surfing?
DOMINIC: It's amazing. It's the only time I don't have my phone - I leave my phone on shore and I am just alone. It's so meditative. And it's the only place where I'm so calm and I have no anxieties - I don't think about music, I don't think about getting recognised or having to do a autograph or a picture. It's like an alternate universe where none of this ever happened. That and sleep are the only places that I really can get fucking alone.
CDM: According to the internet, if you dream about surfing it could symbolise finding a balance in handling emotions, being in control, and confident... Dreaming about big waves signifies facing your fears head-on, or surfing on your own might represent you doing things on your own without any help from others, and surfing well in a dream could mean that you feel good about yourself and can act confidently regardless of who's watching or judging you... Do any of these subconscious surfing things ring true for you in your conscious life? Or are they things you have ever felt while surfing?
DOMINIC: I do get it. I mean, we're all made of water. And when you're connecting with water in this spiritual way, it's probably very symbolic. I'm a shitty surfer in general, so I hope not. I hope there's no correlation between my life and my surfing because if there is, I am fucked.
CDM: Maybe it's that it all feels bigger than you.
DOMINIC: That's 100%. I feel that, yeah.
CDM: In a 2020 interview with Brockhampton you said about the release of your debut album: "You guys better support it or I'm gonna hate you, or I'm never releasing again - I'll run away, I don't care, I have enough money. I don't ever have to see you guys again. I can disappear."
DOMINIC: <laughs> That's such a good quote. That's amazing. That's so funny.
CDM: How are you feeling now in the lead-up to the release of your second album?
DOMINIC: I was putting too much pressure on the reception of the music, I think that I have grown a little bit more to be comfortable with myself, and I enjoy my own company, and my own ear. I don't think that someone's opinion of my work, or body of work, defines me anymore. I was just so concerned about what people would think, but I've kind of gotten over that. I think I just thought that if I was bad, I would be done; no more Dominic Fike, as people move on really fast. But my fans have shown me that I could be here for a while, as long as I really want to, and as long as I'm still putting in the effort, I've found that people will still make an effort to listen to it, which I'm so appreciative of and I'll never take for granted.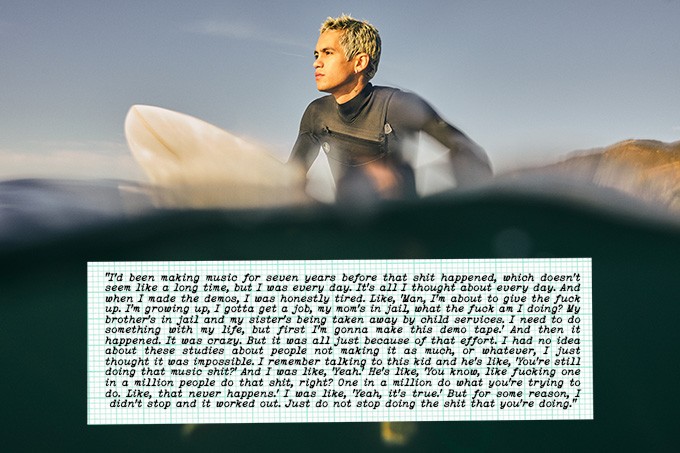 CDM: In 'Dark' you say, "Back before I shed my shell, now I'm a ghost of it..." The things that feel hard to you now, do they feel harder or easier than the things that used to feel difficult to you?
DOMINIC: What feels hard for me now is staying away from drugs and women. Or maybe shows. That was such a difficult thing for me before. I never understood how anyone could see me as a live entertainer. The only reason I went on tour was because they were demanding a tour of me. When I make songs, I play the guitar first, and then I do the vocals, and then I put the drums in, I'm never doing it all at once, so I had to really learn how to do that. But I enjoy it now. It's something that I really love doing.
CDM: You've been really honest about struggling with your fame increasing - how have you been finding it since appearing in 'Euphoria'?
DOMINIC: Yeah, it's different. I don't really like that shit that much. I mean, don't get me wrong, [not] the national recognition, but man, not being able to go to my favourite places or go out and get food... I can't go to do certain shit now and that shit's mad fucking annoying. Like the airport sucks now because I look like shit in airports - I like to wear sweatpants and I don't shave because I'll shave when I get to the destination. A really sweet person will come up and be like, 'Oh my god, I'm a big fan and I love you.' And then I'll have to take a picture with them, and I look like shit. This would never happen if 'Euphoria' hadn't happened. I guess it's cool, but it's not - it's bittersweet.
CDM: Do you regret doing 'Euphoria'?
DOMINIC: No, I don't regret anything - or any of that. But man, adjusting to it... Sometimes I think I'm not as prepared as I thought I would be for it. Sam [Levinson] told me that my life was gonna change, but I was like, 'I'm already kind of [known].' And then that shit did change my whole life and I was not prepared. I should have heeded the warning a little bit.
CDM: But you're here now, and you're okay?
DOMINIC: I am here! And I'm okay, clear, and level-headed. I'm healthy, I ate, I worked out today, I fucking feel okay, and I'm happy to be here with you, thank you so much. I'm a big supporter. I've always been a fan.
CDM: Lastly, but maybe most importantly: can you please play 'Wurli' live more?
DOMINIC: I don't know... My voice is fucked up. I stopped smoking cigarettes, but I did so many drugs last year that my nose inside here ripped - it was scarred, and then it ripped and then healed together, so now it's fucked up.
CDM: Is it painful?
DOMINIC: No, it just affects me, is what I'm saying. I have to get surgery done on my throat.
CDM: Well, I guess you learnt a lesson there: kids, don't do drugs.
DOMINIC: Don't! For real. They fucking suck.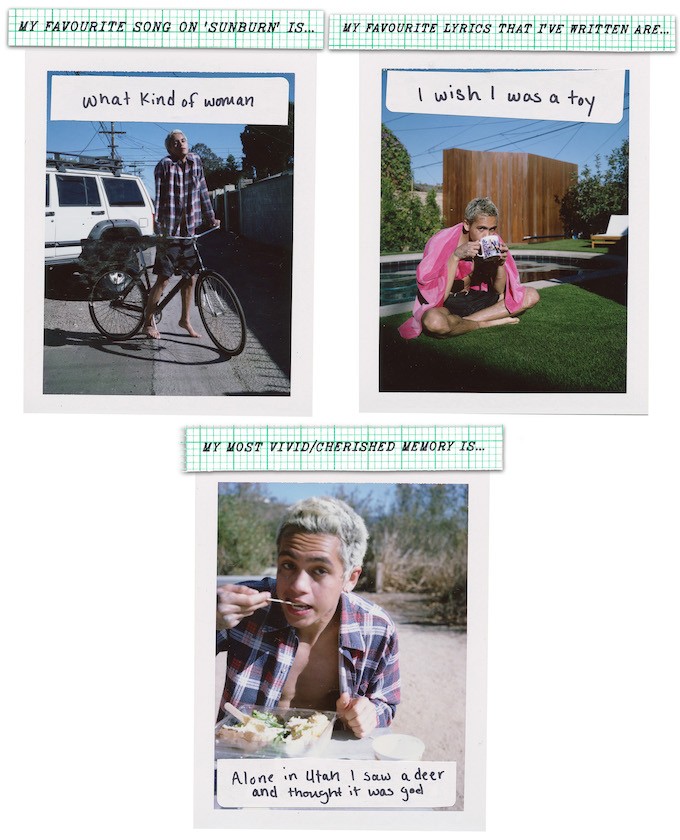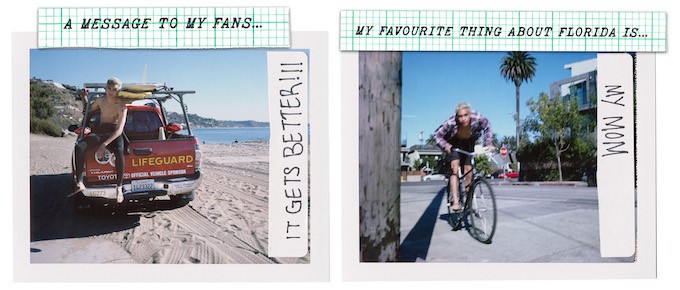 This interview has been edited and condensed for clarity.
Dominic Fike's new album 'Sunburn' is out now.
Watch the music video for 'Think Fast' below...