A photo diary from... Claud.
A photo diary from... Claud.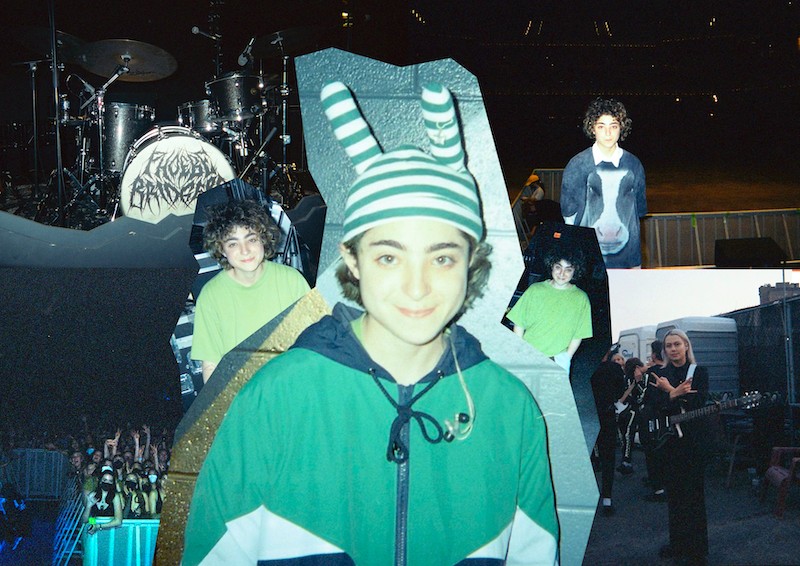 "I wanna go home," exclaims Chicago-raised Claud Mintz on their new single, 'Go Home!' - marking their first new music since last year's debut album, 'Super Monster'. From taking up songwriting at 14-years-old, to being the first signee on Phoebe Bridgers' record label Saddest Factory Records, Mintz has also just finished up touring with Bridgers; getting to play in their home city of Chicago at Huntington Bank Pavillion.
Claud compiled a photo diary for us from the Phoebe Bridgers tour and chatted to us about all things the new single, working with puppets, and what's next... 
COUP DE MAIN: We love 'Go Home!' - what was running through your mind when you were writing this track?
CLAUD: Thanks! It's about that feeling I get sometimes in social situations when I can't think of anything to say and just get so nervous to talk to anyone.
CDM: You recently opened for Phoebe Bridgers on her Reunion Tour - was that experience everything you expected it to be?
CLAUD: It really was everything I could've hoped for and more. I've been going to her shows for years as a fan, so this was truly a dream come true. I'm an even bigger fan now than ever, and the people that come to a Phoebe show are just so kind and considerate. 
CDM: You also recently appeared in 'Helpsters' on Apple TV - what was that experience like?
CLAUD: That was so fun! I had never done anything like that before. It was a long day - we started with recording the song in a studio and then shot the actual scene after that. I had never really acted before (even though I was just playing myself), and interacting with puppets was really funny and cute. 
CDM: What constitutes a perfect day for you?
CLAUD: Going to brunch with some friends, maybe hanging out in a park, petting a dog, and then going home and watching TV all night. 
CDM: If you could tell yourself from 5 years ago a piece of advice, what would it be? 
CLAUD: Stop rushing into things! That sense of urgency you feel is just your anxiety. Take a deep breath. 
CDM: What would you say home is to you at this moment? Would it have been the same now as it was a year ago? 
CLAUD: I'm not sure! Honestly, I've been touring so much, all my stuff is in a storage unit right now. 
CDM: Where in the world do you want to tour that you haven't yet? 
CLAUD: New Zealand, Australia, and Asia! 
CDM: What's next for you?
CLAUD: Writing…
Load next