An Adele x '25' appreciation post.
An Adele x '25' appreciation post.
In honour of today, marking the official release of Adele's new album, '25' [I vote it becomes a public holiday], we at Coup De Main have compiled a list of things that we appreciate about the emotive songstress.
But first, here's some official info about the album:
"My last record was a break up record and if I had to label this one I would call it a make up record. I'm making up with myself. making up for lost time. making up for everything I ever did and never did."
Adele is set to release "25," her highly anticipated new album, which will be available globally on Friday November 20th and is the first new music from her since her Oscar winning single 'Skyfall' in 2012.
"Hello," the debut single from "25," will be available to buy and stream on Friday October 23rd. The cinematic video for "Hello" will also be revealed on Friday October 23rd. It was shot in the countryside surrounding Montreal and is directed by the celebrated young Canadian director Xavier Dolan (Mommy, Tom at the Farm)."
Without further ado, here are 5 things that we currently appreciate about Adele:
#1. Her first ever live performance of 'Hello' somehow manages to sound even better than the studio version of the song. Watch her perform it at the NRJ Awards below:
#2. Adele worked on the album with a variety of incredible people, one of them being one of CDM's favourites, Tobias Jesso Jr. - Adele recently interviewed him for the Guardian, where they talked about songwriting, their musical influences, and more. Check out an excerpt below, and read the full interview HERE.
"I loved Tobias Jesso Jr's song, Hollywood, and I reached out to him when I was working on 25. I say I reached out… I got my manager to contact his manager. I'm pretty behind on social networking culture, I'd have no idea how to do it. Also I didn't want to ask and have him say, "Absolutely not, I think you're shit." At least if my manager asks, he can absorb the rejection and just never tell me. Anyway, he was well up for it. We met up in LA and I absolutely loved him; his vibe, his humour, the way he plays piano – so felt. The music he makes is romantic, with a 70s vibe. In person he's strikingly tall, with this mad mop of hair. It turned out he was a really big fan of mine – and he totally kept his cool together, being thrown in the deep end, for our first co-writing session. I was nervous too. I always get nervous when I'm first in a room with someone. I get frightened to sing, frightened to suggest lyrics out loud. But we spent two or three days together, often just chatting. His grandparents were friends with Philip Glass, and Tobias had inherited Philip Glass's old piano. We wrote our song, When We Were Young, on that piano. How cool is that? I'm definitely going to work with him again. He's my new secret weapon. Listen to his songs How Could You Babe and Hollywood. I love them. I caught up with him for a chat…"
#3. She's done a couple of new magazine covers in the lead-up to the release of the album, and she looks amazing! Covering both 'The Observer' and 'Rolling Stone' magazines, 2015 is set to be the year of Adele. Check out the covers: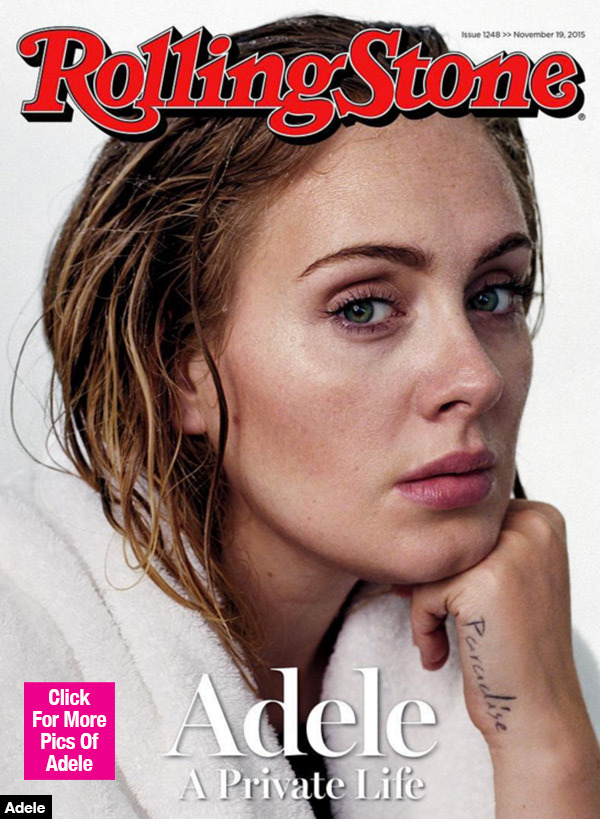 #4. Because there's nothing more relatable than drunk tweeting, Adele shared her embarrassment with the world - telling the audience during the taping of her BBC Special that: "I'm not a drinker any more, but when Twitter first came out I was drunk tweeting and nearly put my foot in it quite a few times. So my management decided that you have to go through two people and then it has to be signed off by someone. But they're all my tweets. No-one writes my tweets. They just post them for me. So yeah, that's very, very true."
#5. Two of our favourite Californians, Tobias Jesso Jr. [who himself released a brilliant album this year] and Ariel Rechtshaid [who has brought you production value on Haim, Vampire Weekend, Sky Ferreira] worked on the new album with Adele, on the song 'When We Were Young'. You can hear a live performance of the song below:
Bonus #6. I've been watching this hilarious video on repeat for days:
Adele's new album '25' is out now - click HERE to purchase it via iTunes.
Watch the 'Hello' music video below…
Load next