Interview: Billie Eilish, you better love her.
I meet Billie Eilish for the very first time backstage at Auckland's Tuning Fork, a restaurant turned occasional music venue, ahead of her debut sold-out show in New Zealand, which is taking place a 13-hour flight from her hometown of Los Angeles. Her mother Maggie Baird (who is currently doubling as both tour manager and OSH supervisor) is in the middle of explaining to me, "She's always singing! I try to tell her to save her voice," as a humming Eilish returns to her dressing room, disregards Baird's pleas, and proceeds to DJ herself jams to sing along to via her iPhone. We both agree that TLC's 'No Scrubs' is, "A song!"
Just a few hundred metres away queue 300 very eager attendees, who are patiently readying themselves to be let into the venue for their chance to see one of 2017's most exciting up-and-coming artists in a truly intimate setting. The show marks the first of a short tour in New Zealand and Australia - all of which are sold-out - before Eilish heads home prior to embarking on another tour across Europe and the UK, which is also sold-out. There seems to be something of a reoccurring trend. Since meeting Eilish back in September, she's been nominated for the BBC's prestigious Sound Of 2018 - an industry-voted list which has launched the careers of the likes of Years & Years, Ellie Goulding, Haim, and more in the UK - as well as featured on Vevo's Artists To Watch series for next year, and announced a 2018 tour which sold out entirely in the pre-sale.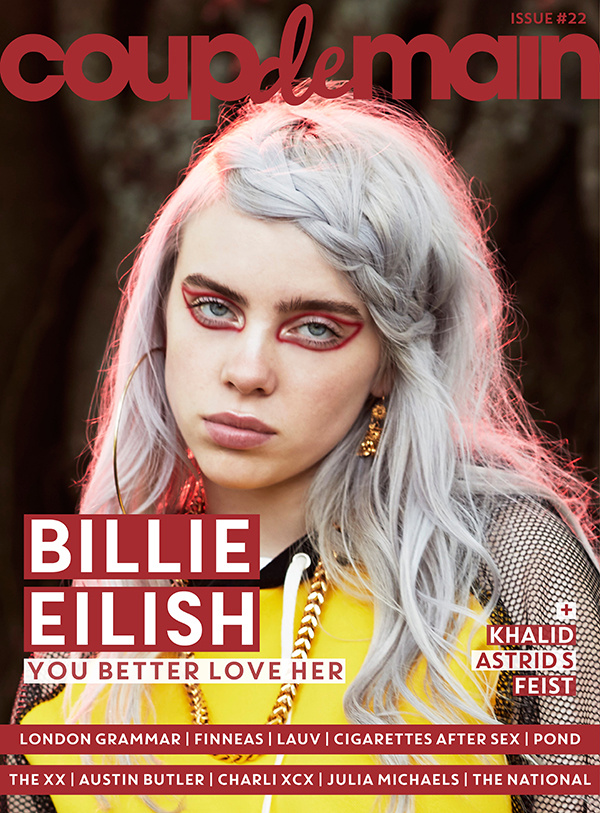 Eilish takes to the stage later that evening alongside her 19-year-old brother and long-time collaborator, Finneas O'Connell, who not only co-writes and co-produces all her music (with occasional outside producers), but also performs live with her on guitar and keys. During her intimate yet energetic set (Eilish later tells me she wanted to dance and jump around more but was restricted by the small stage size and her constrictive ski pants), the audience are treated to a show which has quickly become as critically acclaimed as her songs themselves. Opening with the cynically macabre 'Bellyache', the tone for the night is set with the audience singing every single lyric back to her. When the show ends and the pair run off stage, demands for an encore stun them, as they've already played Eilish's entire repertoire, as well as performed an unreleased song, 'Limbo' - but to the audience's delight, Eilish returns to play 'Bellyache' as an encore once more.
After the show, Eilish is ushered off to a meet & greet with competition winners, with both siblings far exceeding the 'photo opportunity' expectations of fans - instead turning the allotted time into an impromptu Q&A punctuated with personalised compliments, wry observations, and Eilish and O'Connell thoroughly questioning the winners as a group about their lives in NZ (and where a winner purchased his Justin Bieber t-shirt from). All the while, Eilish is well aware of an enormous hoard of fans waiting outside the venue doors, hoping for a chance to meet her. And in true Eilish fashion, she doesn't let them down one bit. Fondly engrained into my memory forever is the image of Eilish sprinting away from panicked security guards and a record label minder to kick open a double-glass door and launch herself at full speed into a sea of fans - completely ignoring all of the venue's security measures and advice from those working on the show. It's a story she's since recounted to endless media, explaining to me later, "I'll always do that. I cannot keep myself from them." In an age where paid meet & greets are a huge economy for the music industry, Eilish wants to spend as much time as possible with fans, placing no monetary value on face-to-face time with her - and as she told us earlier this year, "They're people, so I treat them like people. Because they are. I think so many artists don't really care about that, and they don't really try to talk to their fans or even interact with them."
Eilish was born Billie Eilish Pirate Baird O'Connell on December 18th, 2001 - in the Northern Los Angeles suburb of Highland Park, and began her musical career at age eight in the Los Angeles Children's Chorus. Both Eilish and her brother are homeschooled, which gave them the opportunity to truly discover and explore their interests, which was where Eilish's songwriting properly began to flourish, at age eleven, after her brother began writing music. Eilish told us over the phone earlier this year how she'd hear her brother playing music and ask him what band the music was from, only to discover it was his own creation, a realisation that sparked an interest of her own in the composition of music. Being surrounded by a deeply artistic family (her mother is an actress, screenwriter, and songwriter, and her father is also an actor), fostered an environment of encouraging creative expression, and a songwriting class taught by her mother inspired one of her first songs 'Fingers Crossed'. The song came from a technique of singling out lines from a television or film script and transforming them into a song, with Eilish choosing one of her favourite shows 'The Walking Dead', and dramatic yet observant lines like, "Everybody makes it 'til they don't," and, "The best of me is you."
That song, alongside her first ever release 'sHE's brOKen' (a play on 'she's broken' and 'HE'S OK') were uploaded to SoundCloud with the lone hashtag #Billie, however it was the ethereal and haunting 'Ocean Eyes' that marked a turning point, an original song uploaded to Soundcloud for the purpose of soundtracking a choreographed dance routine - as Eilish had been taking dance lessons, and the song was a request from her teacher. Written by O'Connell for his band at the time, it ended up becoming Eilish's breakout single - one which was picked up by the likes of Zane Lowe, Hillydilly, and Jason Kramer's KCRW radio show, and has since travelled around the world, amassing an astounding nearly 25 million streams on Spotify.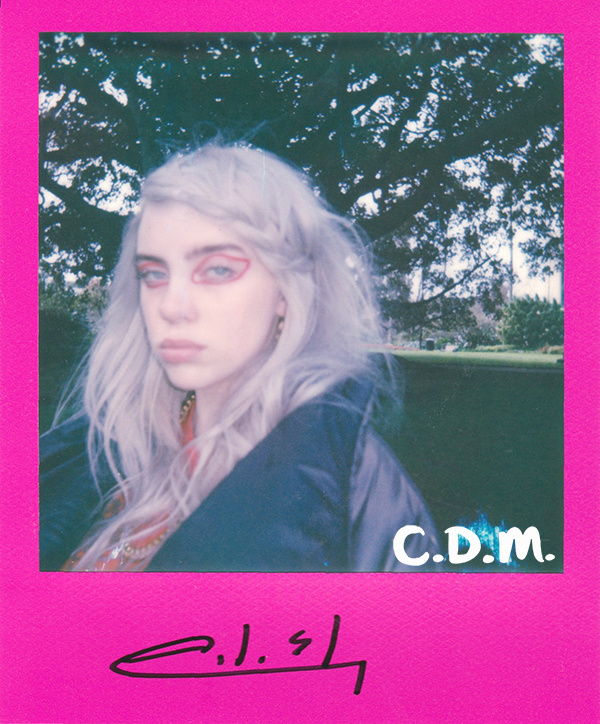 Not long after 'Ocean Eyes', Eilish signed a record deal with Interscope Records in late 2016, through which she dropped her 'don't smile at me' EP which was released earlier this year. That EP is one of the most multifaceted and multidimensional of the year, with Eilish's nonchalant throwaways and ability to write a song about "literally anything" making the eight tracks a truly diverse body of work. From the first track 'COPYCAT' which provokingly calls someone out for lacking in originality, to the harsh birthday break-up of 'Party Favour' ("I hate to do this to you on your birthday," Eilish sings with a sweet yet unapologetic tone), and the fuckboy anthem of 'my boy' (a song Eilish described with a Facebook status as: "if u wana hear a song bout being treated like asssssss forEVERR and being promised some BS"), each song tells a completely different story.
But her songwriting is not only inspired by her own life and stories (though 'idontwannabeyouanymore' was written as a direct outpouring from Eilish's brain), but through channeling fictional perspectives too, such as 'Bellyache', which came about from imagining a serial killer persona. Eilish has strong beliefs about songwriting, affirming that you can write a song from any imagined or lived experience, and that songwriting is much like writing a book, whereby your creativity can lead to the construction of different ideologies and experiences that may not have necessarily occurred.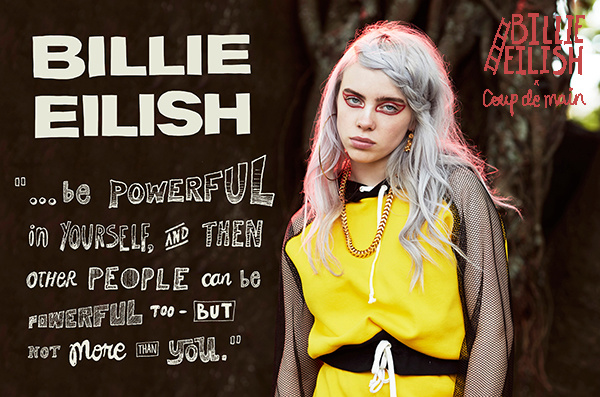 Equally as creative as her songwriting are the visuals that accompany everything Eilish does, which she considers the most important thing about being a musician, and would prefer to refer to herself as a visual artist. From the fiercely vibrant and intensely saturated 'Bellyache' video, to the distinctive yellow and red imagery that accompanies each song on 'don't smile at me' (yellow is Eilish's favourite colour), Eilish has total control of her creative process, from start to finish. It's no wonder that fashion already occupies a large part of Eilish's brain, something that she eventually wants to pursue with her own fashion line - which in a way, she already does, by creating garments out of Ikea bags and one-off finds at thrift stores, cutting them up and creating brand new outfits.
We meet Eilish the morning after her sold-out New Zealand show for a photoshoot at Albert Park - the same location which will host Auckland's annual edition of Summer's Laneway Festival next year in January (and that Eilish is billed to performed at) - a fact she is thrilled to learn as we wander through the shady park. Handling everything we throw at her with a casual air of bemusement and self-deprecation (everything from climbing trees to changing outfits in a not oft-cleaned public restroom), Eilish is horrified when we request her to draw a self-portrait of herself. At one point she requests to see O'Connell's drawing, which he refuses. "I'm not even going to try to do it seriously because it's going to be horrible," she decides, before drawing herself as a copy of a photo she shows us at the end, but not before O'Connell comes over to mock her drawing, "Your tooth, oh my god." Her mother Maggie half-jokingly asks, "Did you draw yourself as a witch?"
In between a flurry of hair and make-up application (all of which is cruelty-free, as the entire Eilish/O'Connell family are strict vegans, and are thrilled when we hand them a box of vegan snacks for the day), Eilish teaches me about her love of beans via a 'My Life Mottos' manifesto she handwrites for us, which also includes the inspirational: "Do whatever [you] want lol it doesn't matter!" We also break for a brief animal spirit reading - "Let's go, I'm so down," Eilish comments as we delve into her past, present, and future personalities - with Eilish discovering that her past self was a camel, her present is a phoenix, and her future is a mouse, which, according to her, are "pretty accurate".
In a photoshoot prep lull, we show Eilish a one-of-a-kind custom yellow tracksuit that has been designed especially for her to wear in the shoot, with the phrase 'Go Trip Over A Knife' emblazoned on the hood (a lyrical reference to Eilish's spoken word in 'my boy'), and a thrilled smile escapes her face, as she darts over to proudly show her family. Later, her mother excitedly tells us, "It looks like something [Billie] would design," and Eilish recalls how the sassy phrase in that song was "a candid Billie moment" - an overt frankness that is not only heard in her music, but in her online presence, for which she has become well known (and beloved) amongst fans.
Eilish's online presence has little to no filter, which gives her fans a firsthand insight into her mind, and as she tells me, "I just tweet everything that I feel, basically." Just don't ask to see her drafts, as she swears they're even worse than her actual tweets. She positively cackles with delight as I recite one of my favourite tweets over the phone to her when she's later at the airport on her way to fly to Sydney - "people that act like theyr more important than others make me wana fucking die let me stomp on ur head then we'll see whos superior." It's that same message about superiority that she herself takes very seriously in regards to her fanbase, not calling them fans at all, but her equals. Growing up in the age of the Internet, Eilish herself once ran a Justin Bieber fansite (she tells me between laughing that it might've been called 'BillieBieber') and adorned her walls with posters of his face. She recently tweeted a screenshot of her crying listening to 'That Should Be Me', a fact which truly does make Eilish an equal to those who do the very same with her own music.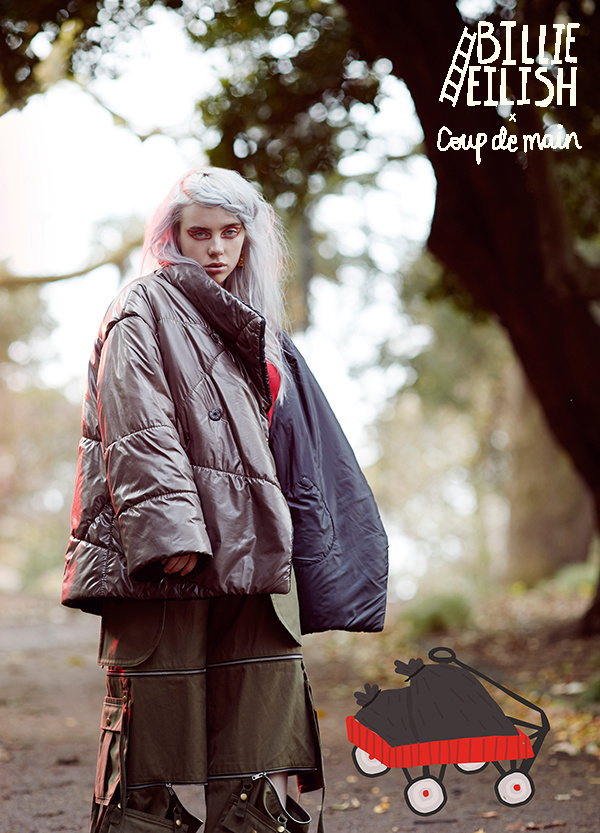 Her unreleased music is passed down like modern folklore amongst her fans - songs like 'Limbo' (with the emotive lyrics, "We're broken glass waiting to be washed away"), 'Wish You Were Gay', and 'True Blue' being learned about by fans through rare live performances, and occasional Instagram Live sessions where Eilish acoustically performs. With only an EP and a string of singles officially released (the most recently titled 'bitches broken hearts' she uploaded to her Soundcloud account), Eilish has fans regularly clamouring for more - and with her debut album slated for release in 2018, as well as several collaborations (one with fellow Coup De Main cover-star Khalid, and one with a as-yet secret "really dope artist"), there will soon be much more Billie Eilish for everyone to hear.
And rightfully so. With sold-out tours, exponentially growing streams of her music, and even accounts dedicated to re-posting her deleted tweets, people are listening to what Billie Eilish has to say, and they're listening en masse. We bid farewell to Eilish at Albert Park upon wrapping her covershoot, and while her family are making sure to pack up their vegan snacks to take with them to the airport, she makes sure to run over and embrace us in an all-enveloping hug, akin to being fiercely hugged by a pint-sized baby tiger - perhaps a more apt 'animal spirit' for an untameable Eilish, whose career is no doubt only going to continue to skyrocket.
We spoke with Billie Eilish during her time in New Zealand about the importance of being equal with her fans, her 'don't smile at me' EP, and her upcoming releases…
COUP DE MAIN: Thank you so much for making your way to New Zealand - your show last night was super rad! What's it like coming to the other side of the world and playing shows where people are singing along to every word?
BILLIE EILISH: Dude, thanks for coming! It's unbelievable. The fact that I can go somewhere that I've never been and would never be, and then there's people there that like me, it's just insane to me.
CDM: The audience was loving it.
BILLIE: Insane! What the hell?!
CDM: And you've just been announced as part of the Laneway Festival line-up for 2018 - are you excited to come back next year to play for us again? We're doing today's photoshoot in the actual location of Laneway Festival, so it's like a taster of where you'll be playing next January!
BILLIE: Yes! That's gonna be so fun.
CDM: I really loved the new song you debuted live last night, what was it called?
BILLIE: It's called 'Limbo' - I've never performed that song before, ever. We wrote it a bit ago with this guy, Emmit Fenn, who's actually a really cool artist. The reason I found out about him was actually because when 'Ocean Eyes' first came out and it got on the radio, it got on KCRW with Jason Kramer, and an Emmit Fenn song played after mine. Right away I heard it and was like, "What is this?!" So then we worked with him, and wrote two songs that are actually two of my favourite songs.
CDM: Do you like being able to road-test songs live before they get properly released, as a way for fans to hear them early?
BILLIE: Yeah exactly.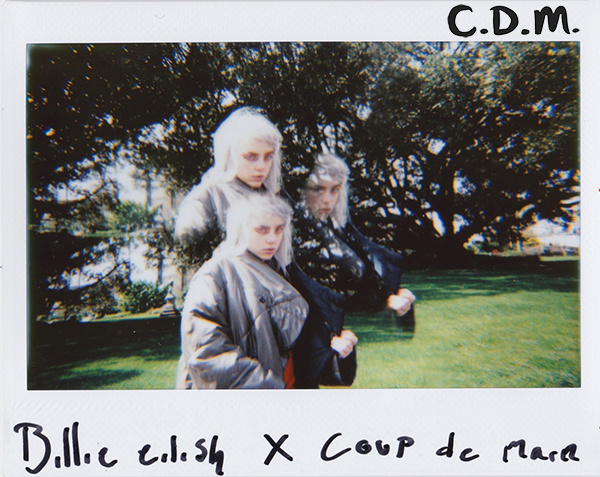 CDM: You met so many fans last night too - it was amazing to see that level of two-way relationship between you and your fans. Do you find it important to reciprocate the investment that fans make in you (whether it be through tickets, merchandise, or listening)?
BILLIE: <laughs> Oh yeah, I can't help myself. The people who were working on the show with me and helping me do whatever were like, 'We'll have some fans come inside who won a competition to meet you.' And I was like, 'But can't I meet all of them?' And they were like, 'Well, these are the ones who won the competition.' And I was like, 'But I want to meet the rest of them!' Then I couldn't keep myself from them. They were all outside the glass, I ran over, kicked open the door, and hugged them all. It was so fun. I'll always do that. I cannot keep myself from them.
CDM: You also compliment/notice things about every single person you meet - what's running through your mind when you are meeting so many new people?
BILLIE: I wish I could process it more when it's happening and actually spend time with each person when it's happening, but usually when that kind of stuff happens I'm just trying to have a moment with each person, because I hate it when artists are just like, 'Okay,' and then they pose for the picture and then move on - like, 'Next.' There's no connection whatsoever. I've been a fan of artists and different music for my whole life and I know what it's like to be them and to be on the other side of that, and having a moment with an artist and feeling closer to them as a person is so much more impactful, and I think in the long-run too. Also, they're all so cute - and they gotta know that they're cute! I gotta tell them.
CDM: When we last spoke to you about the importance of fans, you mentioned that you used to have a fan account - who was your fan account for?
BILLIE: <laughs> I had a fan account for Justin Bieber. I did. I think it was called 'BillieBieber'. I'm pretty sure that's what it was called. It was pretty good actually. The thing is, hardcore fans can really find some stuff from places you would not know. They are good at internet-stalking. Whenever fans find stuff of me that I'm like, 'What's that?!', I know exactly how they're doing it, 'cuz I did it forever. Dude, their stalking skills are crazy. It's impressive.
CDM: A lot of your fanbase is of a similar age to you, and many of them see you as a role-model, or an aspirational figure. How have you dealt with that change in your life, with people the same age as you now looking up to you for advice?
BILLIE: Whoah. I don't really know, I don't think I've really thought about it that way, because I think of myself so much as an equal - I don't think of myself as more or less than them because they're part of me, they complete who I am, and so to think that they think I'm an idol is insane. I have role-models who are kind of like the world to me, and to think that somebody thinks that of me is just unbelievable. It's so weird.
CDM: That's so heart-warming, that you think of you and your fans at the same level.
BILLIE: Yeah! I hate when people act superior, it's so lame. Like, dude, shut up, you're not superior, everyone is the same, and everyone is nothing, or everything.
CDM: For sure. Just because you have more Instagram followers than someone, doesn't mean that you're not more worthy.
BILLIE: Exactly. It doesn't matter.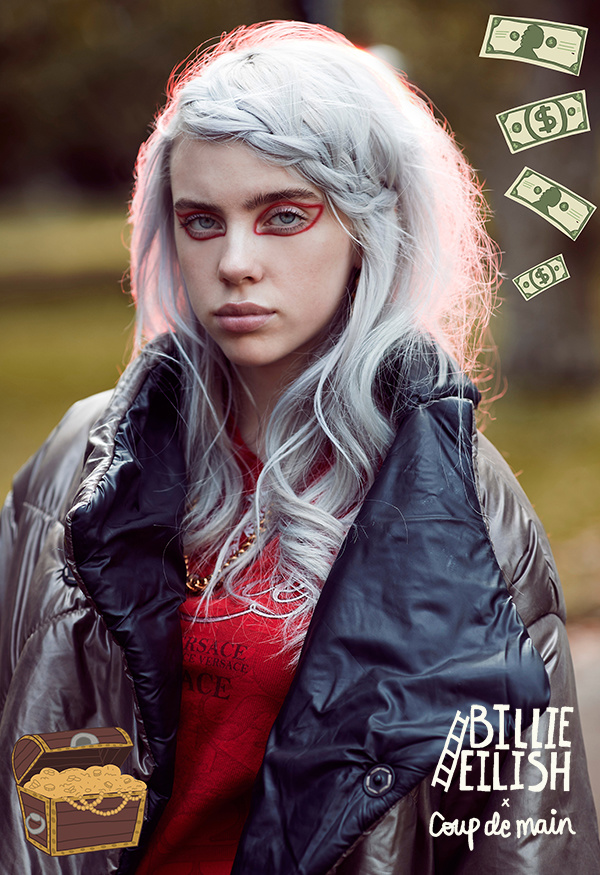 CDM: I think my favourite part of the your 'don't smile at me' EP is when you tell someone to "go trip over a knife." It's so sassy. What was running through your mind when you came up with that line in particular?
BILLIE: <laughs> Well, actually, that is funny, because that song is really short if it doesn't have that part in it. So when we wrote it and were trying to produce it, we were like, 'What do we put in the middle to make it not so short?' So we were like, 'Maybe we could have a recording of somebody talking, or somebody arguing, or somebody saying really annoying things,' because the whole song is about a fuckboy, basically. So I was thinking it could be some douchebag guy, and he just says all these annoying things, and there's a recording of it, or whatever. And then, nothing really worked very well, and it was all kind of weird, so I went into the other room and was like, 'Okay, I'm just gonna look up a bunch of insults online.' So I looked up 'really good insults' <laughs> and I found this website, and they were so stupid. And so I just recorded it, there's still the recording of me reading all of them. I just read all these random insults, and then there was this one that I thought was so stupid that I said, 'Alright dude, go trip over a knife,' to the person who wrote it, basically. So it was none of them. I was just like, 'Are you kidding me?!' So, I just did that. That's a candid Billie moment, so we just put it in, and there it is.
CDM: It's a convention in pop music for women to be represented as apologising and/or playing the victim, and I love that you spin that on its head in 'COPYCAT'. Being so closely connected to your young fans and also being a young woman yourself, do you find it frustrating that pop music narratives tend to represent women so narrowly?
BILLIE: I feel like, especially girl artists, if you sing one pop song you're considered a pop artist. Or if you feature on some song that maybe isn't a very cool artist that you're featuring on, I feel like everyone is like, 'Oh, then you're a bad artist.' And then with guys, I feel like any guy can do any feature on anything and it'll be cool.
CDM: It's a total double standard.
BILLIE: Yeah, and it's really annoying, because I really like hip-hop and I focus myself more towards rap - but I'm considered a pop artist, and I don't consider myself a pop artist. I don't really listen to a lot of pop. I just think genres are really dumb, music is good if it's good. If it's a good song, it doesn't have to be, 'Oh it's only good 'cuz it's this type of music.'
CDM: I feel like genres are bending more now than they have done previously.
BILLIE: I know, and it's so categorised. It's like, if it's good, then it's good. What does it matter? I feel like girls have to be so much more careful in what they do, because then it'll be perceived differently than what they're trying to do, and then forever it'll stay like that. I think that's so annoying. I just say what I want and do what I want, and it's kind of worked for me, but still not as much as it would I think if I was a guy, so that's lame.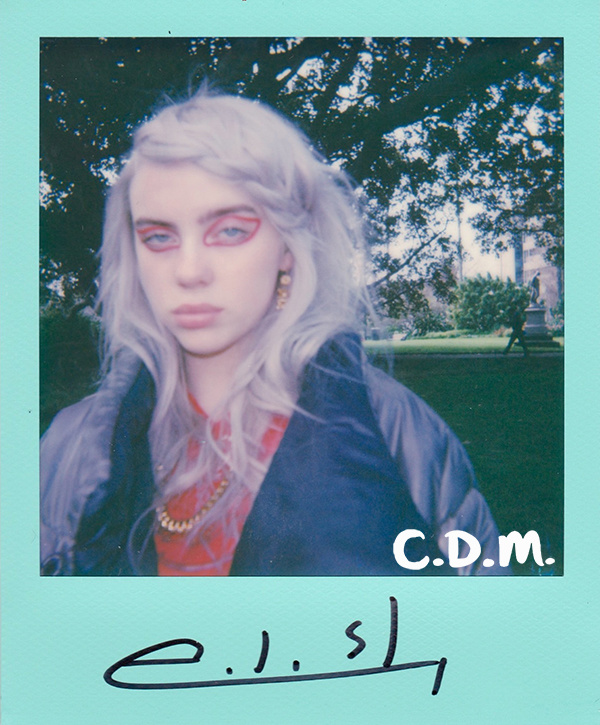 CDM: In an interview once when talking about songwriting you said, "Me and my brother write a lot of fiction." Is writing a short-story something you'd ever want to do? Or is that writing only suitable for song-form?
BILLIE: I don't really like to read, unless it's like-- No, I can't even say, I don't like to read anything, <laughs> so I don't think I would ever write a book. But I really do want to direct stuff, I want to direct videos, music videos especially - I have such a clear image for everything that I want, and so I really want to get into directing at some point. I think songwriting is really my way of getting the words out, I think - I'll probably just write them down. I have a notebook where I just write down all of my thoughts.
CDM: One of your first songs, 'Fingers Crossed', was partially inspired by 'The Walking Dead' - do you often take inspiration from other forms of pop-culture?
BILLIE: It's kind of all over the place. That one specifically came because I was in a songwriting class that my Mom taught, actually. The 'assignment' was to go home and watch a movie, or a TV show, or whatever you want, and then listen to everything that they say, and then write down hooks that you think some of the lines in the movie or the show or whatever, that you think could be a hook or could be a lyric. So I just watched 'The Walking Dead' and I wrote down anything that I thought was somewhat like a song. Many of the lyrics in that song are titles of episodes of 'The Walking Dead'.
CDM: I was gonna say, I can't imagine 'The Walking Dead' having really great lines...
BILLIE: Yeah, dude! "Everybody makes it 'til they don't," is what somebody said. I was like, true. That's right.
CDM: So as well as writing from the point of view of characters, songs like 'idontwannabeyouanymore' you told us in our last interview that it was basically all of your thoughts put into a song, straight from your brain. Do songs like that tend to take longer/shorter / are they easier / harder to write?
BILLIE: That's a good question. I think it depends. If I'm really feeling a certain way, sometimes it just comes out so fast, because it's all there, it's all that I'm thinking about, and all that I feel. But then sometimes you don't really know what you're feeling, and so you kind of have to dig into yourself and be like, 'What is causing this?'
CDM: You've previously mentioned that you want to get more into fashion in the form of your own fashion label - have you thought about what type of aesthetic you'd want it to be?
BILLIE: I just want to make stuff that you haven't seen, ever. What I wear, I try to wear stuff that you can't just go buy. I thrift, basically, and thrifting is cool because there's one of the thing that you see - it's not like a normal store where there's a tonne of the same shirt. I feel like there's so many types of clothing - if you saw a picture of somebody in an outfit, you could probably go buy that outfit somewhere.
CDM: Have you seen the Tumblr account dedicated to one Zara off-the-shoulder dress that everyone wears? It's a whole blog where people submit photos of people wearing it.
BILLIE: <laughs> Jeez. You can just go buy the same thing. But I wear stuff that I literally could not go buy. I make my own stuff a lot too, so I just cut up some stuff and sew it. But when I have a clothing line, 'cuz I make my own clothes now, I just want to make stuff that is so weird, that you don't even know how to put it on. I want you to look at it and go, 'Where does my arm go?'
CDM: Like your ski pants that you wore on-stage last night? They looked difficult to manoeuvre in.
BILLIE: Yeah, not the best choice for that show. But that's okay.
CDM: How do you find fashion and style working into the world of Billie Eilish?
BILLIE: It's all me. If I'm not wearing something that I think is cool, I'm so uncomfortable. What I always say is, my comfort zone is being out of my comfort zone. I think most people feel better when they are wearing what everyone else is wearing and they kind of...
CDM: Blend in?
BILLIE: Blending in is where people feel more comfortable, and if they stand out, they feel weird. I only feel comfortable when I stand out. <laughs> If I am just wearing a normal outfit, or I just look like a normal person and nobody looks at me, I'm like, 'What is this?! This is so weird.' I like to be judged, so anything that'll get you to judge me, then I'll do it.
CDM: Your aesthetic and creative vision is so important to everything you do - I love all the artwork that accompanies your EP. How does the process work of you coming up with the creative ideas that accompany it?
BILLIE: Thank you. It's kind of always different. For that one, I remember I was just thinking, 'I want the EP cover to be me on a red ladder, and a yellow background, and I'll be wearing a red outfit.' I told them, and then I was like, 'Also, the EP is called 'don't smile at me' and this is the order of each song and this is every song that is on it.' I always know what I want. People have learned to respect that, and nobody really tries to take control of my creative. I love other people's opinions and I respect them, but they know that I know what I want, and I'm going to fight for it. So it just comes to me, really. Sometimes it's like wall-writing stuff, it's just always different.
MY FAVOURITE SONG ON THE 'DON'T SMILE AT ME' EP IS…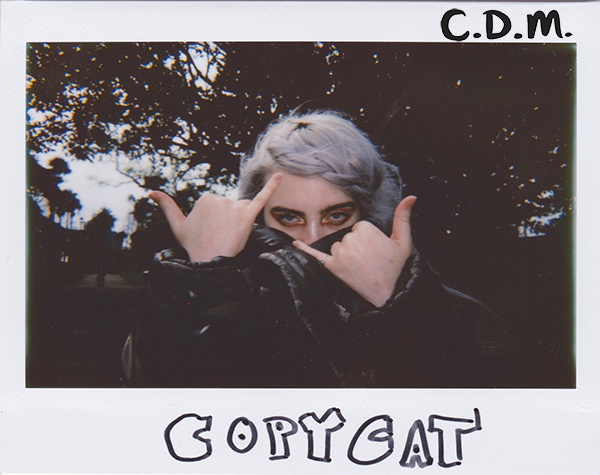 CDM: It's awesome that your label are letting you lead everything, because you hear of so many instances where that's not the case.
BILLIE: It's so cool. I know, and especially since I'm a girl, and 15, people are like, 'Well, do people try to take advantage of you? Do they not respect you enough?' A lot of people in this industry have gone through that, and then I always kind of want to be like, 'Yeah, well it's been rough,' but honestly, people really listen to me. I'm super grateful for it, because a lot of people aren't listened to. I just think that I've gotten it across that I know what I want, so they just get it.
CDM: You once said about smiling when explaining the 'don't smile at me' EP that, "Smiling makes me feel weak and not in control and not powerful and small." What does make you feel powerful?
BILLIE: <laughs> Hmmm, usually what I'm wearing, actually. Fashion has always been my skin, almost, so if I'm not wearing something that I'm comfortable in - not like physically comfortable, but mentally comfortable - I feel horrible, and small, and ugly. If I'm wearing something that is really important to me, or whatever, it makes me feel a million times more powerful, and also not smiling makes me feel powerful, so, boom.
CDM: Do you find being in control a really important part of being a part of the music world?
BILLIE: I think it's important in life, to be in control of yourself, and even others sometimes. I've always been a very mentally masculine person. I'm not considered very 'girly'. People always know that I'm going to get what I want somehow because I'm going to fight for it, I'm going to actually tell you off if you're not helping me out. I think it's something in the music world, you need to somehow tell people that you're powerful - prove it to people. I'm still [very in control] right now, and I'm don't ever want to stop doing that, because people need to know… That's how I feel about Rihanna. People know that she is Rihanna, and that's who she is, and she is a powerful human. I just think she's so, ugh, she's so cool.
CDM: How would you encourage other people to find the best way for feeling powerful?
BILLIE: Figuring out whatever doesn't make you feel weak, or like someone else's. I don't think anyone should ever feel like someone else's. I think about this a lot, especially with relationships and stuff. I don't date right now, because I don't like to exclusively be with one person - I [date] multiple people at a time, and that's just what I do, because I don't like stupid relationships. One of the reasons is it's, 'Oh, you're mine; I'm yours', and you have no control and 'love is blind / love makes you do crazy things.' No, I don't want that. I want to be the reason that I'm crossing the line. I don't want someone else to make me do something that I wouldn't normally do. Unless it's fun, and a good experience, but I just feel like everything should come from you. Just be powerful in yourself, and then other people can be powerful too - but not more than you. I hate it when people say, 'You're mine.' I don't belong to anyone. That's a line in my song. Haha.
CDM: You're just quoting yourself.
BILLIE: I literally am. Wow.
BILLIE EILISH'S LIFE MOTTOS...
CDM: You had a dance injury which is why you stopped dancing - are you dancing again to the level you were?
BILLIE: I can't really. I'm trying to get back into it, it's just that I'm really busy now, and since I got injured at such a peak of that time for dance-- All my friends moved up in levels, and I haven't because I was injured. Also, I'll have to learn everything, and learn the technique and everything. So I'm trying to get back into it, I'm trying to find at least some time in my life to, which is hard, but I need to, because it's the only way that I can live.
CDM: At least you can jump around on-stage a little bit.
BILLIE: I usually do it more. Last night, I feel like the stage was so small, and my outfit was so tight, that I couldn't move that much. Usually I'm jumping on people.
CDM: Do you still write music thinking of the way that movement works into it?
BILLIE: Totally. Music is for dance, even if you're not dancing to it, you want to dance. If you can't dance to a song, it's not a song. You should want to dance, you should want to move, you should want to groove. That rhymed, whoah.
CDM: Billie Eilish, a poet.
BILLIE: <laughs> Yeah, so I think dance is really important to think about because every dance is to a song, pretty much. Usually, dancers find some pretty cool songs to dance to that are super not known, and it's a huge world, and a huge following. So I always think about dance.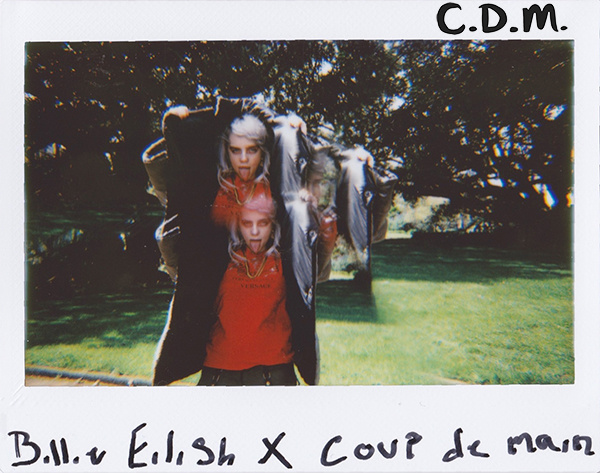 CDM: You mentioned that your Mum taught you to write music - how did that work? I imagine so much of it can't be taught to an extent?
BILLIE: Right. I think with songwriting, the thing is that there aren't really rules, there are just basic rules. She taught a class, and because I'm homeschooled, we went to this homeschooled-school almost, and she taught a songwriting class. I was in it with a bunch of my friends, and it was basically just the structure. The thing is, with songwriting, what I'm saying is that there isn't rules - if you know the basics, then you can turn the basics into more, but knowing the basics makes it easier to do that. So there's a verse, another verse, chorus, another verse, another pre-chorus, chorus, bridge, chorus. That's kind of how I learned, and she had this exercise - I think I explained this earlier - it was to watch a movie or a TV show, and single out the hooks. There was a bunch of little things that we had to do, and there were rhyming games, like, 'Da da da da A, da da da da B, da da da da A, da da da da B,' and the A has to rhyme with the A, and the B has to rhyme with the B. So it's just a rhyming game, it's all really cool. It's helped me writing stuff, but I never think about that.
CDM: I really love how passionate you are about using cruelty-free products, and being vegan. Is this something that you've always been passionate about?
BILLIE: I've always been vegetarian, and I became vegan three years ago or something, and then gluten-free - so I eat air, and that's basically it. <laughs> But I've always loved animals, it's always been a part of me. I never really think about it, but then I'm like, 'Wow, I really do love animals.' And the way that animals are treated, just in general, not even the ones that people make into food, animals in general, are treated horribly, and it's so appalling. And the fact that you can kill an animal, and then cook it, and eat it - like, what in the world? And then people are like, if there's a movie and a dog gets hurt, or there's a rumour about a dog getting abused maybe, everyone freaks out, they're like, 'Gotta protect this dog, oh my god!!' But you're eating a dead chicken that was killed so that you could eat it. It's so annoying. Eat chicken, whatever, but then don't complain about other animals dying, and don't be like, 'I love animals,' if you're just going to eat them. The thing is, I get it if it's food, because people a long time ago needed to eat meat to stay alive, but that's what's weird to me - people needed to eat meat to stay alive because there was nothing else, but now we have everything else and they still eat meat. What the heck?! Also, making animal products into things that are not even food, like into hair products, what's the point? There's so many better items and better make-up and better clothing. Let the animal be pretty - don't make the animal into you, and that be the reason you're pretty.
CDM: I don't know if you've seen, but Rihanna's Fenty Beauty line is fully cruelty free - it's so rad that she's made a point of doing that for her line.
BILLIE: Is it really? That's great! She is so, ugh, I love her.
CDM: There's this amazing video of her talking at the Fenty Beauty launch about how there's forty different shades of foundation, because she wanted to have one for literally every colour of skin.
BILLIE: That is so beautiful. God, her heart is just so great. Wow.
CDM: At what stage are you at with the Billie Eilish debut album?
BILLIE: Pretty much the beginning of it, I'd say. We're working on a lot of singles right now, and features - a lot of rap features which I'm so excited about. And then, just writing more. We need time to write. We need a week alone, me and my brother [Finneas O'Connell], and we can just write, and it'll be great. I think we haven't written the full album yet, maybe not even half of it yet, but we are writing it right now. We're kind of just working on everything and getting the ideas out. It'll be really cool.
CDM: So probably a release next year?
BILLIE: Yeah.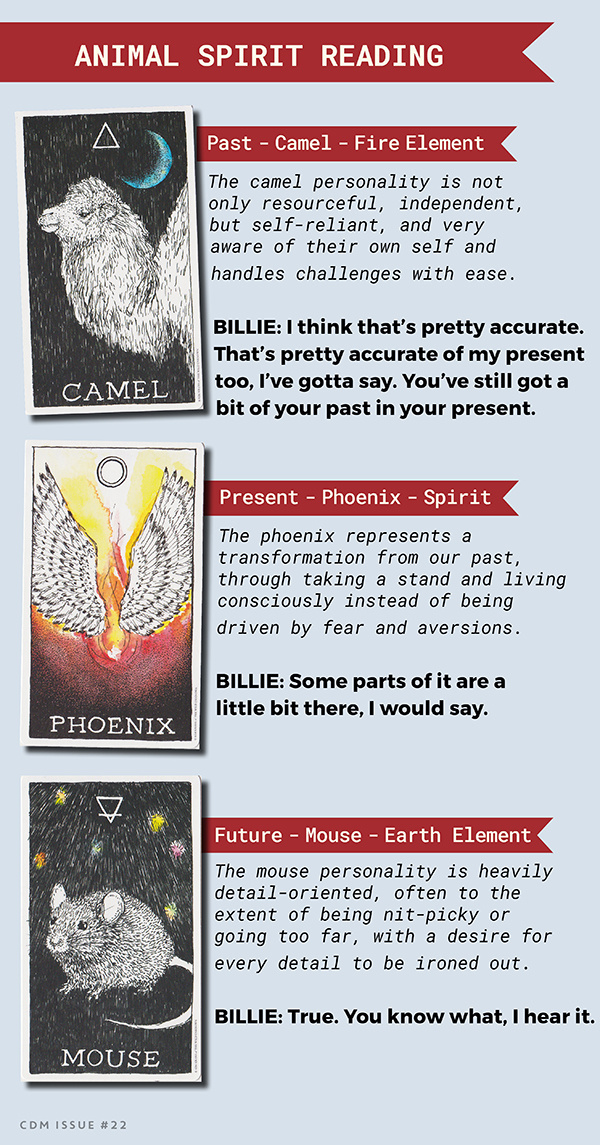 CDM: You mentioned some rap features... You've done a couple songs with Denzel Curry and also Khalid, do you know when these songs will hear the light of day?
BILLIE: The one with Khalid is actually coming really, really soon, we just kind of finished that one up - it's coming out very soon. Denzel and I are just homies, so we don't have a song that's planned to come out, we've just made shit together, they're just kind of there, but we've got plans coming. But there's actually one song coming very soon with a really dope artist that I can't even believe is gonna be featured on it, but that's soon, so get ready to hear that.
CDM: What was it like working with outside collaborators, especially in the hip-hop world?
BILLIE: I don't like sessions with writers or producers really, I've had so many in my little years of this music career, and to go into a room for eight hours and to be like, 'I have to write a song with this person I've never met'... I don't know anything about them, they don't know anything about me, I don't know what they like, I don't know what they don't like, and who knows if we will even like each other. That is so not my thing, I do not enjoy those sessions, pretty much at all. Some people love sessions - my brother loves sessions, he does them all the time because he writes and he produces for other people, and so he enjoys that, and I know a lot of artists that also enjoy that. But for me, I don't, I just can't do that, it's so not right to me. Especially because writing is such a personal thing, and such a deep thing, it's expressing all your emotions and pouring yourself out there, it's such a big thing that is so uncomfortable sometimes. Working with my brother, it's so much easier. The only sessions that I really like are with artists and with people that I genuinely look up to - pretty much the only sessions that I've had fun at. Not that the other ones were bad, they're just not my thing. But the sessions I really have enjoyed, are with people I'm inspired by.
CDM: Sessions seem like blind-dating, but there's an expectation to create something.
BILLIE: It's completely like that - the idea that you have to go in and you have to write a song. But if I don't like this person, how am I going to do that? I don't like the pressure of, you have to do that. You should just write a song when you want to write a song, you know?
MY FAVOURITE THING ABOUT MY BROTHER FINNEAS...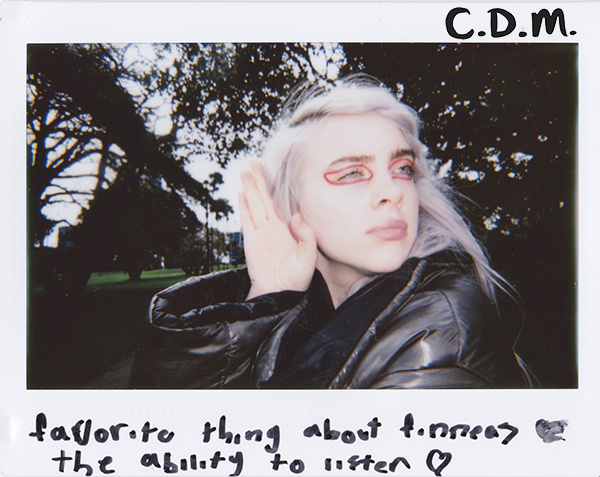 CDM: Your tweets are super relatable, my favourite is: "people that act like theyr more important than others make me wana fucking die let me stomp on ur head then we'll see whos superior." It's genuinely the best thing I've ever read. Do you find Twitter a good outlet for venting what's going on in your mind?
BILLIE: Ahhh, thank you! I appreciate that, dude. If you wanted to open my brain, you could, by going on my Twitter, honestly. I'm serious, I just tweet everything that I feel, basically. Even my drafts, they're like my tweets, except 800% worse. <laughs> I feel like if I tweeted the things that are in my drafts, then my managers would be like, 'Billie, please take that down.' So those are just for me. My tweets are just my mind and all of my thoughts. That one specifically, oh my god, people who are superior can fucking die. But nobody is superior, everyone is the same. Right?
Billie Eilish's 'don't smile at me' EP is out now - click here to purchase.
Click here to purchase CDM Zine #6 feat. Billie Eilish.
Watch the 'watch' music video below…