Interview: Alexa Davies on 'Mamma Mia! Here We Go Again'.
Interview: Alexa Davies on 'Mamma Mia! Here We Go Again'.
There's just one film everyone's talking about this month, and it's 'Mamma Mia! Here We Go Again'. The sequel to 2008's multiple-record-breaking Abba jukebox musical adaptation, it looks set to follow up, and possibly even exceed, the success of its predecessor and be the feel-good cinematic experience of 2018. With a script from rom-com legend Richard Curtis and 'The Best Exotic Marigold Hotel' writer Ol Parker (who also directs), it's already outperformed expectations of critical success, racking up a score of 87% on Rotten Tomatoes.
In the movie, Sophie, played by Amanda Seyfried, returns to her childhood home and learns of how her own mother, Donna (Meryl Streep), prepared for life with a daughter through a series of flashbacks. It's in these flashbacks that 22-year-old rising British star Alexa Davies takes the role of Rosie, played in the original by Dame Julie Walters, the jovial and fun-loving sidekick to Donna and one third of their band Donna and The Dynamos. Taking place both five years after the events of the original movie and back in 1979 in the Summer following Rosie, Donna and Tanya's graduation, the sequel has expanded the iconic original cast to include six fresh faces to play their younger counterparts. Joining Davies are 'Cinderella' and 'Baby Driver' star Lily James as the young Donna, and Jessica Keenan Wynn as Tanya (originally Christine Baranski), alongside Jeremy Irvine ('War Horse'), Hugh Skinner ('Fleabag') and Josh Dylan as Donna's three summertime flings (played originally by Pierce Brosnan, Colin Firth and Stellan Skarsgård, respectively). Back in the present, two Hollywood legends join the fray: Andy Garcia, as a mysterious romantic on the Greek island, and none other than Cher, as Donna's mother, Ruby.
It's right in the middle of Cher and Streep, the film's two Best Actress Oscar-winning megastars, that Davies is placed on most of the film's posters, which is undoubtedly a head-spinner for an actor who was still working a bar job just over a year ago. Despite roles in a string of high-profile British TV shows, including 'Raised By Wolves', 'Harlots' and 'The Detectorists', Davies stayed working at a London theatre up until the point that the intensive dance rehearsal period for 'Here We Go Again' began. Many would've quit as soon as they got the call to confirm their casting, but the North Wales native chose to stick it out, serving drinks and stocking fridges. This down-to-earth attitude is evident when we meet at a fancy London hotel on a scorching Sunday afternoon. Even after two straight days of press, she's still bemused and amused by the room in which she's been taking interviews, made up to look like the patio of rustic Greek villa (although, ironically, the film was shot in Croatia), complete with tiled floors, large terracotta plant pots and Mediterranean window shutters with fake skies beyond.
We spoke to Alexa Davies about her intense preparation for the role, the joyful atmosphere on set, and her disbelief at the news that she'd be starring alongside actual Cher...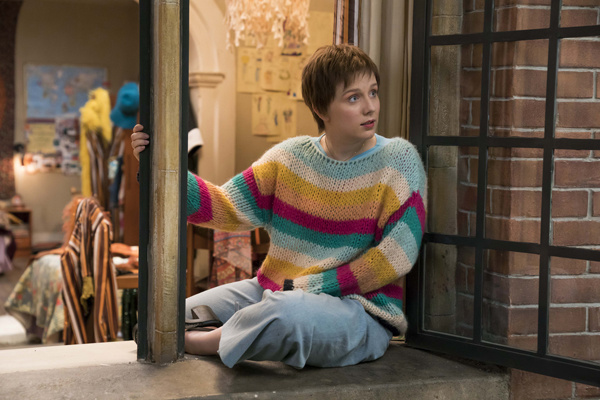 COUP DE MAIN: Let's go back ten years to the Summer of 2008, when the original 'Mamma Mia!' film was released, and you were just 12. What are your memories of that Summer, and did you see the film in the cinema?
ALEXA DAVIES: I don't remember that Summer at all! I can't remember when I first saw it, I remember just falling in love with it. Because in the UK, Abba's sort of a given here, everybody knows Abba, everybody knows their songs. It was the first jukebox musical I think I'd ever seen and I just loved it. And Julie especially – I was obsessed with this clip where she did this like faux fall off a dinghy into the sea, and she just nailed it. That was like my first question when I met the exec producer, I was like, "Did she do that in one take?" They were like, "Of course, of course she did." So I don't remember the first time I watched it, but I think since then I've watched it 50+ times, especially since I got this job!
CDM: Were you watching the first film closely to try to figure out the older Rosie's mannerisms?
ALEXA: Yeah, definitely. I think Julie made Rosie quite similar to herself, because they are quite similar anyway, they're both so loveable and feisty, but it was tricky because she definitely does her own [Midlands] accent, but it sounds like it's slightly more Northern. So there was so many things to look at. Luckily she moved her hands all the time when she spoke, which is one of my worst habits as an actor, so that was a tick that I could not worry about too much. But yeah, I watched it so many times and just tried to soak in everything, and now I think I could do a one-woman version of the show without any prep. <laughs>
CDM: Your scenes in the film are set in 1979 when Donna, Rosie and Tanya have just graduated from the University of Oxford. Did you ask your parents or older relatives about that time period in order to get a sense of the era?
ALEXA: Not massively. Michele Clapton, our costume designer, was the best person to turn to. She's done such an amazing job on this film, and she was the one that would tell us about the glamour of it all. When we got to Oxford, to the college, it was just so amazing, and it's timeless in there. It's so beautiful. But the vibe came from the clothes, and obviously the music. What was really lovely is the friendship between these three girls is timeless, and could be set in – and is set in – another time period.
CDM: Did you, Lily James and Jessica Keenan Wynn have some time to get to know each other and build up a rapport so that you would have genuine chemistry on screen as best friends?
ALEXA: We had five weeks of dance rehearsals. They saw me at my lowest and they saw me at my highest. I'm not much of a dancer, and it was so out of my comfort zone, but they were amazing. It's so lucky, because the fear is obviously that you get there and you meet them and they're awful people, but luckily they are the loveliest girls. We had a whole five weeks of singing and dancing in like sweatpants and vest tops, and then suddenly we were in Oxford in platform shoes and Spanx and wigs. It was crazy.
CDM: Did you and your friends ever get together and form a band when you were younger, like Donna and The Dynamos do in the film?
ALEXA: We did! There were only nine girls in my primary school class, and we used to go out in our lunch break and be like, we're going to like split up, two people can be the judges, and then the other rest of us are going to be in two different bands, and we have to perform a song. It was so stupid, but that was sort of my closest thing to it. But, like, Girl Power! It was such a lovely time. Primary school is the best, isn't it?
MY FAVOURITE ABBA SONG IS...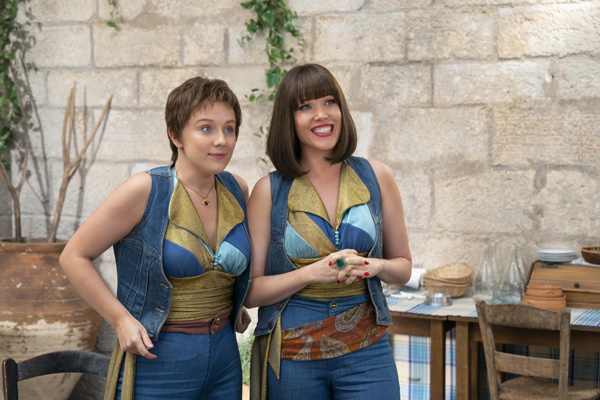 CDM: You shot the Greek island scenes in Croatia, and I understand that even though you weren't sharing scenes with them, the original, present day cast were there at the same time. Was it just one big fun Summer holiday with Hollywood A-listers?
ALEXA: It was huge. It was like a massive version of [British dating reality TV show] 'Love Island' but we didn't have to couple up. We were on an island, and a lot of the cast and the production team were all staying in the same area on the island, so we'd just bump into each other. There were about six restaurants, and in the evening, a lot of the people would always be at a particular restaurant, and you'd just sort of do a scan and see who else was around. So it was lovely. The [rest of the cast] were there for five weeks. I did three because I then had to come back and do a sitcom, but it was amazing.
CDM: Did you get to watch Julie shoot her scenes as the older Rosie?
ALEXA: Oh my god, yeah. There were times where if we were both shooting in the same day, [Jessica and I] would come in and as soon as we were ready in hair and make-up, if we were early, we'd be like, "Can we just go and watch?" Because she's just so funny. Her and Christine, they're like a power couple, they're amazing together.
CDM: At what point did you learn that Cher was coming on board to play Sophie's grandmother, and what was your reaction to the news?
ALEXA: It was before we started rehearsals. When I got the job, I was working on the bar at the Palace Theatre on Shaftsbury Avenue [currently the London home of 'Harry Potter and the Cursed Child']. So we did the incoming, I served drinks, and I could feel my phone buzzing in my pocket. I was like, 'God, what's that?' I finished incoming, restocked the fridge, and then saw that the director had called me. I was like, 'Oh God, okay.' I went and sat on the stairs and he was like, "What do you think of the script?", "So happy you're doing it," yada yada yada, "Cher's going to be playing Ruby" – and as soon as he said it, I just sort of blacked out. He carried on for about five minutes and then he stopped and I said, "Did you say Cher's playing Ruby?" And he was like, "Yeah, yeah." And then I just had to go back and do more serving of drinks for the interval. There was no time to process it, it was just like, "Cher's… Cher's gonna… Okay." It made the rest of my shift really easy though. <laughs>
HOW I FELT BEING BETWEEN MERYL STREEP AND CHER ON THE 'MAMA MIA! HERE WE GO AGAIN' POSTER:
CDM: You starred in Caitlin Moran's sitcom 'Raised By Wolves'. Did you get any sage advice or wisdom from her while working on that show?
ALEXA: They were amazing, Caitlin and her sister Caz, who wrote it together. I started that show when I was 17, and it was such an important time, because it was not only that I was growing up and becoming a woman, but also it was the first big job of my career. They were just amazing, it wasn't so much that they ever said anything specific, but just being around them, because they're both such intelligent, wonderful, funny women. There was no bullshit, they got their stuff done. They were there for the work and they loved it. I love that show so, so much. And Rebekah Staton, who played our mum, was a beacon of amazement, I love her.
CDM: You were also in the Hulu show 'Harlots', which had an almost completely female cast and crew. What sort of impact did you find that that has on a set environment?
ALEXA: God, it was amazing. All of our directors were women, and all of our writers were women, and our producers – it was mad, it was alien, but it was so wonderful. It was so nice to go to work knowing that the girls would be there, and we could always chat to anyone. There was such a variety of women on the show, as well. It was amazing, especially to have a female director on a show like 'Harlots', where there's lots of scenes of a sexual nature, and to have a woman there instead of a man was amazing.
CDM: If there were to be a third 'Mamma Mia!' film, at what point in the lifetime of Donna, Rosie and Tanya would you want to see their friendship?
ALEXA: Hugh Skinner last night said the funniest thing. If you do a sequel, it's got to be doubly as big, but if you do another one it's got to be even bigger. So he said it would be funny if we went twenty years in the future again, where Sophie has a boy in this film and he goes and travels, and then Sophie's panicking because she doesn't want him to do what she did, a bit like Meryl all over again. But I don't know, if they did another it would be amazing if they did bring back the prequel cast, but who knows. I'd love to.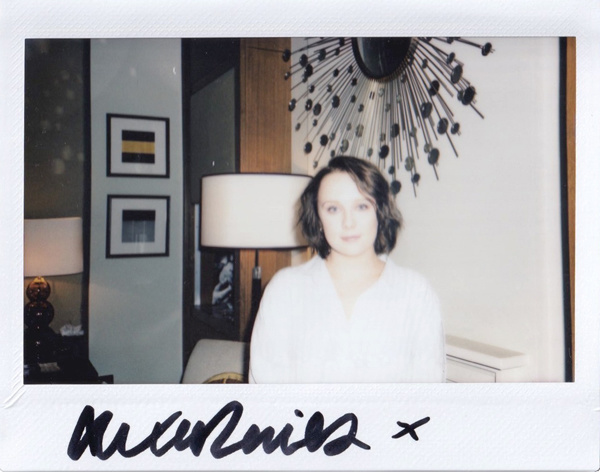 'Mamma Mia! Here We Go Again' is out now. Watch the lyric video for 'When I Kissed The Teacher' below:
Load next