Phone a Friend: Advice from 100 Gecs.
Phone a Friend: Advice from 100 Gecs.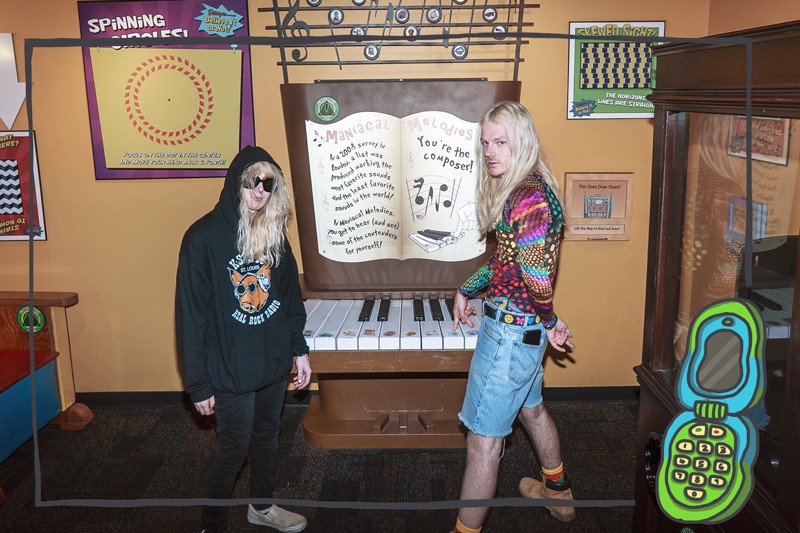 If Dylan Brady and Laura Les ushered listeners into their 100 gecs sonic universe with debut album, '1000 gecs', then latest release '1000 gecs and The Tree Of Clues' busts the door wide open to an unparalleled multiverse (and something they hint at wanting to further add to during recent email communications for this advice column). The reimagining of fan-favourite songs such as the ubiquitous 'ringtone', with Charli XCX, Rico Nasty, and Kero Kero Bonito, are the musical equivalent of unlocking mystical powers not unlike that of a Super Saiyan transformation.
"It is the 23rd hour in the night. You may be asleep curled up tight. This hour isn't on your normal clock a sound man wouldn't even notice his has stopped. Deep in the glade where time stands still, a twilight fir is about to give her last will. The Mewn is the first to smell the starlight sap, rousing quickly from a thousand year nap. Turning around to show his true colours, the Mewn focuses the fir, a lighthouse for the others," reads the opening slide on 100 gecs' official website, adding to the mythos of the band and introducing a supernatural narrative... involving a persistent rat and a powerful tree. Does the Tree Of Clues know the meaning of life, we ask the duo? They both answer with a resounding, "Yes."
Earlier this month, The Chicago Tribune outlined pilgrimages made by 100 gecs fans to the real-world '1000 gecs' album cover tree in Des Plaines, Illinois, who describe their visits as a "spiritual experience". About the fervour surrounding the tree (which is also at the centre of a petition to make it the eighth wonder of the world), the band's Brady says, "It is really cool I love that tree A LOT lol; save the trees," while Les concludes that it, "Feels great. We need more trees."
And about their upcoming plans, the band reply with the following:
LAURA: Making songs.
LAURA: Nobel prize.
LAURA: EGOT.
LAURA: 3 point plan.
DYLAN: We are planning to eat corn.
LAURA: 4 point plan.
DYLAN: Yummy corn hehe ❤️ 👀
DYLAN: HEHE
DYLAN: .__
With one hand ready to blast '1000 gecs and The Tree Of Clues' (and the other perhaps holding an ear of corn), proceed below to some life advice from 100 gecs...
LAURA: Turn the reverb down, vocals up. Add vocals to that section too. Turn up the bass a bit... NOT THAT MUCH!! Ok a little more... perfect. Take out that layer. Speed it up a little. This part needs some drums. Ok now we're cooking with gas.
DYLAN: Reduce, Reuse, Recycle.
LAURA: Don't forget to take care of yourself.
DYLAN: b kind.
Watch a visualiser for 'ringtone (remix)' below...
Want more? Further advice awaits you here.
Load next