Interview: Believe in Wolf Alice.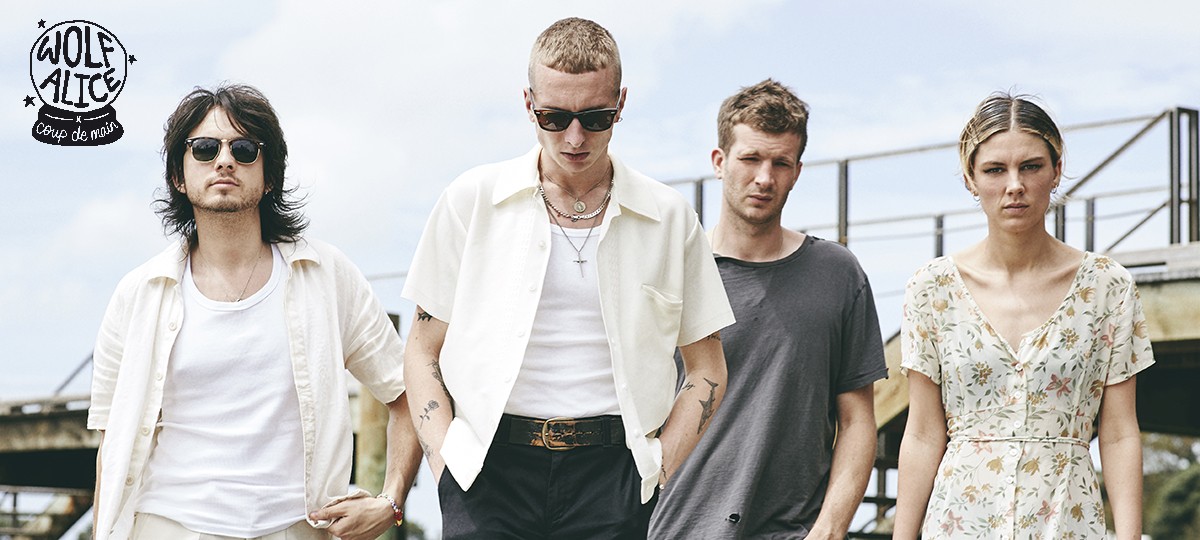 In Wolf Alice's namesake, 'Wolf-Alice', the Angela Carter short story, she writes of the titular character, "Her relation with the mirror was now far more intimate since she knew she saw herself within it." It's a sentiment that's also reflected in the relationship between (the band) Wolf Alice and anyone who's heard their latest album, 'Visions Of A Life', on which frontwoman Ellie Rowsell calls out societal expectations on 'Yuk Foo' ("I have feelings, 'cause I'm a human / A totally self-destructive, constantly consuming / And now I'm fucked, and that fucks you too / So fuck the world, and you, and you and you"), gives voice to millennial woes in the record's title-track ("Why was I born with itchy feet? And why do I hate all the people I meet? People's ideals give me the chills to the bone / I got one thousand million friends and I feel so alone"), and pens a relatable letter to her past self in 'Space & Time' ("I hope my body gets better / Do I mean my body or my mind? / I hate the word 'forever' / I hate the word 'change' / I just need time / Give me time / Space and time").
But it's on 'Don't Delete The Kisses', the band's most radio-friendly effort to date, that Rowsell's knack for lyrical empathy is best showcased, with a heartfelt chorus that repeats a universally relevant question about love, "What if it's not meant for me?" And it's this mastery of soundtracking hard feelings that makes Wolf Alice a band you can, and should, believe in. Their songs are the essence of extremely personal outsider affinity that unite all listeners in the knowledge that you're not alone.
Author Emma Cline (whose debut novel, 'The Girls', inspired Rowsell to write 'Formidable Cool'), told The Guardian last year that, "For me, writing and reading fiction comes from a desire to explore the far reaches of human experience," and that's a curiosity that also seems to power Rowsell and her creative family/bandmates - Joel Amey (the quartet's comedic element), Joff Oddie (who during our photoshoot alternates between doing chin-ups utilising a tree branch, or silent smoke breaks), and Theo Ellis (untamed, spirited, and a real character).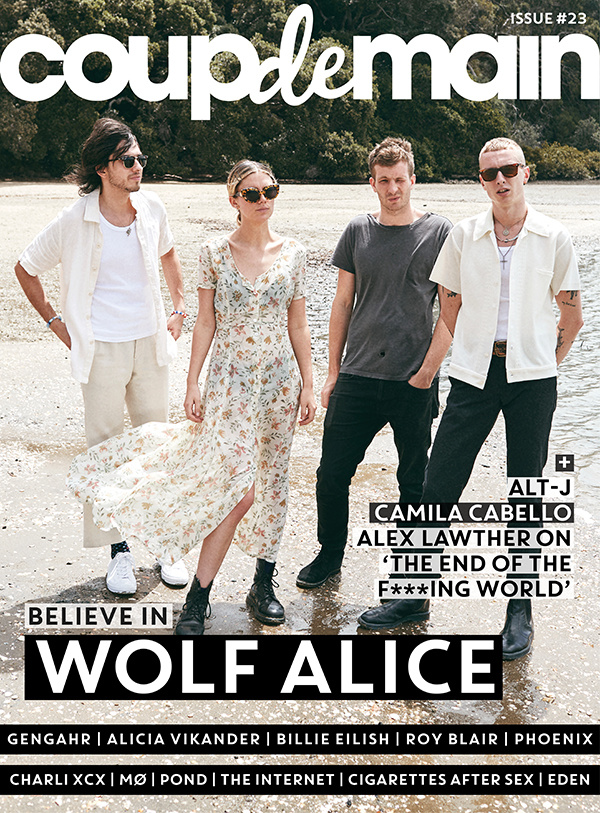 Individually or collectively, a casual conversation with the quartet can run the gamut from discussing pop producer Jack Antonoff ("He has really defined what modern pop kind of sounds like"), to St. Vincent and her latest live shows ("Super New York and super art"), or Fugazi and their documentary film 'Instrument' ("That will put you off touring"), to the heartbreak of Richard Linklater's 'Before Sunrise' and 'Before Sunset' films ("Their relationship is not even particularly outlandish or interesting, but you hang onto every single word they say"), or the blockbuster that is 'Thor: Ragnarok' (which Amey animatedly tells Oddie he's just watched).
The London four-piece are critically acclaimed for their supercharged live show (The Telegraph calls them "explosive, giddy and exultant"), and renowned for a gruelling touring schedule, but found themselves in New Zealand only for the first time this past Summer, exclusive to Laneway Festival, a turn of events that seems ironic considering the band's many connections to this country - friends, one of their techs, and Amey's sister all live here. Rowsell jokes that their Laneway guest-list was bigger than at hometown shows.
So it's two days after the Auckland date of Laneway 2018 (and one day after Oddie's birthday celebrations on Waiheke Island), that we take Wolf Alice to Judge's Bay Beach and the Parnell Rose Gardens for our cover-shoot, sitting down to catch up with the band's Ellie Rowsell and Joel Amey...
WATCH WOLF ALICE PLAY 'WHAT DO YOU MEME?'
COUP DE MAIN: We last saw you in Sydney three years ago. A lot of bands forget their promises to us, but you came through. You're in New Zealand now!
WOLF ALICE - ELLIE ROWSELL: Took us a while!
CDM: To be fair, I don't think you went back to Australia after Splendour In The Grass 2015, so it's not like you went to Australia again and left us out.
ELLIE: I don't think we did.
WOLF ALICE - JOEL AMEY: I can't remember if we did. Me and Theo were talking the other day and thought we had, but that just goes to show how unbelievably jet-lagged I think we were if we had. I can't remember the dates so I don't know.
CDM: You guys tour a lot, so fair enough.
JOEL: <laughs> We do.
CDM: How have you been finding New Zealand so far?
ELLIE: So good! I've had such a good time.
JOEL: Yeah, it's very beautiful here.
CDM: You went to Waiheke yesterday, right?
JOEL: These guys did, yeah!
ELLIE: Yeah, that was lovely.
CDM: Joel, we saw you yesterday when we were going to lunch - you were buying something from the store downstairs?
JOEL: Oh! I couldn't go to the island because my sister lives here and I took her sky-diving, so I bought Joff a big cake piñata and filled it with some sweets and fart bombs and a big sticky poo, which are things he loves.
CDM: Joel, have you been to Auckland Zoo yet to visit a red panda?
JOEL: No! Do they have them here?
CDM: Yeah! We adopted Ellie one last time we saw you guys and I think I remember you saying it was your favourite animal.
JOEL: Damn! They are my favourite animals! If I had known, I would have gone and seen Ellie's red panda in the zoo. I have time tomorrow...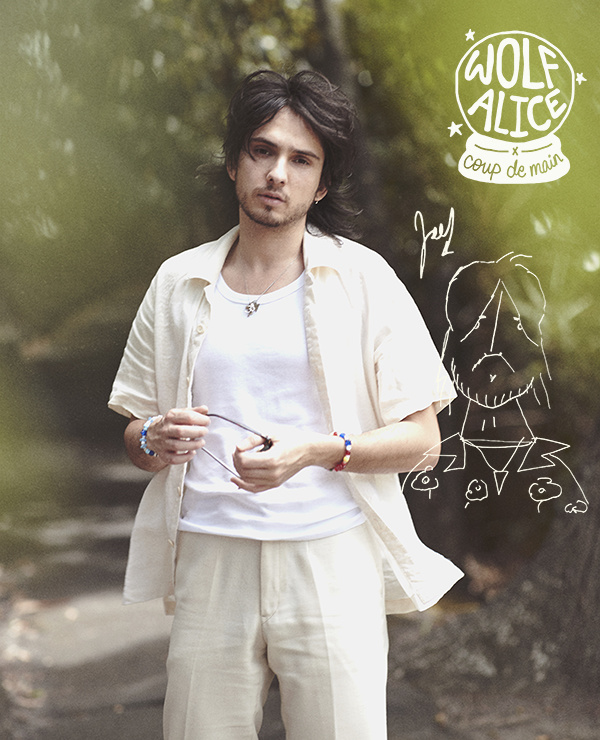 CDM: True or false: You have an old teacher, Cath McGlinchey, who lives in NZ and used to teach you in the UK?
JOEL: Yeah! She was probably one of the most influential music people I met when I was growing up. She came and did a year's teaching at the school I went to. They'd stopped teaching music for the GCSEs because the school just didn't want to do music anymore. I was really into music at the time, obviously, and six other kids, and she taught us in our own time to make sure we could get a GCSE. She is just one of the nicest people I've ever met, and was the most encouraging to learn how to sing and to do composition and learn how to record your own ideas, and she just had a massive impact on my life. I haven't seen her for like ten years, so I saw her at Laneway and we were watching The War On Drugs together and it was just really nice.
CDM: Have you been enjoying Laneway Festival?
ELLIE & JOEL: Yeah!
ELLIE: It's a really good line-up, we're quite chuffed to be part of it.
JOEL: Definitely.
CDM: Does it feel a bit full circle having seen Father John Misty perform 'True Affection' live at a festival in Spain and feeling inspired to write 'Don't Delete The Kisses', and now being on a three-country festival circuit with him?
ELLIE: Yeah! When that song came on it was a good moment, wasn't it? We were watching it together and we all really like that song and it was a good moment.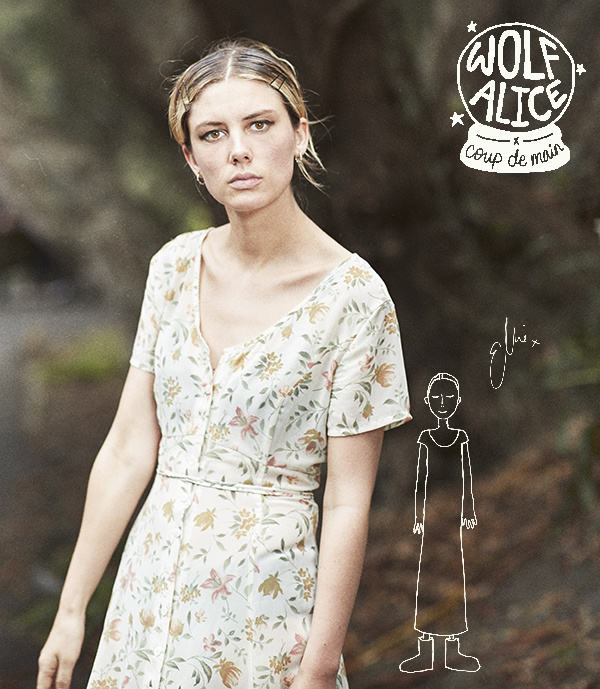 CDM: Ellie, when we first talked to you back in 2015, you mentioned that you felt too self-conscious at that time to write lyrics that were not ambiguous or rooted in a romantic fantasy side. How did you overcome that to let go and write 'Don't Delete The Kisses'?
ELLIE: I guess a number of things. Just feeling a little bit more confident because you've got more fans so you kind of [feel], I don't want to say validation, but a little bit. People like what you're doing, and also that no-one can really tell you what is fiction and what's not, because you can reveal as much to be the truth as you want or you can keep things ambiguous regardless. Also just learning from mistakes, really. Sometimes you change your lyrics because you feel embarrassed and then you might regret that, and you now know what that feels like.
CDM: I really love the second verse. Its sentiments are so pure!
ELLIE: Aw, thank you.
CDM: On your first album you sung a lot about fear in songs like 'Turn To Dust' and 'Lisbon', so it's really empowering to hear you unleash your rage on 'Yuk Foo'. Was the writing of that song like a stream of consciousness?
ELLIE: It was kind of, yeah. Joel had lent me that book, 'Our Band Could Be Your Life' [by Michael Azerrad], and we were really enjoying playing our heavy, loud, fast songs, and I was really inspired by that book to kind of make short snappy pop songs - and because that was my first time trying it, it was the most genuine. I didn't think about, 'I want to write a song about this,' I was just like [makes roaring noise] <laughs>. Sometimes you don't want to go back and change too much because it's a real, true, emotional manifestation, rather than a well thought-out piece.
CDM: I really, really like the lines, "Am I a planet hunter / Or a brave deviator?" in 'Planet Hunter'. It's very poetic. Ellie, you also sing in that song, "And I only ever try to have fun / I'm only old when I don't feel young," which is a really universally relatable sentiment. With you four as the head of your own business, Wolf Alice, do you ever feel a bit beyond your years?
ELLIE: No, I wish. <laughs>
JOEL: I definitely don't act like I am! I don't know.
ELLIE: Yeah, I don't know either, it just depends what kind of behaviour you're on.
JOEL: I think I've always struggled with getting older in terms of how I want to act and how I should act and how I feel, until recently where I feel a lot more comfortable with getting older.
ELLIE: Yeah me too.
JOEL: I feared it a lot in my late teens / early 20s and I'm 27 now, and if I told myself at 21... I don't know. I was so weird about getting older when I was younger, and now to be 27 and to actually quite like it? There are things that I want to try and do because I'm that age now, do you know what I mean? [Things I] maybe fought off in my early 20s.
CDM: It's like how birthdays are so exciting when you're young, but when you get older you realise, 'Oh, it's just an age.'
JOEL: Yeah, I always had regrets that I hadn't done things and had these weird little touch points that I'd set myself which were just completely unnecessary anyway. Once you kind of get over that stage, it's just another part of, at least [in] my growing up, which was getting over those regrets for things that were going to happen at certain times anyway, and just enjoying and being whoever you are at whatever age you are.
CDM: Everyone keeps telling me that 30 is the golden age.
ELLIE: I'm quite excited to be 30.
CDM: How old are you now, Ellie?
ELLIE: 25.
JOEL: I hope so, because I'm getting dangerously close to it. I can see why as I'm on the other side of 25 now. I can see why people when they hit their 30s are like, 'Let's do this, I've got more under my belt.'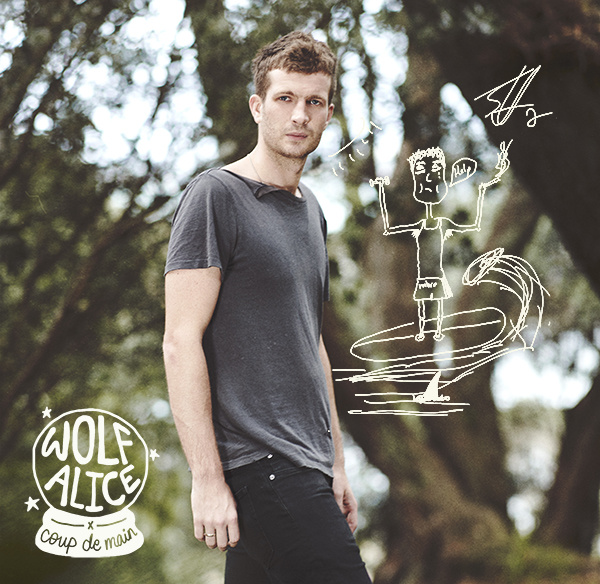 CDM: In 'Sky Musings' are you referencing the films 'Before Sunrise' and 'Before Sunset' with the lines, "Two people fall in love on the night of their lives / Never meet again until he's married, has a wife"?
ELLIE: Yeah, I am! I loved those movies. I always re-watch them.
CDM: They're so sad though.
ELLIE: Yeah, they're so sad.
CDM: And why are they always on airplanes?
ELLIE: Why?!
JOEL: I was just about to say that, they're always on airplanes and I keep meaning to watch it and I'm like, 'Fuck, I'll have to watch it next time.'
CDM: You'll probably cry. They're very sad!
JOEL: I always cry on planes though.
ELLIE: So good - it is such a simple concept and you wouldn't think you could make three hour and whatever movies out of them, but you can. Their relationship is not even particularly outlandish or interesting, but you hang onto every single word they say and I love that kind of stuff.
CDM: Have you watched Richard Linklater's other films?
ELLIE: Yeah, I watched 'Boyhood' which was great. I don't know if I've watched any of the other ones, I don't think so.
CDM: What is it about movies that you find so inspirational when writing songs?
ELLIE: Loads of things. It's one way to step into somebody else's shoes, and it's also one way sometimes for someone to explain to you something that you already know but didn't know how to put into words and things like that. It's also a powerful thing to see visuals set to music or set to words, and it's inspiring, but in the same way though, that conversation is in books, film is like you're instantly being told a story.
CDM: What are you reading at the moment?
ELLIE: I'm reading such a good book! Oh my god, wait, what is it called? 'The Summer Book', it's by the woman [Tove Jansson] who made the Moomins.
JOEL: Oh sick!
CDM: Is it a Moomins book?
ELLIE: No, it's nothing about the Moomins. I think it might be autobiographical. It's fiction but I think it's about her, I think, and her Grandma, and it's just a relationship between a tiny kid, I think she's maybe six or something, and her Grandma who is old, and it's so good because I think it might be all from real dialogue. You know when you're six and your perception of everything is so amazing? I guess when you're old it's the same, so their conversations are just hilarious.
CDM: Carrie Brownstein wrote in the prologue of her book, 'Hunger Makes Me A Modern Girl', "I only wanted one thing on tour: to slam my hand in a door and break my fingers. Then I would go home." Obviously Carrie was in a really bad place, about to break up Sleater-Kinney, but have you ever empathised with her feelings about being 1000% over touring?
ELLIE: No, I've never wanted to do that.
JOEL: No, I don't think I've wanted to slam my hand in a door for anything, really.
ELLIE: I love that book, it was so good, but touring seemed very difficult for her, I think.
JOEL: I need to check it out.
CDM: Do you try to tell your team that you want days off, to try make touring more liveable?
ELLIE: Again, it's one of those things where it's like, when you're starting off, you're so scared to ask for those kinds of things because then when I don't smash it and get successful, it will be my fault because I did that - because I told them I couldn't do this anymore and that I needed a day off.
JOEL: I think we're learning with those things still now and we're getting more under our belt, and you get to a stage where you can take a week off between two shows because of the level of the band you've become. Touring will probably slowly start to be dictated around our lives, rather than our lives will be dictated around touring. At this stage, we're promoting a record we're really happy with, you've got to go on the road and do it, and we're good with each other and we're good with our personal space and stuff and it's not always as intense a situation as Sleater-Kinney got towards the end I think.
ELLIE: And they toured for ten years in a van. We're privileged enough now to have a little bit more comfort, we don't share rooms anymore and things like that. And touring with an ex-girlfriend would be really hard, and she had allergies and all that stuff.
JOEL: Have you ever seen 'Instrument'? That really famous Fugazi film? That will put you off touring. <laughs>
ELLIE: Really?
JOEL: Did you watch it?
ELLIE: Some of it, I actually had to turn it off because I found it quite boring, but because they so believe in it...
JOEL: Did you watch it until the end?
ELLIE: Nah.
JOEL: They've been doing it for 10 years now and they're getting to when they're promoting 'The Argument' and the drummer is in this place in Amsterdam or something and he just can't get the shower head to go like above his head, and he's 35, and just like, 'Fuck!' And they're all in one room because they basically invented straight-edge and this sort of DIY ethic, and they're still sticking by it. So it just depends what kind of situation you choose to put yourself in.
ELLIE: As a fan of a band, I think what they did was incredible that they kept their tickets to $5 or whatever which meant that it would cover what they needed and nothing more, but as a fan, even if I don't have any money, I want you to be happy and I want to give you a little bit more so that you don't have to share a room with your bassist.
JOEL: Towards the end as well when they put 'The Argument' out, they're still sticking to this ethic and they're interviewing fans outside and even though they have done all of this and everyone is going to these shows, these fans, they hear the new record and they are just being interviewed like, 'They've sold out.' Like, fuck, all this for that dickhead to tell you that you're a sell-out? I remember just watching it and thinking, 'God, that's tough, like physically.'
ELLIE: And they didn't have merch because it was like, then they're a commodity and it's buying into capitalism, blah blah blah. I just think of me as a perhaps 16-year-old fan at my favourite show being like, 'Please I just want a t-shirt!' <laughs>
JOEL: I have a Fugazi t-shirt so I don't know who made it. It wasn't them. It's weird, isn't it?
CDM: Having been inspired by the film 'Heathers' to write 'Beautifully Unconventional', have you heard about the upcoming TV reboot of the film?
JOEL: I have.
ELLIE: No?
JOEL: Yeah, they're making a TV show based on it. It looks a bit... it looks awful, I have to say.
CDM: The reboot replaces the original Heathers with a Heather each from a marginalised community; a person of colour, a plus-size character, and a LGBT character.
ELLIE: They're bullying?
JOEL: Yeah, they're bullying the preppy rich kids.
ELLIE: That's not what it's... that doesn't sound like Heathers?!
JOEL: Yeah I can't really get my head around it. But yeah, it's based on the Heathers, it's really weird. It's the same thing, they're going to kill...
CDM: They're going to kill the main Heather who is a plus-size character, so it's just really... I was reading an article today about how it's basically people who are in power fantasising about themselves being marginalised.
ELLIE: Oh god, that's not good, is it?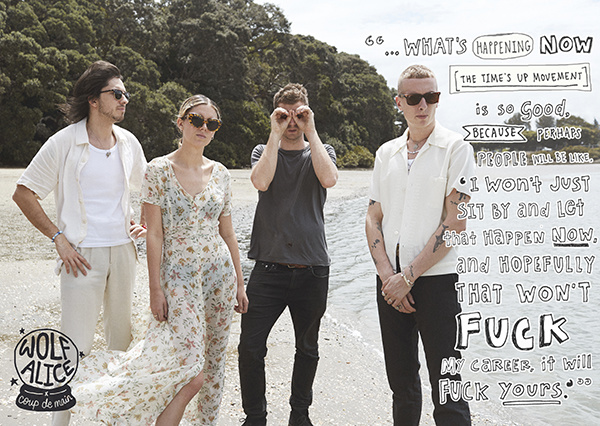 CDM: Was it therapeutic writing 'Space & Time' as a letter from your future self to your past self?
ELLIE: Yeah, it really was, actually. I think that [songwriting] is therapy. When something bad happens to me, I always think at one point hopefully in my life I'll be looking back and it won't be so bad, so that always makes me feel better - that's a song about that, really.
CDM: "People's ideals give me the chills to the bone / I got one thousand million friends and I feel so alone" in 'Visions Of A Life' is a perfect summation of modern-day life. Do you think we would all be better off if social media had never been invented?
ELLIE: Yeah, I think so.
JOEL: As a user of it, I do try and find some redeeming quality in it. Like there is art that exists because of it and there are connections that exist because of it and people's lives don't always change for the worse, but pretty much it has. Like our idea of what pop-culture is doesn't really have the same sort of class as what Andy Warhol was trying to go for - it's just so cheap. I think the worst thing is people's attention spans for holding onto good things has just depleted now.
ELLIE: And for children, they don't play so much no more, and I think playing is the most important thing.
CDM: You always see children with iPads in public, like that is their babysitter.
JOEL: Yeah, I was reading this thing about how Steve Jobs and Bill Gates don't let their kids use a lot of the tech they create and I always think that is probably a good sign to give it a rest for a bit. <laughs>
CDM: Have you watched 'Black Mirror'?
JOEL: I haven't seen any of it myself.
ELLIE: I've watched some of the new ones.
CDM: It'll really freak you out about technology.
ELLIE: Yeah, they really hit the nail on the head there, didn't they?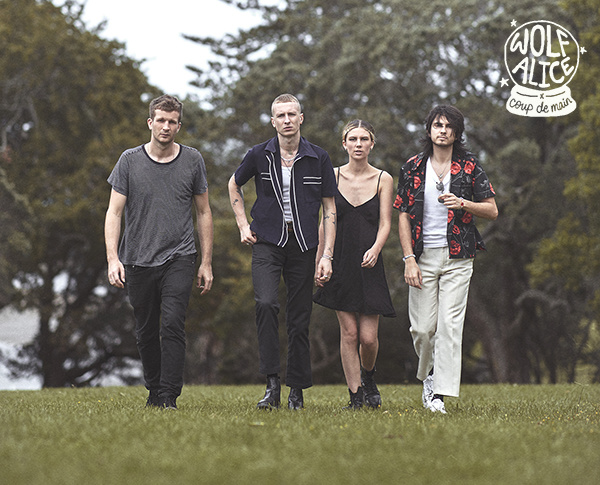 MY FAVOURITE SONG FROM OUR 'VISIONS OF A LIFE' ALBUM IS...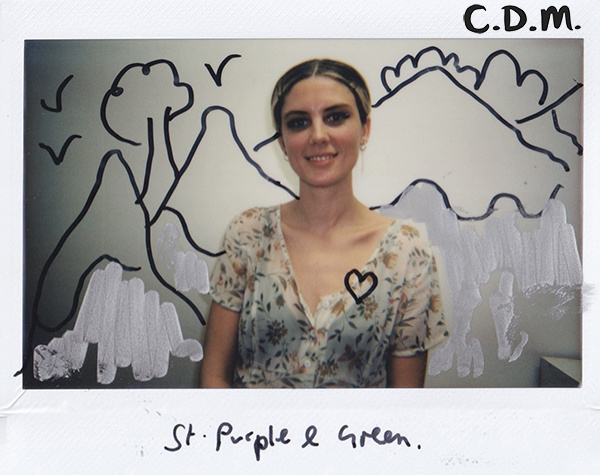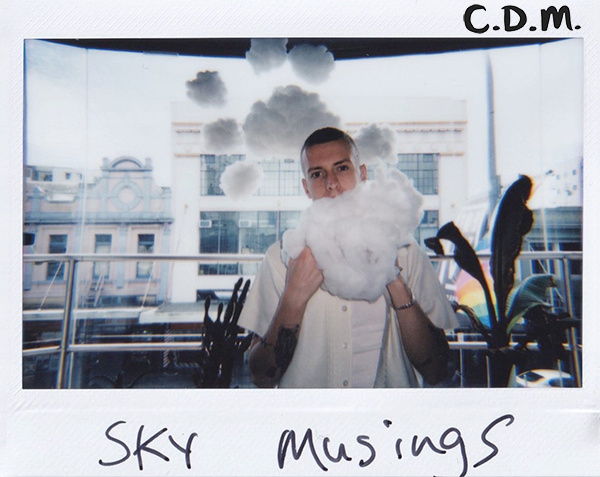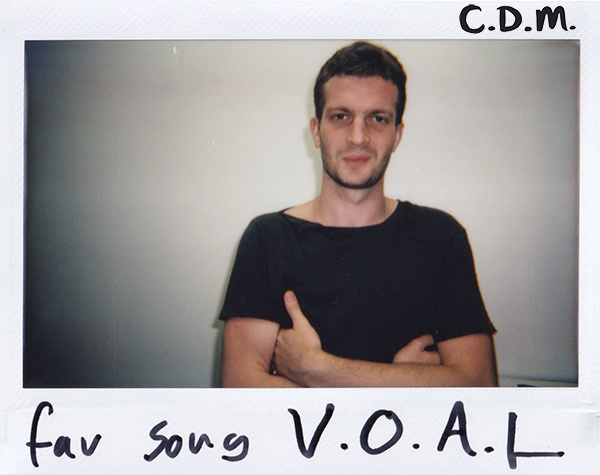 CDM: Lorde, whose 'Melodrama' album I know you, Ellie, really liked, was the only Best Album nominee at this year's Grammy Awards who wasn't asked to perform, and was the only female to be nominated in that category. In response to that snub, America's Recording Academy President Neil Portnow said that women need to "step up" and "do it yourself, take it from your heart and put it out there." Do you agree or disagree with the simplicity of that advice for female musicians/engineers/producers?
ELLIE: No! That doesn't make any sense.
JOEL: The reaction, quite rightly, to it, has been-- it's the most appalling way of summarising the fact that the organisation he represents hasn't acknowledged enough amazing women.
ELLIE: That's from a completely privileged point of view. That's like saying to someone, just cheer up if they're depressed, or just do it to someone--
JOEL: Who has already done it.
ELLIE: Or who has no money or whatever.
JOEL: It's really bad. Lorde was only asked to perform if she was willing to do a tribute for Tom Petty and she was like, 'Well, I'm nominated for Best Album.' I think quite rightly she was like, 'No, I don't want to do it if I'm just tagged onto someone else's thing,' and people seem to have kicked off about it.
CDM: You guys were nominated for a Grammy, right? Did you notice much of a difference between that and the Brits?
ELLIE: Yeah it was kind of similar, but just an American bigger-in-size version. But the same kind of... it was really similar, wasn't it?
JOEL: Yeah. The ethos of it is exactly the same, you're awarding something to lots of groups and people, and actually it's all opinion and it's very self-important, I guess. It's amazing if you can discover new things from the access that those shows give to a new artist or an album you've never heard of, but I think a lot of the time it's the same people that go to these things and win the same awards and it's just a cycle.
ELLIE: But I believe that if we were to scrap them, we would want them back. They can be done well I think, it's nice to celebrate good music and everyone kind of, well not everyone, but there's a certain something to be said for seeing some kind of party go on - I quite like that. I don't have to be there, I can google it afterwards, but there's something to be said [for it], it's quite fun - you can make it about the fun.
JOEL: At least for entertainment. It's an entertainment industry, it's just another part of something that entertains people.
CDM: I guess it's hard to win, like, the BBC Sound Of, no-one is ever going to 100% agree with the results because they feel strongly themselves about who they thought should have won.
JOEL: That's the Brits as well now, there is a huge panel that gets asked.
ELLIE: But the Mercury Prize perhaps is better in the sense that it is all voted not by the public and that gives people who don't have that many fans a chance, and also they show you who the judges are, so it's not just invisible industry people. Not, 'Oh! This radio presenter and this government man blah blah blah.' And then everyone performs, which truly is a celebration. The only thing is that you have to submit your work and I think it costs a lot of money.
JOEL: It's probably why it gets taken a bit more seriously to be fair. Everything about it just seems that it's done for a good reason.
CDM: It's more for the musician?
JOEL: Yeah, that is probably what every musician will say about it.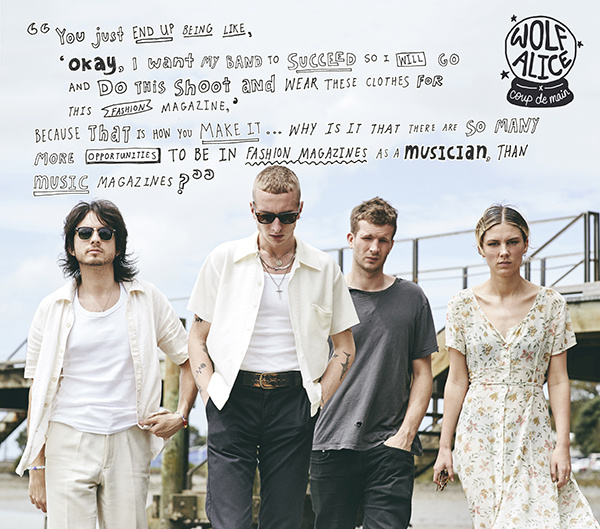 CDM: According to a report that analysed all the personnel behind America's top-charting songs from 2012 to 2017, women made up only 12% of songwriters and 2% of producers. Do you see a way out of this underrepresentation and inequality?
JOEL: I was surprised at that, because some of the biggest female songwriters - and best, in my opinion - have written so many songs. That's why I was trying to work out where they got that statistic from.
CDM: Who are your favourites?
JOEL: I can never remember her name [Diane Warren] but she did that massive Aerosmith song ['I Don't Want To Miss A Thing'], and there are so many topline writers that are female. Is this because they actually don't get credited and stuff like that? Which is even more dodgy than I originally thought.
ELLIE: So this is 12% out of the chart-topping songs?
CDM: Yeah, everything from the Billboard charts.
JOEL: Problem is, it's the same fucking 10 people writing all 20.
ELLIE: 12% are women songwriters? Whoah, that is mad.
CDM: A lot of female musicians that we talk to say that they have never been in a studio where there has been a female engineer or producer. They say that they'll try to specifically request women but their managers are unable to find them any to work with. I know Jack Antonoff works with a sound engineer called Laura Sisk, and Haim and Vampire Weekend have worked with Emily Lazar, but they are a rare breed.
JOEL: Yeah, we worked with Catherine Marks who was an engineer for Flood for many years. She produced our 'Creature Songs' EP and she has done The Big Moon's debut record and a few other things as well. She's a name that everyone should keep tabs on definitely, and I was actually reading about how, you know that band Tool? I was literally just watching this really good video with Sylvia Massy, she did Tool records and The Melvins, she just gets the hardest drum sounds I've heard and she does loads of crazy stuff.
ELLIE: Honestly, I'm not surprised about how few women producers there are. I've only ever met one I think, but songwriters, that seems crazy to me.
JOEL: Yeah, it surprised me, it really surprised me. That also doesn't surprise me when you hear people like the Grammys guy saying that kind of shit and he's in the place where he is. Even in the situation we are, seeing how the politics of these industries still work and how you have to do this thing to get that thing, if head-honcho says stuff like that then you can see how bad it is - you can see how inherently bad it is. It blows my mind that in today's day and age that anyone wants to put their name to a statement like what that guy did. When I was reading it, I was just like, this is so far out from reality.
CDM: No disrespect to artists like Adele and Taylor Swift, but when you see them winning awards for their albums and everyone who gets up on stage with them are all men, it's sad.
ELLIE: That is strange.
JOEL: It is weird isn't it? Obviously they are the people that are interpreting the song with their voice, and that, at the end of the day, is the key, because the same song sung by somebody else might not connect the same way. But yeah, I think it needs to be encouraged more. I can't think of a perfect answer for that question but it is definitely a problem I think, if people don't feel inspired enough to get into it, you know?
CDM: Also at the Grammys this year, Janelle Monáe called out the music industry, saying: "We say time's up for pay inequality; time's up for discrimination; time's up for harassment of any kind. And time's up for the abuse of power - because, you see, it's not just going on in Hollywood; it's not just going on in Washington. It's right here in our industry as well." What do you think it is about the creative industries that make them so vulnerable to misuse of power and gender inequality?
ELLIE: I'm not really sure that it is so much worse in the creative industries, you know? Fuck knows what it is like to be working in--
CDM: Maybe it's just because of celebrities, so there's media coverage of high-profile cases.
ELLIE: Exactly, but also it is so competitive and so difficult to get to where you want to be that you often commit too much of a compromise because you're desperate for it. There is a lot of that 'change it from the inside' kind of thing, which means you have to compromise a lot to get to where you want to be and to where you don't have to compromise, and that means letting people walk all over you sometimes. That's why what's happening now is so good, because perhaps people will be like, 'I won't just sit by and let that happen now, and hopefully that won't fuck my career, it will fuck yours [instead].'
CDM: I think Marika Hackman has talked about how on her first album, many of the press opportunities that were offered to her, they just wanted her to model or answer questions completely not relating to music.
ELLIE: I know, that is really horrible, and the thing is, what is really horrible as well is that no-one tells you that that's really actually quite bad and strange. You just end up being like, 'Okay, I want my band to succeed so I will go and do this shoot and wear these clothes for this fashion magazine,' because that is how you make it. And that is really sad, because obviously some people love that kind of thing which is great, but that opens a whole new box of anxieties to some people. I don't want to have to think about what I look like and stuff like that. That is, again, working your way up through the inside, and it's so annoying that you have to play the game. The game should be changed, and people should stress that you don't have to do that and it's not normal. Why is it that there are so many more opportunities to be in fashion magazines as a musician, than music magazines? How does that happen? <laughs>
CDM: Maybe because we live in a weird world where fashion magazines are more successful than music magazines because they can sell advertising easier - NME's change in editorial opinions being an obvious example.
ELLIE AND JOEL: Yeah!
JOEL: Definitely, even in like the last year or so, it's like a different thing.
CDM: Well, they put The 1975 on the cover after formerly saying they were the worst band in the world.
ELLIE: So mean! God. It's a weird one, that one.
MY FAVOURITE THING ABOUT ELLIE IS...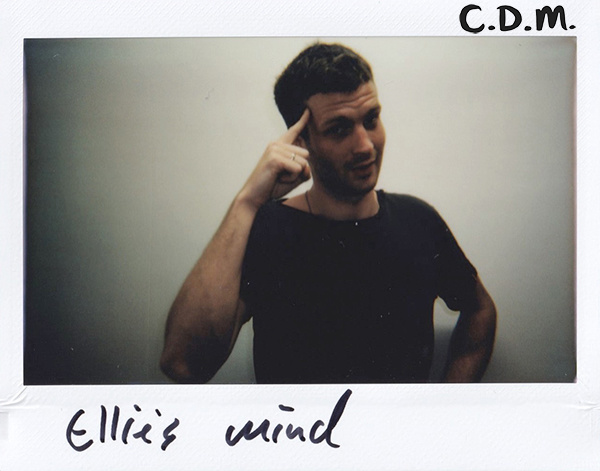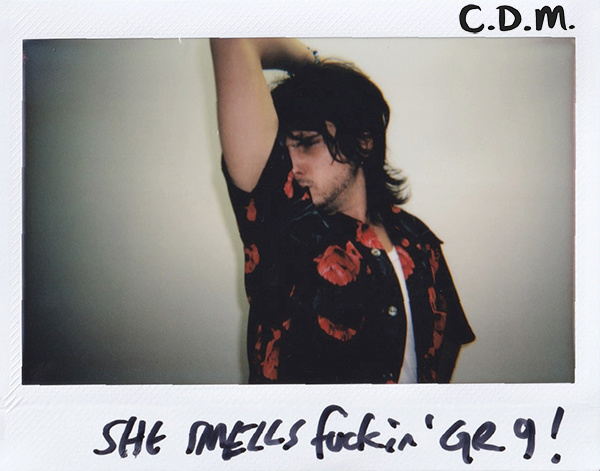 MY FAVOURITE THING ABOUT JOEL IS...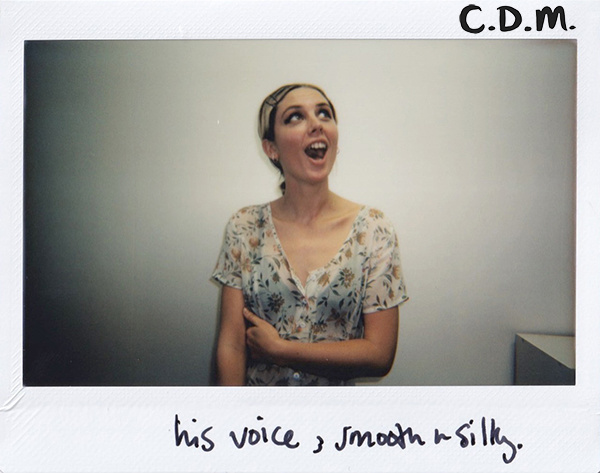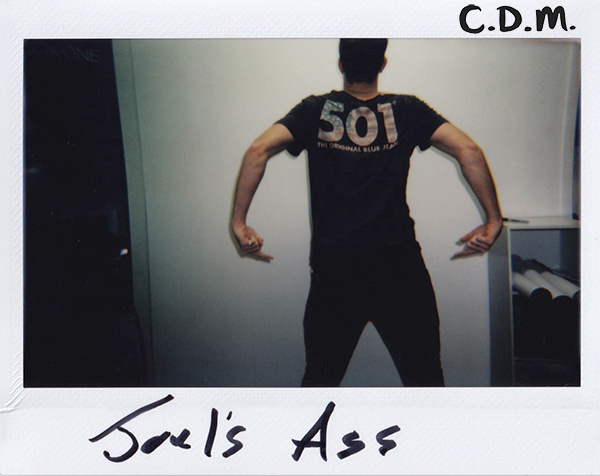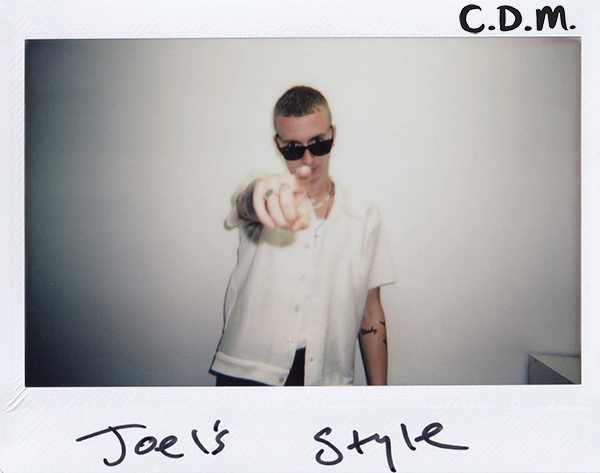 MY FAVOURITE THING ABOUT JOFF IS...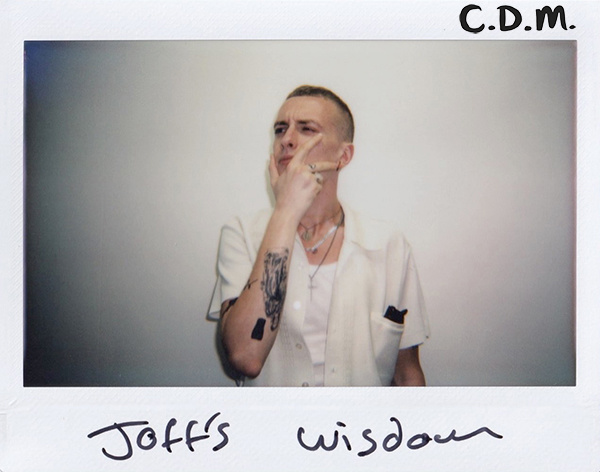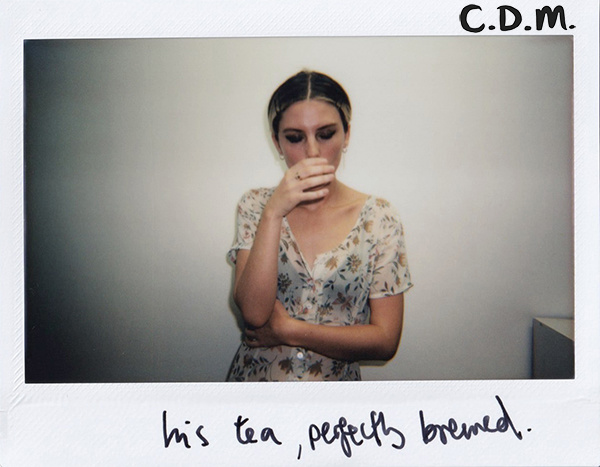 MY FAVOURITE THING ABOUT THEO IS...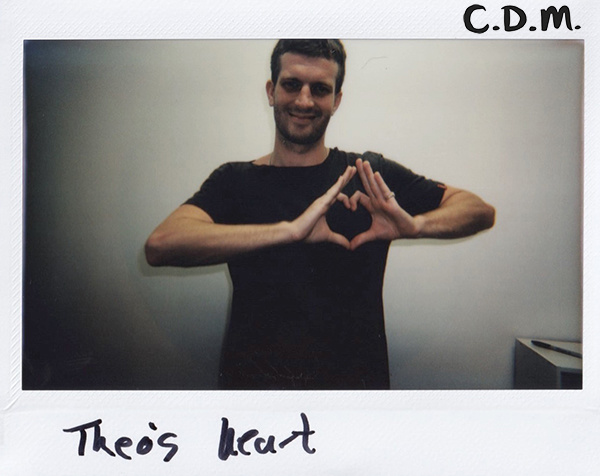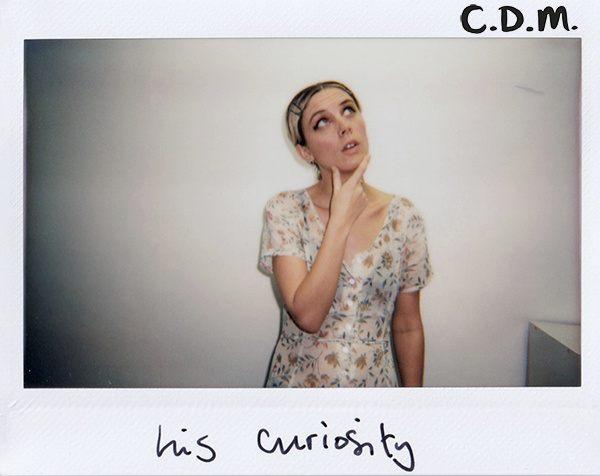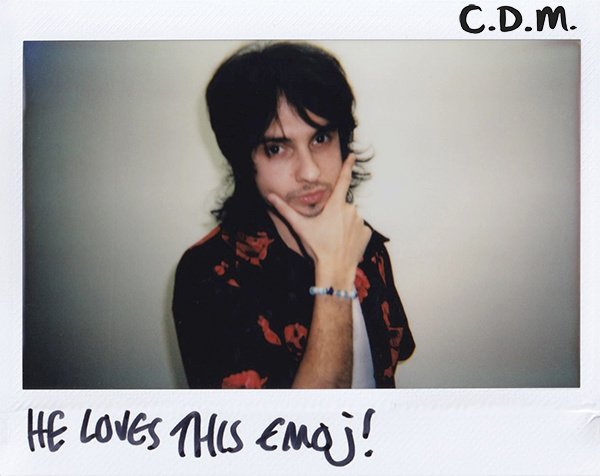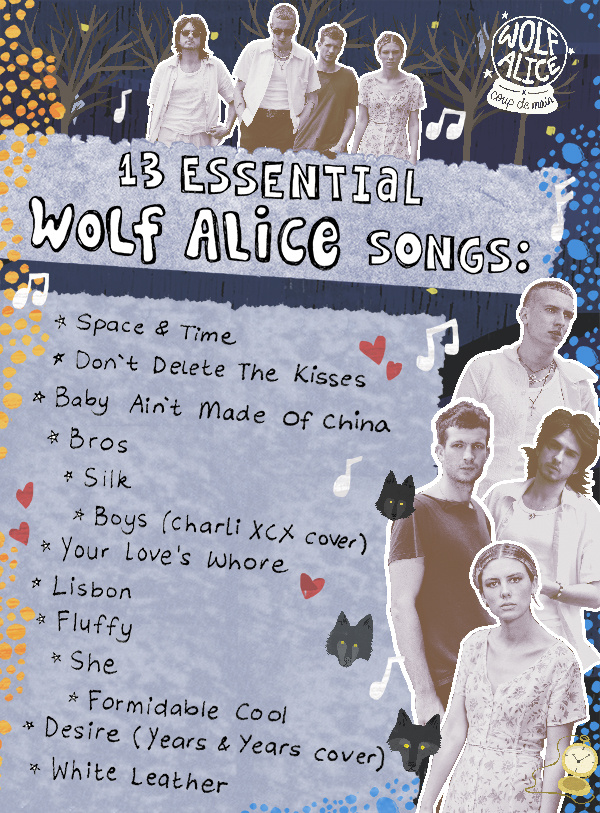 Wolf Alice's latest album 'Visions Of A Life' is out now - click here to purchase via iTunes.
Watch the music video for 'Sadboy' below...