Interview: Wallows - Youth Studies 101.
Braeden Lemasters and Dylan Minnette are playing each other new demos off their phones, nonchalantly discussing potential song ideas and thinking about the follow-up to their debut album, 'Nothing Happens', which was released only in March. They've been like this all day (with Lemasters only temporarily distracted by a basketball hoop), stuck without cellphone reception at a children's summer camp in the outskirts of Los Angeles while on location for today's photoshoot with fellow bandmate Cole Preston. Such is their dedication to Wallows - a musical brotherhood that James Corden once declared "the most exciting new band on the planet" when they appeared on The Late Late Show to perform the album's lead single 'Are You Bored Yet?', and following his wholehearted praise of the trio as his "new favourite band" last year. Echoing Corden's enthusiasm, 'To All The Boys I've Loved Before' actor Noah Centineo reminisces over his Wallows firsts in a behind-the-scenes interview for the 'Are You Bored Yet?' music video (during which he makes a cameo as a milk-stirring bartender) exclaiming: "You listen to their music and you're like, 'Holy shit, this band kicks ass.' And then you see 'em live and they're, like, in-fucking-credible. You're like, 'What the fuck? I didn't know that rockstars still exist!' Although they're not rockstars, they're like this next-level, you can't quite define... Wallows are legends."
Clearly infatuated, Corden and Centineo might be the most famous members of the Wallows fan-club, but their musical peers and tour-mates seem equally as enamoured. Austin Anderson whose band Slow Hollows opened for Wallows at their recent Los Angeles hometown shows says, "My favourite thing about Wallows is how open-minded and enthusiastic they are. They're also some of the kindest people in the world." Fellow LA band The Marías agree, "Wallows are the chillest band and so down to earth. We saw them in the crowd at a small show we did at SXSW last year and we were over the moon about it. They were out there dancing and singing along. It meant a lot to us. Since then, one of our best friends, Blake [Morell], joined their touring band, so we obviously love them even more now." And Hunny (whose Kevin Grimmett formerly played bass for Wallows live) observe that: "Interesting guitar music in 2019 is hard to make. The fact that they've managed to subvert the pop music format in a captivating way and pair it with earworm melodies and tongue in cheek lyrics is really great. Also, Cole is our bad boy crush." An endearment that Preston is thrilled to be informed of, but sheepish when pressed as to what he's done to deserve his reputation. He reticently reveals: "The P.G. version of the worst thing that I've ever done, is that me and my friends were innocently trying to return some lost items to a house by USC [University of Southern California] and we had a really long seven hour run-in with the police... and that, is all I'm gonna say! But then we got Subway after and it was great." So make of that what you will.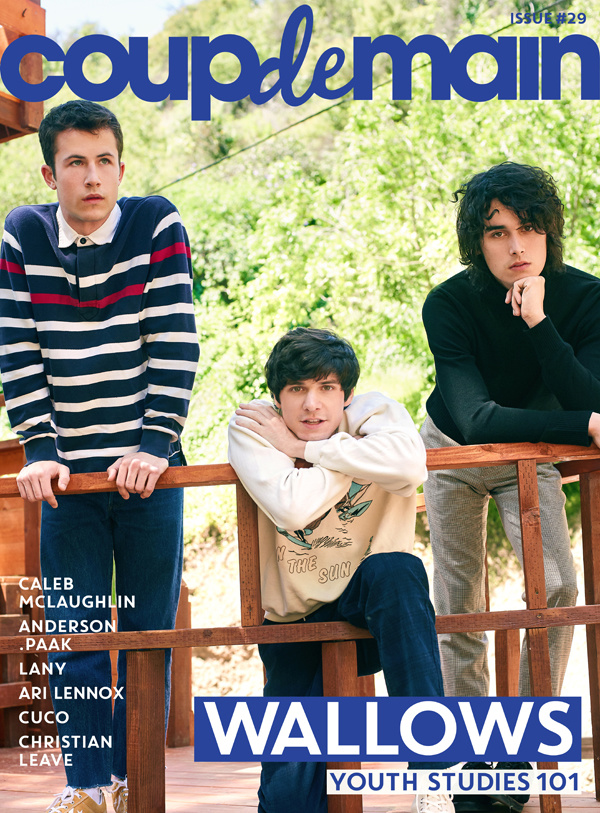 Click here to order a CDM x Wallows zine (i.e. a mini-magazine featuring photos + quotes from this cover-story).
Another head-scratcher is Preston's notorious fear of the most basic of kitchen staples. Unusually riled up, the normally laidback drummer protests, "Costco-sized amounts of condiments, I don't want them! And I hate mayonnaise. I love eating ketchup, I love eating mustard, I can eat honey-mustard or ranch, but just eating it alone I can't deal with and really big amounts of it really freaks me out. You can buy giant tubs of mayonnaise at [discount retailer] Costco and I hate it." On the opposite end of the emotional spectrum, however, Preston's spirits lift when chatting about music production ("It's fun to record yourself and be able to do it really quickly, and for our demo-ing purposes, it's nice. I'm excited to get home, because I want to just keep writing and recording and using microphones and playing new drums"), the one time he put McDonald's fries into a middle school time capsule ("To see if they were chill, and they were not chill at all"), his adorable dog; Tess, and agrees with 'Slaughterhouse-Five' author Kurt Vonnegut that it's important for young people to create stable communities as a cure for loneliness ("If you surround yourself with like-minded people then I feel like you'll be happier and more productive and you'll have lasting relationships, and hopefully it'll amount to something you really love").
Having graduated from USC's Music Industry programme in 2018 ("It's a music industry programme where you take music law and music business - no performance; no musical aspects, but all about the music business as a whole"), while Lemasters and Minnette both pursued acting careers (with the latter the lead in Netflix's '13 Reasons Why'), Preston may have been the most business-minded band-member initially ("At the beginning, answering emails and putting together guest-lists and making sure all the businessy people are sorted"), but says of the trio now, "I feel like all of us have different perspectives and we offer different things. The three of us are definitely very different when it comes to that, but in a good way."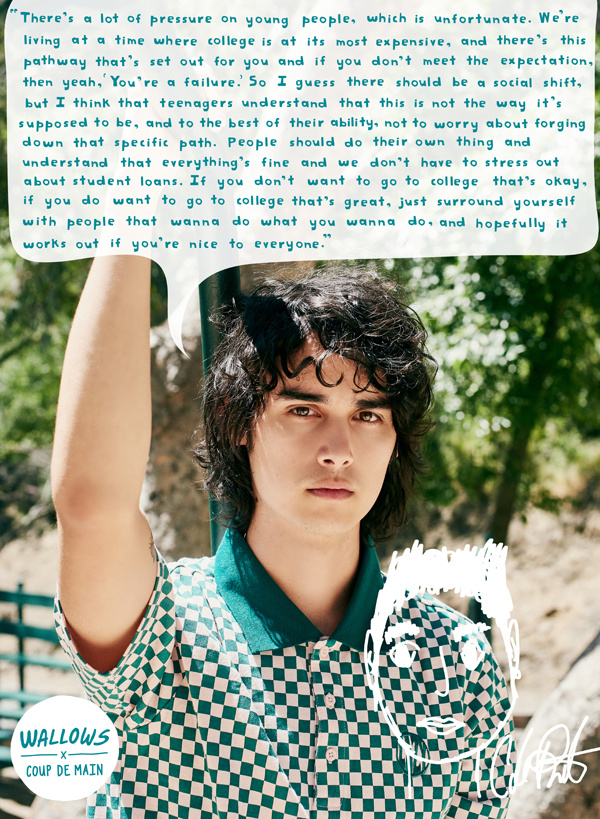 Lemasters and Minnette first met at the age of nine, after their families moved to Los Angeles and their mothers met in an online chatroom for child actors. Lemasters recalls forcing his love of 'South Park' on Minnette: "The first thing that comes to mind when we met is that I probably asked him, 'Dude, do you watch 'South Park'?' And him being, like, maybe yes or no, I don't know if he did or not. And then I was like, 'Dude, let's watch it.' We went into my parent's room without them knowing, because I wasn't allowed to watch 'South Park', and then we watched it. I feel like that was one of the first things we talked about."
Enter Preston in 2010, via a local children's music programme Join The Band, and together, the three-piece have now been in musical cahoots for nearly a decade, running the gamut through previous incarnations, The Feaver and The Narwhals, before settling on Wallows (named after a level in the skateboarding video game 'Tony's Hawk's Underground' and a real skate spot in Hawaii) in 2017. Lemasters describes the band's dynamic as that of "truly a three-headed thing." He adds, "We all contribute equally to everything - every song, every idea, every album that we're going to do. If one of us wasn't in the band, then it would be a completely different outcome with every song we've put out, so it's very much a collaborative effort throughout. And that also goes for ideas and how we present ourselves and what we want to do next. Everything! Wallows is definitely all of us three."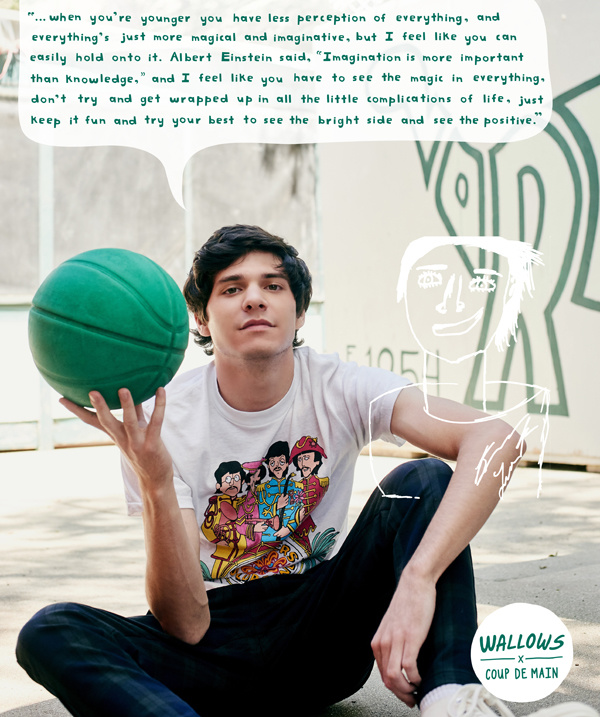 But back at today's cover shoot, Lemasters is now excitedly telling anyone listening that he was born in the same hospital as Dave Grohl. "So, his molecules from birth," he begins, before trailing off, as his train of thought derails. This is a common occurrence with Lemasters, who is part puppy, and 100% wholly good intentions (Minnette considers Lemasters' Beatles personality to be Paul; a sensitive artist who cares about his craft). Today, perhaps eager to redeem himself from being late the first time we met, Lemasters arrives punctually and before the rest of the band. He has however, again, forgotten to bring any spare clothes of his own, but what he lacks in short-term memory recall, he more than makes up for with boundless enthusiasm and quips aplenty. Lemasters punctuates his sentences with exclamations of 'classic!' - anything he's excited about is classic, anything he agrees with is classic, and any retelling of an anecdote is guaranteed to begin with his seemingly favourite word. He's an open book, and explains how a one-off chance encounter with a toy dinosaur has since escalated into mythology held tight by Wallows fans: "I was walking with my friend Kaitlyn down the sidewalk and I saw a dinosaur on the street and thought it was funny, so I took a picture of it and made it my profile picture for fun, and then from that spawned the idea of a band called Secret Dino. I made a poll, 'Should I call a band Secret Dino?', and then I made my Twitter the dinosaur. From then on, everyone was like 'oh my god' and started sending me dinosaurs, which I love. I think it's hilarious. I love getting so many dinosaurs; there's hundreds of them now. Feel free to stop, everyone, if you want, but it's fun."
As with most Americans, Lemasters has a perplexing fondness for the most disgusting of beverages, La Croix, and will be offended if you dare criticise his drink of choice. He's also extremely passionate about golf, and shares, "I've been golfing since I was so young, my dad taught me with my brother, so it just feels very family oriented. I also love the competitive nature of it - me and my brother and my dad go out and try to beat each other constantly and out-score and all that. And being out on the golf-course is one of the most beautiful things in general, that is also what I love about it, I would go and do it by myself without any kind of need to win or anything like that. It's one of those games where it's just beautiful and peaceful and being out on the golf-course is second to none." And if you ever happen to find yourself assisting Lemasters with his sartorial choices, a sure-fire way to help him decide upon a pair of trousers is to tell him that your pick look like "golf pants" - I guarantee that he'll instantly want to wear them.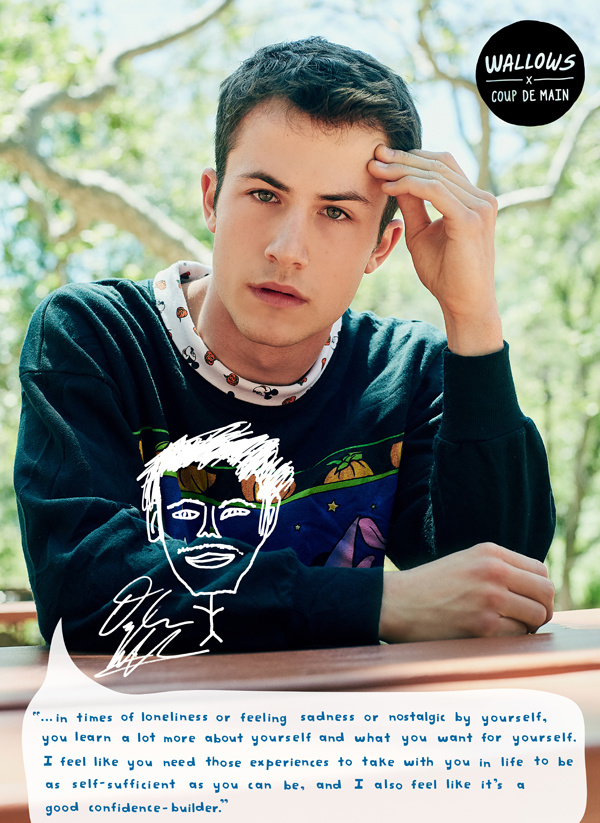 If Preston is the gamer of the band (his favourites are 'The Legend Of Zelda: Breath Of The Wild' and 'Fortnite', FYI), and Lemasters the goofy one (with his re-interpretive stringing along of Minneapolis' syllables as "Many-apple-less" being his worst dad joke according to Preston), then Dylan "my handwriting is unacceptable" Minnette is the go-getter of the group. He outlines an envisioned plan for taking Wallows beyond just music: "If we build our knowledge and taste more in clothing, we'd love to make instead of just merch, some proper clothes, like without putting our brand or Wallows all over it. I'd love to make a clothing-line like Golf [Wang]... We definitely want to take Wallows beyond music at some point, it's just when we have the time and money. We need to plant the seed and lay more groundwork first and legitimise ourselves more before we can achieve and attain all the ideas that we really want to, so I hope we can get to the point where we have the opportunity to do that on a scale we'd like to."
Minnette is straight-shooting with a strong moral compass and has very little patience for time-wasters. Not one to mince his words, he once took to Twitter declaring, "To any man or boy who follows me and thinks that you're allowed to have any opinion on what a woman does with her own body, unfollow me, get educated and go fuck yourself immediately," and has also tweeted criticism of celebrity culture ("Don't worship anyone you don't know"). Preston says that what he most admires about Minnette is his commitment and thoughtful opinions ("Dylan is very well thought out in the way that he feels about things and that inspires me to work more on analysing things and having ideas and having opinions") and describes him in one word as "Michelin" - i.e. Michelin stars; the prestigious hallmark of fine dining as hawkishly judged by anonymous inspectors who share a passion for food and an eye for detail.
When asked what he finds most fulfilling about music as a creative outlet, two months later over the phone, Minnette says without skipping a beat, "Having a chance to be creative and use my own mind instead of enhancing someone else's work." I bring up an interview with The Los Angeles Times from earlier this year, during which Minnette said: "People around me used to say, 'Do the music thing but remember that you have a career in acting - and that's where the money is.'" Are you finding it really gratifying right now considering that you're on a sold-out UK and European tour, I ask? Minnette affirms: "Absolutely. What's great is that no-one can question it anymore, and that's just kind of my whole point, that nobody can try and tell me this isn't a feasible thing, when clearly it's working. When you come to these shows, especially here in the UK, it's clear that something is working. I don't know what it is and I don't know how long it's going to last - we have no idea and we have no expectations - but at least the people around me who were skeptical can see that it's real. This is a real thing." And he's not wrong. Numbers don't lie, and with over 32 million views on their YouTube channel, 2.3 million monthly listeners on Spotify, and sold-out tours across both North America and Europe under their belts, the world is Wallows' oyster.

[Braeden wears: Park Ranger Taper Jeans in Bone by Hallenstein Brothers. Vintage Simpsons T-Shirt by magichollow. Zip Jacket in Chocolate by Checks.
Cole wears: Velour Panel Zip Up Shirt by Lazy Oaf. Vintage Trackpants by magichollow. One Star Academy Low Top in Black by Converse.
Dylan wears: Lithium Shirt by Stolen Girlfriends Club. Men's Original Organic Dungarees by Lucy & Yak.]
Sailing away from teenage naivety, Wallows open their debut album on a self-aware note - "Weathered and faded / Who feels alone in the world?" Minnette rhetorically asks in opening-track 'Only Friend', not the first nor the last to make the running leap from teen to adult, but certainly for three minutes and two seconds, a kindred spirit and voice of empathy whom you feel a natural affinity for, no matter what age you may currently be. And as proven by all the best coming-of-age tales, there's comfort to be found in the knowledge that feelings of anxiety and alienation are timeless and universal - a truth that peaks in the album's incredibly touching closer, 'Do Not Wait', which signposts a path to greener pastures and is Minnette's open letter to anyone who feels similarly. Thinking about his older self speaking to his younger self, Minnette advises, "There's going to be so many moments in your life and your teen years that feel like things are the end of the world and they feel like such a big deal and they can never get better, but everything does get better. Everything happens for a reason and everything is going to be okay."
Wallows also deep dive into adolescent insecurities on 'Treacherous Doctor' ("That's the darkest song lyrically that we have because it's so pessimistic and cynical and bleak, but that's intentional because it's coming from the perspective of a narrator who's just giving up and thinks nothing matters"), contemplate bad habits in 'I'm Full', dip into a rollercoaster of ugly feelings from jealousy in 'Sidelines' to separation anxiety in 'Worlds Apart', and tread water in the Clairo-featuring 'Are You Bored Yet?'. Contrary to their album's title... everything, and then some, does actually happen. And with cinematic inspirations key, everything from Alex Turner's soundtrack for Richard Ayoade's film 'Submarine' ("That was me trying to channel my inner Alex Turner and trying to be a little poetic," says Lemasters), to Arcade Fire and Owen Pallett's soundtrack for Spike Jonze's 'Her' (about which Minnette says, "That really inspired 'Do Not Wait' and 'Only Friend' a lot. I couldn't really explain why, but I remember that the melody of 'Only Friend' is the first thing I wrote after I went and saw 'Her' - I went home that day and wrote it"), there's not a song that would sound out of place soundtracking your favourite coming-of-age movie.
Next year, Lemasters, Minnette and Preston will celebrate having been in bands together for a decade. What are you hoping for out of 2020, I ask? Lemasters answers, "For the band to write more songs - we already have a lot of ideas in the works - and to start focusing on what we want the second album to be. Maybe produce some singles, maybe not, just see what we want to do, and just really grow and live life as people and gain life experience and do other things. Just kinda live and absorb life and then hopefully put that into our music." But in the meantime, midway between Coachella 2019 weekends ("It was nerve-wracking because your first Coachella is a big deal - it was our first time for any of us playing any of the new songs for a crowd, first time using a bunch of new equipment and gear, and our first show of the tour. So the fact that all of that happened at Coachella? That was the peak of our nerves"), Coup De Main caught up with Wallows to discuss their debut album, before calling the trio in Leeds while they were on their recent tour of the UK. What follows below is a truncated combination of both conversations for ease of reading...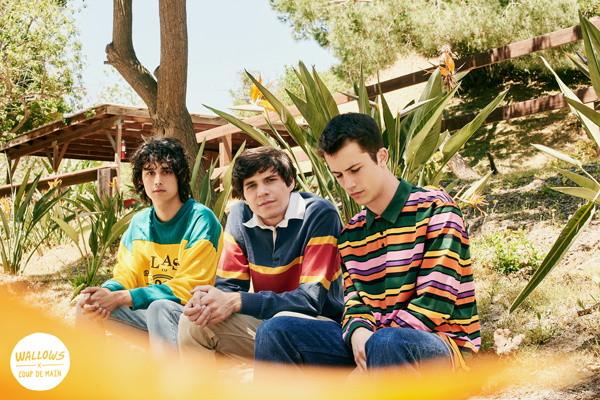 [Braeden wears: Vintage Rugby Shirt by magichollow. Park Ranger Taper Jeans in Moss by Hallenstein Brothers.
Cole wears: Vintage Sweater by magichollow. Jeans, Cole's own.
Dylan wears: Stripey Polo Shirt by Lazy Oaf. Jeans, Dylan's own.]
COUP DE MAIN: When we first met last year, Cole, you lied. You told us that the Wallows album was "really terrible" and "sounding really bad", but that doesn't seem like an accurate description. It's actually quite good.
WALLOWS - COLE PRESTON: Thank you. That's very sweet of you to say.
CDM: Having been a band together for over a decade now, does it feel like it was the right path for you to build up to the release of your debut album bit by bit, even through all the past iterations of your band before Wallows?
WALLOWS - BRAEDEN LEMASTERS: Yes! I cannot agree more. I'm so happy it happened at the time that it did. Growing up, you always want it to happen - like, when you're fifteen or sixteen, 'C'mon! C'mon! C'mon!' You're making all these album lists and you're doing your thing, but once you get to a certain point you're like, "I'm glad we didn't release our first album when we were thirteen, or fourteen, or fifteen..."
COLE: It would have been very premature. We've grown a lot as people because we've experienced more life and just learnt and listened to more music and matured as human beings, which is important.
CDM: Have you ever thought about how your lives would be different right now if Braeden and Dylan's mothers hadn't connected?
WALLOWS - DYLAN MINNETTE: Oh my gosh, I cannot--
BRAEDEN: It's so weird to me, because realistically, 99.9% of the odds say that I would just still be in Ohio. My life, technically should just be in Ohio. No-one usually moves across the country when they're nine. I was born in Ohio, raised in Ohio, my family's from Ohio, everyone's from Ohio, but I somehow showed an interest in acting when I was super young just because I was a ham - I was always joking around and loved TV. It's weird to think that I should just be a 23-year-old dude in Ohio, like in college, or something weird. But instead, I'm here. I've just realised that the odds of it are so weird. The same with Dylan, I guess? Same deal. It's so weird!
DYLAN: I cannot imagine.
CDM: You're from Indiana right?
DYLAN: Yeah.
COLE: The whole way you guys became actors, should have been a scam. Like, you should have been scammed.
DYLAN: I was discovered at a thing you would normally consider a scam, and somehow it worked.
BRAEDEN: Same. Model Search America.
COLE: Insane.
CDM: And Cole you're from here?
BRAEDEN: Cole almost moved to Ohio.
COLE: I'm from here. I was born and raised in this room. And I've never left.
CDM: Do you think you'd still be making music either by yourself or with other people?
BRAEDEN: I think I would still be making music in Ohio, or I would have learnt guitar because my dad plays guitar and music and plays in bands, so I feel like I would have learnt maybe.
DYLAN: I feel like I would have still made music - I'm way too inspired by music; I always have been. Ever since I was little, I always had such a connection to music and I wanted to learn to play. Part of me wonders if I would be more talented if I wasn't in a band. Part of me wonders if I would know how to play better and if I'd know more about music production. Like if I had not had a band to rely on and other guys to write with and rely on, part of me wonders if I didn't have these guys if I would have been a more self-sufficient musician. Part of me wonders if I would have made myself be better. You guys get what I'm saying? Like if I didn't have you guys?
COLE: I do. Because your time spent on the band would have been spent--
DYLAN: Just on myself.
COLE: And you just in your room on guitar--
DYLAN: Making myself as good as I can be.
BRADEN: <dramatically> I wonder if I would have been a huge...
DYLAN: I probably would have been...
CDM: Maybe you would have been headlining Coachella 2019 instead.
DYLAN: That's what I'm saying.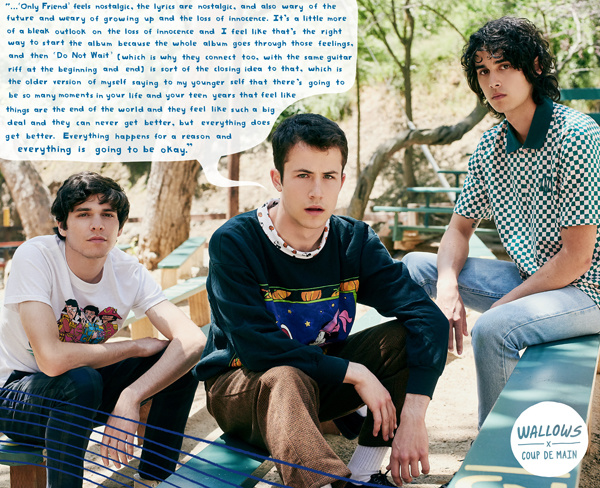 [Braeden wears: Vintage Beatles T-shirt by magichollow. Park Charles Check Pant by Hallenstein Brothers.
Cole wears: Checkerboard Jersey by Lazy Oaf. Jeans, Cole's own. Suede Classic Trainers by PUMA.
Dylan wears: Mickey Mouse Sweater by magichollow. Sk8 Pants in Rust Houndstooth by Checks.]
CDM: At what age did you write your very first song ever?
DYLAN: I was eleven. Or twelve?
BRAEDEN: For Valentine's Day, I wrote my mom a song when I was six called 'Birds In The Air'.
COLE: That's a great title.
BRAEDEN: And then my brother let me download this app where I could just write songs when I was eight. Before that, I would write out tracklists for song-titles and put how long the songs were before they were even made. I'd be like, "Water Bottle Experience - 3:42."
COLE: I feel like I was writing music, but I wasn't actually finishing songs until recently. Like, literally in the past two years.
DYLAN: Cole's a really great songwriter.
CDM: It's okay to be a late bloomer.
COLE: <sadly> I'm a late bloomer.
DYLAN: A late bloomer in the best way.
BRAEDEN: He writes our top songs.
DYLAN: Cole writes amazing songs.
COLE: Honestly, it's never too late.
CDM: Your song 'Only Friend' touches on loneliness and finding a place in the world, which are both really relatable coming-of-age sentiments and set the tone for the rest of the album. Why did you decide to open your album with it?
DYLAN: Pretty much for that reason, I'd say. The song feels nostalgic, the lyrics are nostalgic, and also wary of the future and weary of growing up and the loss of innocence. It's a little more of a bleak outlook on the loss of innocence and I feel like that's the right way to start the album because the whole album goes through those feelings, and then 'Do Not Wait' (which is why they connect too, with the same guitar riff at the beginning and end) is sort of the closing idea to that, which is the older version of myself saying to my younger self that there's going to be so many moments in your life and your teen years that feel like things are the end of the world and they feel like such a big deal and they can never get better, but everything does get better. Everything happens for a reason and everything is going to be okay. So I feel like they both counteract each other, those two songs, which is a perfect bookend to the album.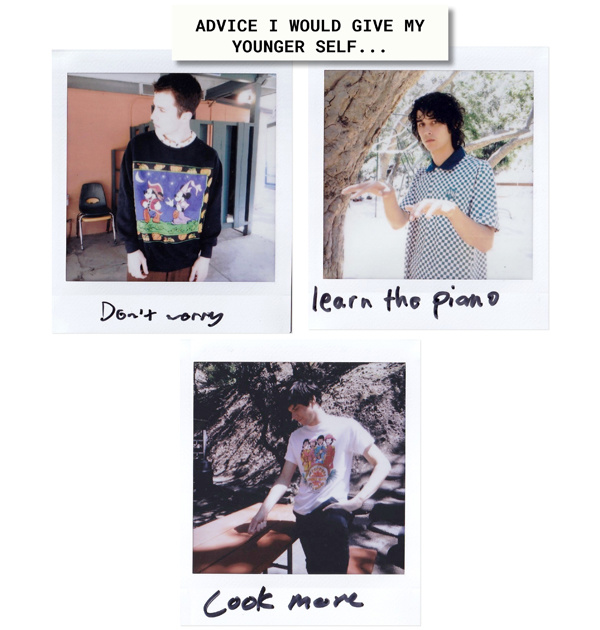 CDM: Is loneliness sometimes an important feeling for people to feel at times as character-building when growing up?
DYLAN: Yes, because in times of loneliness or feeling sadness or nostalgic by yourself, you learn a lot more about yourself and what you want for yourself. I feel like you need those experiences to take with you in life to be as self-sufficient as you can be, and I also feel like it's a good confidence-builder.
CDM: Do you have any advice you'd give your fans who might be going through their adolescence and kind of struggling to find their place in the world?
DYLAN: 'Do Not Wait' is a very personal song, obviously, so it's hard to directly relate to, but the idea and sentiment of that song is sort of the advice that I'm giving to people who are going through that feeling. At least, when I wrote the lyrics to that song, that was the whole idea of that song in general. So read those and replace some of the lines more for yourself than specifically to me.
BRAEDEN: I'd agree with that.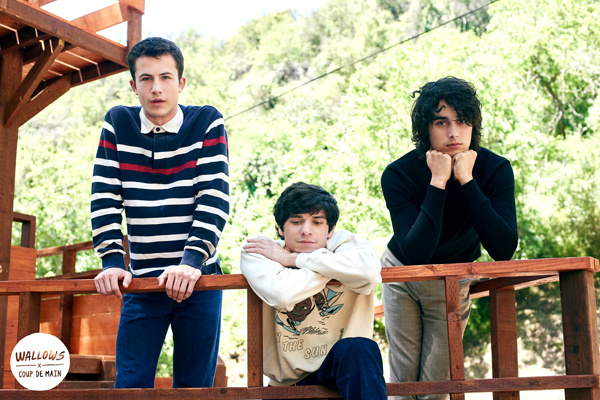 [Braeden wears: 'Raisin In The Sun' Vintage Sweater by magichollow. Cord Check Trousers by Lazy Oaf. Chuck Taylor All Star 70 High Top in Parchment by Converse.
Cole wears: Lost Monarchy Lucas Roll Neck Pullover by Hallenstein Brothers. Pants and shoes, Cole's own.
Dylan wears: Vintage Nautica Rugby Shirt by magichollow. Jeans, Dylan's own. One Star Sneakers by Converse.]
CDM: Explain to me how a Jimmy Fallon segment and 'Treacherous Doctor' are linked...
BRAEDEN: Classic! We were driving one day, I think in New York, and someone brought to our attention that they do a Fallon skit where if you say an English word and translate it into Mongolian and translate that back into English it will be a completely different phrase.
DYLAN: We were like, "Let's put something random in." The first two words off of 'Ground' are "inverted narcissist", so we put inverted narcissist into Mongolian and back into English. An inverted narcissist is really interesting, there's a lot of deeper meanings to it and what an actual inverted narcissist is, but I had never heard that phrase before until I saw a painting by Camille Henrot at Palais de Tokyo - this contemporary art museum in Paris, and it's my favourite museum. This painting won't be there anymore because the exhibits are always completely different, which is really cool, but it was called 'Inverted Narcissist' and I just loved that. I thought it was so interesting and then I went and read about inverted narcissists and what they are - you should look it up! - and that seemed like an interesting thing to translate from Mongolian to English and it came out as 'treacherous doctor' and that's when we were like, "We have to write a song called 'Treacherous Doctor'." And then we did.
CDM: In 'Treacherous Doctor' you ask, "Is this the way to exit my youth?" What do you think best defines 'youth'? Is it an external societal perception? Is it age? Is it surviving a coming-of-age experience?
DYLAN: I feel like youth extends way beyond what we have labelled as youth. Because you turn 18-years-old does not mean that your youth is over - I still feel very youthful, I feel like youth is more of an idea, I think you're in your youth as long as you want to be in your youth and as long as you think you're in your youth. That doesn't really answer the question, but part of me feels like I can't properly answer that because I still feel like in many ways I'm still in my youth. But I do feel like I am transitioning into adulthood right now, like, officially, there are just things going on in my life that feel very 'adult' and in a good way - not like the outlook that I thought I used to have that I wrote about on the album. But I don't know if I could answer that question.
BRAEDEN: I don't know if I could either.
COLE: It's tough to answer. I think age can have something to do with it because the more life that you've lived it's more likely that you've had more experiences. So I think youth is more directly related to experiences - learning from your experiences and growing your soul, rather than adjusting to how it's been constructed, or like, 'I have a job now, so I'm not a kid.' It's way more about an internal discussion.
CDM: What do you consider to be ways to grow your soul?
COLE: I think it's important to take care of your body - taking care of your physical vessel is equally as important as being mindful of your mental state and all that stuff because your body can directly affect how your mind is. I took this stress management class and there were power poses that you could hold, and if you hold your arms above your head and really stretch out and you don't let out for literally two entire minutes, that action of opening up your body will relieve stress and open blood-flow. You'll feel better and more able to do things.
CDM: Does time, or the concept of time, move differently in your youth?
BRAEDEN: I think it does because you have less to go off of, so it might move slower in a way because you have less perception of what life is or what living is, whereas you get older it starts to feel faster because you have so much to look back on. I think that's how it goes. I'm not sure, I think I read that somewhere. <laughs> You're just kind of in it all the time, it's such a weird bizarre thing, living, you're just always there. It's very strange.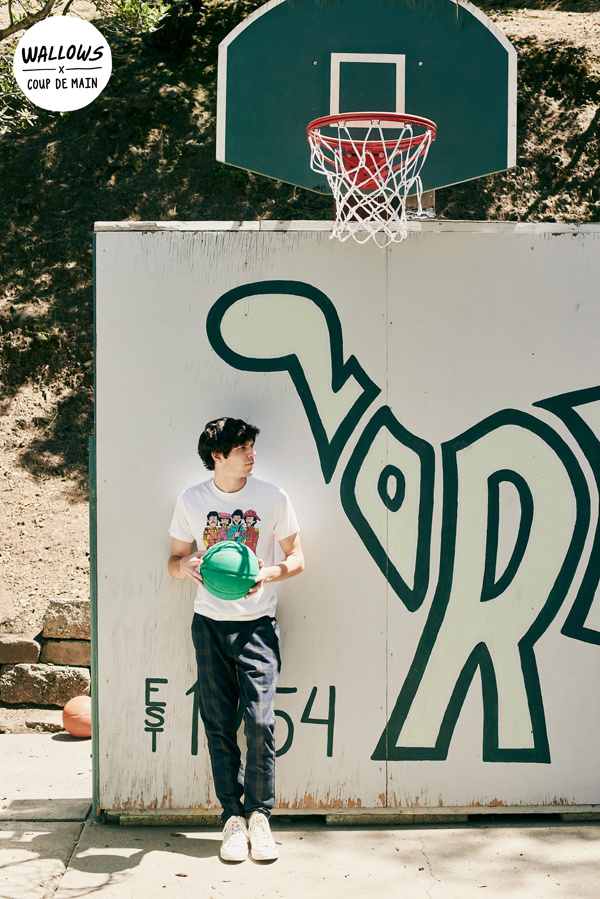 CDM: 'Treacherous Doctor' also deals with some pretty existential crises - you open the second verse by asking, "Are the things I think are important / Simply just distractions from death?" Do young people think more about their mortality than before?
DYLAN: Maybe? I don't know. There are some people who really like to romanticise the idea of death and everything, and that's sort of become a thing over time.
CDM: Do you think that awareness can be good or bad?
BRAEDEN: I think there's a healthy balance to it. Because you can't deny that, but you can't just dwell on it either. So I feel like it's an interesting thing.
CDM: Contemplating death can make someone more reckless, or more careful depending on how they look at it?
BRAEDEN: That makes sense, yeah.
DYLAN: There's a balance.
BRAEDEN: I have friends who don't fear it as much as other friends do, and it's an interesting and a weird thing.
COLE: It's interesting that you say it can make you more reckless, because yeah, then people sort of become more hyper-aware of their mortality and they're more aware of pushing the limits of their reality without being afraid of the consequences.
CDM: We're all going to die one day anyway...
COLE: Right - so, screw it, live fast, die young, whatever. There's a healthy balance and I think that it's important to realise that at the end of the day, just making quality decisions and putting thought into your decisions is what's going to matter the most at the end.
BRAEDEN: And then there's the other spectrum, that could be like, modern science one day could maybe extend mortality for a long time. Or maybe there's the really optimistic person that's like, 'Maybe they'll cure death one day, maybe for 200 years longer than most humans.' I'm sure you will find someone who believes that they will cure death and they are probably super stoked about that - the people who are like, 'It's fine! Whatever!'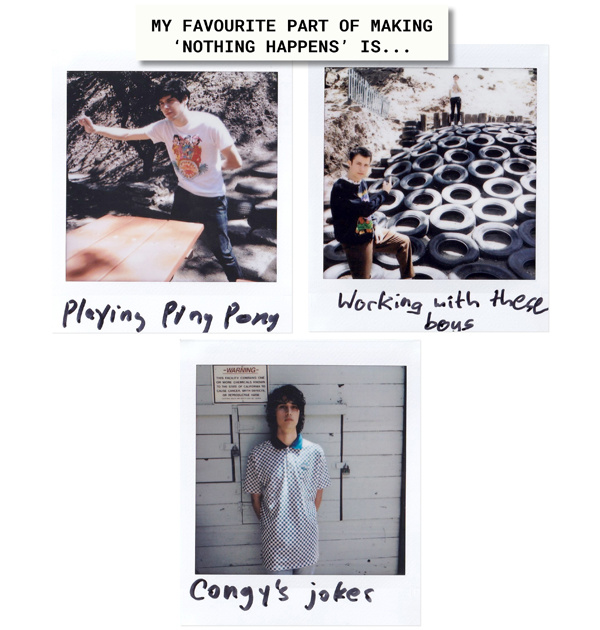 CDM: I think my favourite thing about Wallows songs is that there's a real and very genuine depth of feeling to them. Like, I really, really love 'Do Not Wait'. What was it like for you writing that song, Dylan?
DYLAN: That was kind of a long process writing that song. There are a lot of various musical parts in that song that were written for a while - the guitar solo bit is a thing that if we were ever doing an acoustic set we would just play because we always liked that part, and then that acoustic bit was the original starting point of that song, in the middle of the song, but it was a long process. As we started to move deeper into the future, I knew that I wanted that song to convey what it now conveys, lyrically. I wanted it to be the end of the book, if 'Nothing Happens' were a book, like the final chapter in the right way. But also, I wanted it to get to a deeply personal place in a way that we haven't gotten to in such an outright way on our songs before. For the talking bits, I wrote out thirty different lines that I could say and I put ideas together that made sense to me. It starts off with negatives, and then in the back half of it when I'm talking again there are positive responses. It was the only time I've gone into a vocal booth and not told them [Braeden and Cole] what I was going to say. I was really nervous about it. It was an experience that I had never experienced up until that point, and still haven't since. I don't know when I'll achieve that nervous feeling of going into a vocal booth again ever.
CDM: But you got a great song out of it!
DYLAN: I'm so, so proud of that song. I really am.
COLE: And it's important that it feels vulnerable. I think that's what makes it so 'emo'.
DYLAN: And our producer John [Congleton], he just wants things to be real and organic and vulnerable, so he was pushing that. He was like, "I want these talking bits to be loud. I want you to say these things." He loves when something can actually touch him emotionally in his core, and he's a hard cookie to crack.
CDM: And it also just sounds really pretty? It's maybe the least sing-alongable song on your album because when it starts playing, you just want to stop and listen.
DYLAN: Yeah! That's interesting. The arrangement of that song was sort of all in my head, and the way that we first tracked it, I just sat on the <sings notes>, it was all on just a Juno keyboard. I played that and I just sat there singing it in my head, playing it on the Juno and going through what I thought should be the arrangement. It was a super interesting way that song came together.
COLE: It was super unorthodox.
DYLAN: Yeah very much so. One drum-take from Cole too.
BRAEDEN: One backwards percussion take from me.
CDM: That song kind of reminds me of the TV show 'The End Of The F***ing World' - how every feeling is so heightened and intense when you're a teenager.
DYLAN: I love that show.
CDM: What's your most vivid teenage memory?
DYLAN: Uh-oh.
COLE: I can't think of my most vivid, and it's really, really random, but me and my friends decided one day that we wanted to watch the sunrise at the beach in LA, so we had this stupid reckless night and then drove to the beach and parked in the neighbourhood. Our plan was to sleep in his car and then wake up and witness the sun rising. I slept in my friend's trunk and by the time we got up, we realised that we were on the west coast and that the sun rises in the east. The sunrise doesn't happen at the beach, so we went home, but we still had a good time.
DYLAN: I'll never forget my first time smoking weed. Like, actually getting high. I'll never forget that night at our old bass player's house. It was out of a water bottle.
BRAEDEN: Classic! That's right.
DYLAN: I'll never forget how crazy that was. And I won a poker game that night. I'd never won poker in my life, and I won! I was freaking out; I'll never forget. And 'Adventure Time' was on TV. Remember that?
COLE: And then we went outside. Were you guys by the jacuzzi? Was it that same night?
DYLAN: Yeah the hot tub.
BRAEDEN: The reason I started playing guitar for real is after getting in a skateboard accident. So my most vivid memory is that I was going up this ramp and just credit carded super hard - that's when the skateboard goes in between your legs - and I remember that completely scared me off skateboarding for a long time. I knew how to play guitar, but that's what made me pick up the guitar for eight hours a day because I wasn't skating eight hours a day. So that injury is what made me start playing and writing, and all this stuff. So I owe a lot of credit to that credit card.
COLE: Got a lot of debt to that credit card.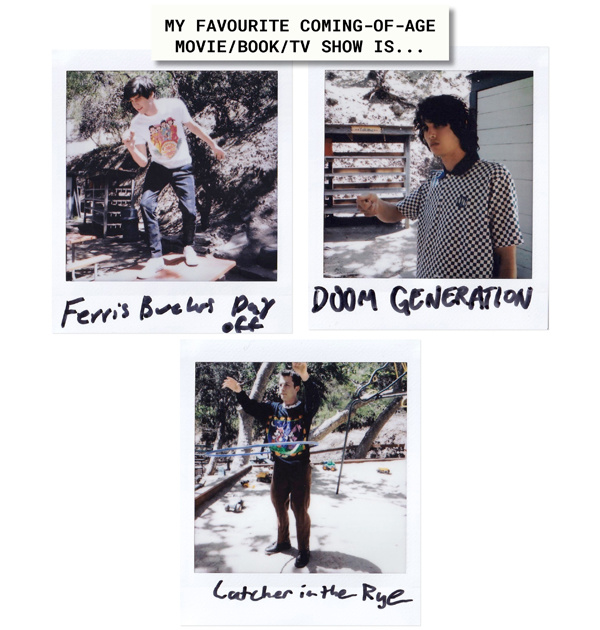 CDM: 'Where The Wild Things Are' author Maurice Sendak told an interviewer once about a card that a young boy had sent him - he really liked the drawing that the boy had done so sent him back a postcard that he'd drawn a Wild Thing on. His mother replied to Maurice saying, "Jim loved your card so much he ate it." Maurice told the interviewer: "That to me was one of the highest compliments I've ever received. He didn't care that it was an original drawing or anything. He saw it, he loved it, he ate it." When we're young, emotions are so powerful, but also so simple. What happens as we grow up to make them incredibly more complicated?
BRAEDEN: I think it's just a natural progression of the human brain. When you're younger you have less perception of everything, and everything's just more magical and imaginative, but I feel like you can easily hold onto it. Albert Einstein said: "Imagination is more important than knowledge. For knowledge is limited, whereas imagination embraces the entire world, stimulating progress, giving birth to evolution." I feel like you have to see the magic in everything, don't try and get wrapped up in all the little complications of life, just keep it fun and try your best to see the bright side and see the positive.
CDM: In 'Remember When' you reflect, "Do you remember when we felt like the only two alive?" What do you think it is about the beginning of a romance that can create that feeling that the world is just the two of you?
BRAEDEN: That's a great question.
DYLAN: I don't know! What is it? Can we answer that?
BRAEDEN: Some things are better left unknown.
DYLAN: I don't know the answer to that, but I think we can all feel that. There's probably no answer to that, right?
COLE: For me, the times when I've been in between relationships in my life, I'm so insecure about the next one. Like, I break up with somebody, and then I'm like, 'There is nobody else out there; I am unloveable.' Just down the rabbit hole of self-deprecation, playing a tiny violin.
BRAEDEN: Which is how I feel.
COLE: And the feeling of your brain synapses lining up with somebody else's, is so satisfying because you prove yourself wrong in those moments, like via somebody else. Which, for me, when a new relationship starts, I'm always very obsessed because it cures my insecurity. You know what I mean?
BRAEDEN: Damn. That was a great answer. The rest will remain a mystery.
CDM: In 'Scrawny' you say, "I can still have wisdom and look like a child," which also brings to mind the lyrics in verse two of 'Pulling Leaves Off Trees' ("Can I make my own opinion, tell me all about it"). Are there any particular instances where you've felt that your opinion was ignored because of your age?
DYLAN: Ageism is a real thing, for sure. I've been in a very professional setting for a long time just as a kid and have had plenty of instances of ageism in my life. I feel like age is just a number and does not matter.
BRAEDEN: Mozart was a kid.
DYLAN: Yeah, I think anybody in their youth experiences it at some point.
CDM: Do you think there needs to be a social shift so that young people feel more encouraged and valued by society?
COLE: There's a lot of pressure on young people, which is unfortunate. We're living at a time where college is at its most expensive, and there's this pathway that's set out for you and if you don't meet the expectation, then yeah, you're a failure. So I guess there should be a social shift, but I think that teenagers understand that this is not the way it's supposed to be, and to the best of their ability, not to worry about forging down that specific path. People should do their own thing and understand that everything's fine and we don't have to stress out about student loans. If you don't want to go to college that's okay, if you do want to go to college that's great, just surround yourself with people that wanna do what you wanna do, and hopefully, it works out if you're nice to everyone.
CDM: So you feel hopeful for the future as your generation grows older?
COLE: Yeah, in this creative world, I feel like a lot of young people are very aware of that. I don't think people are just living without a sense of understanding that that's how this current state of things is. I think that people are living very aware of it, which will lead to progress in some way.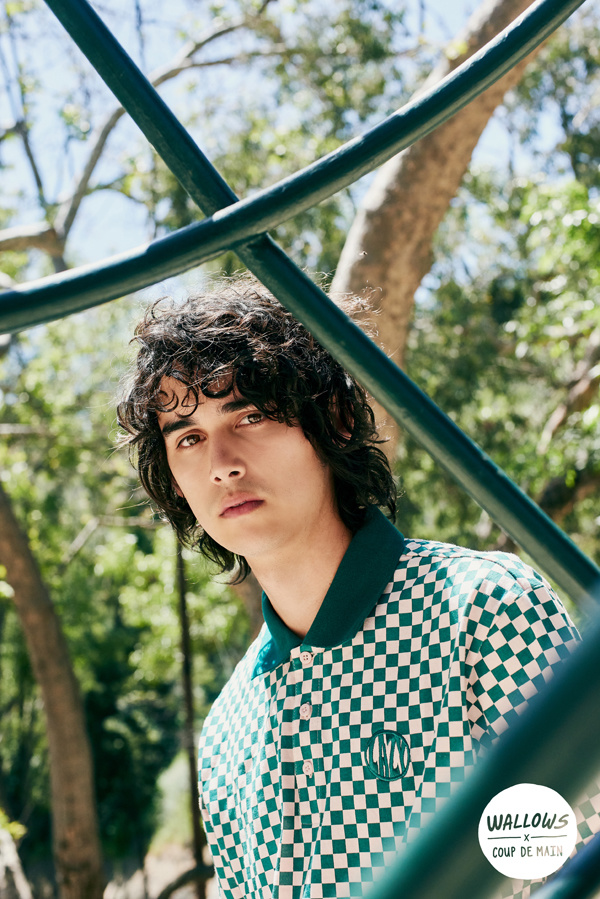 CDM: The two songs on your 2019 Record Store Day release, 'Trust Fall' and 'Just Like A Movie', both share the same lyric, "You see right through me." Was that deliberate?
BRAEDEN: I think it was. The line first appeared in 'Just Like A Movie' because that song's a little older, but I think that when we were doing 'Trust Fall', that was a direct callback to that. Both of those songs had a chance to be on the album, they're definitely not B-sides or anything like that. They would be my two favourite songs on the album, actually, which is hilarious. But I think for the better context of the record, we made the right decision, but that's why I want to make clear that when these come out, they are their own standalone singles. It's not just like, "Here are some of the scraps," or whatever.
DYLAN: Those songs do mean something to us and we can't wait to play them live. They're very important songs to us. 'Trust Fall' is one of my favourite songs of ours.
BRAEDEN: I think the reason we picked those two specifically to be the two on their own, is because they share the same lyric, so we felt like those two could be a good pair. And I kind of like how they live in their own world. It feels nice that they're not just getting lost on the album.
COLE: They have their own special moment coming out by themselves because people like to listen to only one thing at a time.
BRAEDEN: Exactly.
DYLAN: They'll come out [officially online] at some point.
CDM: Are there other songs that will come out later?
BRAEDEN: There's one other one we recorded in the album sessions that I don't think will come out, but that's just my opinion. It will either be reworked one day or just forever forgotten. So we'll see.
DYLAN: Which happens! It's part of the process.
BRAEDEN: Cole will just take parts of the song and make it into something else... you know us!
DYLAN: I really like the bass-line in that song.
BRAEDEN: I've always liked the chorus.
COLE: I love the bridge.
BRAEDEN: So we'll see.
CDM: Like with the 'Nothing Happens' album cover, is the art for that release another one of your shirts?
BRAEDEN: Classic yes.
COLE: It was my shirt.
DYLAN: It was taken that same day.
CDM: Do you both still have those shirts?
DYLAN: Yeah! I almost wore mine today, but then thought, that's too--
BRAEDEN: Meta.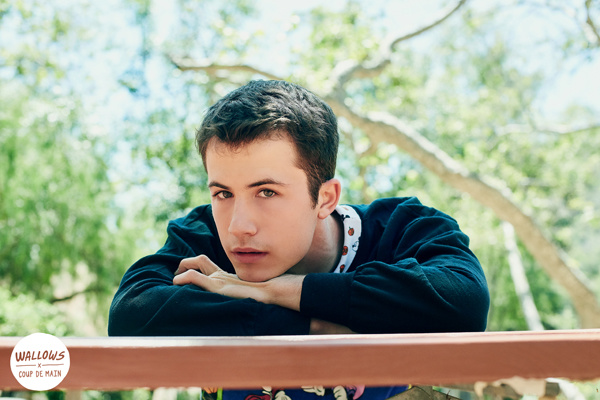 CDM: You often liken a song to a relationship in your lyrics ("You know this godawful song" in 'Trust Fall' and "Can't get away from this song anywhere" in 'Just Like A Movie') - what is it about that metaphor that's so meaningful to you?
BRAEDEN: The first thing I sang for 'Trust Fall' was, "You know this godawful song," for no reason. Just so everyone knows, the way I write lyrics is that I do not think about it at all.
CDM: Like a stream of consciousness?
BRAEDEN: Stream of consciousness, that's kind of how I work, if you haven't noticed by now. I just say random shit.
DYLAN: I feel like 'Trust Fall' and 'Ice Cold Pool' are very much streams of consciousness lyrics.
BRAEDEN: The thing is, I did a vocal take of just saying random stuff, and then I remember I went back to Dylan's house and we dissected what he thought I'd said. So I'd just be like, <sings>, and he'd be like, "It sounds like 'this godawful song'."
DYLAN: We sat there for thirty minutes just going, "Okay and this line could be this and this line could be this. And that could lead into this..." It was really stream of consciousness.
BRAEDEN: And there's a cool imagery that comes in my head when I hear 'Trust Fall'. I love songs that when you hear them you can picture something, and for some reason with 'Trust Fall', I just imagine two people sitting on a weird hill in a grey-sky area. It's so random.
DYLAN: And that song, there's just something about it, it's the feeling of being with someone in your dreams and just desperately not wanting to wake up. You know that feeling? Something great has happened and you just don't want to wake up.
CDM: Isn't there a lyric about that in 'It's Only Right'? ("Can you sink into my dreams? / And then I'll never wanna wake up.")
DYLAN: Yeah and that's sort of the same idea in 'Trust Fall'.
BRAEDEN: 'Trust Fall' is about waking up from a dream that you don't want to wake up from.
CDM: Have you watched 'The OA'?
BRAEDEN: No.
DYLAN: Yes, but not Season 2 though.
COLE: I've seen Season 1.
CDM: This isn't really a spoiler, but in Season 2 there's a dream study where all the participants keep dreaming about the same three things - a tunnel, a staircase, and a stained-glass window. I feel like the Wallows equivalent is a pool, a song, and the weather.
<everyone all at once>: Whoah!
BRAEDEN: That's so interesting.
DYLAN: We always sing about those things.
BRAEDEN: That's weird. There's this random song that we demoed that goes on for five minutes of me just saying random stuff, and there are no mentions of a pool, songs, or the weather. So I think people will be shocked by that one.
CDM: I'll be so confused. Like, 'This isn't a Wallows song!'
BRAEDEN: It's not! I talk about random other things though, which are surprising.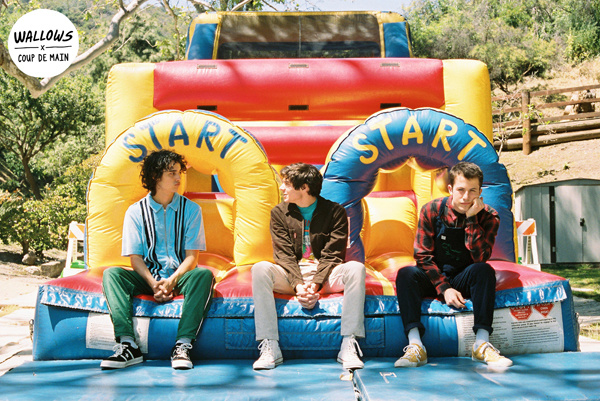 CDM: When is Cole going to start singing publicly? It's been promised.
BRAEDEN: We have seven songs banked that he sang--
COLE: Literally.
BRAEDEN: So whenever we want to release them.
DYLAN: Whenever!
COLE: Sooner?
BRAEDEN: It could be the next one after 'Trust Fall' and 'Just Like A Movie', or it could be anytime, whenever we decide to use them.
CDM: The hotline you opened for fans to call to listen to a preview of 'Sidelines' before it was released was a cool idea, as was sending fans custom t-shirts to announce your album tracklist. Is it important to you as a band to try and engage with your fans in different ways when possible?
BRAEDEN: Totally. Fans are what make the world go round. They're the ones who care about our music, they're the ones that listen to us, they're the ones that connect with each other and build a fanbase. Classic! I think it's really important to engage with them.
DYLAN: We don't want an unattainable faux image, we want people to be able to feel as close to us as they can, so it's definitely a part of that. Because I realise that what really helps artists go a long way is really involving fans in every way you can.
COLE: And it's really hard too, like if we could, we would sit around and hang out with every single person, but that's just physically impossible. So engaging people to people, us to fans - we're all just human beings - is really important.
CDM: In an ideal world with unlimited resources or restrictions, what would your relationship with your fans be like?
COLE: Whoah. Hanging at the beach. Swimming.
BRAEDEN: I think we're approachable dudes, so if someone's a fan, I'm down to chat/talk. Whatever I would do with anyone, I would do with a fan. It's not like, 'Oh you're a fan, we can't go to the beach.' We're all humans.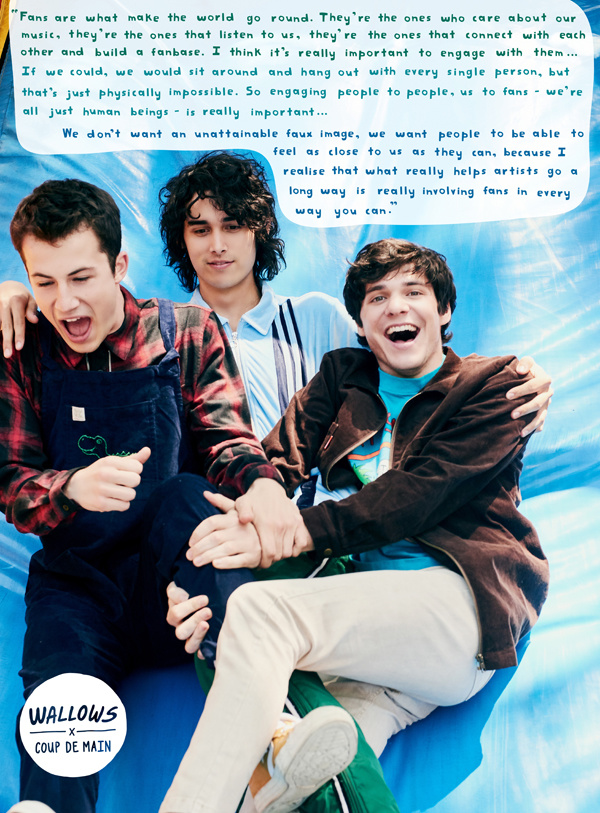 CDM: Dylan, in response to the news that Missouri had joined five other U.S. states this year in voting to ban abortion, you said on your Twitter that, "It's up to us to be aware and be vocal to try our hardest to keep things moving forward in a progressive, humane way. I can't stand to see things like this happen in my lifetime." Do you think it's important to use your social platforms to help bring awareness to critical issues?
DYLAN: I absolutely do. It's not like I expect that I'm going to change anything, because I know there's people in much more powerful positions with much louder voices on the Internet that are saying the same things that I am and more eloquently, but I just think it's important for people who admire me or look up to me or are fans of me, to be aware that this is exactly what I believe, and of the things that I support and the things that I am against. And if you're going to be a fan of me, you better be with that too, or if not, you can go away. Making everyone aware that that is how I feel, is important because young people can be persuaded by so many things on the Internet and swayed in so many directions on social media - and if I do have people that look up to me, then I do want to be a positive influence on those young people.
CDM: What are your thoughts on 'cancel culture'?
DYLAN: I don't know how to answer this. I have opinions and I feel like there are ways I could trap myself into an answer. I'm going to avoid that, I'm sorry, but a way that I can answer is, I think what's more dangerous - and it's kind of tied in with it - is internet fan/stan culture. Because if you worship anyone on the Internet, you're going to listen to anything they say or do, and if they want to go and hurt someone else by cancelling them, even if those people are innocent, there will be hordes of people who go and try cancel a person because someone that they worship online that they don't know anything about really, said to. I think that can be a dangerous thing. So it's a double-edged sword, because then it's also like, if you're cancelling out people that are rapists or people that have done horrible things, that's great that we're listening to victims of those people and we're paying attention, that's amazing, but people have now taken the 'you're cancelled thing' and taken it as their own and made it more of a playful thing on the Internet which can actually hurt people and a lot of people don't deserve that. It's a double-edged sword.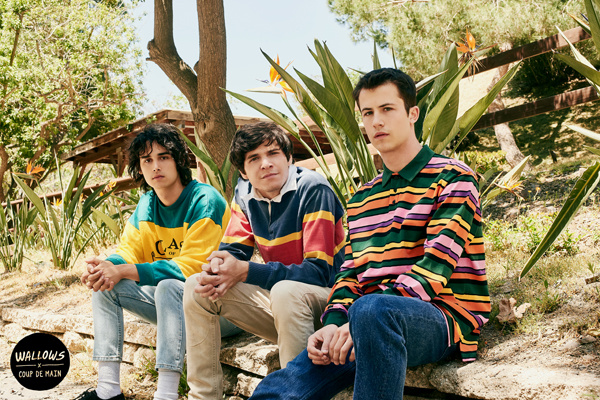 CDM: It's becoming more common for musicians who band together to have more creative outputs than just music, with an obvious example being Brockhampton. Would you ever want to take Wallows beyond just music?
BRAEDEN: 100%.
DYLAN: If we build our knowledge and taste more in clothing, we'd love to make instead of just merch, some proper clothes, like without putting our brand or Wallows all over it.
COLE: Sort of like Tyler, The Creator styles.
DYLAN: I'd love to make a clothing-line like Golf [Wang].
BRAEDEN: I would like to make short-films or some sort of something like that. Like have Wallows skyquake and shit. Just like super funny stuff. Random skits.
DYLAN: We definitely want to take Wallows beyond music at some point, it's just when we have the time and money. We need to plant the seed and lay more groundwork first, and legitimise ourselves more before we can achieve and attain all the ideas that we really want to, so I hope we can get to the point where we have the opportunity to do that on a scale we'd like to.
BRAEDEN: Plus, I'm just more focused on music right now anyway. So I'm not even thinking about that stuff. I'm more thinking about music, but I'm sure that one day we will.
DYLAN: Anything can start to get old. Not that music would get old, but I'm sure that at a certain point we'll really be eager to put our creative tendencies together towards something else for a second. That will be fun, I think. We'll see when we get there. How many albums before that? I don't know. But we'll see.
CDM: And last time we spoke, your plan for Wallows was "world domination". How's that going?
BRAEDEN: I think we did, like, Santa Clarita Valley, just so you know. The earth, relative to the universe is very small, so I think it should be fairly easy.
COLE: Agreed. They just found the first black hole, so we're going to take over that black hole.
BRAEDEN: Exactly. We'll get there.
DYLAN: It's going!
BRAEDEN: We'll get Post Malone on a song and call it a day.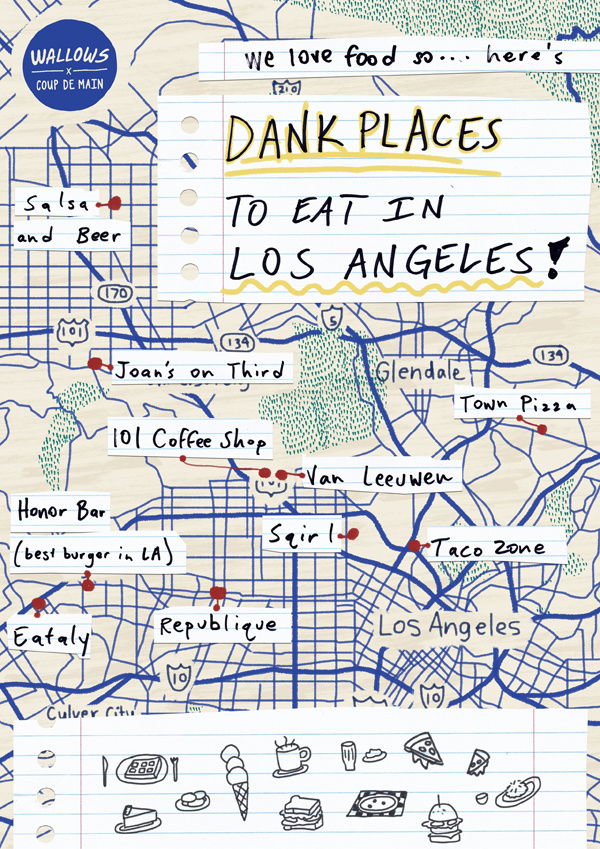 PHOTOGRAPHY BY KAREN ISHIGURO
GROOMING BY JOHNNY STUNTZ AT CROSBY CARTER MGMT
Wallows' debut album 'Nothing Happens' is out now - click here to purchase.
Watch the 'Scrawny' music video below...