Which Halsey 'Badlands' song are you?
Which Halsey 'Badlands' song are you?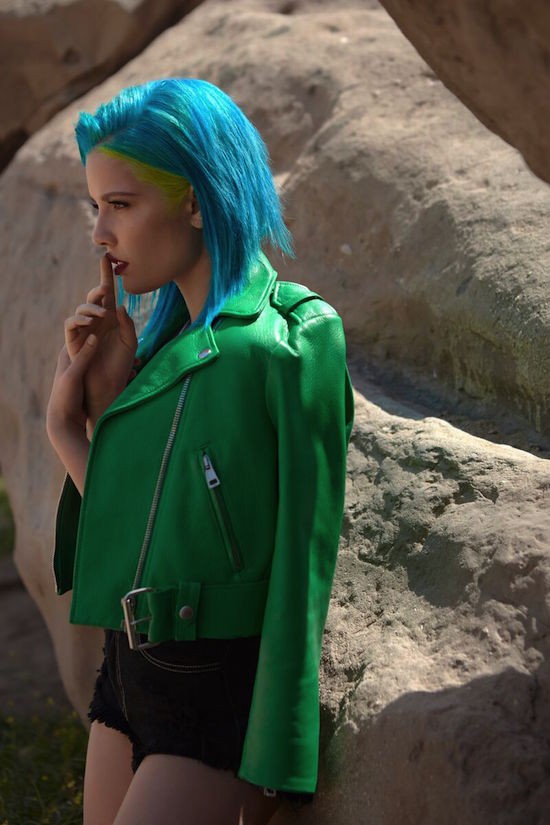 To celebrate the release of Halsey's debut album, 'Badlands' [out worldwide now!], we have designed this highly scientific/mathematical quiz, so that you can find out which song from 'Badlands' you are…
But first, some official info about the release:
"Badlands is a place, but it's also a state of mind. It's a city, a glittering, humming metropolis, surrounded by impassable desert, and it's the feeling of being trapped inside your own mind. It's the name of Halsey's cinematic debut album, a conceptual effort that draws the listener on an epic journey through time and space. It's an idea that began only with the word: Badlands. 
"I didn't even know what it meant, but my brain exploded into a cartoon rainbow when I thought about it," Halsey says. "I got obsessed with the concept. The album follows a storyline and that storyline developed as I was writing the album over the past year of my life. In the midst of the process it hit me that Badlands was a metaphor about my mental state – the idea of being trapped in this booming city moving with the velocity of revolving doors and people. It's busy, it's toxic and it's surrounded. So I can't leave and no one else can get in. That's what it was like to be inside my head."
Halsey, the musical moniker for 20-year-old, New Jersey-raised musician Ashley Frangipane, commenced work on Badlands last October, focusing on how to build tactile space with sound. She selected producers, some of whom she found on Soundcloud, not by their resumes or major label experience, but on their creativity. Halsey worked until May, crafting the city and its surrounding wasteland in both instrument and lyric, creating anti-pop songs that embrace a hooky sensibility without actually cohering to the mainstream. "All of my songs are almost hits," she explains. "The idea was: How can we create the concept of space with sound? How can we create the feeling of being somewhere? I wanted to use the science of sound to create space while using pop melodies to brainwash the listener into wanting to stay in that space."
The songs appear on the album in almost chronological order to how they were written, with the exception of "Ghost," a single from the EP. The concept is more in the haunting, ethereal sound than the lyrical narrative, and Halsey touches on her own life, its relationships and instances, in each song as the overarching mood carries her out of the Badlands. "Drive," a track that lands midway through the album, marks a shift in the story, Halsey's decision to leave the Badlands, both mentally and physically. "It was a really therapeutic thing for me," she says. "The songs that follow take on a much different shape and a much different journey. 'Drive' is the first happy song I've ever written. 
"Creating this album brought me a lot of finality and validation," Halsey says. "Starting an album is a horrifying thing for any artist, and it was even more anxiety-ridden because everything I do is conceptual and consistent. I could never put songs on an album with a message and a purpose behind everything. The records I have loved in my life are the ones that have taken me to another universe. Records that feel otherworldly, unique and with their own language. I can confidently say that I made a record that doesn't sound like much else out there."
And here is the quiz: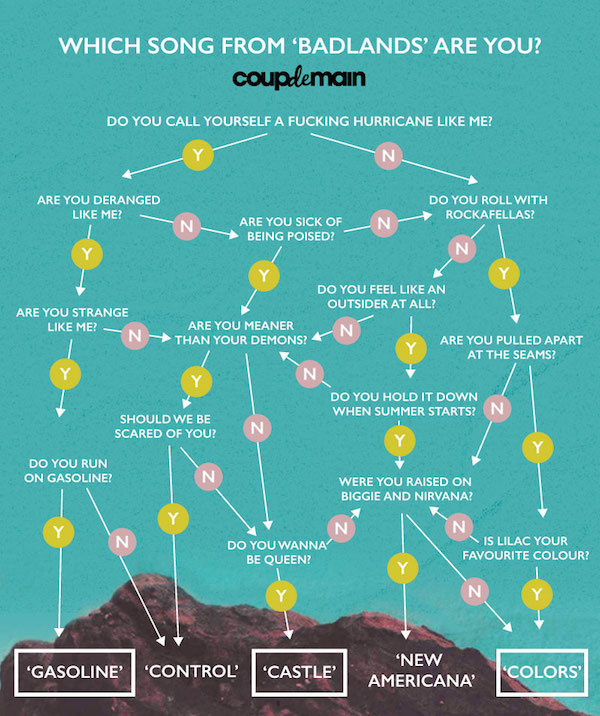 Let us know which song from 'Badlands' you are - tweet us @coupdemain.
Click HERE to purchase Halsey's album 'Badlands' (and click HERE to read our review - if you need a second opinion).
Watch the 'Ghost' music video below…
P.S. Read our interview with Halsey HERE.
Load next