Interview: The 1975 - "Let's make things about purpose..."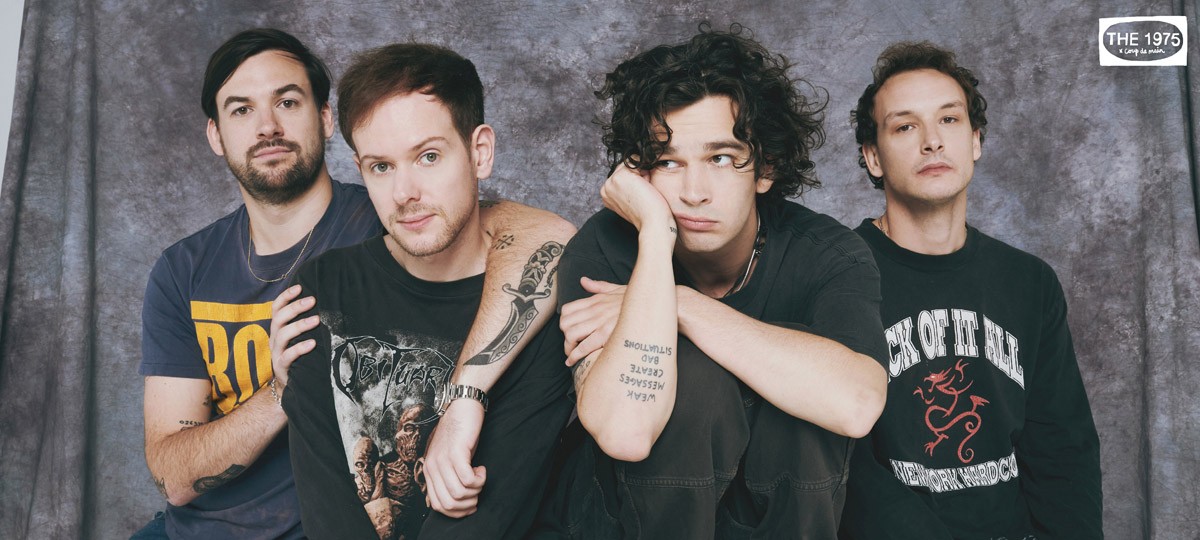 Two noodly heads nestle together in a tender meeting of kindred spirits, affectionately snuggling into each other at every opportunity, and as two small paws drape themselves over a flame-emblazoned sleeve, the title of 'Peanuts' creator Charles M. Schulz's 1962 book 'Happiness Is A Warm Puppy' comes to mind. Today, happiness rather looks like The 1975's Matty Healy cradling six-month-old Cavalier King Charles Spaniel puppy, Logan, for dear life. Heads drooping; eyes bright, everyone on-set is slightly sleepy today in Auckland, New Zealand (the band are on a gruelling schedule of back-to-back flights), but the introspective frontman never misses a beat. Interrupting their reverie, an attentive hairdresser steps forward with hairspray at the ready, and swiftly, Healy props up his hands as a shield for Logan's tiny face; prepared to protect him against all harm and evil. And when Healy's hair is at peak perfection once more, for his troubles, Logan gets a kiss on the head for being a good boy.
Elsewhere, the other three members of The 1975 are all similarly doting on their newfound adopted children and proclaiming differing variations of, "This is my dog for the next few hours!" Co-producer and drummer George Daniel is proud that after much one-on-one bonding time with Hungarian Vizsla, Cleo (which includes going walkabout to a nearby park, and in a classic George move, not informing anyone he was leaving the building), she finally trusts him enough to lick his ear. Daniel has spent much of today crouched on a kitchen floor protectively huddled over Cleo, and confides, rather sadly, that it once took his family's dog two weeks to come around to him. "I need to bond with my dog," answers Daniel politely but firmly to any request made of him, and it's clear that nothing will be able to distract him from this important priority.

Click here to order a CDM x The 1975 zine (i.e. a mini-magazine featuring photos + quotes from this cover-story).
Meanwhile, bassist Ross MacDonald is being, perhaps, the absolute loudest he has ever been. Arriving on-set to find everyone else's mini-me's gathered together waiting in a green room, MacDonald demands to be introduced to his own photoshoot pal, momentarily concerned that he might have been overlooked. But chonky Cocker Spaniel Cavalier, Django (referred to by his owner as "The Trash Bandit" and nicknamed by MacDonald as "The Blob"), awaits his new friend in isolation, having been sent to a time-out zone after one too many getaway attempts in which he decided to tow a barstool behind him instead of bothering to free his leash whilst in search of new adventures. Poor MacDonald is allergic to dogs and will later be unregretfully sniffly, but when these two first lay eyes on each other there is no one in the universe more loved than Django at this moment in time.
Next door, radiating joy (despite battling what Healy later describes as being "proper sick"), guitarist Adam Hann cosies up on a couch with tiny Toy Cavoodle, Millie (who reminds him of a pint-sized version of his own poodle crossbreed, Stevie), admiring her collection of bowties and following her on Instagram. Healy and I agree that Hann has picked best, with Millie most accurately resembling her The 1975 counterpart from a selection of local dogs each band-member made their selections from ahead of the shoot.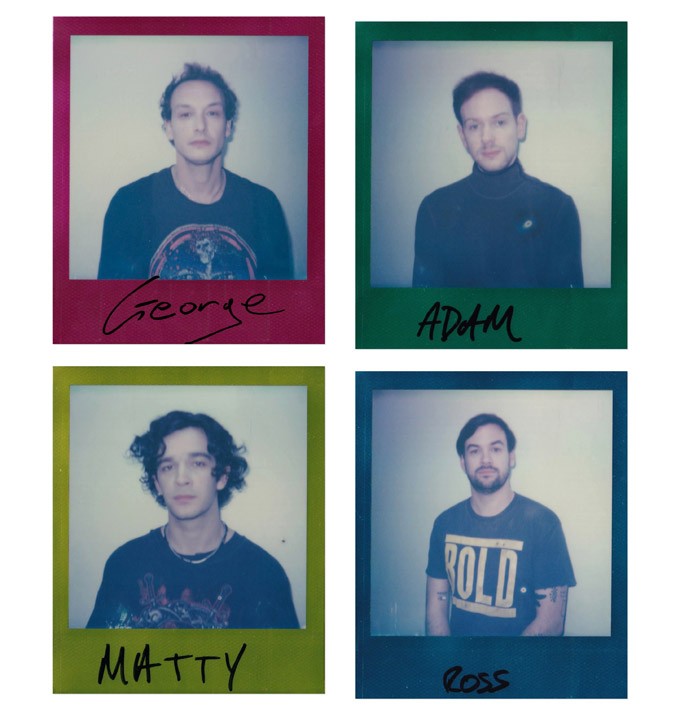 Everything is happening at once... and it's all a chaotic whirlwind. A week later, on the phone from Perth during their September 2019 tour of Australia, Healy defends his own choice of dog, saying, "I couldn't really go off of resemblance because I think that you just tend to look for a dog that you have, or you act like a dog that you own, but I just thought he was super cute." He concludes, "There was a big debate as to what kind of dogs we are and we still haven't figured that out."
Having spent January and February 2020 headlining the Laneway Festival circuit in Australasia (and devoting all their spare time to finishing new album 'Notes On A Conditional Form' in the basement studio of their Sydney record label's offices), Healy's frenetic energy cannot be contained. Positively giddy at Laneway Auckland (despite only having arrived in the country a few hours prior), he is solemn only when chivalrously asking me, "Do you have a good spot to watch from?" And then the victim of some "bad eggs" the weekend following, Healy dramatically blasts on-stage Laneway Sydney attached to a makeshift IV drip and clad in a hospital gown. Two days later, while onstage at Sydney's intimate Metro Theatre as part of a special one-off acoustic bushfire relief show, Healy freestyles a poignant short story about a dinosaur on a train en route to see his parents. "He looks out the window and he sees this shooting star, and it's so bright and so beautiful, he thinks, I'm gonna call her. And he does. By the time she answers, it's so bright and so beautiful that he just says: I love you. And I don't even know if being a dinosaur even ever mattered; I think the only thing that matters is how much I love you," shares Healy, before counting himself into one of the very first ever live renditions of new album song, 'Jesus Christ 2005 God Bless America'. Healy is a non-stop rollercoaster of thoughts and feelings, but no one could ever accuse him of doing anything half-heartedly. As he says himself, "I don't really think that much about stuff; I just emotionally react to it." And this is all just a week in the life of Matty Healy.
Three months on, having now retreated to a residential recording studio idyllically situated in the Northamptonshire countryside, Healy excitedly mumbles through a mouth full of banana, "I've got to get my new dog today!" That's the vibe, Healy answers, eager to discuss the puppy awaiting him, but equally as animated in conversation about The 1975's new album, 'Notes On A Conditional Form' - a pensive 22-track opus that reassembles all the self-referential Easter egg building-blocks of their back-catalogue, but showcases a brave new world in which the four-piece continue to eschew all expectations. Forget everything you thought you already knew about The 1975. Palpable emotions, candid lyricism, undefinable soundscapes; 'Notes On A Conditional Form' bestows all that, but more.
There's a classic one-two punch courtesy of the soul-searching 'Nothing Revealed / Everything Denied' ("Yes and if they catch you slipping tripping over your fibbing and elicit a ribbing over how they think you should be living, that's life"), on which Healy lends credence to the comforting adage that a problem shared is a problem halved, before elegantly dovetailing into 'Tonight (I Wish I Was Your Boy)', which is equally gutting as it is catchy (and was co-written with labelmate No Rome). Feverish, 'Then Because She Goes' is your new twilight hours soundtrack ("I've been drowning in you / You fracture light again"), 'If You're Too Shy (Let Me Know)' is a masterclass in pop (with the perfect-for-aerobics 'What Should I Say' not far behind), and providing further food for thought, 'Roadkill' is an absurdist stream-of-consciousness ("I get stoned and go where I get paid, but it's not really how babies get made") soundtracked by Americana inspired guitar licks. Defying the standard laws that mark a musically cohesive album, The 1975 instead find solidarity and togetherness in the chaotic interrelatedness of humankind's collective fragility and indeterminable futures. Change is inevitable, but it's also constant, and it's this reassuring thought that beams bright at the heart of all things The 1975; unifying listeners in their shared anxiety.
'Notes On A Conditional Form' will enter the world during a surreal time of unparalleled isolation, and the album itself also marks some big firsts for the band, being the first time The 1975 have released a record featuring artists not signed to their record label, Dirty Hit. Much beloved singer-songwriter Phoebe Bridgers contributes vocals to four songs across the album (including her own verse in 'Jesus Christ 2005 God Bless America'), maestro FKA Twigs adds an operatic quality to two songs ('If You're Too Shy (Let Me Know)' and 'What Should I Say'), while Jamaican dancehall musician Cutty Ranks incites rebellion in 'Shiny Collarbone' ("Mash up the place / Free up the order / Killing resulted in microphone culture"), and Healy's father, Tim Healy, sings on 'Don't Worry', a song he originally wrote back when Matty was a toddler. And of course, there's the Greta Thunberg-voiced polemic that opens the record with a rousing baptism of fire, "It is now time for civil disobedience. It is time to rebel."
Over the phone, Bridgers tells me about her experience working with The 1975: "I will stan them forever. 1,000%. I've said this a couple times, but as handsome rockstars who have everybody around them worship them, they are the most down-to-earth people with a real sense of cultural responsibility, which I so appreciate. Like, we ended up talking about homophobia for a really, really long time. So down-to-earth. We agree about everything. I couldn't have had a better time." And it's this "real sense of cultural responsibility" that perhaps motivates Healy to be so prudent as he deliberates over how to best answer when I ask him if homophobia was an important issue on his mind while creating the new album. "I don't want to take up queer spaces," he repeats, worried about how to sum up all his thoughts into an answer that can't be misquoted. And beyond social mindfulness, Healy and his bandmates also advocate for environmental responsibility - their commitment to a sustainable future extending beyond recycled packaging for their releases and reprinting old t-shirts as new merchandise, with the band specifically requesting to wear only vintage clothing items for their new Coup De Main cover shoot. Performative, The 1975 are not.
"Every time I make a record, I put everything in it. And the combination of putting everything in, and then the next record looking for the stuff that's left, the combination of that and the combination of my writing becoming more outward means that the stuff that I tend to write about now is way more fundamental to me. It seems to be the stuff that narks, upsets me, or is just there. It's not something that I have to think about intellectually," explains Healy. Where The 1975's previous three albums were all punctuated by acerbic one-liners such as "I'm the Greek economy of cashing intellectual cheques" or "like context in a modern debate, I just took it out," on 'Notes On A Conditional Form', Healy instead boasts of a dream in which he has children ("You would cook, I'd do the nappies"), as well as the choice anecdote, "Well I pissed myself on a Texan intersection, with George spilling things all over his bag." Healy scoffs, "Myth!" This album, he says earnestly, "Is about demystifying lots of things because I hate mythos, and I hate that shit in music."
Sincerity might be scary, but with a new taste for repartee flexing in candid lyricism, The 1975, once again, have demonstrated why almost twelve million monthly listeners on Spotify include the band as an important feature in the soundtracks of their lives.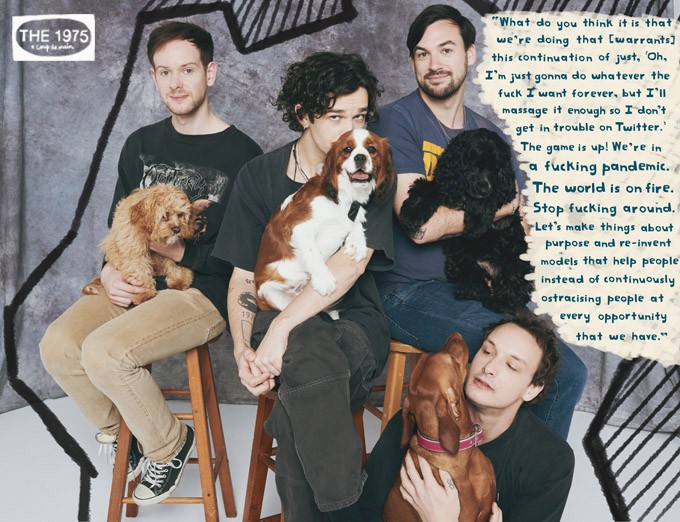 COUP DE MAIN: I heard you went to bed late the other night. Did you or didn't you eat some of the moss from the Daniel Johnston cassette tape box you were proudly showing off on Instagram?
THE 1975 - MATTY HEALY: <laughs> I didn't, but I was definitely pretty zooted. I'd been up playing 'Portal', like all night. And I was so wrecked. And then I was just fucking around.
CDM: So what's the vibe today?
MATTY: I've got to get my new dog today.
CDM: What kind of dog is it?!
MATTY: A Cane Corso. So I'm picking him up, obviously, there's a lot of social distancing going on and so we've had to organise how to do it, but yeah, I'm getting a new dog today.
CDM: On your new album, in 'Nothing Revealed / Everything Denied' you say, "Life feels like a lie / I need something to be true." With the concept of 'truth' being a social construct that is different for everyone, do you agree or disagree with the postmodernist theory that the truths we construct for ourselves as our belief systems mean that there is no objective reality?
MATTY: I don't believe that there's no objective reality, but I do agree that there is a lot of value in the postmodernist theory of no absolute truth. I can't give you an answer, but I can give you an example that maybe your readers can make an answer of. The obvious example is that a porcupine can throw its quills. If you believe that a porcupine can throw its quills, then that's the truth to you - you believe that if you go near that porcupine, there's a chance it's going to throw its quills at you and get you. Now, a porcupine can't throw its quills, but to live a life where you believe that it does benefits you more than an objective truth. So is objective truth about benefit? Is it about the bettering of one's experience? Or is it about building objective factual surplus of knowledge? I don't know.
CDM: You go on to ask, "Is there anybody out there?" which reminded me in a way of 'Is There Somebody Who Can Watch You'. It's interesting to hear the progression since that first album where you were singing to comfort your brother, and now you're singing to comfort yourself.
MATTY: Yeah, that is interesting. That's more of, like, your good perception than anything I can talk that much on. I think there's a lot of those cyclical things. Yeah, you're right, like, a lot of reflection on ego or self-obsession has turned into reflections on self-love and forgiving one's self, and stuff like that [on this new album]. A stark example is me fucking myself in the 'Somebody Else' video, and then that really tender moment in 'The Birthday Party' video where the two Matty's kiss but it doesn't feel anything more than embracing self-care.
CDM: This album feels very full circle to me. I love that you debunk the opening lines of 'Love It If We Made It' and the van sex myth of your song 'Sex', by saying that, "I never fucked in a car I was lying / I do it on my bed lying down not trying."
MATTY: <chuckles> It's true, the whole record is about demystifying lots of things because I hate mythos, and I hate that shit in music. I think it's bollocks. Well, it is bollocks! <says scornfully> Myth!
CDM: More than any other The 1975 album, 'Notes On A Conditional Form' feels like, to me, the truest to what it's actually like to have a one-on-one extended conversation with you.
MATTY: Yeah! To be honest with you, I care way less now. Like, of course, I care what people think because I love people, so I don't want to be doing things that upset people, but I'm just not as interested in any of the superficial elements that I've dealt with previously. I'm not interested in how I look, I'm not interested in how I'm ageing, I'm not interested in all those kinds of things. I'm interested in saying, "This is funny, isn't it?" Or, "That's fucking bullshit." That's what I'm interested in. I'm constantly talking about my dick, and shitting, and [similar] stuff on this record, like, it's not a sexy record narratively because I'm really, not, sexy.
CDM: You also talk about how apathy is an issue for you and you "just talk about the things upsetting me". What are you upset about right now?
MATTY: Everything! That's kind of the point. There's apathy in the fact that I talk about all these ideas and I point towards all these utopian ideas in my music, and then what do I do? I keep doing it because it's good and it's a good message. Those things for me, are quelled by charity and altruism which I spend a lot of my life involved in, but I could put down the guitar and pick up something else. But, I do feel like me making music is the best thing that I can be doing.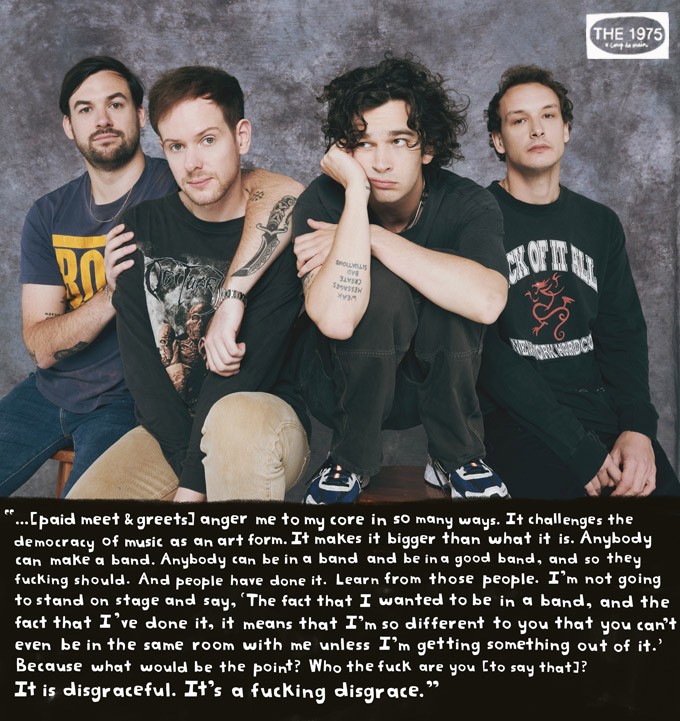 CDM: You told Music Week recently that, "I'm willing to get in amongst it and misunderstand it until I understand it, and try and learn from women as opposed to getting defensive as a bloke," which I totally applaud you for but also can't help but feel slightly saddened by as it's so rare to hear a man be open to that way of thinking. In my experience, men may be sympathetic towards the experiences of women, but it's rare that they are actually empathetic. Why do you think that men are so often unable to fully comprehend issues that women go through?
MATTY: Why are men unable to empathise, as opposed to sympathise? I don't know. I don't know why it is a trait of men to gaslight women when they're trying to tell them-- Men gaslight women a lot, that's a big trait, and I don't know why that is. I like to think that I can empathise with women in that regard because I delegate a lot in my life, so I listen to people. There's certain people that I think I may be smarter than or there's certain people that I think I may be more talented at this kind of thing than, but when it comes to what they know about, I tend to listen to those experts. And for me, if you have a surplus of people, women, in this case, telling you the way something is, to turn around and say that it's not? You can't do that because it obviously is. It is quite obviously an issue. If this was an issue where men just didn't realise and we had the capacity to, and women were like, 'By the way, guys, we feel incredibly oppressed in this area,' or whatever, and if that was met with, 'Wow, fucking hell, I didn't realise and I'm sorry mate,' and then we moved on as a society... But it's not, it's met with, 'You're wrong.' It's met with, 'No, no, no, no, no, you're attacking social constructs; you're attacking all of these kinds of things.' It's met with defensiveness. To be honest with you, mate, I really don't know. I can't even remember what you quoted me on because I don't really think that much about stuff; I just emotionally react to it, so I just kind of have to trust my emotions. But, just listen to people, man. Like, just listen. If it was an issue of race, I would listen to somebody of colour, I'd be able to see if they were an angry person of colour or a misinformed person of colour, but in no way would I take away their experience of what they're talking about. It's the same with women.
CDM: "You don't fuck with your poor fans / You meet the rich ones to expand your floor plans," from 'Nothing Revealed / Everything Denied' are some important lyrics on the new album. It's worrying to me that meet & greet prices of $500 and upwards have been normalised for photo opportunities. Where do you think the future of the commercialisation of fan experiences is heading?
MATTY: It's disgusting. I think it's fucking pathetic. And I think it's disgraceful. It angers me to my core in so many ways. It challenges the democracy of music as an art form. It makes it bigger than what it is. Anybody can make a band. Anybody can be in a band and be in a good band, and so they fucking should. And people have done it. Learn from those people. I'm not going to stand on stage and say, 'I'm so different to you. The fact that I wanted to be in a band, and the fact that I've done it, it means that I'm so different to you that you can't even be in the same room with me unless I'm getting something out of it.' Because what would be the point? Who the fuck are you [to say that]? It is disgraceful. It's a fucking disgrace. And the problem is that young artists aren't in bands. Still on their own, they're surrounded by loads of grown-ups who are going, <puts on a business voice> 'Man, you should do this thing. And honestly, Thingamabob thinks you're amazing. And if we get this deal, then we can set up the money to do that deal, and all you need to do is meet these kids.' I'll tell you a story. There is an undisclosed, massive band, who do paid meet and greets. A young woman who was quite obviously mentally ill turned up to the first meet and greet on an entire American tour and it was something like $1,000 for a proper meet and greet. She told the band that she'd spent all of her college tuition money that her parents had given her on following them for the whole tour and doing a meet and greet every night. And they took the money and they met her every single night. They were just like, 'Okay, cool.'
CDM: People that exploit other people like that, how do they sleep at night?
MATTY: I have no idea. I have no idea! It honestly perplexes me that people don't give a fuck, mate. People in the music industry are saying to me like, 'What do you mean you're cancelling your show? What do you mean?! What do you mean you're not going to do the show again?' I want to be like, 'What do YOU fucking mean?' What do you think it is that we're doing that [warrants] this continuation of just, 'Oh, I'm just gonna do whatever the fuck I want forever, but I'll massage it enough so I don't get in trouble on Twitter.' The game is up! We're in a fucking pandemic. The world is on fire. Stop fucking around. Let's make things about purpose and re-invent models that help people instead of continuously ostracising people at every opportunity that we have.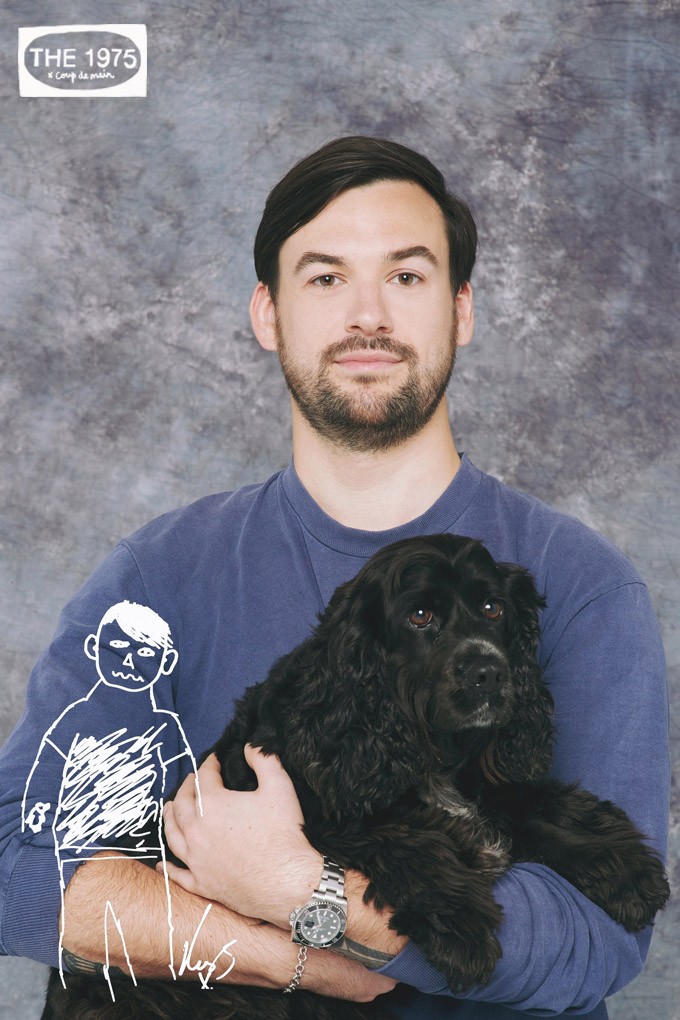 CDM: Agreed. Okay, I want to talk about one of my other favourite songs on the new album now, 'Tonight (I Wish I Was Your Boy)'. It's such a bop, but also maybe one of the saddest The 1975 songs ever.
MATTY: Oh really? No one's spoken to me about that song yet!
CDM: I love it!
MATTY: I love that song as well, but I only actually own 5% of that song because we wanted the intro on it so much that we had to give The Temptations like 90% of the publishing. When it goes, <sings> "Running away with me," it's from <sings> 'Just My Imagination'. That intro, we loved it so much that when we realised that if we wanted to use it, it would cost us the whole song, we were like, 'Fuck it, I don't care, I'd rather have a song that I don't make money on that has that intro.' So, the intro is one thing, but it's literally a mixup in the way that 'The Ballad Of Me And My Brain' is The Replacements and Dr. Zeus, that is 'The College Dropout' Kanye meets the Backstreet Boys. That's what we were going for, so all the melodies are like super Backstreet Boys, and all the production, that kind of early Kanye really-slappy-live hip hop thing.
CDM: In that song, you say, "Have a complain about your fame / Tell me that it's all a rigged game." Do you think that it's possible or impossible to be a successful musician at a global level and not have to deal with the trappings of being a celebrity?
MATTY: Well, [they're] two different questions. [I'll] reframe your question to say, without the trappings of being famous? No. Being a celebrity? Yes, you can avoid that because I've avoided that. I'm not a celeb. If The [National] Enquirer took a picture of me and put me on the front, people would be like, 'Who the fuck is that?' I have no traction in the world outside of people who like music, or festival-goers, or people who are interested in culture. I'm an artist. I walk around on the street and the only people that come up to me say they like or know my art. "Matty, I saw you in thing," or, "Matty, I love your album," is basically what they say. I never get, "Which one of the ['EastEnders'] Mitchell brothers are you?" Or, "Which soapstar are you that I can't quite put my finger on?" You either know me or you don't, so I don't really have a negative relationship that makes me resent the success of my band because all I have is people being nice to me about my music, and I fucking love my music.
CDM: It's interesting to consider how fame puts people on a pedestal, where everything they say is questioned or taken out of context and criticised, like an echo chamber. As someone who is in the public eye, whenever you're vocalising a thought, is it hard knowing that whatever you say will be picked apart even if your intentions were honest?
MATTY: It is afterwards because that's when I remember that. I get burnt or I get cancelled, and I'm like, 'Fuck, I won't go on Twitter, I'll just leave it for a bit.' And then I'll forget that that's ever happened and then I go on Twitter and it happens again, and I go, 'Oh shit, no, I do need to fucking think.' I lived a normal, normal, normal life until I was 23. You're such a person by the time you're 23 - you've got a little bit of growing left to do, but when you turn 27 it's not like 14 to 19, so my whole life, I was just me. So then when the world's a bit like, 'Change that, don't walk through Oxford Circus, worry about this, worry about that, make sure that you look good when you go out the door!' Fuck that. I can't be arsed. I honestly cannot be arsed waking up in the morning and thinking, 'Oh, if I walked down Broadway Market in my slippers I might get papped or something like that.' I just do not have the fucking time for any of that, so I just live my life as I live it.
CDM: In 'Roadkill' you reference the criticism of The 1975 being silent around last year's UK general election: "And I took shit for being quiet during the election and maybe that fair but... I'm a busy guy!" What was going through your mind during that time?
MATTY: That's the funniest line, and it's the way that I say that I'm a busy guy; I start laughing as well. It's just a bit of a joke. At one point, somebody had tweeted something that had got quite a lot of traction saying: "The 1975 spending 18 months positioning themselves as A Political Band then disappearing as soon as the election showed up is actually v funny." By positioning, does he mean, be a political band? I can only think about the 'political' songs that we do, so that's a weird criticism. Anyway, I've never expressed an opinion, which is why I'm good. And the reason I've never expressed an opinion is because I have a massive relationship with the protests on because I do understand politics and because I did grow up in a post-subsidisation of industry area where my dad was a figure for the kind of left political movement. I know my shit when it comes to partisan politics and its effect. And with music, I've always wanted to point towards a utopia. I do the same things that I've always done. I look at world leaders, I look at politicians, and they mean nothing to me. I look at artists, and they show me how I should live. So asking questions about the world, that's what I do. Giving opinions, that's up to you. Don't say, 'Oh, The 1975 have really, really informed my opinion, but now I'm disappointed because they're not here to tell me what to think.' Fuck off. Make your own mind up in an election. I've got nothing to do with partisan politics. To be honest with you, if you want my honest opinion, in that election, I was so disenfranchised by the pathetic set of circumstances that we were in. I didn't want to vote for Boris Johnson nor Jeremy Corbyn. I thought that both of them were useless. And it's not my responsibility to massage your political opinion. It's my job to talk about what I see in the world, not telling you what to think.
CDM: In 'Roadkill' you also say, "So I'll take a minute when I think I won't die from stopping." As much as you need to be in a good headspace to be working constantly, do you think you also need to be in a good headspace to not work because you're more inside your own head at that point?
MATTY: Not working is not really an option. Me, not working is a bit like-- There's something in your life, Sha, that you do every day, and that if you didn't, it wouldn't be your life. I don't know whether it's a personal thing, or maybe you're a carer for a sister, or there's just a part of your life that is a part of your life and the removal of it would mean putting enormous voids into your day and into your life. That's what it's like for me with work. I never have nothing to do. If I have nothing to do, it's terrifying. It's terrifying because who the fuck am I if I have nothing to do? What's my purpose? Just this retrospective set of noises that happened a while ago? That's how I feel. Like, I feel like I'm gonna die.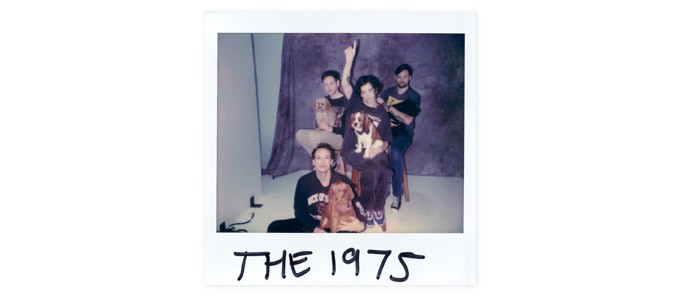 CDM: I talked to Phoebe Bridgers a few weeks ago who said that "as handsome rockstars who have everybody around them worship them, they [The 1975] are the most down-to-earth people with a real sense of cultural responsibility," and specifically mentioned how much she appreciated the in-depth conversation that you had with her about homophobia. Having listened to the entirety of the new album now, and having heard the references to homophobia in 'Roadkill', 'Jesus Christ 2005 God Bless America' and 'Me & You Together Song', Phoebe's words add an extra depth to the record for me. Was homophobia an important issue on your mind while creating this album?
MATTY: I can talk about the things that are important to me eloquently in music. Outside of music, I struggle to do it because I don't have as much time and I don't have as much context, and I fear even talking about being an ally in the press can sometimes be misquoted. And then within one headline, I'm queerbaiting, essentially. And that's something that I really worry about now because it is important to me. I am in quite a gay world socially a lot of the time and I don't want to take up queer spaces. I think that I'm one of the biggest 'rockstars' in the world, so I'll talk about those kinds of things in my music, but when I start talking about them in public, that's what fills up the press. And then I'm a straight guy using the gay cause to prop up my art, which is from a straight perspective, and that's all kind of a bit fucked up to me. So it's a difficult thing to negotiate.
CDM: "I'd like to meet myself and swap clothes," you say in 'I Think There's Something You Should Know'. Why is that idea of stepping out of yourself and having that kind of out-of-body experience so appealing to you?
MATTY: Because we have limited sets of experience. I'm really into psychedelics as well, so the actual limit of our experiences really interests me. We're sensory deprived, so we are enslaved by the five senses that we have. I know that there's other things out there just because if we all woke up tomorrow and no one could smell, if I rang you back, neither of us would deny the existence of smell, we would just know that we have no way of contacting that realm anymore. So there's obviously lots of stuff going on like that that we're sensory deprived with. So I like psychedelics and it gives you this kind of objective idea that other experiences are possible because you're pushing the limit of your senses. One of the ideas that we'll never do is experience the proximity of ourselves. I don't know if this comes from ego or narrative, but the physicality of somebody is very much part energy and very much part-- When you meet somebody you know what they feel like to be around, you know what it's like to see them in the corner of your eye, you know what their vibe is like, and you could know that about every single person in the world apart from yourself. You'll never be able to know that. That's why mirrors are so fascinating to us because they're nearly there. And so, yeah, the idea of the obsession with one's self is kind of also like a physical thing.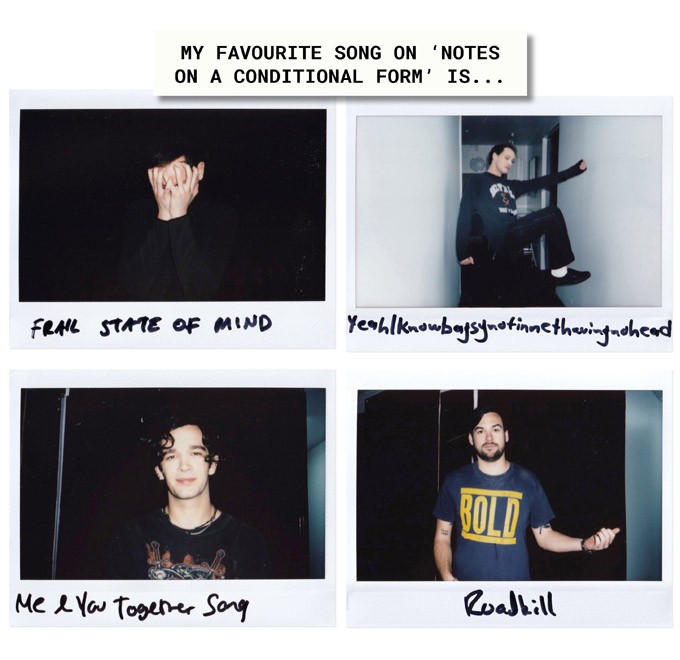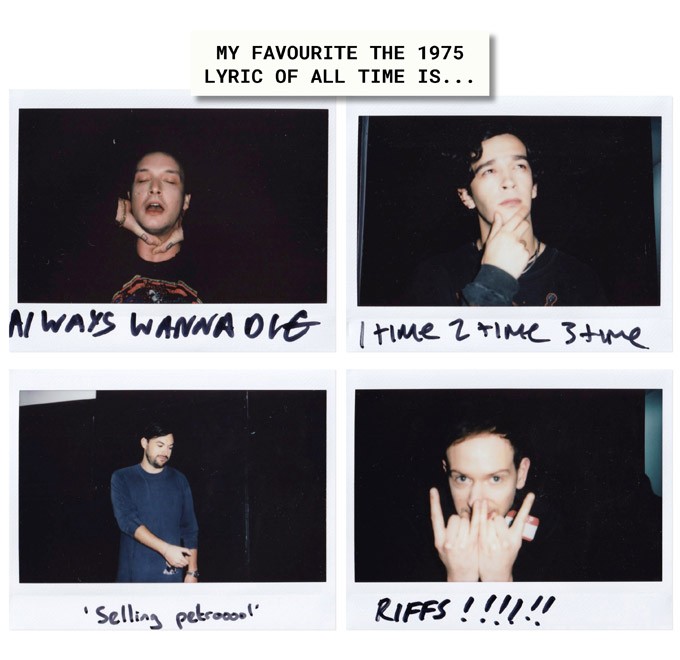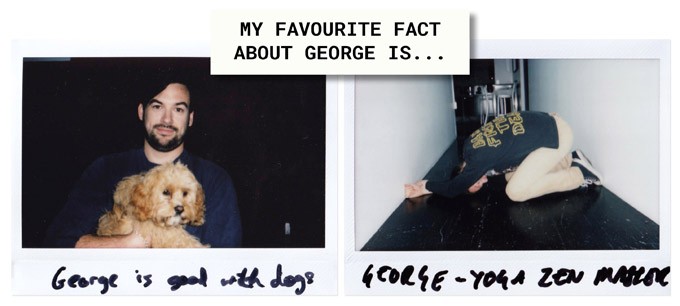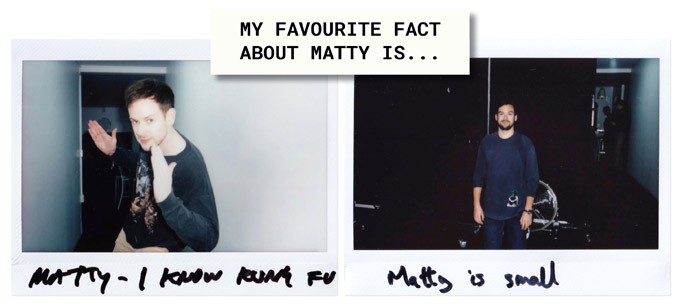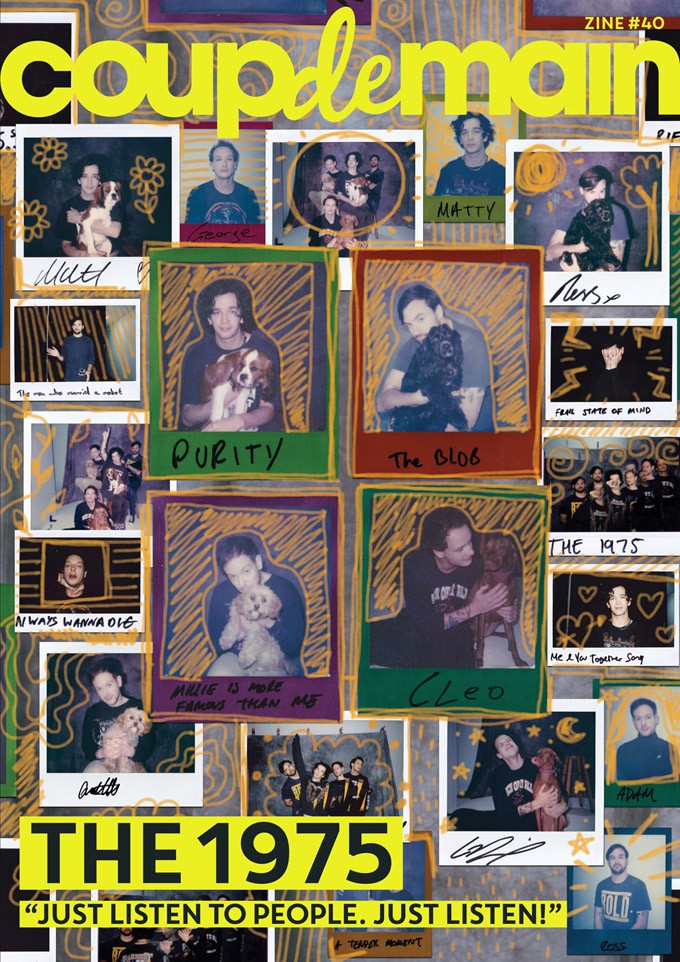 Click here to order a CDM x The 1975 zine (i.e. a mini-magazine featuring photos + quotes from this cover-story).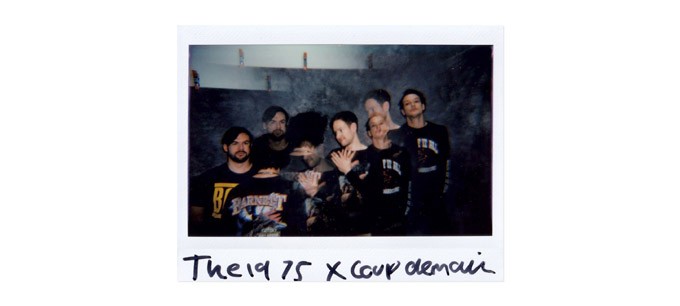 PHOTOGRAPHY BY KAREN ISHIGURO
GROOMING BY LOCHIE STONEHOUSE & HELENA BARRITT
The 1975's new album 'Notes On A Conditional Form' is out this Friday, May 22nd. Click here to pre-order now.
Watch a live video for 'If You're Too Shy (Let Me Know)' below...