A Ruel x '4TH WALL' appreciation post.
A Ruel x '4TH WALL' appreciation post.
Ruel has just released his debut album, '4TH WALL' - which has been three years in the making!
On his debut album, Ruel says: "I started conceptualising the album way back in 2020. It was pre pandemic, I'd just come off tour and I was working out of a studio in Bali. It was the first time in ages that I was able to take a moment and look back at all the craziness of the past few years. It felt like my life was a bunch of random scenes in a surreal movie, a bit like that Truman Show feeling we all get where you wonder if you're part of some bizarre reality show."
He adds: "I started thinking of the songs of the album like a soundtrack to the human experience. I wanted to write an album where there's something everyone can relate to. I love to write about things I've experienced personally but I also love to take inspiration from anything and everything that I see happening around me, either directly or indirectly. Often I'll put myself in someone else shoes and play out different scenarios in my head to imagine how they might feel and then write from their perspective. I love the freedom this method gives me."
So today on the day of release, we are celebrating:
#1. The two singles 'I DON'T WANNA BE LIKE YOU' and 'MUST BE NICE'.
#2. Ruel has also been teasing the release of an 'I DON'T WANNA BE LIKE YOU' music video.
#3. To prepare for his upcoming tour, we've been listening to Ruel's live versions of his songs - including this outdoor acoustic version of 'MUST BE NICE'. 
#4. Ruel is touring Australia & New Zealand in April & May - make sure to grab your tickets here so you can hear your favourite tracks from  '4TH WALL' live!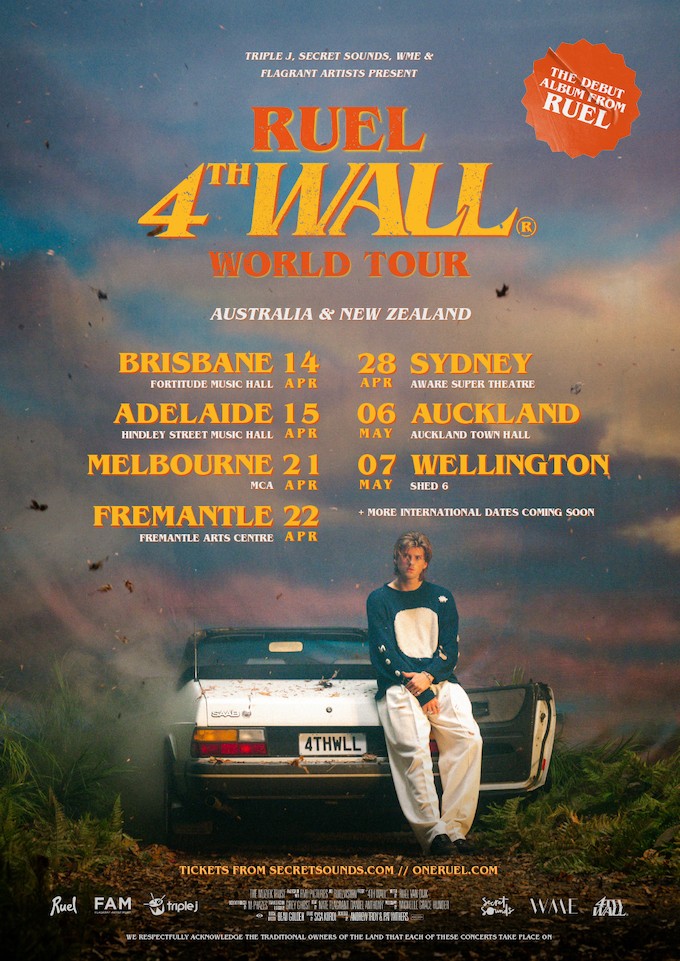 #5. In this interview with 'Seventeen', Ruel discusses the inspiration behind his song 'YOU AGAINST YOURSELF' and how it feels to have spent so long making this album.
Ruel's '4TH WALL' is out now - listen below:
Load next