Interview: Ruel - acuity of vision.
It's peak summer, but today, a downpour of torrential rain is sending every human backstage at Laneway Festival Sydney scurrying in search of shelter and a protective poncho. Not one Ruel Vincent van Dijk though. Australia's tallest in-tune empath has face-planted on the muddy ground in an alleyway lined by dressing room rubbish bins, with spectators cheering on his victory in a push-ups competition against a fellow artist playing the festival. Sodden, Ruel attempts to flick his hair out of his eyes by vigorously shaking his head - a fruitless endeavour in this weather, but an endearing memory from pre-pandemic times.
Still seventeen back in February, Ruel's display of fitness as a certified push-ups champion is a mere footnote in the masterclass on endurance that the last three years of endless touring and back-to-back flights have drilled into him. Bar the above-mentioned Laneway jollity, every single time I have ever seen Ruel has been when he is either en route to an airport or has arrived to meet me directly from an airport. In fact, the first time I met fifteen-year-old Ruel, he transited to me from a work-related domestic flight (with his mother in tow), to a holiday-related international flight (sans mother), leaving Sydney's airports only for the sole purpose of our interview.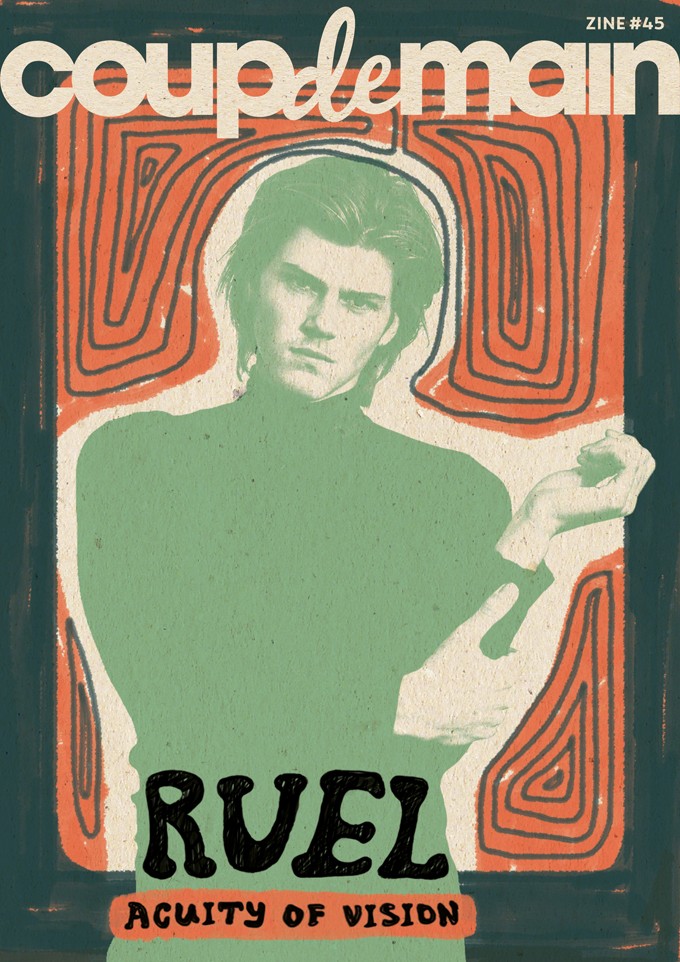 Click here to order a CDM x Ruel zine (i.e. a mini-magazine featuring photos + quotes from this cover-story).
And it's this kind of relentless work ethic that fuels Ruel's songwriting, with his latest 'Bright Lights, Red Eyes' EP the result of having written five songs (each in under an hour) over the course of three days in Paris last year, with songwriter Sarah Aarons and producer M-Phazes. From the earnest adjuration that is opener 'As Long As You Care', to the soul-searching 'Courage', his new work shoulders an enlightened take on personal growth, mental health, and developing one's own sense of purpose. Ruel writes what he knows (heartache, conflict avoidance, fatigue, wistfulness, acute self-awareness), but like how moods change with the seasons, he writes from a place of thoughtful reflection; always envisaging a better day. "Every song has a memory," mused famed visual artist Andy Warhol, and it's this characterisation of emotional souvenirs that anchors Ruel's songwriting.
Cataloguing memories, intent, or reactions into art is a hallmark of any relatable songwriter, and like an emotional excavator, Ruel signposts personal truths to aid listeners in the untangling of their own thoughts and feelings. As American realist painter Edward Hopper said, "Great art is the outward expression of an inner life in the artist, and this inner life will result in his personal vision of the world." And in Ruel's world, as adult development meets further life experience ("I called you up to tell you I'm changing," he sings in 'Say It Over', which features Cautious Clay), there rises a concentrated endeavour to make his mark not only musically, but also visually.
Last year he created an online persona and presence for fictional love interest Ecâf to front a campaign for the single 'Face To Face' from his 'Free Time' EP. This year, Ruel launched a 24-hour online television network, RuelVision, showcasing over 70 pieces of unique programming to accompany the 'Bright Lights, Red Eyes' EP. From cooking and karaoke, to ASMR, bedtime stories, and a quiz show, the 16 channel network (available on demand here) is an exemplary embodiment of Ruel's visionary nature. The thrill of being his own man in an industry known for puppeteering artists from a young age is clear to see, and he describes his newest release as "another step forward in maturity for me", with the intention that his next project convey even "more meaning and purpose". As professional hustler Travis Scott once declared: "You can't buy swag. You can't buy vision and you can't buy aesthetic. You can copy it, but that shit don't last." And in the case of Ruel, only three EPs in thus far and with a whole lot more life to live (and to write about), his acuity of vision continues to evolve in superspeed.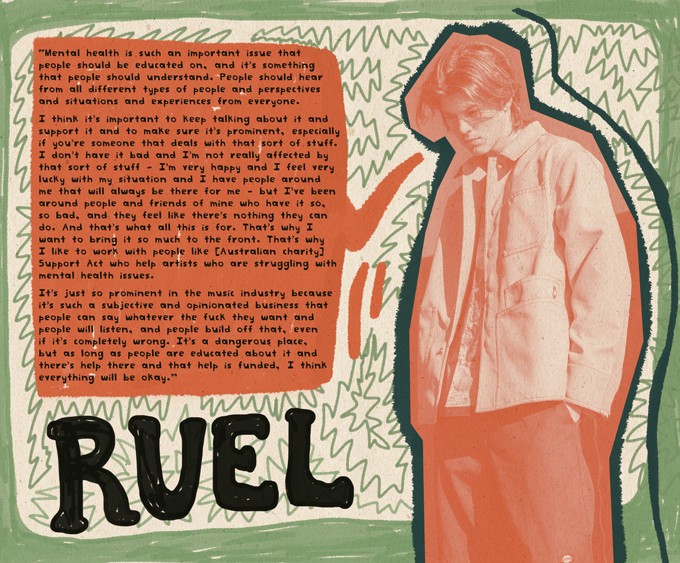 Outfit by Masons.
COUP DE MAIN: Hello. Have you been remembering to brush your teeth and hair?
RUEL: I don't brush my hair, I've never done that; just the teeth. I'll keep the teeth brushed, but the hair, nah.
CDM: It's your birthday tomorrow! You're going to be 18. You're gonna be a man!
RUEL: It's so weird. I haven't really been thinking about it like that. It's kind of like, 'Oh, it's just another birthday; another one of them.' And then I realised, 'Oh, no, actually, this one's important.' I'm gonna go have some nice dinner with my family and that's about it really. Gonna go do something with my friends, I think, the next day. Something small, obviously, nothing too crazy.
CDM: What have you been up to since I last saw you at Laneway Festival?
RUEL: Not much. <laughs> I've been setting up this studio in my house and writing quite a bit by myself which has been nice to do for the first time in a while. I went to Melbourne for a month and a bit before Covid really kind of got awful there, so I luckily got out, but I was in Melbourne recording the music video and doing all the press shots and doing all the fun stuff recording RuelVision. So yeah, I did a lot in Melbourne in a small amount of time spent there. Other than that, I've really just been at home and watching my friends struggle with their last HSC exams.
CDM: When we spoke last year around the 'Free Time' EP you said that you would distract yourself by going surfing or hanging out with a friend when feeling sad. Have you found new ways this year to cope with the ups and downs of 2020?
RUEL: Playing sport I think is the thing that is weirdly nostalgic for me because of how in the past three and a bit years I just haven't had that much time to do all that when I get back, but now I've been in one place for a while I can make a few more commitments at home. I've been surfing a lot, I've been playing a lot of football, and been playing a lot of basketball, and just seeing my friends as much as possible as well. But yeah, they're all studying away right now. <stage whispers> So I've just been having to give them space.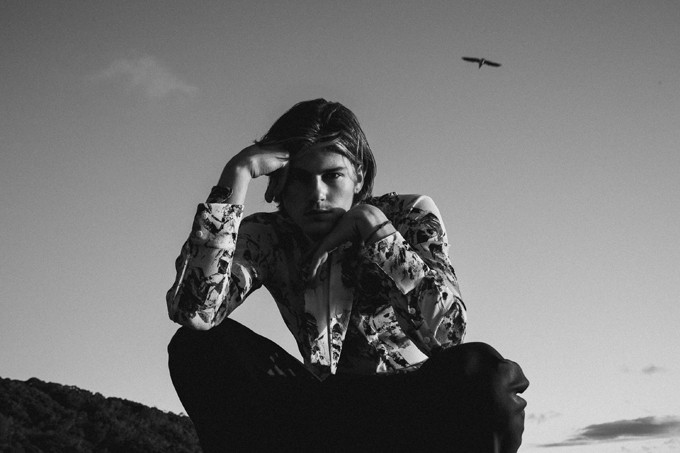 CDM: Back in May you posted on Instagram that, "I've always kept my social media posts light, but I can no longer sit back and do that," and that you were researching and reading resources about social injustice. Where are you at currently in your journey to educating yourself?
RUEL: A lot of people were not necessarily ignoring the issue, it was more kind of thinking that they knew enough already, so when they saw a post or saw something that had the theme of social injustice, people were saying, 'Oh I already know about that, it's okay.' I agree with the right ideals and stuff, but I think now once I see something being posted or once I see a link that is obviously sharing information, now I'm just clicking everything I see. And I want to read because I feel like you can never learn enough. There's always something, or more stories that you should hear and more context and more speakers, and articles that I think everyone should be educated on. So I've just been kind of keeping up I guess with what I've been seeing through the internet.
CDM: There's always more that you can learn, no matter what you already think you know.
RUEL: Exactly.
CDM: At what point did you decide to release a new EP while continuing to work on your album?
RUEL: I think it was about April/May time. Maybe May was when I realised that it was gonna be very hard to put out an album right now with all the plans messed up because I was supposed to spend about three and a bit months in LA, and I only ended up going there for two weeks. I got flown home very quickly, and we had a few songs that I wrote in Paris last year that I thought would be cool for the album - which was basically half-written - but then I felt that trying to write the album in this time, I didn't think I was going to write the best stuff by the time I would want to put new music out. So we had this idea to just release these songs that I wrote in Paris as this little package / little EP before the album. I think these songs work so well together because they were all written in the same week and all in the same room and with the same person. They all kind of fit together. I was actually quite happy that they had their own chance to shine on this EP.
CDM: What can you tell me about the album so far?
RUEL: It's hard. I've been writing ideas endlessly and I'm really bad at finishing ideas, so I've got so many Logic sessions just with a verse or a chorus, and then a few finished songs. But it's just been fun because I don't really know how to produce, so I've been experimenting and playing around with Logic and playing around with recording and writing. And it's nice because it's the music I would have never made if Covid didn't happen. This music is all me, and it's all just my ideas and what I think could be cool, and it's just me experimenting. So I think there's a few cool songs that I want to put out on the album, but a lot of it is just me messing around and trialling ideas that I forget about. At the moment, it's very unstructured, but I think once I've finished this EP campaign which is going to be in a few weeks because I can't tour it, I think I'm gonna just be going to the studio a lot more with THIEF, who just moved back to Sydney and I wrote a bunch of my early stuff with. I think that's gonna be nice to go back in with him and just knuckle down on finishing this ALBUM!
CDM: Do you think you'll release the album next year?
RUEL: Yes, yes, I will. I will. I'm gonna try my very, very best, but at this point in time, I don't understand why I wouldn't release it next year.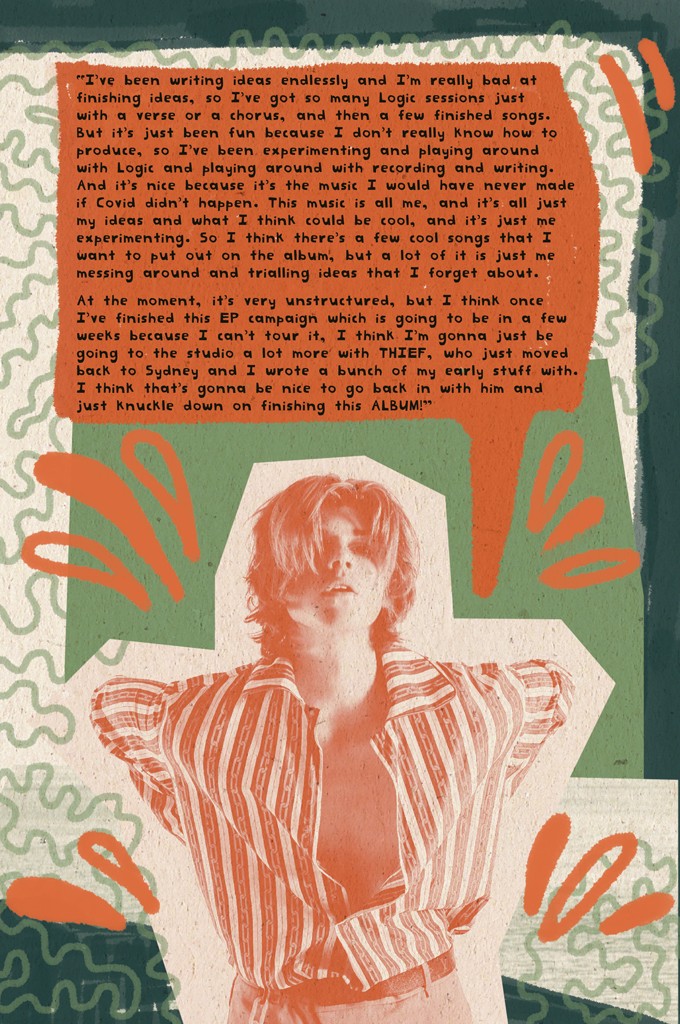 Outfit by Louis Vuitton.
CDM: 'As Long As You Care' reflects how you felt in 2019 with your gruelling work schedule as a touring musician. How do you feel now looking back on that song?
RUEL: Ironic - I don't really relate to it. I mean, I do a little bit just because of how I am and how people are missing people right now - not because they're away, but because they're stuck home. When I wrote 'As Long As You Care' it was just about me being away from my loved ones and how I deal with missing them and how I deal with being away from people that I love. My coping mechanism is that as long as they care, as long as they're gonna come when I come back, that they'll be there with open arms and they still love me and remember me, I'll be fine. I can stay away as long as I can if I know that I will see them again. So I think that was where that song came from. And the "bright lights red eyes" lyric was just how I summed up touring - that's what touring is without saying 'touring', which is what I like to do in songs. I like to sum up big ideas in a small amount of words.
CDM: I feel personally attacked by all these sad songs you write. Why can't you write a happy song about your dog Wilbur instead?
RUEL: <laughs> Happy songs are so hard to write, that's why! It's impossible for me. I find the emotion and the drive that makes me want to write a song is always through something that is going wrong in my life. It's something that's playing on my mind, or it's upsetting me or annoying me. So instinctively it's gonna sound sad because that's the emotion I'm throwing onto the paper. 'As Long As You Care' is a happy song, and 'Painkiller', and stuff like that. Like, when I was writing them, I wasn't sad. I was a bit like, 'Oh yeah, let's just write something about this,' and then it got bigger and bigger and bigger when it went through production. And that's kind of what makes it happy, those finishing touches. It's hard to make a really sad song happy. It's easy to make a neutral song happy.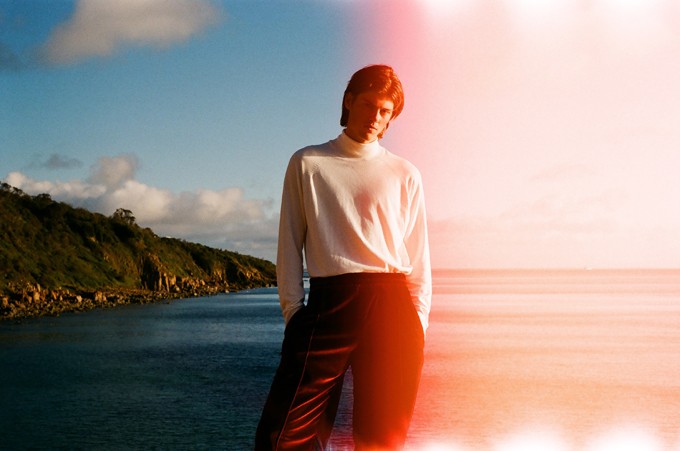 CDM: With your 2020 a very different year than last year, will you apply a need for rest and recharging to the future? That even when things return to normal, you will be wary of pushing yourself to levels of exhaustion?
RUEL: Yeah, that's the scary thing. Looking at it, I'm like, 'God, as soon as these restrictions are lifted and everything's back to normal - hopefully, if that ever happens - I'm scared that I'm just gonna be on the road for, like, two years to make up for the lost time.' I'm scared that as soon as I get back, I'm just gonna be like "AAHHH!!!" because I really want to do all these things that I want to. I want to go to South America, I want to go back to Asia because I had to cancel, I want to tour the States again, I want to tour Europe. And I want to tour these songs as well as the album. There's so much that I want to do, but I'm scared that I won't have... <puts on an Adam Driver voice> "I know what I need to do but I don't know if I have the strength to do it," as Kylo Ren would say. But yeah, that's what I'm a bit wary about, but we'll see what happens with that. And I think I do know my limits a lot better now. And this time off has been really, really good for me.
CDM: Do you feel pressure to be constantly working even though you're only seventeen still? You're not eighteen yet!
RUEL: Not yet! I'm still a child. I don't think there's any pressure, it's more like, I want to do it. I want to stay kind of connected and I still want to communicate with my fans and with my audience - I feel like I'm not giving back if I'm not because they're the ones that are listening to my music and they're the ones that are still keeping me fed. So I need to stay up and I need to keep working. I need to keep making music and doing this for them because they deserve it. So it's not really pressure, it's just me wanting to, but obviously it does get a bit hard sometimes when Covid is making us all in our feels a lot. There's obviously times where I wake up and then I've got to do fifty Zoom performances and I'm like, 'Ugh this feels weird.' It's not the same as it is when you're in real-life and you have a lot more adrenaline to keep you going.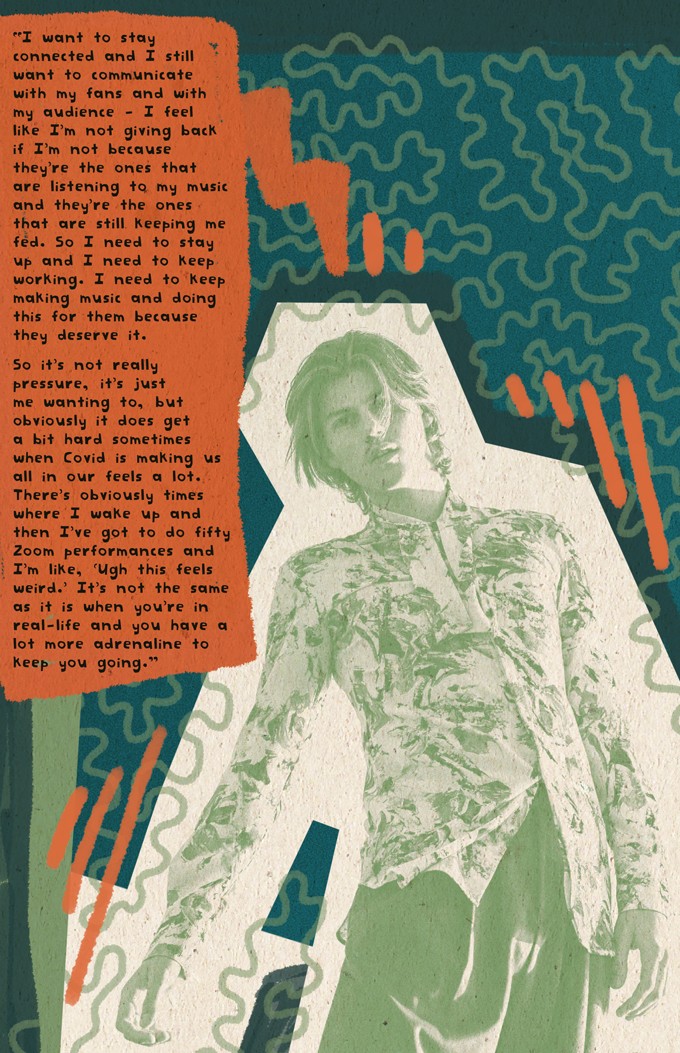 Outfit by Strateas Carlucci.
CDM: You say in 'As Long As You Care' that, "I'm so tired / I'm sorry if I'm low on confidence." Do you find that if you're low on energy that directly impacts your self-confidence?
RUEL: Definitely, I think if I'm low on energy, it affects everything. It affects how I perform, it affects how I portray myself on stage, it affects how I am mentally. Exhaustion is very apparent on tour, but it comes in spikes and the adrenaline from touring and being onstage keeps you going, and that kind of distracts you from exhaustion. It's hard when, for example, if you're flying everywhere and doing hotels and that's how you tour, everything leading up to the show is fine and the adrenaline's pumping, but once you finish the show, it's an hour more of adrenaline and then you get put back into your hotel room and the lights are off and you have to get to sleep because you've got another show and you've got a flight at 6am the next day. That is the worst feeling. That's when it kind of takes you over because you're alone. You've had all these "AHHHH" crazy lights and crazy sounds in your face, and then suddenly it's just you by yourself in the pitch black but you still feel like you should be awake because you've just done all this crazy stuff and it's hard to fall asleep. But you are so exhausted at the same time. It's a strange feeling. But that's why I love doing tour buses - I feel like tour buses made it a lot more of a communal experience and environment and I never felt like I was alone. Being alone on tour, it's exactly like the Justin Bieber song, 'Lonely'. When you're not around people all the time, it hurts you when you're touring. On a tour bus, if I can't sleep at 3am and I have a show the next day, I can just get up and walk downstairs and there will always be a band member or someone on the tour bus just sitting there either doing work or having a beer or just relaxing, who can't sleep as well. Everyone's in the same boat. So that was really nice. The two tours that I did on the tour bus were amazing. I didn't ever feel like I wanted to go home. I never felt homesick because I had my mum on tour as well. I was happy. I was really happy.
CDM: "Feelin' bad for myself / All of my friends back home say I should be happy," you say in 'Courage', which reminds me of 'Hard Sometimes' from the last EP ("Try to be happy, but it's hard sometimes"). What have you learnt about happiness in the time between those two songs coming out?
RUEL: 'Hard Sometimes' was about the worst experience I had of touring where it was exactly what I was just saying - that hotel room thing. I was coming back to the room and I was by myself and I just felt awful. And the people on tour as well that I was with, I don't think they were the best for me to have around - not because they were bad people, but I just don't think things were really meshing. I was still kind of finding my feet with touring, so that's why that song was so emotional and specific when I was writing that. 'Courage' wasn't necessarily from personal experiences or feelings, I just wanted to write the most kind of hectic concept as possible, and it came from not having a concept at all and just writing lyrics to whatever me and Sarah thought sounded cool and felt right with the chords or the melodies. This really sad concept kind of developed, and it happened subconsciously - 'If I could do this all again, if I could replay my life, if I could replay all my decisions, I'd take another route because this is all too hard and I don't have the courage to keep going.' That's where that concept ended up, which I don't feel like because I don't have any regrets. I don't have anything that I'd go back on. But it is kind of like that. That small part of you that asks: 'Why do you do this? You could live a lot less stressful and normal life. What are you doing?' So I guess I kind of just subconsciously tapped into that part of my brain and that's how that song was born.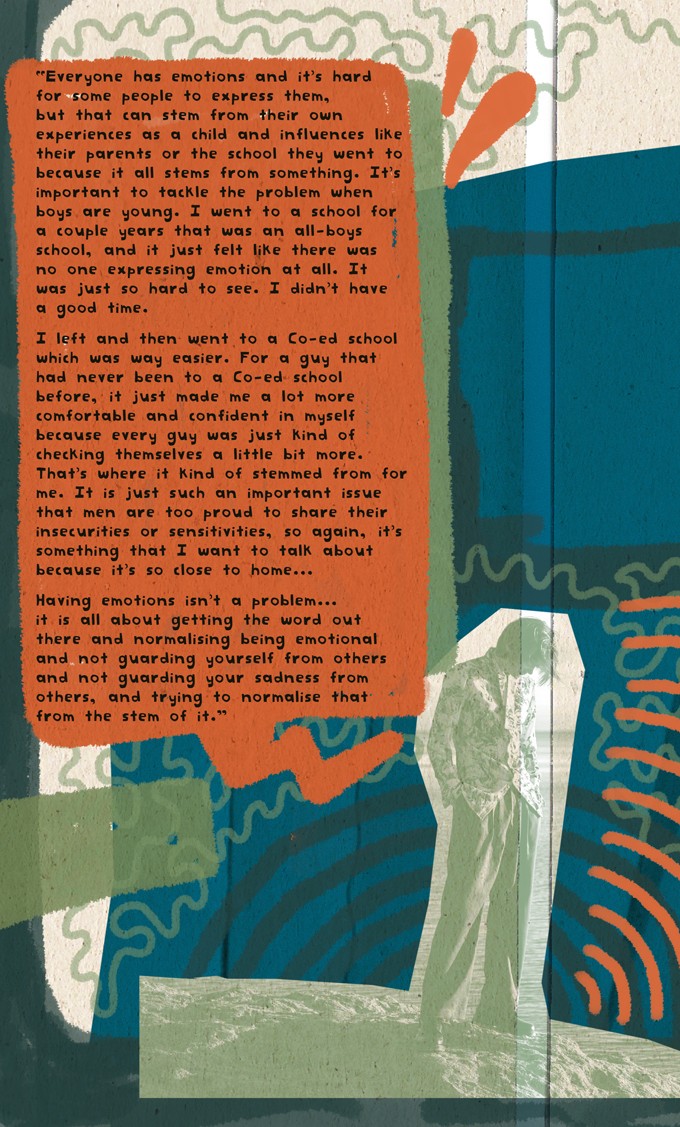 CDM: Mental health has been a big theme in your songwriting and you continue that on this new EP. Why is this issue something you return to a lot?
RUEL: It's the most prominent thing in the music industry, I think. And mental health is such an important issue that people should be educated on, and it's something that people should understand. People should hear from all different types of people and perspectives and situations and experiences from everyone. I think it's important to keep talking about it and support it and to make sure it's prominent, especially if you're someone that deals with that sort of stuff. I don't have it bad and I'm not really affected by that sort of stuff - I'm very happy and I feel very lucky with my situation and I have people around me that will always be there for me - but I've been around people and friends of mine who have it so, so bad, and they feel like there's nothing they can do. And that's what all this is for. That's why I want to bring it so much to the front. That's why I like to work with people like [Australian charity] Support Act who help artists who are struggling with mental health issues. It's just so prominent in the music industry because it's such a subjective and opinionated business that people can say whatever the fuck they want and people will listen, and people build off that, even if it's completely wrong. It's a dangerous place, but as long as people are educated about it and there's help there and that help is funded, I think everything will be okay.
CDM: You tackled toxic masculinity in 'Don't Cry' on the last EP, and are very open about your feelings. Why do you think it's important for society to normalise boys being allowed to be sensitive and emotional?
RUEL: I think it's extremely important because everyone has emotions and it's hard for some people to express them. But that can stem from their own experiences as a child and influences like their parents or the school they went to because it all stems from something. It's important to tackle the problem when boys are young. I went to a school for a couple years that was an all-boys school, and it just felt like there was no one expressing emotion at all. It was just so hard to see. I didn't have a good time. I left and then went to a Co-ed school which was way easier. For a guy that had never been to a Co-ed school before, it just made me a lot more comfortable and confident in myself because every guy was just kind of checking themselves a little bit more. That's where it kind of stemmed from for me. It is just such an important issue that men are too proud to share their insecurities or sensitivities, so again, it's something that I want to talk about because it's so close to home.
CDM: Research in the UK found that 47% of men feel they are unable to confide in friends about their problems (compared to 63% of women who do), and that on average, the men who were surveyed said they had three close friends, but nearly a third said they did not have any close friends or any friends at all. What do you think can be done to help men feel like they have better support networks?
RUEL: It's hard because you can't just tell people to go have friends. And you can't tell people: 'Just get a friend! What are you doing?!' It's hard to do. And it is also hard because you can't tell people to go reach out for help professionally because that just scares people and makes people think that they have a problem. And they don't have a problem. It's just wanting someone to talk to. Having emotions isn't a problem. It's a hard thing to do, and obviously, you could go to your family, but lots of people don't feel like they're comfortable enough to talk to their family or they're not close to their family. It's really difficult. I think it is all about getting the word out there and normalising being emotional and not guarding yourself from others and not guarding your sadness from others, and trying to normalise that from the stem of it.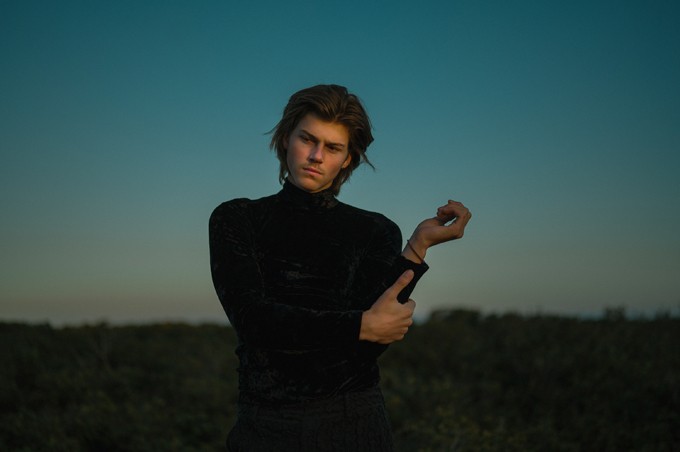 Outfit by Strateas Carlucci.
CDM: It's comforting in '​Distance' when you say, "Maybе in a past life, problems aside / Wе could make it home, I'd hear you when you're callin'." Sometimes I think a lot about how my best friend once told me that in an alternate reality, everything worked out with a guy that was important to me. Is it weird thinking about how so much of life is missed connections? And trying to figure out if someone is worth the effort or not?
RUEL: Definitely. It is pretty crazy. Like, how long it takes... I think, for me, specifically, to suss someone out. It is such a weird thing. I'd like to think that in other parallel universes things do connect. It's all about the butterfly effect, I guess, where small things affect big things and the smallest decisions can affect the biggest things in your life. In that song, I just thought it was a cute little lyric about how in another life this could have worked, but at the moment, I just need to keep my distance. It wasn't too existential.
CDM: Do you think physical distance or emotional distance is harder to overcome?
RUEL: Emotional distance. Physical distance has a longer longevity of feeling okay because there's stuff like what we're doing now [on Zoom], for example, I feel like I'm talking to you right now. I don't feel like I'm too far away. So with technology and stuff like that, physical distance is easier to overcome. But emotional distance, that's a whole other thing. It's a whole other problem where when you're emotionally distant from someone, because you're emotionally distant you don't think about it, and then when you start to remember them again, that's when it's gonna get hard. Like when people come back into your life after kind of shutting them out or trying to distance yourself because of a certain reason. That is a lot harder to overcome.
Outfit by Louis Vuitton.
CDM: And just doing my annual check-in... How have you found adjusting as you become more well-known, and even more and more beloved online? I thought of you when I was listening to Omar Apollo's new EP when he says in 'I'm Amazing' that: "I'm amazing, that's what they tell me / I don't think of that too much, it overwhelm me."
RUEL: I love that song so much. He's so good! When I listened to that song, I was like, 'Oh, it's just one of those hilarious, cocky, kind of narcissistic songs.' But then you actually listen to the lyrics, and it's like, 'No, it's actually quite sad.' It is just him relaying what people tell him, so I thought that was really cool that he did a song like that, and that it expressed that issue. But yeah, I'm okay. Again, I kind of do what I always do. I like to separate it. I like to separate myself from my career and my brand, which always really helps. So I don't think I'll be changing that formula anytime soon. But obviously, being in Covid, it's kind of been the opposite. Like, I haven't been recognised on the street. I haven't been doing shows. Online, I guess that is just something that, again, is hard. Having lots of people watching your every move, that's something you can't really escape, because being an artist, you kind of have to be there. It's not something you can really put down forever. It's something you have to keep updating on. And you can't ask other people to do it because then it's so apparent and so transparent when other people are taking control of it. So that's hard. Again, I've just stopped doing certain things. I've stopped looking in some places. I deleted Twitter off my phone for Covid because that was just such a toxic space for a while. And there are just certain things that I do to keep myself kind of healthy. I'm good, though. I am fine. Having my family here and just being so close to my family for so long has been so amazing. And having all my friends as well. It definitely could be worse.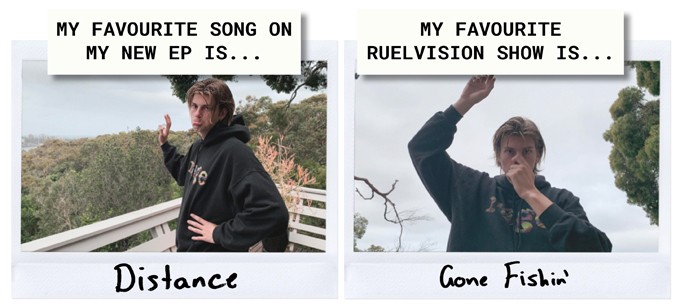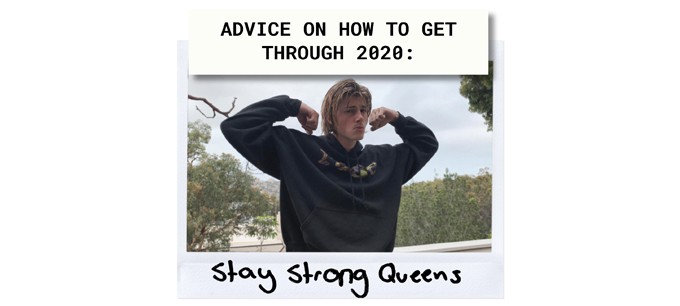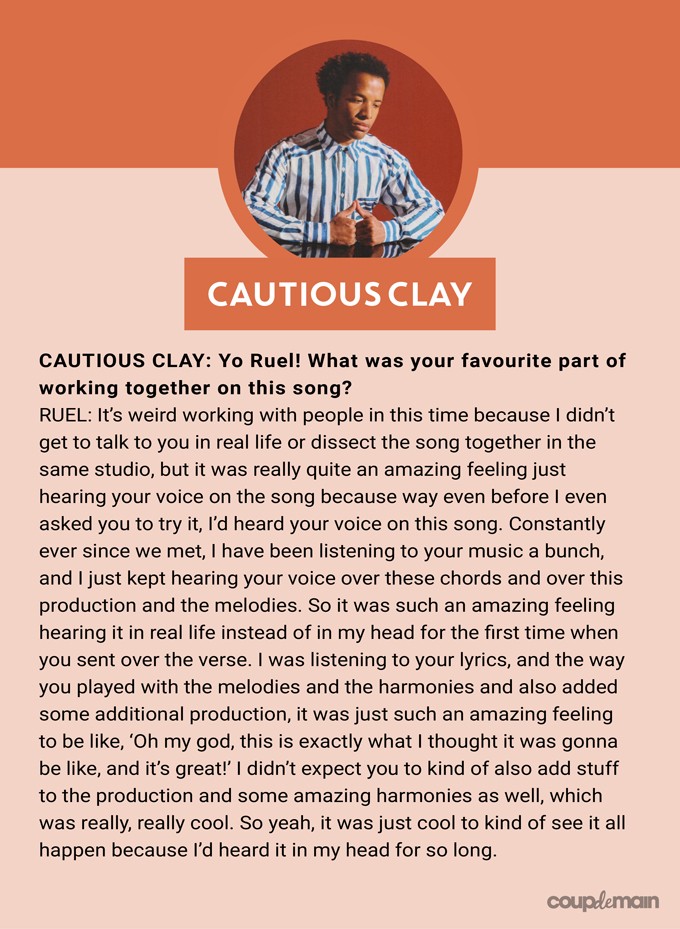 PHOTOGRAPHY BY
MICHELLE GRACE HUNDER
CREATIVE DIRECTION BY
JEREMY KOREN
STYLING BY
MILANA DE MINA
ASSISTANT STYLIST:
SOPHIA CHOWDHURY
HAIR & MAKEUP BY
NADINE MULLER
This interview has been edited and condensed for clarity.
Ruel's new 'Bright Lights, Red Eyes' EP is out now.
Watch the music video for 'As Long As You Care' below...