Interview: Roy Blair: making his mark.
"If you're going to really add to the conversation, you need to say something that's important," Roy Blair imparts to me midway through a recent phone conversation, while discussing the overtly political song 'CANYON' from his 'GRAFFITI' mixtape. It's the first time Blair has ever delved into politics in his music (the gratingly honest line, "Feel like end of the world when I look at who's in the Oval Office," makes his views very clear), but it's something he talks about honestly and with a candid thoughtfulness - two key elements which also make his music so uniquely relatable to listeners.
Despite not seeing a proper release (just three songs from the mix were selected for official release), the collection of B-sides and demos were aired live on Apple Beats 1 Radio along with an interview with Zane Lowe discussing the project. Made over the past year, the tracks on 'GRAFFITI' chronicle the past two years of Blair's life, while at the same time threading together a story of Belmont - a Los Angeles building Blair used to live in which has its own interesting history in the graffiti world.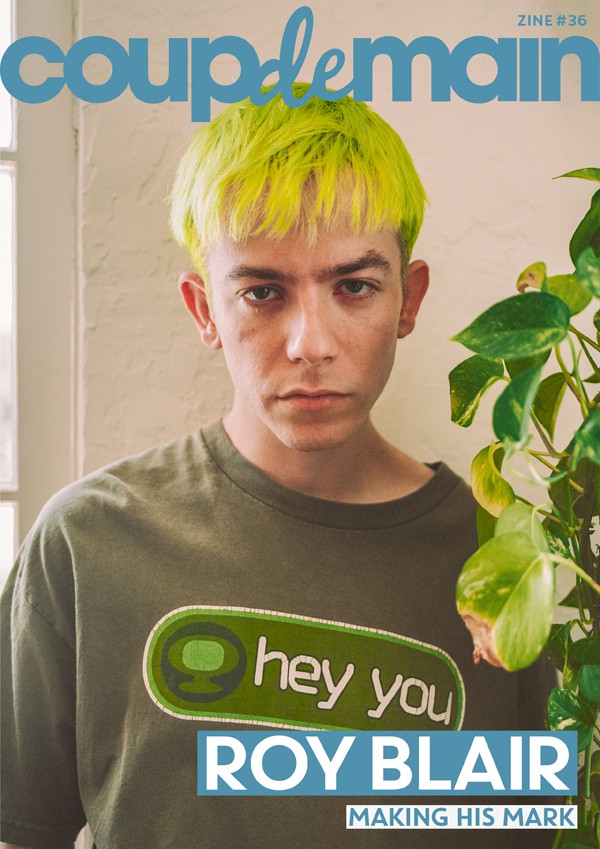 Click here to order a CDM x Roy Blair zine (i.e. a mini-magazine featuring photos + quotes from this cover-story).
It's nearly two years since Blair released his "forever coming of age" debut album, 'Cat Heaven', an album which continues to amass new listeners to this day (the album's biggest song 'Thunder' currently boasts 18.6 million streams on Spotify) - exploring ideas around growing up, mental health, familial tensions, and more. The record not only showcases Blair's songwriting talents but his cohesion as an artist as a whole, with the accompanying visuals complementing the themes heard within.
Prior to 'Cat Heaven' though, Blair had been honing his craft as an artist for a long time. Back in 2007, Blair was in fifth grade when he wrote his very first song at an after-school programme, where he and his classmates wrote a song about a fellow student named Will. His proper early releases date back to his debut tape 'sunsets' in 2015 (released under the name of roy), and when he began sharing songs online with the world, he discovered a number of like-minded young artists, lending his vocals to Kevin Abstract's solo album 'American Boyfriend', and eventually touring as a back-up vocalist on Abstract's Death Of An American Supermodel Tour.
In turn, 'Cat Heaven' featured production from Brockhampton members Romil Hemnani, Joba, and Bearface, as well as New Zealander Lontalius, who produced 'Perfume' and 'Switchblade'.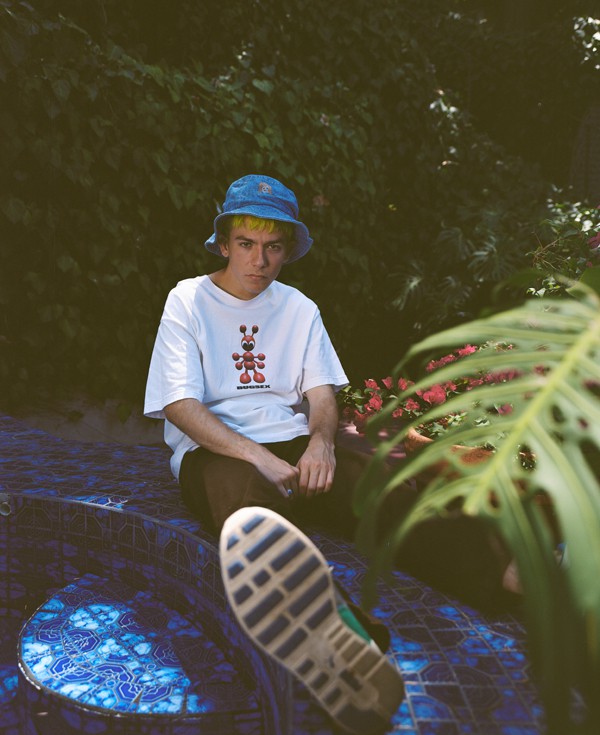 'GRAFFITI' is somewhat of a stepping-stone before Blair's next full-length project which he's still working on and has a current working title of 'Chasing Moving Trains'. Still unsigned, Blair is able to work at his own pace, but also recognises the inevitable need for financial backing, to further make his mark on the world.
Blair told us in an interview back in 2018, "I really like artists who take things to next levels, so they drop a record, and it might take them three years to drop another record but when they do it, you feel like artistically they have taken a new step forward," and that sentiment is true of himself, with his constant desire to push himself in his artistry clearly audible in 'GRAFFITI', which dives into a more electronic realm than his earlier work.
His journey has been an ever-evolving one, a testament to his hard-working nature - whether it be collaborating with designers on merchandise lines (his most recent drop included a mouse-pad), adding a phone box into the production of his live show, or working to progress his music more with each new release.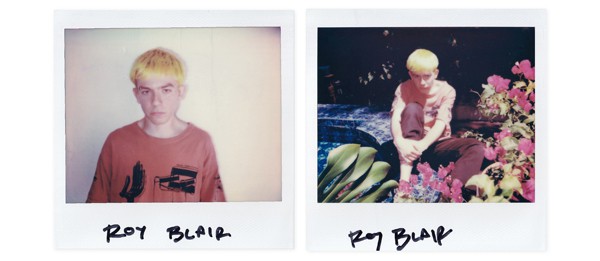 The now 22-year-old is in a good place now. Catching up with Blair while he's in New York recording more new material, he reminisces on 2018 - a time where he felt like he had lost control, in music, in business, and relationships. Now, Blair feels more himself than ever before and empowered by that control he's regained, and channelling it into his music will surely be evident when the album arrives next year. Now, it's only a matter of time before Blair gets the success he deserves - one of these days, just once he lands a Timothée Chalamet co-sign.
We caught up with Roy Blair while he was in New York to discuss 'GRAFFITI', his upcoming debut album, and much more…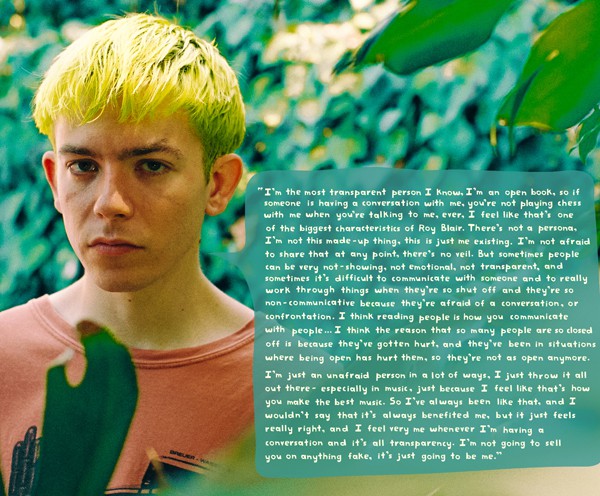 COUP DE MAIN: It's cool that you got to share the full 'GRAFFITI' mixtape on Apple Beats 1. Are you happy that people had the chance to hear it in full, as these songs won't ever be properly released?
ROY BLAIR: Yeah! I'm happy that I got some of those songs out. I didn't really see a place for them in an album sense, or even releasing them as singles, but that they got to live in some sort of format; it's cool that I got some of those songs out.
CDM: I think when I first listened to 'I DON'T KNOW ABOUT HIM' I got full goosebumps in the intro. It's like the ultimate Roy Blair progression that I could have never imagined! How did working on these songs feel for you, to get to a place like that?
ROY: After I made 'Cat Heaven', I was like, 'Okay, I really want to make electronic music but I don't know how.' My only real frame of reference was Daft Punk, and then I was like, 'Yeah, I love Daft Punk, cool, so let me make electronic music.' It was kind of like fall-on-the-floor nonsense, it really wasn't good. So I had to really study and learn in 2018, and pick influences out to understand the genre a lot better. So by the top of 2019 when I was ready to make these songs, that's when everything just collided at the right time. I had been studying the genre, and then I came and started working with these producers in New York. They understood where I was coming from with my influences and it was the perfect moment. I was really ready to work on this sound, and 'I DON'T KNOW ABOUT HIM' was basically the first session here in New York we did for the album.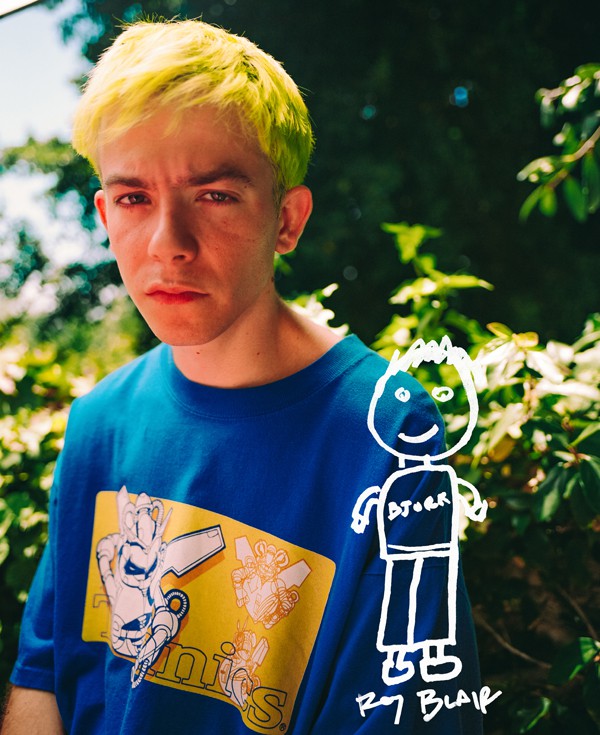 CDM: In the second verse you sing, "I want to move to Tokyo, London, anywhere but LA (Yeah) / Never felt like home, I get more jaded by the day." What's your relationship with LA like at the moment?
ROY: It's home, for sure, but it's been home for 22 years now. I just feel like I've outgrown my stay there. I just know so many different people there, that there's a lot of history. I can't disappear there the way I can disappear in New York, because I don't really know anyone in New York. I just come here, go to the studio, and I'm around, but I don't have all these different circles of people I know, with history, and relatives - there's really no one here in New York. So it's amazing, and I think that's what's missing in LA for me right now. Maybe I need to spend some time away from it, so when I come back it's not as routine. I do what I do there, and I've been doing it.
CDM: Do you feel like you're more musically inspired when you're out of LA?
ROY: Definitely. It's just a different place; it's a different environment. It's like a different eco-system. It's foreign to me, in a very inspiring way, just like being alive - so that's naturally going to reflect the music I'm making. It's the best cheat-code to make more exciting and more inspired music.
CDM: It must've been so cool to go to Iceland to have a complete change in pace. What was that work for?
ROY: It was crazy. It was daytime the entire time I was there. We made new songs every day. We finished up the mix there. We didn't really record anything for the mix there. We just made music for the album, and we also finished the mix, and mixed the singles. I recorded some extra vocals for the mix. It literally doesn't look like earth, or maybe it really looks like earth, and now a lot of earth doesn't look like earth, if that makes sense? It's super green, and the lava rocks and everything makes it look like some crazy planet.
CDM: I remember learning in school that Iceland was green and Greenland was ice and having my mind blown.
ROY: I thought that was so funny in school too, because everyone would say that and I was like, "Really?!"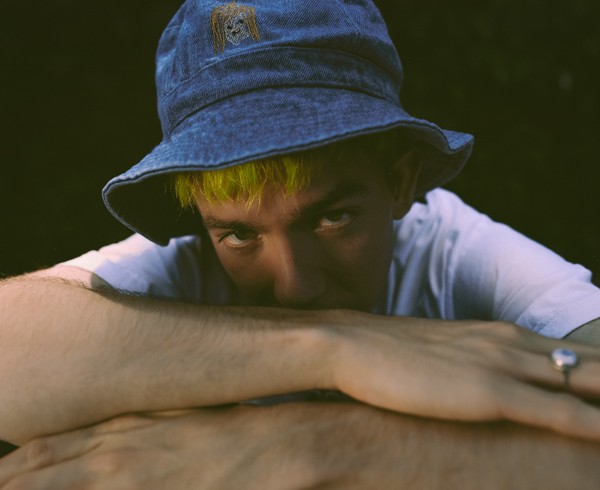 CDM: You sound really empowered towards the end of the song when you sing, "I'ma be who the fuck I want." Is that a realisation you came to recently, or have you always felt like that about your identity?
ROY: In a sense, 2018 for me was-- I felt like I had lost a lot of control in different parts of my life. In music, in business, and relationships and stuff. Near the end of 2018 / beginning of 2019 was a big turning point where I kind of regained all that control that was missing from my life, and me feeling like I wasn't really being as instinctually 'me' as possible. I feel like regaining that control and being more focused on the future and everything, really empowered me, like you said, to be like, 'This is me, I have a very, very clear view of what I am and need to never forget this.' On top of that, I just need to be as unapologetically me as possible at all times. Obviously, sometimes in the right moment, [I'd] never be 100% me; you need a filter, but what I'm saying is when I said that line ("I'ma be who the fuck I want"), it's like, 'Yeah, I'm not afraid to make the exact type of music that I want to make, or dress the way I want to dress.'
CDM: Is the conversation you have with your friends and Enya in 'BELMONT (INTRO)' something you recorded specially for the mix? Or just a random recording you happened to have?
ROY: No, it's something I recorded. I was going to have them do little radio drops, like, 'This is Enya, and you're listening to 'Graffiti',' but it didn't really work out. I also just asked them a bunch of questions, and that was the one that the response really stood out for me, and felt special in telling the story.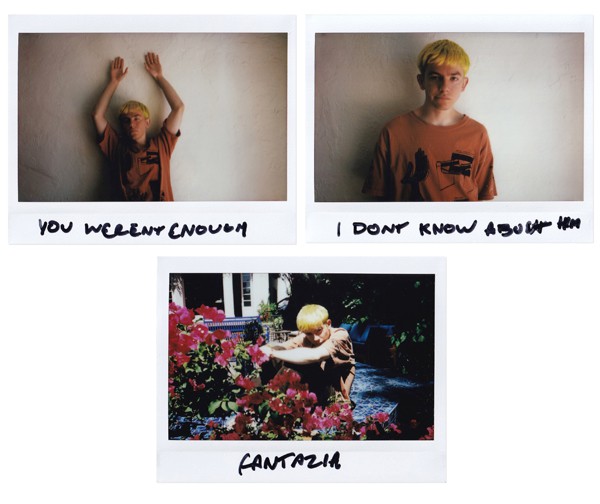 CDM: What can you tell me about Belmont?
ROY: It's this big fortress of an apartment building. It did kind of suck to live there, it wasn't the greatest experience, and I just got into a lift one day and I had no idea what the place was or the history behind it. This guy just started telling me about how it used to be this graffiti hub in LA in the late 80s and 90s, and it just blew me away. I was like, "Wow, this is crazy." They said, "Oh, some of it's still there," but it's now kind of a dog park. It's crazy! I think that was a big part of it, and it just made me go, 'Wow, I'm just living in this gentrified apartment and I had no idea that there's this beautiful story behind it.' I think that's one of the main points of the mix and me trying to tell that story; there's a story here, and let's not forget that.
CDM: Who is the person you are interviewing in 'Belmont (Outro)'? He also knew about the history of the place?
ROY: Yeah. The guy at the end, he's like a pretty important figure in graffiti culture at that time. He did graffiti there [at Belmont] a bunch of times in the late 80s and 90s. He's a really cool dude, I really enjoyed interviewing him and learning from that.
CDM: Where do you see yourself in the next five years? Do you think about the future a lot?
ROY: I sort of always know what I really want and I kind of romanticise situations in my life. Like, 'In a year from now I'll be in this building, doing this, and everything will look this way,' and I feel like it kind of always ends up not like that at all. Part of me wants to live in New York in the next couple of years, but I think after this album I won't be in LA, is what I'm trying to say. I think I'll be somewhere else. Whether that's New York, or Europe, I'm not really sure. But I don't know if I'm going to be in LA for longer than a year at this point. The next five years? I just hope that everything I put into this album and the energy that I put out into the world is reciprocated and that people resonate with it. Obviously these singles, this album, it's all a lot different from 'Cat Heaven', I think my voice is the same, and you can feel that in the music, the voice hasn't changed; the narrative, it's just sonically different. I just hope that people keep resonating with it and that the work and the passion that I have for it is reciprocated by people.
CDM: What do you think 2014 Roy would think of 2019 Roy?
ROY: I think a lot of the things that I see as problems, or make my days imperfect, he'd probably be annoyed with me. He'd be like, 'You have probably most of the things at this point that I've ever wanted,' and I think 2014 me would be like, 'Dude, enjoy it a little more than you do.'
CDM: All you need now is for Timothée Chalamet to hear your music now.
ROY: Exactly! I guess a Spotify co-sign doesn't work these days. I can't wait until the day when someone meets him and they take a video and are like, 'Hey, have you heard of Roy Blair?' It's going to be the most awkward thing. The worst thing is going to be when he has to awkwardly say he thinks I'm cool, when he's like, 'Dude, I hate his music.' Hopefully he'd like it though. I think he'll like the album.
CDM: I love the vocal experimentation in 'GRAFFITI', especially in songs like 'BACK TO YOU' and 'FANTAZIA'. Do you sometimes find it easier to sing more vulnerable lines when it's not your original voice?
ROY: Sometimes it's a lot more comfortable to sing when you can sing something that's gonna end up really high. To do that you have to basically pitch the song down, sing it in that key, and then you have to pitch your vocal up with the song back up to its normal key so that your voice is pitched up, or vice versa for pitching it down. Sometimes, for some reason, I just feel more comfortable or just enjoy how my voice sounds when it's modulated like that, it just sounds sometimes more impassioned if I sing it in a range that's super belt-y. Sometimes it just makes me more comfortable to just sing; I like hearing it more, rather than it being the words - it's more like I can maybe get the words out easier, just because I'm singing, and comfortable singing.
CDM: Real talk: '12345' is so good. I'm so sad that it's not going to have a proper release. How did you decide on the three songs that properly came out?
ROY: I think I wanted it to feel like you could listen to the three songs back to back, and so I definitely considered '12345' for a moment, but then I feel like emotionally, energy-wise, I did the same thing on 'FANTAZIA'. So I felt like I didn't want it to be three songs that felt somewhat similar, I wanted it to be three songs where it's like, you get this emotion from this, this emotion from this, and this emotion from this, and they're all different emotions. You could listen to it all over and over again; it's like a short record or something. That's what I was trying to do. So when I was thinking about releasing three songs, it had been a while, and I was like, 'What out of all the music that I've made, feels the most impressive or 'wow, this is different?'' Those were the three standouts. Or, 'What are the songs that I wouldn't give up for my album, but are also really good, or wow moments, and could be singles.' It was those three, basically.
CDM: I remember watching live videos of 'ABOVE NOT BELOW' on some of the 'Cat Heaven' live shows you were doing, and falling in love with the "I wish I had a reason to feel this way" chorus. Has it been nice to perform bits of those songs to give them a space in a live world?
ROY: Yeah, exactly. It's gonna be cool, because when I do these Europe shows I can take a lot of the songs from 'GRAFFITI', the mix version, and perform those - hopefully some people will know them. 'ABOVE NOT BELOW' was one of the early songs I made when I was trying to make music in 2018, and it was one of the only ideas I made that I was like, 'Oh, I really like this, but it's still not 100% figured out. I don't feel like it's next level.'
CDM: I love that chorus melody, it's so good.
ROY: Yeah! We totally changed the production on the mix version too, but at first it just felt too much like 'Cat Heaven', it was too band-y, and I didn't really want to do that anymore. So I was having a conflict with the song, but I'm happy it got released in some form because I felt like it was definitely a part of the story.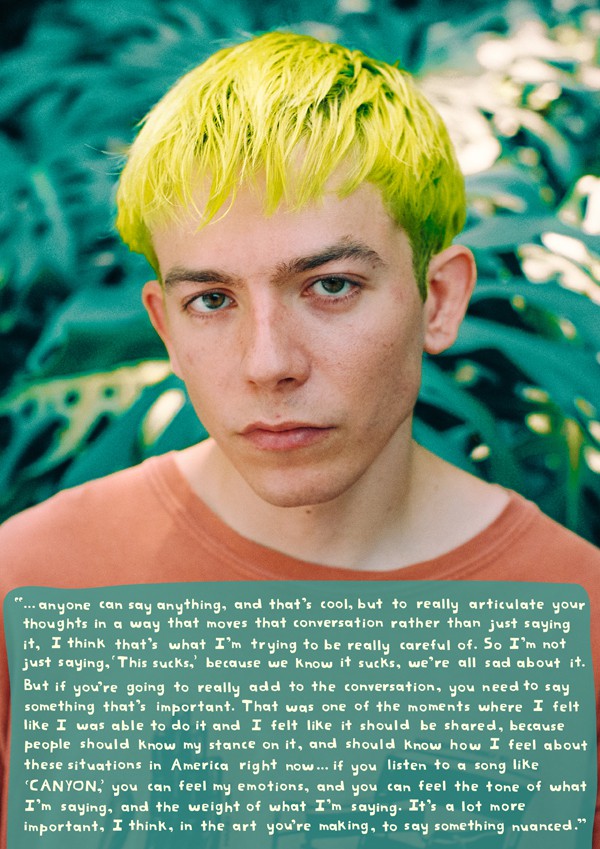 CDM: You're very honest in 'CANYON' with your criticism of Donald Trump's presidency and racial segregation, and worries of meeting the same fate as Mac Miller. Is it therapeutic for you to get your thoughts out in song-form like this?
ROY: Definitely. It's a very political song, and I've never really made political music before. I want to keep doing it… anyone can say anything, and that's cool, but to really articulate your thoughts in a way that moves that conversation rather than just saying it, I think that's what I'm trying to be really careful of. So I'm not just saying, 'This sucks,' because we know it sucks, we're all sad about it. But if you're going to really add to the conversation, you need to say something that's important. That was one of the moments where I felt like I was able to do it and I felt like it should be shared, because people should know my stance on it, and should know how I feel about these situations in America right now.
CDM: Do you find it easier to voice your opinions in song-form than in regular conversation/online?
ROY: Yeah, because if I go on Twitter and say 'Call Me By Your Name', I get called a paedophile supporter.
CDM: That's Twitter for you.
ROY: Exactly, but that just feels like the world now. Even though it's so small, and no one actually gives a shit about things like that; it's a movie, but when someone says something like that, it feels so much bigger than it actually is, like high school or something. So I feel like in my music, it's a lot more real-world than me saying something on Twitter. And sometimes I do say things on Twitter, but sometimes I just feel like it's so easy to misconstrue something or twist someone's words on social media, that I don't like speaking too passionately about things because I feel like things get twisted.
CDM: It's hard to convey tone.
ROY: It's really hard. But if you listen to a song like 'CANYON', you can feel my emotions, and you can feel the tone of what I'm saying, and the weight of what I'm saying. It's a lot more important, I think, in the art you're making, to say something nuanced.
CDM: I love the lyric in 'HONDURAS' when you sing at the end of the verse, "Feelings I never owned." What was running through your mind writing that line?
ROY: I think what that line means is feelings I never owned up to, like feelings I never shared or admitted to, and therefore grew past those feelings. Sometimes emotions and feelings can kind of trap you and you can't progress past them, so I think when I wrote that I was thinking about things I don't share that would help me and some other person by sharing.
CDM: You sing about reading people a few times. On 'ABOVE NOT BELOW' you sing, "I could read you / Like a Digest," and then in 'YOU WEREN'T ENOUGH' you say, "It's difficult to keep going when I can't read you like 35 film." Why do you think reading people is something that pops up in your songwriting a lot?
ROY: That's interesting. It's funny, I didn't even connect that I basically said that twice. I'm the most transparent person I know, I'm an open book, so if someone is having a conversation with me, you're not playing chess with me when you're talking to me, ever, I feel like that's one of the biggest characteristics of Roy Blair. There's not a persona, I'm not this made-up thing, this is just me existing. I'm not afraid to share that at any point, there's no veil. But sometimes people can be very not-showing, not emotional, not transparent, and sometimes it's difficult to communicate with someone and to really work through things when they're so shut off and they're so non-communicative because they're afraid of a conversation, or confrontation. I think reading people is how you communicate with people.
CDM: Growing up, have you always been that transparent and open with people?
ROY: <laughs> Yeah, it's bad.
CDM: I think it's good though, not enough people are like that!
ROY: Yeah, it's good and bad. I think the reason that so many people are so closed off is because they've gotten hurt, and they've been in situations where being open has hurt them, so they're not as open any more. I'm just an unafraid person in a lot of ways, I just throw it all out there - especially in music, just because I feel like that's how you make the best music. So I've always been like that, and I wouldn't say that it's always benefited me, but it just feels really right, and I feel very me whenever I'm having a conversation and it's all transparency. I'm not going to sell you on anything fake, it's just going to be me.
CDM: That's why I always like interviewing you!
ROY: I like your interviewing! You actually ask a question about the lyrics. Most of the time it's like, 'So, where'd you grow up?' You guys always try and that's why I appreciate you guys.
CDM: For us and our readers, lyrics are the most important part of music!
ROY: Me too! That takes a song from good to great. Not to be like, 'This generation,' but for some reason, my generation has the toughest time with our words. Maybe because it's so easy for someone else to say what we're thinking, by going on Twitter and being like, 'That tweet is relatable,' or like, 'That meme is me.' Memes and tweets are so deep these days, people are like, 'Wow, they said it. That's pretty accurate to how I feel.' So I feel like for some reason, I hold a big weight and importance in lyrics in music, because when I hear an incredible line in music it inspires me in life and in making new music. I'm most inspired as a writer and as a musician, not when I hear, 'Oh, this is a great album because the drums are good.' I mean, that's great, but the thing that really inspires me in the records that I really hold close, are the ones where not only it transcends the quality with the production, but on the top of that the real 10/10s is when the artist has something to say which is really tangible, past just 'I'm sad' or 'I'm happy', or 'I'm in love'. It's when their view on the world is different from anyone else, but at the same time, you can totally understand and empathise with where they're coming from in their situations. Those are the real 'wow' moments for me when I'm listening to music; when the lyrics really affect me profoundly.
CDM: 'YOU WEREN'T ENOUGH' is my favourite song from the entire mixtape. I think one of the hardest lines to listen to is, "My kind of self harm is laying down and wondering why I don't feel a thing in my heart." Was that a hard line for you to write?
ROY: No, it actually came really easy. Sometimes I feel like it's that simple sometimes. It's like a certain feeling, like heavy; there's weight on you, and sometimes it's just as simple as letting it out. I think when things get difficult and personal for me is when-- I remember playing 'September' for a friend right before 'Cat Heaven' was going to come out, and I got uncomfortable, I wouldn't look at them when it was playing. I would say 'YOU WEREN'T ENOUGH' is somewhat of a moment like that. Sometimes there are certain lines that I say that really do make me-- I don't know if I can look someone in the eyes if I played this for someone. I might just get anxious if I'm in a room with someone and we're listening to the song at the same time. But I think that's important!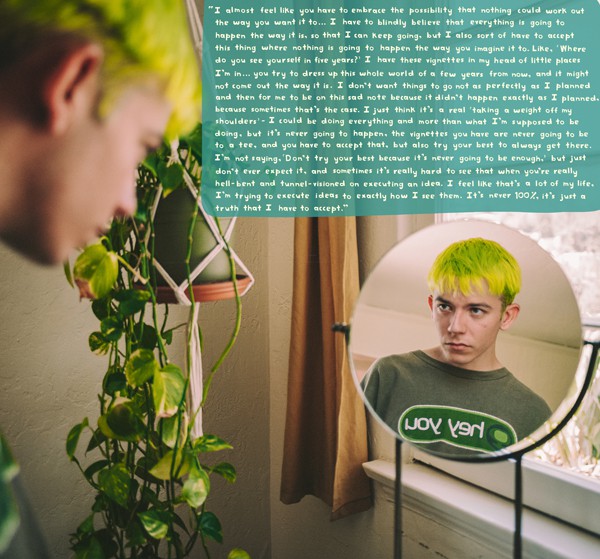 CDM: I also love the line in 'YOU WEREN'T ENOUGH' when you say, "You can try as hard as you can but it's still not enough." It's weird because as kids we're taught that if you work hard enough good things will happen, but I feel like that line is a realisation that that isn't the case?
ROY: I almost feel like you have to embrace the possibility that nothing could work out the way you want it to, for you to sort of… I have to blindly believe that everything is going to happen the way it is, so that I can keep going, but I also sort of have to accept this thing, where nothing is going to happen the way you imagine it to. Like, how you were saying, "Where do you see yourself in five years?" I have these vignettes in my head of little places I'm in, in a few years, how it looks, and I dress it all up in my head so I'm wearing this, and there's synths in the room, and I'm in London or something. You try to dress up this whole world of a few years from now, and it might not come out the way it is. I don't want things to go not as perfectly as I planned, and then for me to be on this sad note because it didn't happen exactly as I planned, because sometimes that's the case. I just think it's a real 'taking a weight off my shoulders'... I could be doing everything and more than what I'm supposed to be doing, but it's never going to happen, the vignettes you have are never going to be to a tee, and you have to accept that, but also try your best to always get there. I'm not saying, 'Don't try your best because it's never going to be enough,' but just don't ever expect it and sometimes it's really hard to see that when you're really hell-bent and tunnel-visioned on executing an idea. I feel like that's a lot of my life, I'm trying to execute ideas to exactly how I see them. It's never 100%, it's just a truth that I have to accept.
CDM: Are you still happily unsigned at the moment?
ROY: I am independent! I'm figuring it out right now; I know I need some sort of budget. I'm trying to make the best decision and that decision might be staying independent, or it might be moving forward. I'm not sure yet.
CDM: How do you feel looking back on 'Cat Heaven' now, nearly two years since its release? It's crazy that so many people are just now discovering that album, and it still means so much to so many people.
ROY: I feel really good. I know the blood, sweat, and tears that went into making that album and I think it's a bar that I set for my career that I'm really happy with. I think it's a great record still. Obviously you look back and think, 'Oh, that wasn't that good,' but I can look at that in sort of a hindsight way; of course I'm going to be better in two years. All I know it that there was a certain consistency bar that I had set for myself, and I met that bar, and it really changed my life in so many amazing ways. I just want to keep setting that bar for myself.
CDM: How is work on your next album going at the moment? Does it feel different to 'GRAFFITI' in terms of the Roy Blair sound?
ROY: I wouldn't say it's a step forward from 'GRAFFITI', I would say it exists fairly in the same world. I would just say it's more narrative-based if anything. It's more what's happened over the past two years, and how do you fit that into fifty minutes of music? How do you make sure that every sentence and every song says something compelling and tells a story that should be shared? It's me trying to figure that out every step of the way. That was a real struggle with 'Cat Heaven', but it's always going to be a struggle.
CDM: Is it called 'Chasing Moving Trains'?
ROY: Right now that's the name. It might change. That's one of the song names, and I just thought when I wrote it that the idea of chasing a moving train is oddly fitting.
CDM: What was your experience like of opening for The 1975?
ROY: It was amazing. It was a learning curve, for sure, because I'd never performed to more than 500/600 people. Going from that to an arena, it was so many people. Matty [Healy] and The 1975 were very welcoming, he wished me good luck before the show. Their fans care so much, so they were very welcoming and loving. If I said, "Yo, will you sing this back at me?", they did it, and it was really sweet. It meant a lot.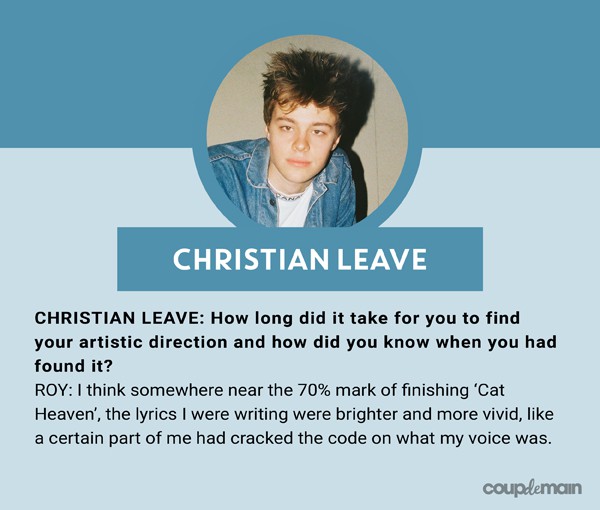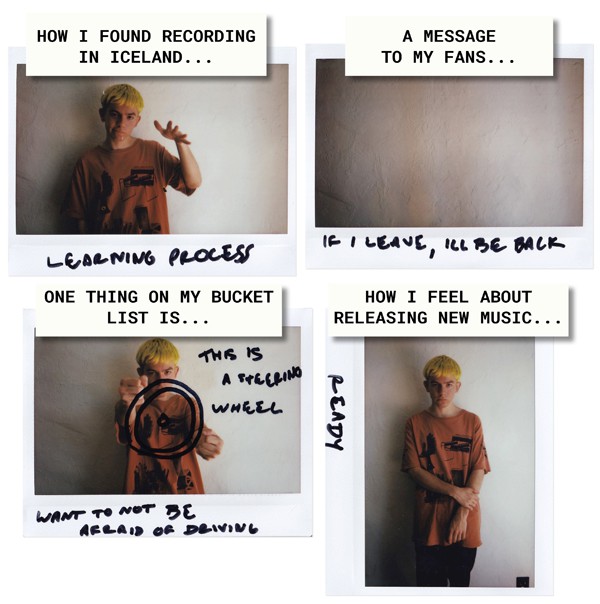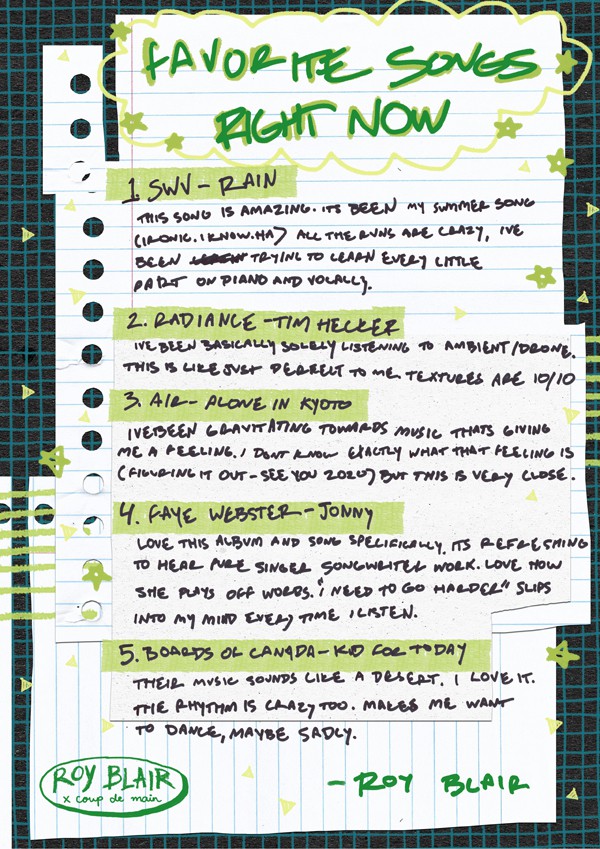 Roy Blair's 'GRAFFITI' EP is out now - click here to purchase, or listen to it below…