Interview: Introducing Olivia O'Brien.
Interview: Introducing Olivia O'Brien.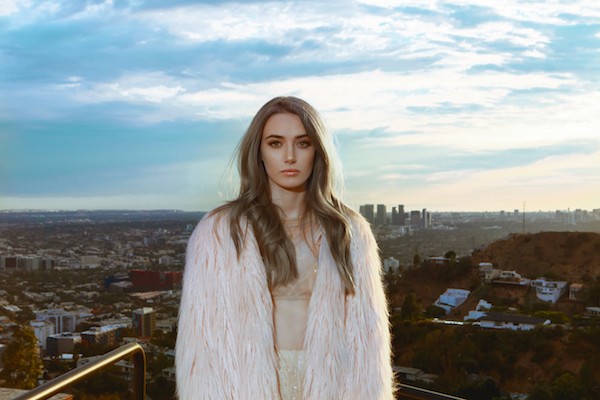 You'll know 17-year-old Olivia O'Brien best from her duet with gnash, 'i hate u, i love u', which has attracted over 510 million Spotify plays since its release last year. Now signed to Island Records, O'Brien has released a handful of her own songs, which include the Blackbear-featuring 'Root Beer Float', as well as her latest single, 'Empty'.
Coup De Main talked to Olivia O'Brien about her songwriting-process, collaborating with Blackbear, and what to expect from her next...
...love and hate are so close. If you love someone and they do something messed up to you, you pretty much hate them. It's like a dislike that is so strong just because it's a huge betrayal.
COUP DE MAIN: What age did you decide to start teaching yourself guitar and piano?
OLIVIA O'BRIEN: I took family guitar lessons when I was about seven, and I think I took one or two piano lessons, but I quit for a little bit after that. I just didn't like having to go and having someone tell me what to do I guess. <laughs> So I took a break for a while and then I started again teaching myself like on YouTube when I was in probably fifth grade or sixth grade.
CDM: Is there an instrument you prefer over the other or do you like them both equally?
OLIVIA: I definitely like piano more, just because I feel like I can do more on it. It's easier to do more complicated things on piano than it is on guitar, also I feel like you have to have bigger hands for guitar and you build calluses on your fingers. It's a little bit more of a complicated instrument in my opinion.
CDM: Do you tend to do your songwriting more on the piano then?
OLIVIA: Yeah, definitely!
CDM: How does your songwriting process work?
OLIVIA: It depends. Sometimes I write in the session with a producer in a studio, and sometimes an idea will come to you when I'm at home and I'll just kind of be sitting in my room playing chords on piano and writing it in my iPhone notes. I guess it varies a lot, there's not really a particular process.
CDM: Do you write your lyrics specifically for the songs, or do you write poems or prose and then evolve them into song-form?
OLIVIA: Honestly, I kind of do both. Mostly, I'll write specifically for songs, but actually like last night I wrote a poem that I'm probably going to turn into a song. It is just kind of whatever I'm feeling I guess.
CDM: What was the poem about?
OLIVIA: It was just about like, heartbreak - [the] classic with all my stuff. <laughs>
CDM: At what age did you write your very first song ever, and what was it about?
OLIVIA: I think I was six or seven. I found a bunch of old songbooks from when I was in first grade and it's all about just like having crushes and stuff. They're horrible, like absolutely horrible, but I was doing it!
CDM: What do you hope for people to take away from listening to your music?
OLIVIA: I hope that people can relate to it - feel the words. I hope it can help them realise that they're not alone in the way that they feel.
CDM: 'Trust Issues' is really super empowering, especially the lyrics: "A good girl is better than millions of bitches / But one bitch can leave you with millions of stitches." What was running through your mind when you wrote those lines?
OLIVIA: Actually, the first verse of 'Trust Issues' started off as a freestyle. I used the Kanye [West] line, "One good girl is worth a thousand bitches," and then I had to change it because I can't use a Kanye line in the song. But it started from that and I just kind of went with it. I guess it was just what was on my mind. I do have a lot of trust issues when it comes to relationships, just because I've seen a lot of my friends be cheated on and go through stuff that is absolutely awful. I think a lot of girls my age can relate to that.
CDM: In your new single 'Empty' you sing, "I just need to put myself first," which is such an important life lesson. Do you think that there's a tendency for people to value other people's happiness at the expense of their own?
OLIVIA: Yeah, I mean I definitely do that! I'm always afraid to say no, I'm always afraid to ask for things that I want, so I think it is definitely something that I personally need to work on and I'm sure a lot of other people feel the same way.
CDM: The lyrics, "I'm empty inside," ring very true of 21st Century consumerist culture. When society has conditioned everyone from birth to gain satisfaction from 'more is more' and material ideals, do you think that true happiness is achievable?
OLIVIA: That's a really, really hard question. I'm someone who spends a lot of time just kind of thinking about life and weird concepts-- I think it's definitely possible, but I don't think that material things... I honestly don't think material things really affect your happiness at all, unless you are actually very, very, very poor, or you're extremely rich and you just have too much stuff. If you're getting by, that's all you really need, and once you're there, it's more about spiritual happiness rather than 'I need more clothes' or 'I need this and that'.
CDM: I noticed that Nick Ruth is credited as a producer on 'Empty' but couldn't find online any mention of other co-writers which is very intriguing - you see female artists like Taylor Swift and Adele accepting their Grammy awards and they're surrounded by an army of men on-stage who helped create their albums. It's so cool to see you out there doing it for yourself!
OLIVIA: Yeah, I like to write by myself mostly! I wrote 'Empty' mostly by myself - Nick produced and was in there, he gave me some tips on little word changes and stuff, but it was pretty much all me, lyrically. Then 'Trust Issues', I wrote 100% all by myself. 'Find What You're Looking For', the same. I just prefer it - I feel like it can be more authentic and organic if it's coming straight from my mind, but I do definitely benefit from writing with people. One of my best friends, Drew, I started bringing him to every session I go to because he's an amazing writer and he just gets me. If the person is on my same wavelength and they understand where I'm coming from, it can be really, really great, but it's hard to find those people.
CDM: Is that your dog Dexter in the 'Empty' video?
OLIVIA: Yeah! <laughs> He's actually sitting on me right now.
CDM: He's so cute! How long have you had him?
OLIVIA: I've had him for like, I think four months. He's only six months old, so he's a little baby. I like, just got him in the video.
CDM: What was it like working with Blackbear on 'Root Beer Float'?
OLIVIA: He's so funny! I've been a huge fan of him forever, he's pretty much the reason that I'm in music. If I wasn't a Blackbear fan, I wouldn't have found Gnash. It was a great experience and now I'm friends with him so it's like not as cool, but when I think back to when I met him, I was like, 'Wow my dreams are coming true, this is really amazing to work with him!' He's just so great and talented. He's hilarious. I remember he Postmated us food and he got me a peanut-butter and jelly sandwich and chocolate milk because I'm like a child, because I'm young, he was making jokes about me being a kid, but it was funny!
CDM: The line, "No Macklemore, no Ryan Lewis (no thanks)," is very relatable! I think that's my favourite thing about your lyric-writing, you're so good at converting universal feelings into lyrics.
OLIVIA: <laughs> Blackbear wrote that part, I thought that was so funny. I wrote the first verse and then we were just messing around and I said something about a root beer float and he was like, 'That's good, let's make that the hook!' I was like, 'Okay!' Then he left and came back, 'I have a second verse!' I was like, 'Okay, cool, great, easy.' He's just so talented!
CDM: What do you think is the difference between a good song and a great song?
OLIVIA: I think good songs are sort of surface level, they don't really touch on important topics, it's more like really easy to grasp concepts that anyone can understand in any country, in any part of a country, any age, just basically simplicity with a dance-beat. It's basically just anything distracting you from real meaning. I think a great song is something that makes you-- when you listen to it, you automatically just feel a certain way, and it has meaning, important lyrics, and talks about real stuff and it's great.
CDM: I know you're a big fan of Kehlani. Is there anyone else that you really love at the moment?
OLIVIA: Yeah actually, one of Kehlani's opening acts on tour her name is Ella Mai, and she is incredible. I actually saw her at Kehlani's tour, I went to the New York show and Ella opened up for her and she was just amazing. I was blown away, her songs are great, her lyrics are amazing, I'm obsessed with her. I've been listening to her non-stop since I got back.
CDM: If you were a country, which song would be your national anthem?
OLIVIA: That's a really hard question. I mean, obviously, 'Party In The U.S.A.' by Miley Cyrus! I think that should be the United States' anthem, I don't know why it isn't.
CDM: What do you think is the strongest human emotion?
OLIVIA: I think love and hate are so close. If you love someone and they do something messed up to you, you pretty much hate them. It's like a dislike that is so strong just because it's a huge betrayal. I think those are definitely the strongest feelings, love and hate.
CDM: When can we expect to hear an album from you?
OLIVIA: I want to release an album as soon as possible, but there is a lot of work to be done. I have all the songs; all the songs are done. I just need to do some fine-tuning and some production fixes, vocals, and all that. So hopefully when everything is ready it'll be done by like Summer I'm hoping. No promises, but that's my goal, I'm hoping Summer.
CDM: When the record is out, you have to come visit us in New Zealand!
OLIVIA: Oh my gosh, yes. That is a long flight though.
CDM: What's on your bucket-list?
OLIVIA: I don't have a bucket-list, but I definitely do want to travel a lot. I want to go to like... I don't even know if it's possible to go to every single country, but it would pretty sick to go to every single country in the world. I mostly just want to kind of explore and see what happens - see where life takes me.
CDM: Well hopefully the Olivia O'Brien World Tour 2017/2018 will take you to every country and you will kill two birds with one stone!
OLIVIA: Yes, perfect!
Olivia O'Brien's single 'Empty' is out now - click here to purchase.
Watch the 'Empty' music video below...
Load next