Review: Lorde - Outer Fields, March 2023.
Review: Lorde - Outer Fields, March 2023.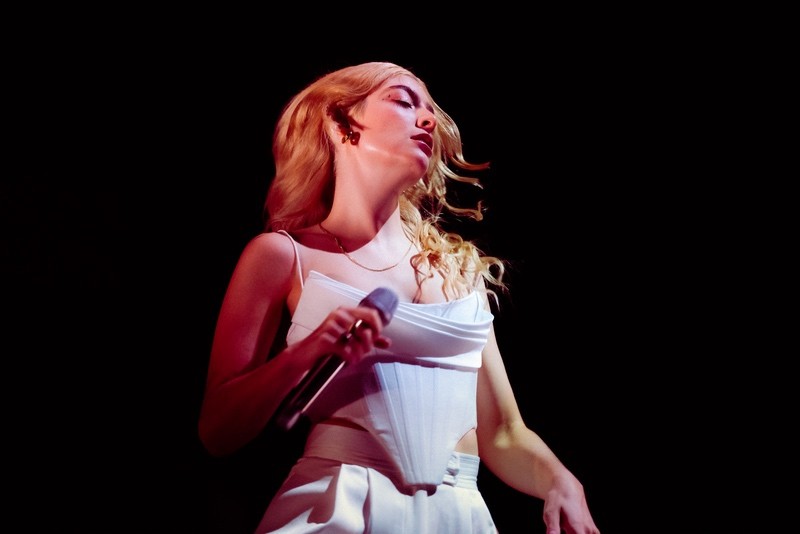 "Welcome to The Solar Power Tour at last," declares Lorde (birth name: Ella Yelich O'Connor), enthusiastically greeting her fellow Aucklanders tonight for a special hometown experience that was originally scheduled for the Summer of 2022. "I'm so fucking happy to finally be here with you, thank you so much for rolling with what's been a crazy couple of years," New Zealand's greatest export continues, relieved that the stars have finally aligned for her to be able to perform her latest album to fans, friends, and family alike. "This is the show I think the most about on the world tour; this is the one. There's something about playing in a field down the road from your house that is so special to me."
And special it was: from Marlon Williams joining her onstage for the te reo Māori version of 'Stoned At The Nail Salon', to a setlist that included a few more back catalogue treats than the tour's norm, four different costume changes, and a brightly shining moon in the night-sky to juxtapose the colossal (and interactive) sundial set up on-stage. Thanking fans for wanting to spend their Saturday evening with her after the year's first sunny day in recent times: Yelich O'Connor issued a heartfelt invitation: "I know you have some pent-up summer frustration - you can let it out tonight. I'm very excited to sing and dance and feel all the feelings I wanna feel." Tonight, 'Buzzcut Season' felt specifically timely and exhilarating.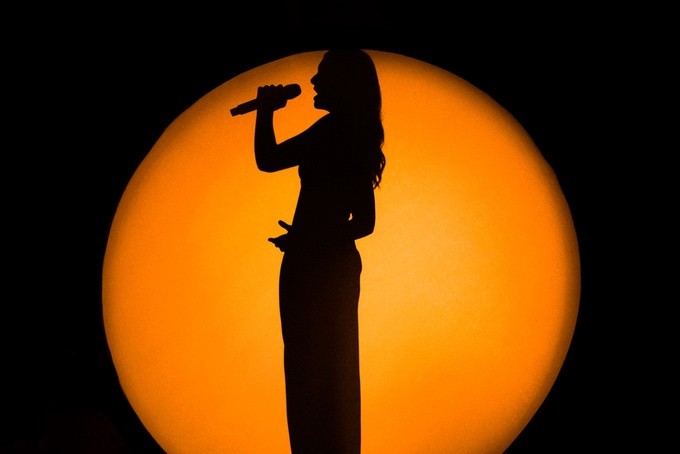 Witnessing a Lorde show is equal parts: striving for out-of-body exultation, reliving your teenage melodrama ("I wrote this song down the road from here when I was 15, now I'm 26 and I'm still scared of growing up, but not the way that I was when I was 15. Shall we dance for our 15-year-old selves tonight?" she introduces 'Ribs' with, and the "you're the only friend I need" lyric specially resonating), and a spritz of personal growth to help you find your way back down to earth again afterwards. Yelich O'Connor leads the crowd in a workout of emotive musical punching - like she's trying to dance her feelings brighter and brighter into lucidity. Where her previous tours boasted a flair for the dramatic, The Solar Power Tour presents a more stately ambience, reminiscent of David Byrne's 'American Utopia' production with the wireless band freely moving around the stage and all sporting uniform suits.
But what's a Lorde show without emotionally specific mood lighting? Tonight was no exception, giving off the vibe of a Nicolas Winding Refn film.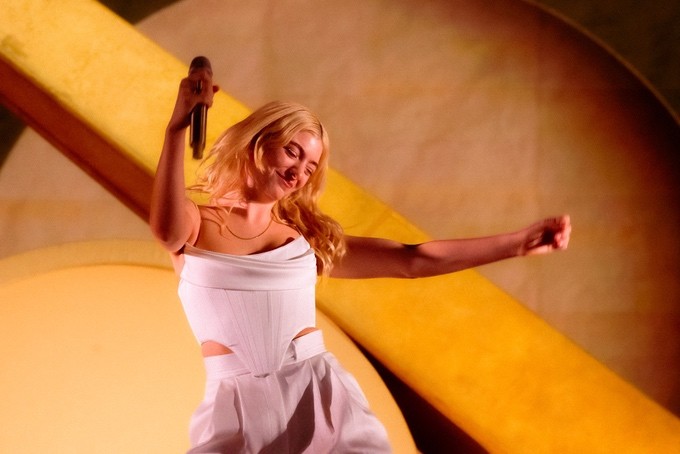 Once a teen witch; always a believer. Yelich O'Connor leads into 'The Louvre' with some seasonal spell-casting: "I have been completely obsessed with summer my entire life - it's the time I feel most like myself and feel most alive, and this is a song about a summer crush. There is something about the way that crushes seem to happen in summer: you've been wearing coats for so long, your lips are chapped and all of a sudden the layers come off and you show some skin. Something about that is a very productive environment for crushes to form. I'm such a freak for love. I love falling in love and it's the most special feeling there is. And although a crush is not love, a really good one you know is gonna lead there. So if you have a crush right now, make this your magic spell, they're gonna reciprocate if we do this right!"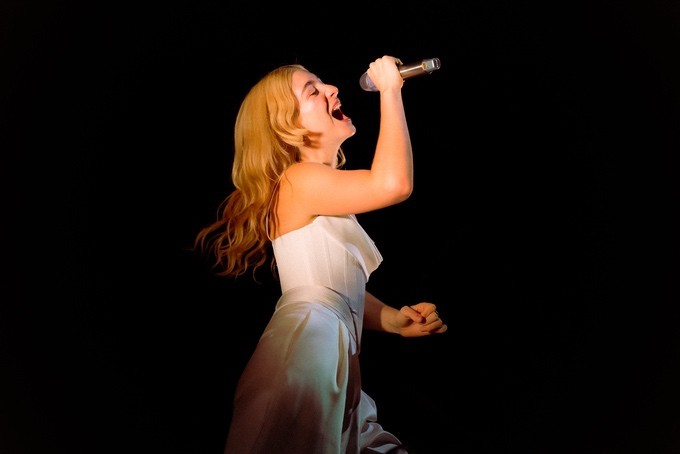 One of the night's biggest singalongs manifested in the tender 'Liability', about which she explained of her younger self: "'Liability' is about loneliness from a feeling that she was so sure that no one could ever really love her for who she is - 'cuz I am a freak... If you're here, chances are you're a freak also, but the older I get the more I sink into my freak-like qualities. I think it's cool to be a huge maniac, but at 19 I wasn't sure, and thought I'd need to fix this and sort it out - and then someone will see it and get it and believe in it. But if I learnt anything, if I have one tiny piece of information for you, it's that you do not need to do that - be a huge freak, lean into it and blossom!" Magically, the song ended with the night's moon on-screen as she sung the closing lines: "They're all gonna watch me disappear into the sun."
On the other end of the emotional spectrum: 'Supercut' (a perfect song, FYI), 'Green Light', and 'Team' (which was written about Auckland) soundtracked gargantuan moments of pure euphoria.
As Lorde said herself with the night drawing to a close: "I truly believe that we live in such fucked up and confusing times that all the little joys really need to be celebrated."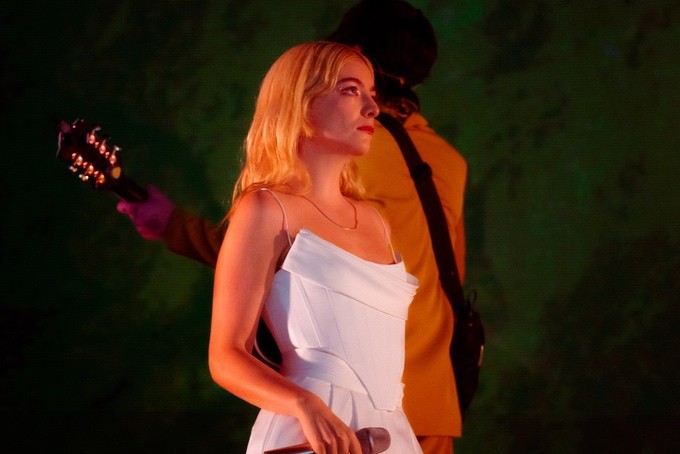 Set List:
Leader Of A New Regime
Homemade Dynamite
Buzzcut Season
Mata Kohore / Stoned At The Nail Salon [with Marlon Williams]
Fallen Fruit
The Path
California
Ribs
The Louvre
Big Star
Liability
Maybe Tomorrow [Goldenhorse cover]
Secrets From A Girl (Who's Seen It All)
Tennis Court
Mood Ring
Sober
Supercut
Perfect Places
Solar Power
Green Light
Hine-i-te-Awatea / Oceanic Feeling
Encore:
Royals
Team
Load next