Review: Justin Bieber - Mt. Smart Stadium, March 2017.
Review: Justin Bieber - Mt. Smart Stadium, March 2017.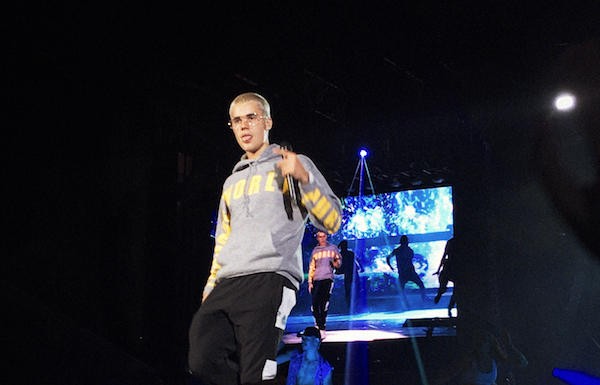 Justin Bieber is trapped in a prison of your making, and he wants you to know it. Suspended in a glass box against a backdrop of Greek sculptures and statues, Bieber opens his Purpose World Tour exhibiting himself like a tourist-attraction on display in a museum, doodling on the transparent walls of his cell a heart and "I love you" as he sings "I don't wanna live a lie" from 'Purpose' album-track 'Mark My Words'. He's hardly a master of subtlety, but after police were required to form a barricade at a Sydney restaurant earlier this week just so Bieber could have a metre's distance from being mobbed by fans while trying to eat his lunch, can you blame him?
Fans start to storm the aisles of the allocated-seating floor area of Mt Smart Stadium during 'Get Used To It', and by the fourth song 'I'll Show You', a world-weary Bieber paces to and fro in a cage at the end of his staging's catwalk, whilst female fans overwhelm security guards and shove their way (and phone-cameras) into a closer proximity to their beloved. Bieber sings, "My life is a movie and everyone's watching," as I narrowly avoid being hit in the head by a girl with 'Bieber' face-painted onto her cheek, and "don't forget that I'm human, don't forget that I'm real" while the zealot in front of me shrieks ecstatic proclamations of love at Bieber's indifferent silhouette. Is Bieber exposing himself tonight or his fans? It's muddy self-referential water that he treads, as Bieber and an on-screen Halsey speculate in 'The Feeling' ironically, "Am I in love with you? Or am I in love with the feeling?"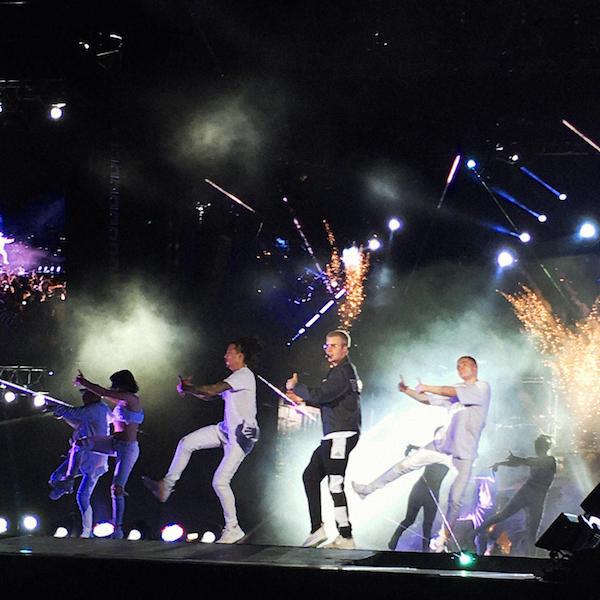 At one point, a Mother tries to clear a path for her young daughter to escape what should have been a safe space (that she paid top dollar for) - shout-out to the world's worst venue security ever - but the uncaring horde will not make way. And during 'Life Is Worth Living' a young couple fight their way out of the front row, terrified and yelling, "Nightmare of the century! This was a huge mistake!" We're trapped in a scrum that security guards have long ago forsaken, a.k.a. front-row catwalk seating.
As an art-installation showcasing the emotional detachment of celebrities from the incredibly lonely pedestal that their fans/stans have imposed upon them, this tour is somewhat underrated genius. From the Hillsong-esque voiceover intro, "Where is my soul in this?", to looking out into the crowd sadly during an acoustic rendition of 'Love Yourself', and knowingly grabbing his crotch every minute for half-hearted dramatic effect, Bieber is playing the entire sold-out stadium audience and they earnestly lap it all up. During 'No Pressure', Bieber repeatedly takes his glasses on and off orchestrating tidal-waves of caterwauling with every readjustment of his spectacles, and somehow, this is the most Justin-Bieber-thing that could happen in a whole entire night full of Justin-Bieber-things. He takes his glasses off; girls scream. He puts his glasses back on; girls scream.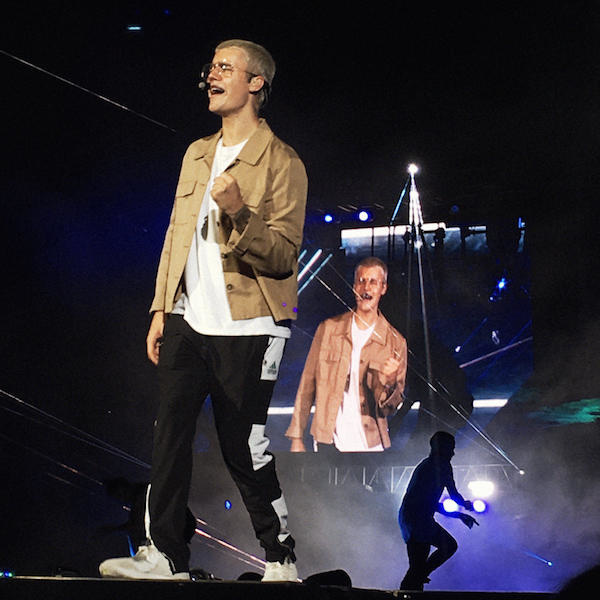 As a show, the Purpose World Tour showcases Bieber ticking all the boxes. He plays a full 22-song set over the course of two hours, has dancers aplenty, a brilliant live backing-band, four outerwear changes, is pyrotechnics-generous, drums solo during 'As Long As You Love Me', bestows life-advice ("Take care; drive home safely; I love you"), invited local kids to dance on-stage during 'Children', and grants New Zealand an exclusive cover of Lifehouse's song 'You And Me' - which is an endearing (and wistful) throwback to the Biebs' young 'kidrahul' days. Heck, Bieber is even three minutes early on-stage. Even if his heart isn't really in it, Bieber forks out anyway for a grand production, with the most expensive lazers that money can buy and an impressive stage set-up which transports the audience to an industrial skatepark rave during hits such as 'Where Are Ü Now' and 'Boyfriend'.
"I wanna say thank you for helping me live my purpose, you guys are incredible so thank you," says Bieber as he sits stationary on the catwalk with his arms clasped around his knees. And with the night drawing to a pre-encore close, Bieber piously performs the title-track off his latest album, 'Purpose', thanking God for blessing him with "the best gift" and asking him to "forgive me for my sins". Behind me, a girl affectionately cries out, "Now I'm going to kill myself." Her friend immediately says, "Please don't." It's a very bizarre contradictory juxtaposition of two very different kinds of love to witness at a popstar's show, but that's just Justin Bieber in this newfangled apology-era.
All the while, Bieber croons, "Sending out a farewell to my friends for inner peace," and I swear he looks me in the eye much cheered up, as if to reassure both of us that we get to go home soon. There's an encore of 'Sorry', more fireworks, and then some final parting words of wisdom, "Don't be afraid to be yourselves." Who is Bieber speaking to? Himself? His fans? Only god knows, I suspect.
Load next