Interview: Mini Mansions - the band/gang/mystery.
Interview: Mini Mansions - the band/gang/mystery.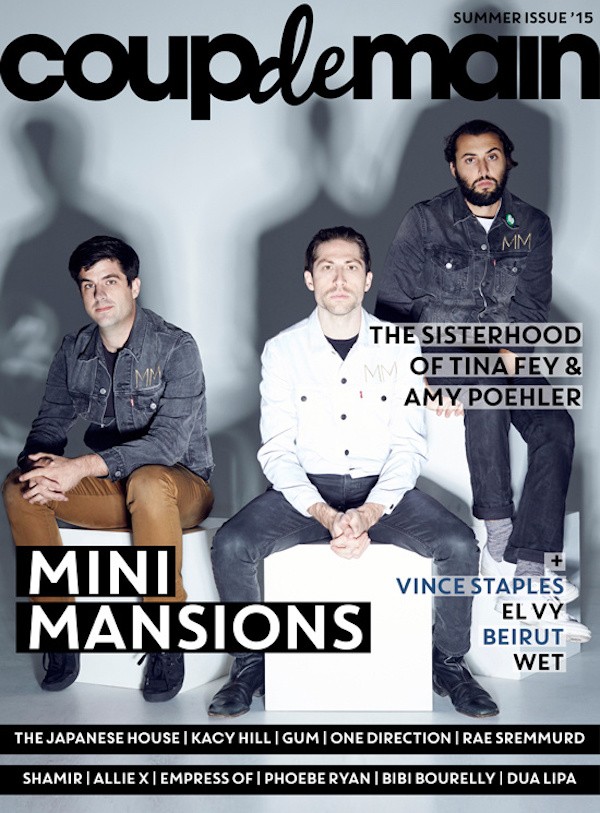 Area 51. The Bermuda Triangle. Sasquatch. The lost city of Atlantis... Stonehenge. Some things are just unfathomable mysteries. And in a year of extraordinarily average album roll-outs - Adele excluded, of course - the modern world's biggest and most baffling mystery of all, is why Mini Mansions' perfectly masterminded album, 'The Great Pretenders', isn't universally beloved, celebrated and critically acclaimed.
With an accompanying series of fourteen music videos, a billboard-advertised hotline - Americans, call 1-888-618-0621 for a "good time" - customised denim MM gang jackets (as worn by the band themselves, Tame Impala's Dominic Simper, Arctic Monkeys frontman Alex Turner, and also available for fans to purchase), their own limited-edition vintage of Sauvignon Blanc wine called 'The Grape Pretenders' (get it?!), Mini Mansions lego sets, and a cameo in Funny Or Die's 'The First Gay Sportscaster: Super Bowl Edition' skit, there was absolutely no-one working harder than Mini Mansions this year. It's the truest of all true facts I know, that 2015 should have been a victory lap for the band who relentlessly clocked mega miles on the road with Royal Blood and Tame Impala, all the while, walking out on-stage in sharply styled suits to the tune of The Platters' 1955 doo-wop classic, 'The Great Pretender'. The injustice of it all is maddening.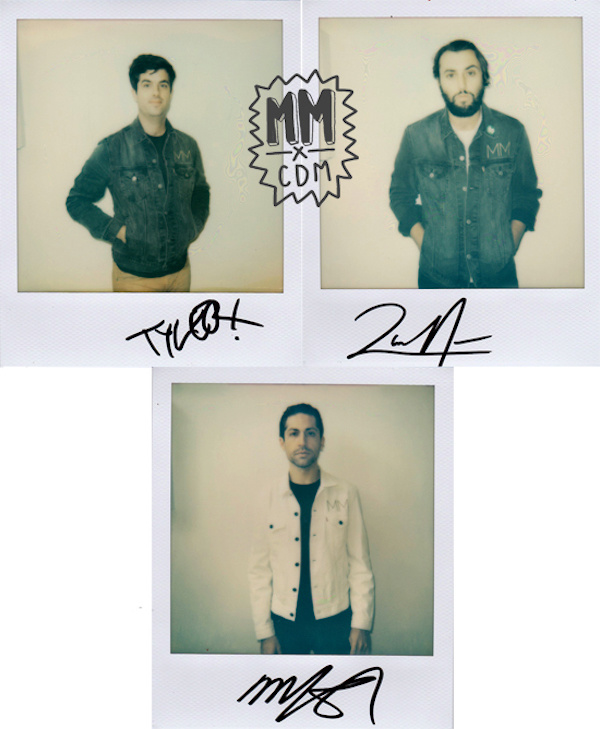 Back in November 2010, the Los Angeles three-piece - comprised of MICHAEL SHUMAN, TYLER PARKFORD and ZACH DAWES - released their debut self-titled album (a joint venture between Mike Patton's Ipecac Recordings and Josh Homme's Rekords Rekords) to a niche, but cult following. And if there's one thing that can be agreed upon by anyone that's heard a Mini Mansions song, ever - it's that they sound like no other. Consequence Of Sound called their debut a "maddeningly intriguing and complex debut album" - and quite accurately so, with songs featuring one-liners like "paper mache manawar-lords of course," and "monkey vampires, mini shampoos, paranormal peaches hanging over you." Josh Homme has described their sound as "genuinely psychedelic with huge hooks... After listening to Mini Mansions just once, you won't be able to get it out of your head." And although undoubtedly biased - Shuman does play bass in Queens Of The Stone Age after all - Homme is not wrong.
After touring Europe with Foster The People, the band teased fans with previously unreleased cuts from the 2012 '...BESIDES...' EP, but then went rather quiet - aside from the occasional North American show, their Facebook being hacked, and collectively collaborating with Kimbra on 'Carolina' from her 'The Golden Echo' album - until striking up an alliance with the Arctic Monkeys and embarking on their first five dates together in May of 2013.
Aside from some sassy tweets ("The 90s were cool because music videos peaked, people bought records and nobody tweeted," and, "Stop masking your bad band with a synth orchestra"), with Shuman being away on tour with Queens Of The Stone Age, nothing notable happened until a fateful Thursday in Oakland, California, on September 26th. Whilst on another resumed jaunt opening for the Arctic Monkeys, Mini Mansions v2.0 debuted their new debonair work attire - a.k.a. 'uniform', to quote Shuman - boasting dapper, tailored suits for the very first time on-stage.
With their coordinated suits officially ushering in 'The Great Pretenders' album era (and becoming their live trademark), the actual heralding of a new album, was delivered online last year via a fan-filmed video uploaded to YouTube of Alex Turner joining Mini Mansions on-stage at the Arctic Monkeys' Red Rocks show on September 4th for the live debut - and reveal - of 'Vertigo'. And as has become sort of typical for the band, who are semi-reserved with their online presence and shy away from oversharing - or sometimes, any sharing at all - actual details of the new album and Alex Turner feature were propagated most enthusiastically via rampant Tumblr speculation, and most notably, Arctic Monkeys fan-sites.
As noted by the band's official press kit, 'The Great Pretenders' is the only album you'll hear this year that features guest-vocals from both Alex Turner and Beach Boys legend, Brian Wilson. But more importantly, it's also the only album you'll hear this year that will make you simultaneously want to learn how to play the theremin, ponder the names of Cluedo characters, and fall to the floor overcome with feelings, all within one song - I'm looking at you, 'Heart Of Stone'. Deservedly, NME awarded the album a rare 9 out of 10, and film director Edgar Wright recently lamented, "Not enough end of year album lists have the fantastic power pop epic that is 'The Great Pretenders' by Mini Mansions. I highly recommend." I feel you, Edgar.
Mini Mansions completed 25 songs during 'The Great Pretenders' sessions (which were recorded mostly during the Summer of 2014), with only 11 making the final cut for the album. Fan-favourites such as 'Fiona', 'Ordinary Man', 'Geronimo' and their cover of Sparks' 'Sherlock Holmes', had been previously destined for an EP called 'The Great Pretenders' (based upon those songs' characters), but were now relegated to B-sides. Providing a rare glimpse into the germination of a Mini Mansions song - and just how long it can take to get from Garageband to iTunes - Parkford first debuted the very early beginnings of 'Double Visions' as a 'Mini-Mash-Down' (titled 'L'Orbe') back in June 2010, via the band's official Tumblr page.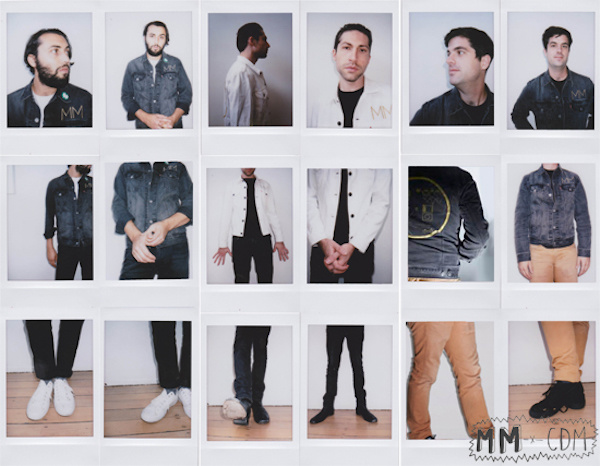 A recurring theme throughout the band's entire six years of existence, is the importance of friendship. Their friendships with fellow musicians, which have resulted in much coveted support slots on high-profile tours - their first visit to Australia was in 2010 opening for Brody Dalle's Spinnerette, and most recently, Kevin Parker himself decided upon Mini Mansions as Tame Impala's support act for Australia - but most saliently, their own brotherhood. Although much is made of Shuman (thanks to his 'other' band), Mini Mansions are a gang in which all three members operate as equals with nary an ego between them - something which anyone who has spent any time with them, fans and music industry colleagues alike, will happily attest to.
Shuman and Dawes are longtime childhood friends since the age of 11 - first meeting as opposing enemies in a basketball game - with Parkford being introduced into the fold whilst roommates with Dawes at film-school in Santa Cruz. Mini Mansions pal around like brothers, sharing the same sardonic sense of humour - Shuman is deadpan sarcastic, Dawes even more so, and Parkford fluctuates between Dad-jokes and wry irony. Eleven years of friendship as a trio, have cultivated endless in-jokes and a running commentary of self-derisive mockery, with Shuman and Dawes particularly delighting in picking on Parkford - they both tell Tyler that I will give him $5 if he can correctly name all of 'The Great Pretenders' album in order of the release's tracklist. He cannot. They laugh. He sulks.
But most spectacularly (and wonderfully) of all, is Mini Mansions having tricked at least two media outlets into thinking that they first met Brian Wilson whilst surfing, prior to their collaboration together on 'The Great Pretenders' album-track, 'Any Emotions'. The truth of the matter is that Dawes was hired by MM and Wilson's (former) shared A&R label rep - after signing to T Bone Burnett's Capitol Records imprint, Electromagnetic Recordings - to play bass on a session for Wilson's 2015 album, 'No Pier Pressure'. The two got along well, so Zach asked Brian if he would sing on the new Mini Mansions album, sending him some songs to listen to - Wilson chose 'Any Emotions', and the rest is history. So, journalists beware, if you ever spend an April 1st in the presence of Mini Mansions - they're prone to pranks, even without any encouragement.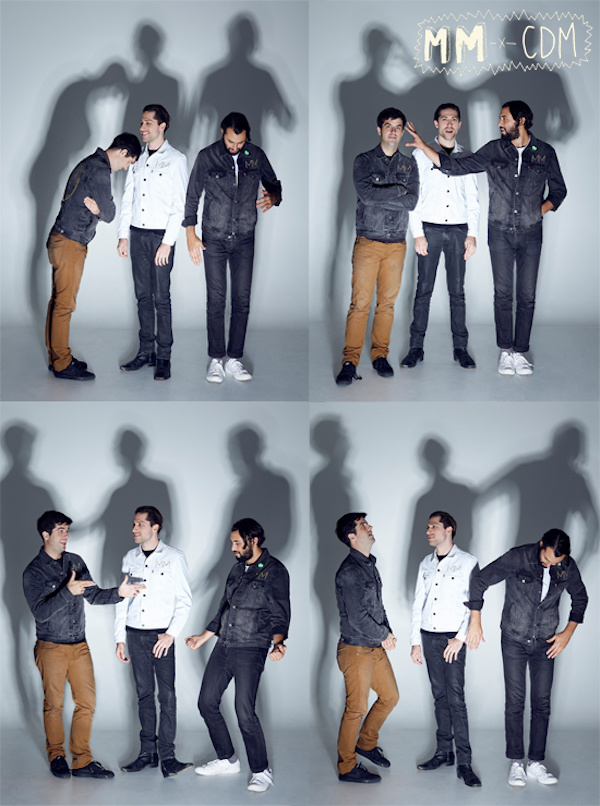 Origami enthusiast, Parkford - recognisable by his tendency to suit up à la Cruise Ship Captain (occasionally sporting a bowtie) - is a Master of Mixtapes, via his solo project and self-declared "loner-lounge" act, Mister Goodnite. His piano-playing also features on Brody Dalle's 2014 solo album, 'Diploid Love', and outside of music, he shoots and edits weddings and is involved in a mid-century furniture rental company (apparently).
Fun fact: Parkford and Shuman both have pasts as child actors, with the latter making a cameo in 'The Wedding Singer' as Bar Mitzvah Boy (his Dad co-produced the movie), and the former, the star of a D.I.Y. short on YouTube titled, 'The Closet, a film by Tyler Parkford.'
Shuman - white-suited on stage, with newer editions featuring a MM embroidered onto the pocket - is the de facto tour manager of the band; experienced with all the ins and outs of being on the road, equipped with a decade's worth of invaluable knowledge. And even though he's outed himself as peddling weed to fund the recording process for Wires On Fire (an early 2000s band that also featured Haim's touring-drummer, Dash Hutton)'s debut EP - aptly, on a podcast hosted by his friends called Harsh Toke (who describe Shuman as always having been very "fiscally aware") - Shuman is offended by his reputation.
Zach asks me, "Do all the people know that Michael's a stoner?" Exasperated, Shuman protests, "Why does everyone think I'm a stoner? I'm not a stoner." He shakes his head in earnest disagreement, but is delighted when I present him with a Stoner Snacks cookbook as a parting-gift.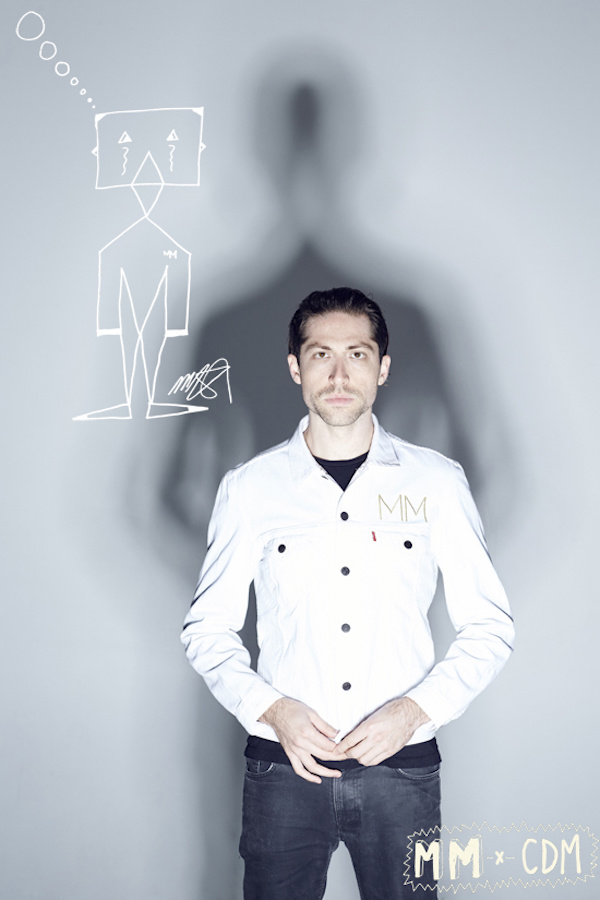 Floral-print suit devotee, Dawes, is positively gleeful when I inform him that he is the most mysterious of all the band-members, with the Internet (and Mini Mansions fandom) lacking in personal information about him. "That's the best," he drawls. Deflecting attention from himself, Zach is a constant stream of questions: "Where's your office?" / "Do you have WHSmith in New Zealand?" / "What does Coup De Main mean?"
But facts that we do know about Dawes though, include that he's played bass on the soundtracks of TV shows, 'True Detective' (on a Father John Misty song, FYI) and 'Nashville', as well as worked as a mixing assistant on albums by Elton John and Steve Earle. It's also hypothesised that Dawes has contributed to The Last Shadow Puppets' upcoming sophomore album, as he is seen in the announcement teaser video for the record, demonstrating how to hit a vibraslap.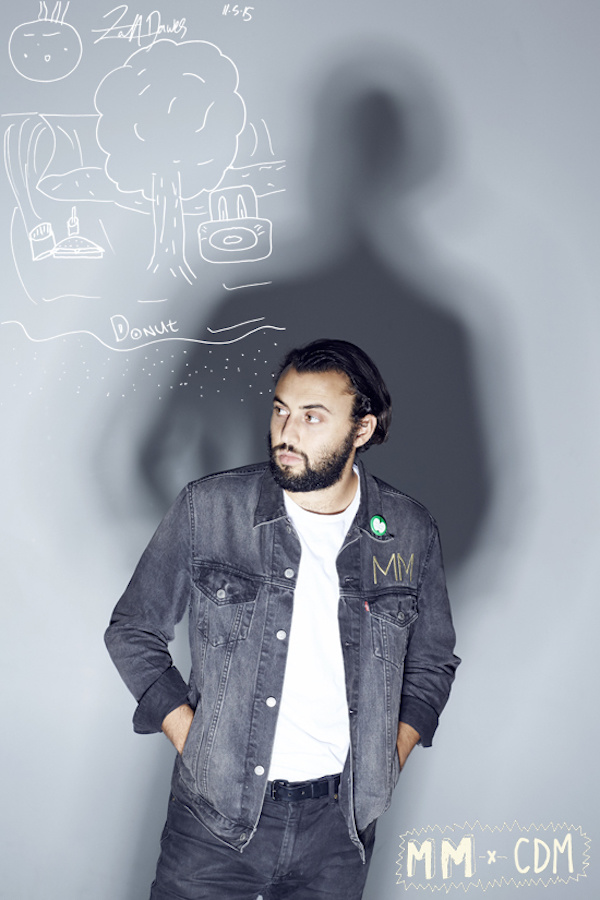 Thirty-seven years ago, NASA sent the Voyager Golden Records into space aboard the Voyager 1 space probe - embedded with 116 images of Earth-culture, spoken greetings in 55 different languages, music, natural sounds, and a hour-long recording of Ann Druyan's brainwaves. It ought to be humankind's most famous time capsule, but now, largely forgotten by the public consciousness, the record's cover diagram appears as dated and incomprehensible as hieroglyphics. Mini Mansions do not deserve that same fate.
Having repurposed the Voyager Golden Record imagery for the cover of 'The Great Pretenders' album - a time capsule in itself - Mini Mansions address the complicated nature of relationships, falling in and out of love, anxiety, and regret, within the record's tracklist. But 'The Great Pretenders' is no pity-party. Mini Mansions go about their affairs so devilishly, that one can't help but want to join their gang and root for them to win. You want 'em to get the girl and to discover true happiness and decipher the meaning of life - before, The End. As Drowned In Sound surmised earlier this year, "Rarely has a band come so far out of leftfield to impinge themselves so deeply on my consciousness." That's just the irreversible effect of listening to 'The Great Pretenders'.
Coming up to their seven-year anniversary as a band this January, it's not like Mini Mansions haven't already paid their dues. They've opened for (literally) everyone from Haim, to The Kills, St. Vincent, Them Crooked Vultures, and My Morning Jacket. Their B-sides are just as good as their A-sides. And they're all-round good human beings. That critical recognition continues to elude them, is unexplainable.
So, do a good deed today and link a friend to a Mini Mansions song. After all, it only takes one song. I unexpectedly heard my first Mini Mansions song in a record label boardroom last year, and then there was no turning back for me. But maybe, Mini Mansions are too good for this world. Maybe, they transcend this current time and place. Or maybe we just don't deserve them. It's all a mystery to me - a mystery far above my pay-grade.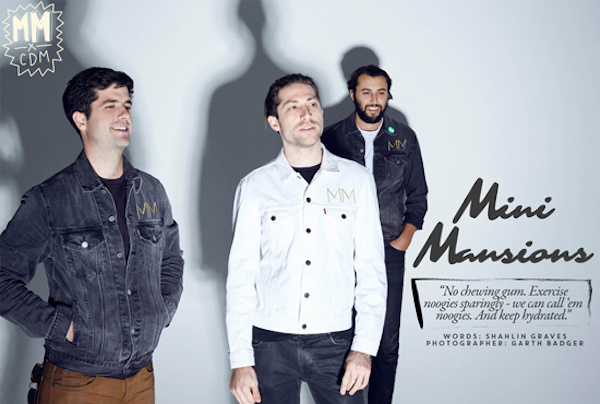 COUP DE MAIN: So, back in March, I interviewed Michael on the phone and you promised that you'd try to get the band here.
MICHAEL: That was you? I never break a promise.
CDM: Yes. And eight months later, here we are. I don't think a band has ever made good on a promise to me that swiftly. So to thank you for the present of your presence, here's a gift of a lolly lei each - some snacks for when you get hungry later.
MICHAEL: What?! Wow.
ZACH: How do you know that one's for me? Because of the Curlys?
TYLER: Wow, that's great.
MICHAEL: Thank you so much.
CDM: How are you finding New Zealand so far?
ZACH: Auckland's been very pleasant compared to Wellington.
MICHAEL: This is kind of day and night--
ZACH: The weather.
MICHAEL: And just overall vibe. People were very nice in Wellington, but--
TYLER: It's just a quiet little city.
MICHAEL: Great Yakisoba though. There was this dude at the show, I was about to call him out, because-- <to Zach> did you see that he ate at the same place? The redhead guy? I was about to be like, 'Man, you had the Number 14 - chicken.'
ZACH: <laughs>
HOW I FEEL ABOUT BEING IN NEW ZEALAND...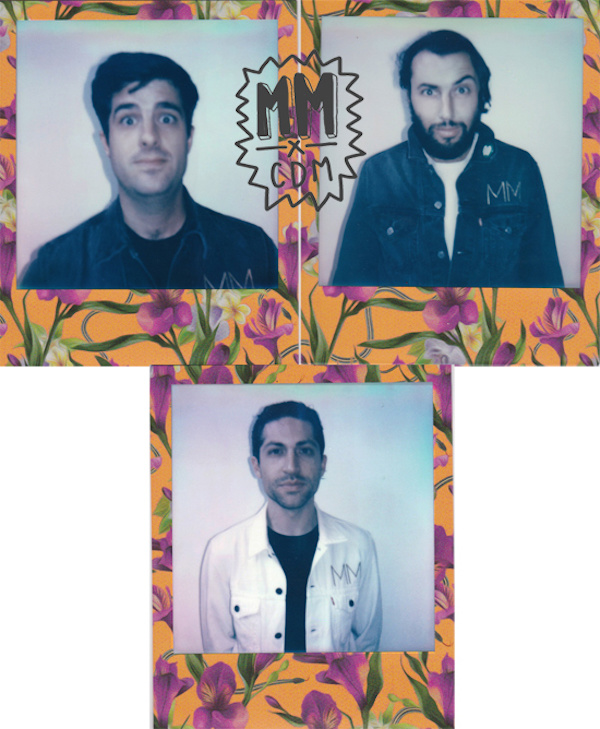 IF I HAD A DAY OFF IN NEW ZEALAND, I WOULD GO TO...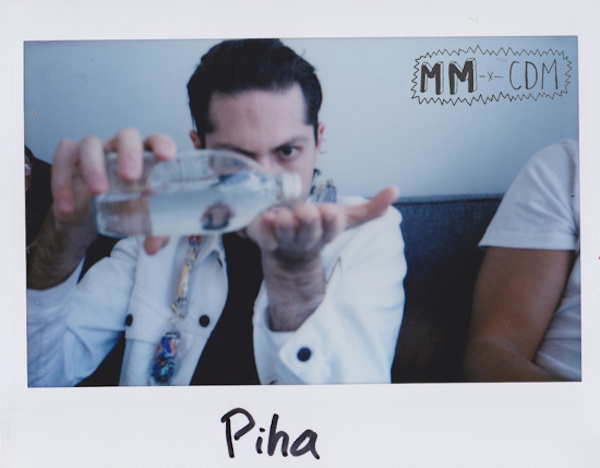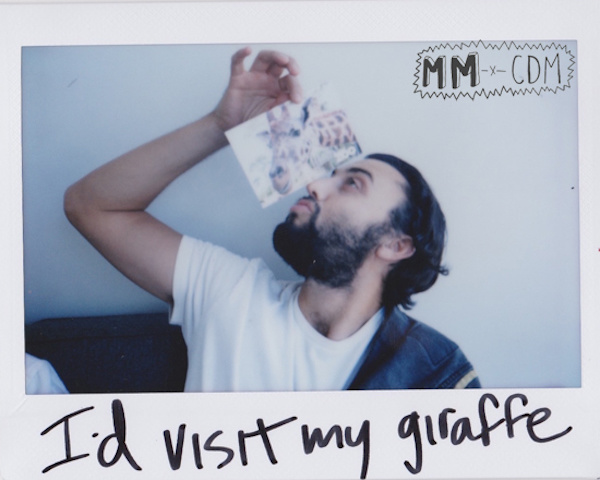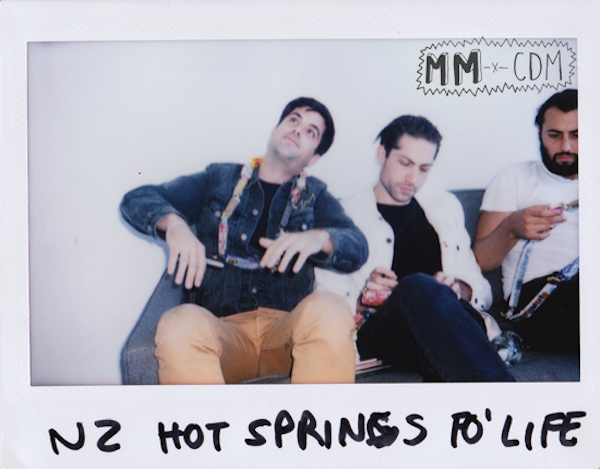 CDM: You recorded and mixed 25 songs for 'The Great Pretenders' and have released 16 so far. When do we get to hear the rest of the B-sides?
TYLER: Shoot.
MICHAEL: Possibly never.
CDM: C'monnn guys.
MICHAEL: I'm dead serious.
TYLER: The powers that be don't think it's a smart move.
CDM: Really?!
TYLER: Yeah. It sucks. But we will find a way. Where there's a will, there's a way.
CDM: Accidental leak...
TYLER: That's what we might have to do.
MICHAEL: Yeah, I guess that's what we have to do.
TYLER: There'll be a big universal scavenger hunt - [we'll] just hide it.
CDM: So there are no more music videos or 7" singles left to be released?
MICHAEL: There are many. There's like four or five videos left.
CDM: Can you say for which songs?
MICHAEL: Yeah! <Michael looks at Tyler / Tyler looks at Michael> I can! 'Honey, I'm Home', 'The End, Again', 'Heart Of Stone', 'Feds', and there's one for an unreleased song called 'Fiona' - that was one of the B-sides, that again, I don't know when that's going to see the light of day, but there is a video for it as well. 'Sherlock Holmes' had a video, but we scrapped it.
TYLER: I dressed up like a piñata and these guys beat the crap out of me.
CDM: I still don't understand how you found the time to mastermind this never-ending roll-out. You guys would be really great at planning bank heists.
MICHAEL: <chuckles> Yeah. I wish this made us as much money as a bank heist would make us.
CDM: Keep it in mind as a fallback career.
TYLER: That's true, very true.
MICHAEL: Shit. Okay, I'm down.
CDM: There are bands that come out guns blazing with a brand new concept album and they vow that every song will have a music video and then all the hype putters out and they run out of record label money or whatever and give up halfway, because they're trying to make new videos as their album-cycle progresses--
TYLER: I know! That happens every time.
CDM: But not you guys. Why is it so important to you all that every song have a visual accompaniment?
TYLER: We were just excited. When we were talking about a few videos for songs that weren't necessarily singles anyway, instead of throwing all this money into one video, we thought it'd be really cool to-- we were just really excited about the record and we wanted to show it visually.
MICHAEL: Like you said, our label was like-- in the contract it said, 'We'll give you this money for one music video.' And we would argue, 'We don't want to use all the money for literally one music video.' So, that was just the truth.
MY FAVOURITE SONG FROM 'THE GREAT PRETENDERS' IS...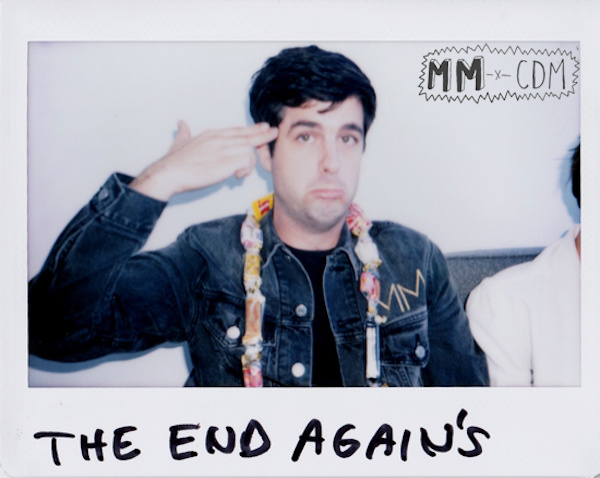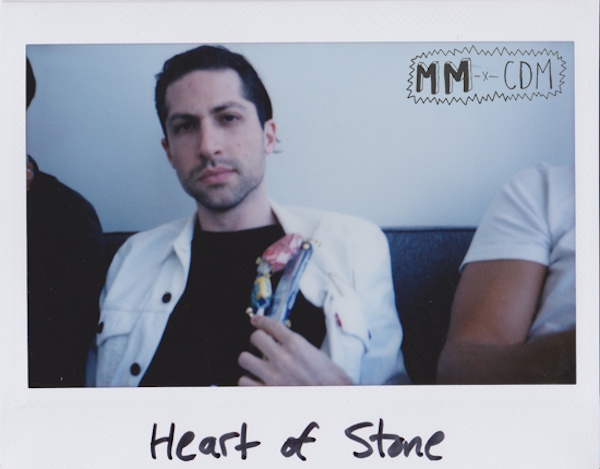 CDM: You've said that you based the music video for 'Vertigo' off shots from old horror movies, but you must have had an inkling of the kind of reaction it would receive. I think Pitchfork premiered it and their headline was, "Arctic Monkeys' Alex Turner and Topless Women Star in Mini Mansions' 'Vertigo' Video," and their article gives no overview of the actual song. In hindsight, do you think that maybe the video has kind of done the song an injustice because it distracted from the song itself?
MICHAEL: No, because, honestly, none of our videos or songs have really gained a lot of traction, majorly. So I don't think that 'Vertigo' would have been that much more successful if the video had not been released. I think maybe it helped it just in general, because people were talking about it. So at least, you went to go watch it, whether you liked it or not.
TYLER: Yeah.
MICHAEL: I don't know... <shrugs> I didn't realise how bad it was going to be.
ZACH: What?
TYLER: <laughs> What do you mean?
MICHAEL: No, not that the video was bad, but that people were actually going to be upset.
TYLER: Oh about the content? It was a Not-Safe-For-Work video though. Part of that whole thing is, that concept, was based off of decades and decades and decades of films being made that way - like a lot of weird European 70s films; stuff like that. It wasn't poking fun, but it had a relative degree of tongue-and-cheek-ness to it. It wasn't us trying to like-- it's objectifying the female-form in a way that was an old time-y sort of way that was referencing that period - but that's what it was. It is what it is. I like it.
CDM: I'd never heard of the Voyager Golden Records until I saw 'The Great Pretenders' album cover, but I now love the whole history behind it. How did you guys come across it?
MICHAEL: Tyler--
ZACH: Did you watch a documentary?
TYLER: I don't know what it was... I think the first time I heard about it-- I always liked the image. Actually, this is really dorky, but I used to be a researcher for 'Ancient Aliens' and I had to do a whole thing on that - this is a show, I don't know if you have it out here? - and one of those images popped up and it was always in my head, 'Hmmm that would be a really cool cover.' So it kind of spoke to us when we brought it up.
MICHAEL: Yeah. <nods>
CDM: When did you decide that was going to be your album cover? Because there's a photo on your Instagram from November 10th, 2014, and you already had your gang jackets.
TYLER: Well we were always thinking of just having it as a symbol.
MICHAEL: I think we always knew. We were going to do this--
TYLER: EP--
MICHAEL: Called 'The Great Pretenders'.
TYLER: We were going to do the band-cross, cross-band.
MICHAEL: So we always agreed that we wanted that image to be the cover for whatever the next release was - whether it was that EP or the full-length, so we just hung onto it. I guess we're just really stubborn.
CDM: When I interviewed Michael earlier this year, we discussed the 'rules' of the Mini Mansions gang aside from the necessary MM denim jacket, and he decided that they are: Don't stop working, Always have fun, Don't take yourself too seriously. Tyler and Zach, do you have anything to add?
TYLER: Rules of the gang? No...
MICHAEL: <sarcastically> No chewing gum during--
TYLER: No chewing gum. Exercise noogies sparingly - we can call 'em noogies. And keep hydrated.
[all three]: <laugh>
MY FAVOURITE THING ABOUT MICHAEL IS...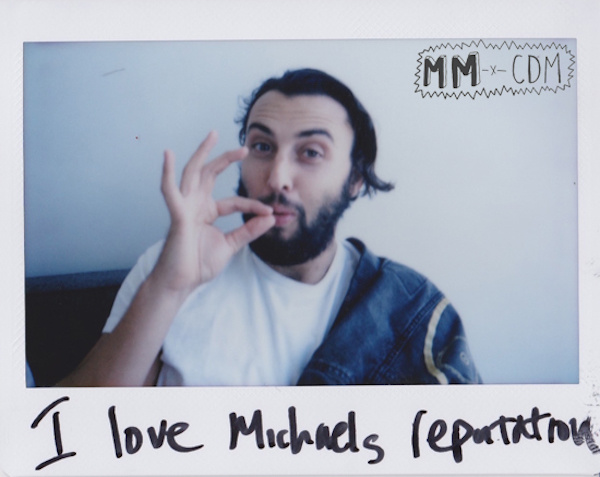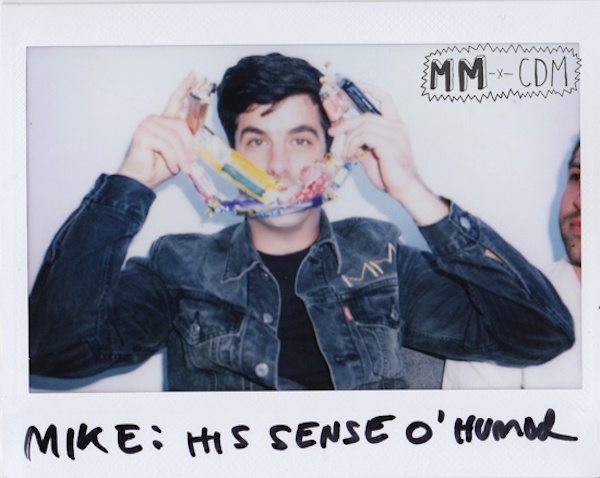 CDM: It's a well-known fact that Zach, you played bass on Brian Wilson's 'No Pier Pressure' album - but which songs did you work on?
ZACH: There was two songs, only one of them made the record. I think it may have been called 'Hollywood Boulevard' - it's the one that the guy from Fun. ended up singing on [i.e. 'Saturday Night'], which I didn't know until after the fact. I don't know his name either... do you know his name?
CDM: Nate Ruess.
TYLER: Nate Dog.
ZACH: I wish it was Nate Dog.
CDM: I've noticed a trend within the band of Zach either not being present at interviews, or when he is, never speaking. And he doesn't get to sing either. Zach, are you being bullied by Tyler and Michael?
MICHAEL: <laughs>
ZACH: Yeah! Indentured servitude.
TYLER: Whoah.
ZACH: I'm almost out.
MY FAVOURITE THING ABOUT ZACH IS...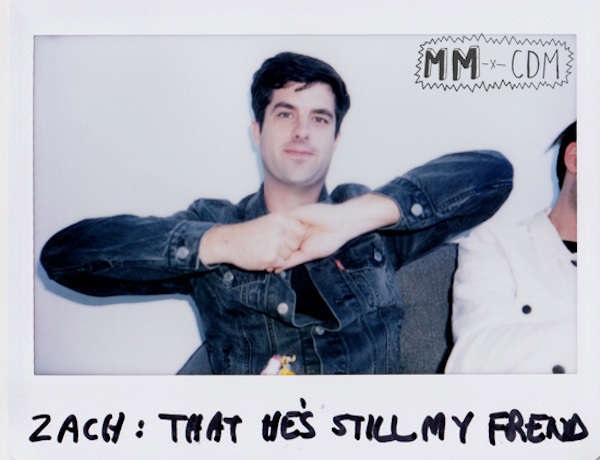 CDM: Tyler, you used to write for 'Bullett' magazine - I read your interview with Grimes; it was really good. Is writing something that you ever want to get back into?
TYLER: I don't know if I'd ever want to do interview stuff, because it's really difficult for me - because I get super obsessive over it. But yeah, I've always liked doing that stuff. That Grimes thing was funny, because it was--
MICHAEL: You interviewed Grimes?
TYLER: Yeah.
CDM: It's good. You should read it.
TYLER: I really wanted to talk about her thing with 'Dune' - she used to be, or still is, a huge 'Dune' fan, so I wanted to know-- I like picking things like that, where it's not known necessarily as an artist, but those leanings they have for dorky stuff. Anyways... I like to write.
CDM: Is there ever going to be a new Mister Goodnite mixtape?
TYLER: Maybe. It's in the works. It's been in the works for two years. So, very soon.
CDM: Are you sad that 'The Great Pretenders' hasn't been released on cassette yet?
TYLER: I am actually! We tried to do this. But again, the powers that be don't believe in the power of tape. Well, someday, we'll have that.
ZACH: <sarcastically> 'The power of tape...'
MICHAEL: Tape, again! What's the big deal with tape?
MY FAVOURITE THING ABOUT TYLER IS...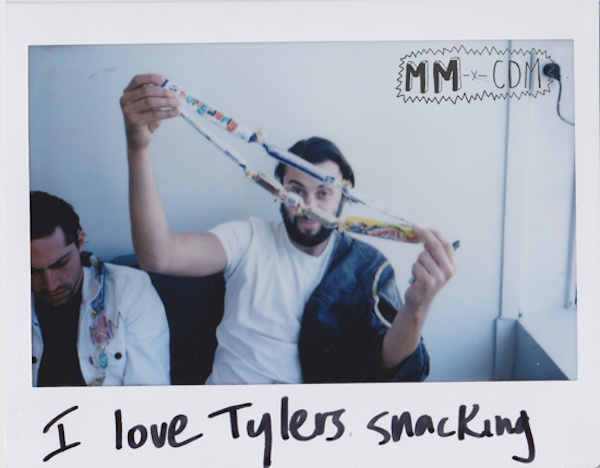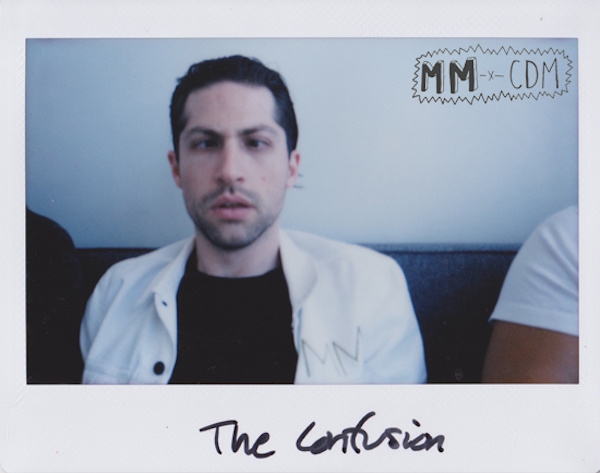 CDM: What's the status on Mini Mansions Album #3?
MICHAEL: We've been writing a lot lately. And we have a lot of demos. And we've got to... <mumbles>
ZACH: What?
MICHAEL: <laughs> Gotta open up that budget. There's a lot of stuff.
TYLER: There's so much stuff--
MICHAEL: To sort through and figure out what we want. Like, what kind of record we want to make and what kind of songs we want to do next, because based on the stuff we've written so far, it could be any type of record. There's probably ten ballads in there. There's probably ten/fifteen dance songs. Probably, a few rockers.
TYLER: At least a few rockers.
CDM: But all new stuff? Not anything from 'The Great Pretenders' sessions?
ZACH: No.
MICHAEL: Nothing from 'The Great Pretenders' sessions will be on the next record. Those songs will just have to come out, however they-- if they ever do.
TYLER: We'll just leak 'em on Reddit or something like that.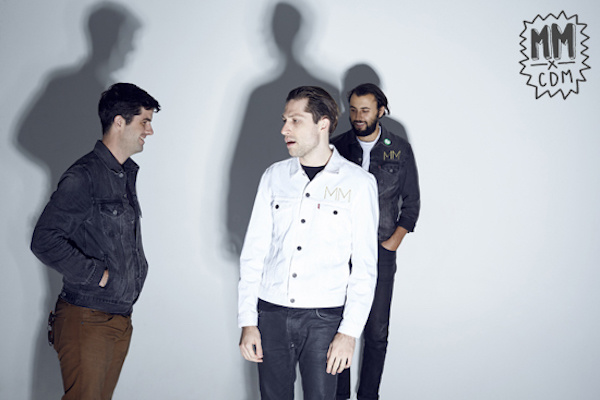 CDM: And lastly, being the lemon tart aficionados that you are, I couldn't let you leave New Zealand without trying some from Little & Friday - one of Auckland's best cafes. Please review these.
ZACH: I was wondering what was in that box.
TYLER: I love lemon tarts.
ZACH: So many treats.
CDM: Blame Tyler - sorry - if you don't like lemon tarts.
MICHAEL: I love lemon tarts!
ZACH: Wow they're beautiful.
MICHAEL: Oh my god this looks amazing.
ZACH: That's a really good lemon tart - maybe the best I've ever had. Not like the ones we have at home, more of a creamy consistency.
MICHAEL: Wow!
ZACH: The ones at home are more of like a jelly-type thing.
CDM: Like fake lemon?
ZACH: Yeah.
TYLER: Is it good? I can't eat it.
MICHAEL: Seriously?
TYLER: Yeah.
MICHAEL: <to CDM> Tyler's refusing your lemon tart. <to Tyler> This is for you!
TYLER: Is it really? Because you know I like lemon tarts? Okay, I'll try it. It's just that I have this tonsil infection. I'm okay, it's just the elevation out here.
MICHAEL: Elevation? Rock, don't eat. That's Tyler's motto.
TYLER: No, that's your motto, dude.
MICHAEL: Definitely not my motto.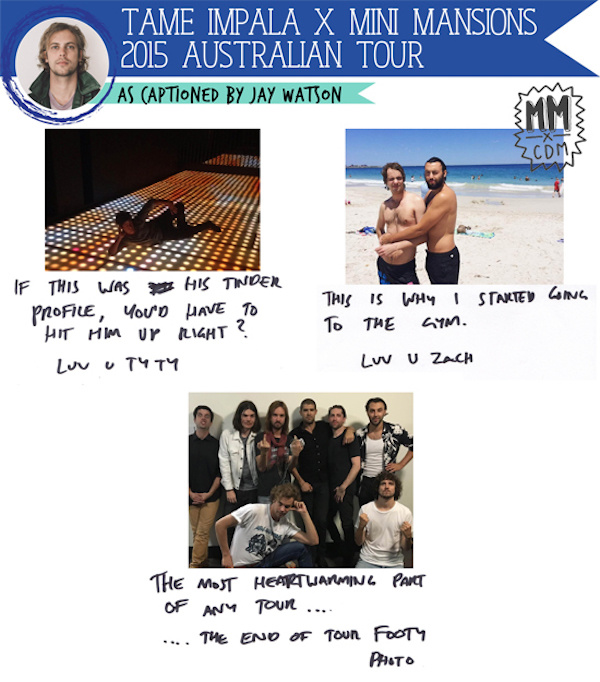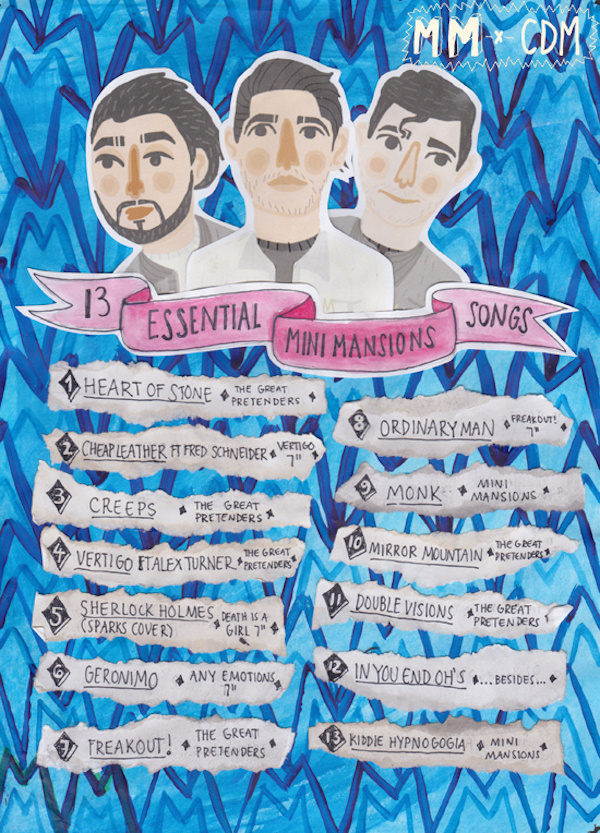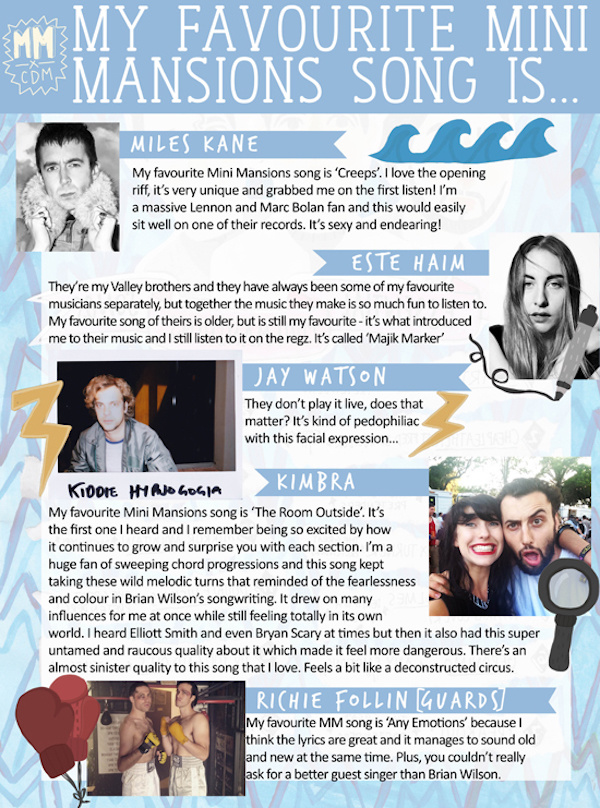 MINI MANSIONS' album 'The Great Pretenders' is out now. Click HERE to purchase via iTunes.
Read our previous interview with Mini Mansions' Michael Shuman HERE.
Watch the music video for 'Creeps' below...
Load next