Interview: Harper Finn on his new single, 'Good For Me', songwriting, and more.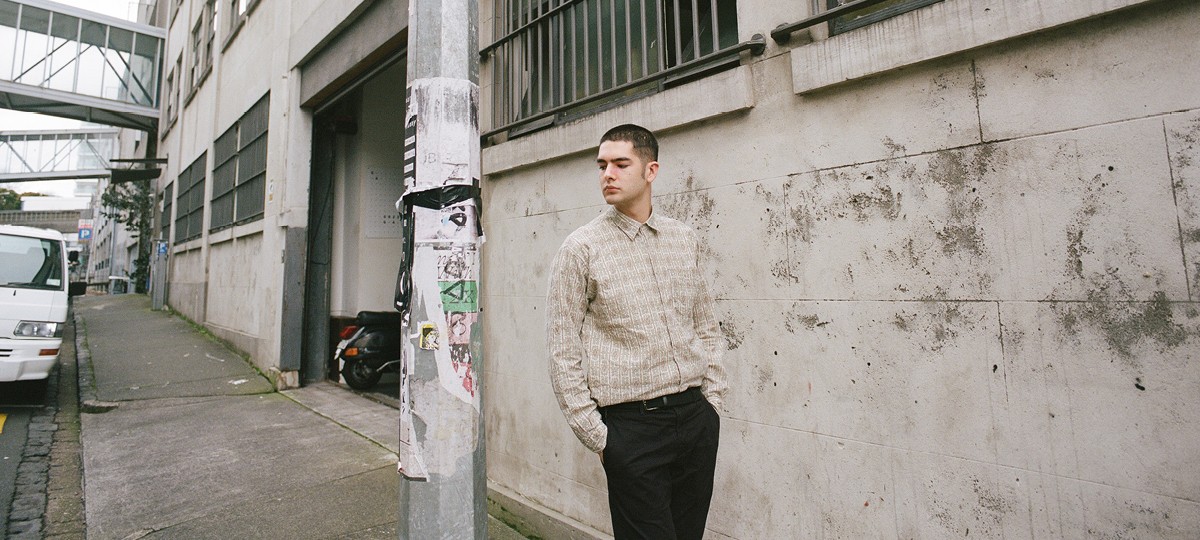 Having shared two new singles midway through 2019, singer-songwriter Harper Finn has given the world another piece of his musical soul with 'Good For Me', a song which he first started working on at the age of 17, and now four years later has released into the world.
With an accompanying music video shot in Auckland's iconic Stebbing Studio, the piano-driven song showcases Finn's heartfelt lyrical talents, and is a taste of things to come.
We spoke with Harper ahead of the song's release to talk about exploring his songwriting process, drawing from his own life experiences, and more...
I'm 21, I'm trying to figure out where I fit in the world, and songwriting goes hand in hand with that uncertainty of where you're at in your life, who you're friends with, and the relationships you have. The things I write about now are very specific to being 21, it's a time where you're not super comfortable or super grounded, there's this feeling of unknowing that I think is very particular to being 21. As I get older and learn a bit more about myself and who I am, I think the songwriting will go hand in hand with that. They blend in with each other, and it's not a conscious thing that's happening. Maybe the older you get when you look back, the songs that you've written will show that growth which will be interesting to see.
[This interview is available as part of our NZ On Air physical print zine which is free! Click here for more info.]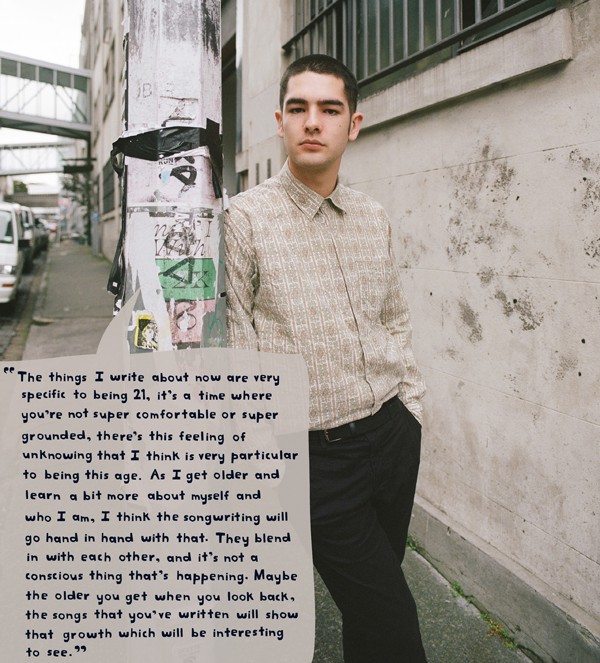 COUP DE MAIN: In our first interview you talked about the first moment you created music yourself. How did that feel? How did you go about it?
HARPER FINN: So the band that I was in when I was about 17, everyone in that band knew how to use Ableton, and so I was like, 'I want to do that too!' Being the young one, I wanted to prove myself. I downloaded the programme, and I remember having friends over and we were just mucking around playing with sounds. I wanted to be the one to be able to make the beats - it would've been making beats for my friends to freestyle on, or something like that. From there, I didn't really know how to combine that with songwriting. I always played the piano and made little songs on the piano, but learning Ableton and that stuff was very separate. I think when I was 19 I found out how to combine them, and put them into a programme and start a track. It was quite separate at the beginning; being freestyles and just mucking around, with piano being more where I would write songs. In the past two or three years I've combined them though.
CDM: It's so bizarre to think about how you're creating something out of nothing. Is that something you think about when you're in the creative process? Do you think about the creation process at the time?
HARPER: I'm sure everyone would agree, it kind of just comes out. With certain songs you do think about that though, you really labour through every bit and you go on the internet; go on RhymeZone looking through things, and you deconstruct it quite a lot. But other times, and usually they're the best songs, you don't know why it's so easy, but every line you come up with is a keeper. For me, when I write songs, usually I write so many crap lines and lines that I throw away. Every line is painstaking, but very occasionally I just write it down and surprise myself. You don't understand how your brain is doing it, but it's yourself.
CDM: Do you find that there are certain times when you are most creative?
HARPER: I haven't found a time when I'm most creative, but I'm quite nocturnal. I work late, I'll be someone who writes at 12am/1am - not because it's the most creative time, but I get into a vibe and headspace. When it's dark, I'm the only one awake, and I've got this cool little mushroom light that lights up; it's a vibe.
CDM: How did you find your first proper live shows?
HARPER: They were really cool. Songs become completely different when you play them live, and you can figure out things like, 'Oh, that doesn't groove as much as I thought it did.' It's a really good testing arena. A lot of the songs I play at this stage are unreleased, so I can still have the luxury of going back and working on them. In the first few shows I've done, I've gone back to them because things didn't work live, and I could tweak it a little bit. I find it really good to try out new songs.
CDM: It's interesting to think that the live show is influencing the way you work on your actual music.
HARPER: Exactly. The live thing is so important nowadays, so you want to make sure that all your songs can have some weight--
CDM: And vice versa, do you think about how your songs are going to be performed live when you're working on them in the studio?
HARPER: Yeah, kind of. I want to do that more, I probably haven't done that in the past. When you're doing it by yourself, and I work by myself in a tiny room under a house, it's quite hard to get into that live state. When you're listening to it through speakers you get very much into the mode of, 'This is how people are going to be experiencing it,' and you kind of forget the live thing. When I go live though, and it's being played through big PA speakers in a big room, it's really different. Maybe if I wrote and recorded in different environments, but because of the environment that I'm writing in now, I find it quite tight and I'm doing it alone, so it probably is serving that more than it is the live thing. But going forward, I definitely want to.
CDM: Lots of people say that when they're working on a song, they'll listen to it in headphones or in their car; in all these different scenarios, because that's how it'll be heard.
HARPER: It always sounds different. I always wear my Apple EarPods, they may not be the best, but it's what the majority of people listen through. I walk through town, hear construction noises in the background, hear the bus pulling up, and having that outside influence, that's what everyone else is going to be hearing.
CDM: It was cool to see you perform with different instruments, especially as you mostly write music on piano. Do you feel most comfortable behind a piano performing live?
HARPER: I like the piano for writing and for those few moments on stage where I can showcase the songs how I wrote them, and how I play them at home. But I really enjoy playing nothing and just moving, dancing, and engaging with the audience. The music I make, I want to be able to dance to it, so I want to be able to move. Whenever I'm recording, because I'm by myself, I can get up and dance to my own songs. It's a good test run, I can turn it up and go, 'Yup, easy.'
CDM: Your dancing really adds something to a live show! Is that something that happens naturally as an expression of your music?
HARPER: Yeah! I was someone that was always into dancing. In my Year Six show, I auditioned to be a dancer in it. I've never had lessons or anything, but I was really into Elvis [Presley] as a kid, I used to dance to Elvis. In the band I was in, I was just the keyboard player, so I was always behind something. I surprised myself when I went solo and did my first show, at how much I wanted to just move and do that. Those are the performers that I really like watching.
CDM: What was it like working at The Tuning Fork?
HARPER: I literally was there the other day for Bruno Major. It's perfect; it's a win-win. I can go see shows that I would maybe not necessarily go to see, and I can get paid. I was super lucky to be able to work in a venue like that, where it's such a broad spectrum of what they get there. It's super bluesy, country music, pop music, punk music - and I would've been there for almost three years, so I've seen hundreds of concerts. Even learning in between songs, something I picked up from country music - because I don't really like listening to country music - is they're really good at banter in between songs. They can just make you chuckle a little bit, or explain a song just enough for you to see, but they don't over-talk. The speakers at The Tuning Fork are really good too, and where I'm at, at the bar it's prime placement. When the show's on, no one is coming up to the bar, so I can just watch the whole show and then when the show is over everyone comes back, so it's staggered quite nicely. It's the perfect place to work if you're a musician because you can watch music all the time. Whatever they're doing on-stage you can learn from, whether it's talking between songs, how they perform, or how they engage with the audience.
CDM: Was there a favourite show you got to see?
HARPER: Probably, Idles. They played two nights, and the first night I wasn't sure if I liked it. It was super loud. There was a legit mosh, and we don't get moshes normally, it's usually pretty tame - but this was full on, and once you got past a certain point in the bar, there was a huge heatwave. The people had shirts off and were twirling them above their heads, it was this force-field of sweat. <laughs> The second night I was like, 'These guys are fantastic,' and the whole time I was trying to serve drinks I was watching the show, it was amazing.
CDM: How important do you think playing a song live is to the evolution of a song coming to life and taking on a life of its own?
HARPER: Super important. I think every opportunity you can get to play the song before you've finished it is really good. If you finish a song and then you play it live and go, 'Oh, this song isn't how I thought it would be,' it can change the song for you. When you put out a song, I find I don't really listen to it anymore, but how it is live, is how it will exist. Before you release it, getting a chance to play it live is so helpful, and that's how bands used to do it, because it was so hard to get into the studio and record songs, so everyone would play them live to the point that they knew them so well that when they went into the studio they could do them in one take. So now I've got Ableton on my computer I can start and finish songs well before I've thought about playing them, but I like to make sure I play all my songs live once before I put them out, just to get that.
CDM: As you release more and more music, listeners will apply their own meanings to songs, and their own interpretations. How do you feel about that?
HARPER: I love it. It's really interesting because sometimes someone can articulate a song better than you can. When I write songs, they're about lots of things - they usually start with one event, but then I draw in from a lot of my own experiences. But then someone can say something to you about how your song can sum up one experience for them! That can be quite profound because it's super specific to them and something that happened to them. It's like the song was written for them, and the story that someone else can tell you can sound like what the song should've been about in a way.
CDM: Do you mostly find yourself drawing from your own life experiences, or do you draw upon other situations and things around you?
HARPER: Usually my own experiences. It usually starts with something very specific, like one moment. Maybe not necessarily like, "I'm going to write a whole song about one thing," but it'll start somewhere like a story. You want the first page, the catalyst of how the story begins, and you can make stuff up, or something that was quite mundane and didn't really mean anything, you can flesh it out more and make up a story. You're spoilt for choice with what to write about sometimes! It's quite easy to go, 'Actually, I've already written a song about that,' and the same kind of stories and feelings keep wrapping around in your brain. For me, I'm constantly looking for new experiences and situations to get myself into, the more the better for songwriting. You don't want to be going to the same party, or hanging out with the same people over and over, or the songs will be the same, fifty times over.
CDM: How have you been finding exploring songwriting and figuring out what you want your sound to be?
HARPER: It's figuring out who I am as a person as well, it's as much that as it is the songwriting thing. Because I'm 21, I'm trying to figure out where I fit in the world, and songwriting goes hand in hand with that uncertainty of where you're at in your life, who you're friends with, and the relationships you have. The things I write about now are very specific to being 21, it's a time where you're not super comfortable or super grounded, there's this feeling of unknowing that I think is very particular to being 21. As I get older and learn a bit more about myself and who I am, I think the songwriting will go hand in hand with that. They blend in with each other, and it's not a conscious thing that's happening. Maybe the older you get when you look back, the songs that you've written will show that growth which will be interesting to see.
CDM: Coming from a musical family, has your dad given you any good advice?
HARPER: The same as my mum, the music they both showed me and I grew up with was all emphasised on lyrics, the melody, the attitude, and the feeling you get from it. They gave me really great reference points to go to, and I think that's one thing I'm super thankful for, that they turned me onto really good music. Now I'm so grateful I got that sort of embedded in me, because now I don't necessarily need to go back as much - I know that music so well now. Songwriting-wise, you just write the songs from what you've heard and based off what you know. So with the music that I grew up with, and the music that my Dad wrote, I've sort of absorbed a lot of that.
CDM: What can you tell me about the writing process for your upcoming new song 'Good For Me'?
HARPER: That was a song that I finished with a songwriter called Dan Wilson - he's a fantastic songwriter who I respect. I started that song when I was young, I was about 17 when I first wrote it. It was a song I wrote for a NCEA music assessment - I think I got a Merit for it. <laughs>
CDM: You should resubmit it now.
HARPER: I so should. I never really thought of it that much because I did it for school, and once I got out of school I think I discarded it. At the end of last year I was going through old songs, and I was reminded of the song; there was half a good song in there. I did that writing trip over to America where I worked with lots of different writers and producers, and Dan was someone who I especially wanted to write with. It was the last day of the session and he asked if I had anything else, and I played him the song. He was like, "Yeah, it's really great, but you need to wear your heart on your sleeve. You need more emotion. You were hurt, tell me that you were hurt." So he was able to pull that out of me, and I think the song was taken to a new level - Dan is really good at drawing the raw truth out of the artist, and that's what he did with me and I think the song has benefited so much from it.
CDM: It feels really vulnerable. Did it feel scary to share that so openly with people?
HARPER: Kind of. It's basically like therapy. Everyone connects to the most honest versions of yourself, and the song is super honest and raw - I haven't put a song out like that, so there is that fear; I'm putting it out there. People are going to know exactly how I felt. So there's a little bit of those nerves, but at the same time I know that people all feel the same way, and that people will really connect with that, because we all connect with those songs anyway. Now it's my turn to let everyone know that I was really, really cut when that happened.
Harper Finn's latest single 'Good For Me' is out now - watch the music video below...