Review: Governors Ball Music Festival 2017 - Day One.
Review: Governors Ball Music Festival 2017 - Day One.
The first day of the three-day musical extravaganza Governors Ball Music Festival saw an array of musical talent on show, including the likes of Kehlani, Charli XCX, Lorde, Bleachers, and many more take to the four stages of the festival.
The sparse layout of the festival, which takes place annually on Randall's Island, lends itself to approximately 150,000 attendance (aggregated over the three days), yet handles its huge capacity with ease - something which many festivals struggle with.
Check out our thoughts on some of our favourite acts from the day below…
BLEACHERS
Playing on the day of his sophomore album 'Gone Now's release, Jack Antonoff's project Bleachers took to the main stage in the late afternoon, where fans were treated to both old and new songs alike.
Performing to a somewhat hometown crowd (Jack Antonoff hails from New Jersey, but resides in Brooklyn), Antonoff and his band appeared thrilled to be there - with a performance that matched the energy that the crowd was offering up.
Older songs 'Rollercoaster' seamlessly flowed into new songs like 'Don't Take The Money', with Bleachers' anthemic sound being the perfect sonic experience for festival-goers. Between songs, Antonoff threw half-open water bottles into the crowd, keeping his fans both enthralled and hydrated.
A rousing rendition of Fleetwood Mac's 'Go Your Own Way' was the perfect addition to the set - and closing out his set with 'I Wanna Get Better', the ever-growing crowd sang along his every word.
Set-List:
Shadow
Wild Heart
Everybody Lost Somebody
Hate That You Know Me
I Miss Those Days
Go Your Own Way (Fleetwood Mac cover)
Rollercoaster
Don't Take The Money
You're Still A Mystery
I Wanna Get Better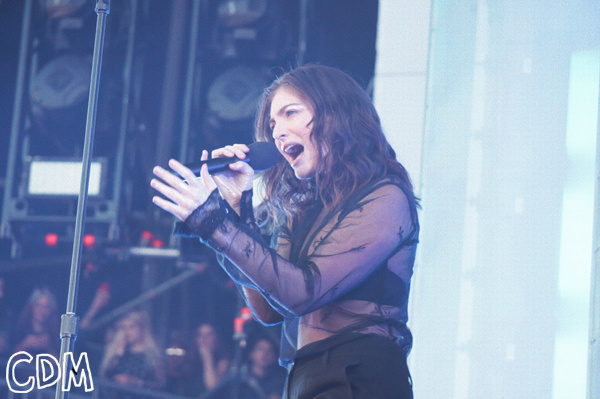 LORDE
Just two weeks ahead of the release of her new record 'Melodrama', Lorde's performance captured the spirit of the upcoming release - while still showcasing moments from her first release, 'Pure Heroine'.
'400 Lux', 'Buzzcut Season', and 'Ribs' were played in succession, with the box that was unveiled at Coachella put to use - with performance artists dancing at a party during 'Ribs'. 'Sober' followed this, with Lorde performing the new song from 'Melodrama' alone in the box - a metaphorical and literal look at what happens after the party is over.
"You are pure magic. I cannot believe this night. Thank you for coming to my party," Lorde thanked everyone present in the audience, clearly grateful for the ongoing support she's seen since her return to releasing music this year.
"Did you see Bleachers?" Lorde asked the thousands-strong audience, many of whom had indeed seen their performance earlier in the day - and were thrilled when she welcomed her friend and collaborator Jack Antonoff onto the stage. They performed an emotive and heartfelt cover of their mutual love Robyn's 'Hang With Me', before one of the most personal songs on the new album, 'Liability'.
Following 'Royals' in a show is no easy feat - with many attendees expecting it to be the final song in her set - however she surprised the crowd with the live debut of her new single 'Perfect Places', which although was only released just one day before the performance, saw countless audience members singing along to every word. 'Green Light' closed out the set, with the staging illuminated in fluorescent green, with an impressive series of fireworks to end the night - an unforgettable performance from an artist who continues to go from strength to strength.
Set-list:
Green Light Intro
Tennis Court
Magnets
400 Lux
Buzzcut Season
Ribs
Sober
Sober II (Melodrama)
Liability
Royals
Perfect Places
Team
Green Light
CHANCE THE RAPPER
We last saw Chance The Rapper play San Francisco's Outside Lands Festival last year, but his headlining slot at Governors Ball was truly on another level - with every single attendee surrounding us singing and rapping their hearts out along with every single word he uttered during his slot.
With pyrotechnics and production galore, The Social Experiment as his band, and backing-singers too, it'd be easy to think Chance The Rapper takes it easy on stage - but he commits himself entirely to every rap he utters, and every word he says. Rolling himself out on stage on a bike [following his earlier appearance on-stage at Francis And The Lights' set], Chano's childlike joy was ever-present, and something that was evidently contagious in the audience.
From the likes of 'Smoke Break' and 'Cocoa Butter Kisses', to his features on 'Ultralight Beam' - there was nothing that the audience didn't lap up.
But the sheer highlight of the night came from the performance of DJ Khaled's absolute bop, 'I'm The One' -  with the audience grooving along to the video screen, which showed Justin Bieber and more in segments from the accompanying music video. With Justin Bieber currently in NYC, there was hope for an appearance from the Biebs himself - however the rest of Chano's show was just as impressive without any special guests.
Governors Ball Music Festival continues over the weekend - with the likes of Dua Lipa, Phoenix, Childish Gambino, and more set to perform.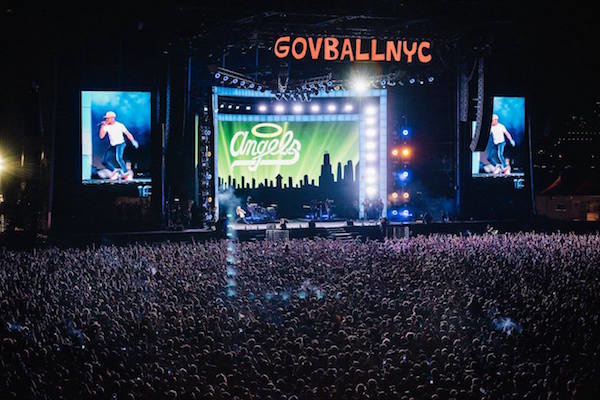 Load next