Top 5: Book-to-film adaptations - Romance.
Top 5: Book-to-film adaptations - Romance.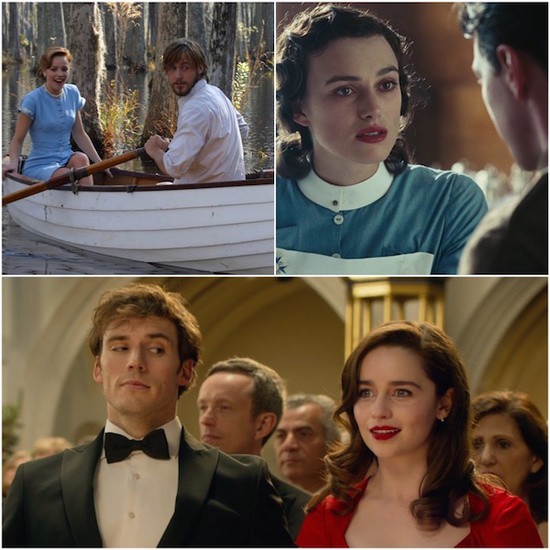 In the lead-up to the release of 'Me Before You' - the film adaptation of Jojo Moyes' book, which comes out in NZ cinemas on June 16th - we've been thinking about our other favourite books that have become films, so decided to compile a list for you to peruse.
Before we get into our favourites, here's some official info on the upcoming release:
"Louisa "Lou" Clark (Clarke) lives in a quaint town in the English countryside. With no clear direction in her life, the quirky and creative 26-year-old goes from one job to the next in order to help her tight-knit family make ends meet. Her normally cheery outlook is put to the test, however, when she faces her newest career challenge. Taking a job at the local "castle," she becomes caregiver and companion to Will Traynor (Claflin), a wealthy young banker who became wheelchair bound in an accident two years prior, and whose whole world changed dramatically in the blink of an eye. No longer the adventurous soul he once was, the now cynical Will has all but given up. That is until Lou determines to show him that life is worth living.
Embarking together on a series of adventures, both Lou and Will get more than they bargained for, and find their lives—and hearts—changing in ways neither one could have imagined."
Now without further ado, here are our top five romantic books that have been transformed into what have become some of our favourite films - a list which we're sure 'Me Before You' will soon be at the top of:
#1. 'The Notebook'
If Ryan Gosling and Rachel McAdams aren't your dream couple, then you may just have to stop reading here. I'm just kidding, you can continue - because I'm about to convince you. 'The Notebook' is set in a small town in the 1940s, and follows two teenagers (R²) as they fall in love - before war, separation, and disease interrupts their story and takes them on a story that spans decades.
They're the modern day star-crossed lovers, and it all began with the Nicholas Sparks book which the film is based on, which was actually based on a true story of his wife's grandparents.
Watch the trailer for 'The Notebook' below:
#2. 'Atonement'
The definition of atonement is as follows: "The action of making amends for a wrong or injury." Based on Ian McEwan's novel of the same name, 'Atonement' is rich in making amends, forgiveness, and of course, love.
Like many great love stories, 'Atonement' is also a war story, but there is not only destruction due to war, but due to the actions of a 13-year-old girl. The books influences are clear - the stream of consciousness style alludes to Virginia Woolf, and the film develops a sense of narrative in much the same way.
Watch the trailer for 'Atonement' below:
#3. 'The Time Traveller's Wife'
Time travelling used to be restricted to purely science-fiction novels, however, Audrey Niffenegger's debut novel 'The Time Traveller's Wife' shows a whole new side of time-travel - the one who gets left behind.
Henry DeTamble has a rare genetic disorder that causes sporadic time travelling, taking long-distance relationships to the next level. The film stars Rachel McAdams and Eric Bana (as the time traveller), and spans their relationship over the years - and all the hurdles that they face.
Watch the trailer for 'The Time Traveller's Wife' below:
#4. 'The Last Song'
The O.G. Miley Cyrus and Liam Hemsworth love story! Yet another Nicholas Sparks book turned film, 'The Last Song' is a coming of age story of Ronnie (Cyrus), who moves from the city to the country, and falls in love.
Listen to the classic song from the film 'When I Look At You' below:
#5. 'Me And Earl And The Dying Girl'
Another coming of age story, 'Me And Early And The Dying Girl' follows a high school senior as he befriends a girl who has been diagnosed with leukemia - and it stars Connie Britton and Nick Offerman as his parents!
The novel was written by Jesse Andrews and published in 2012. Watch the trailer for the film:
Watch the latest trailer for 'Me Before You' below…
Load next