Interview: Dua Lipa, the art of not giving a f*ck.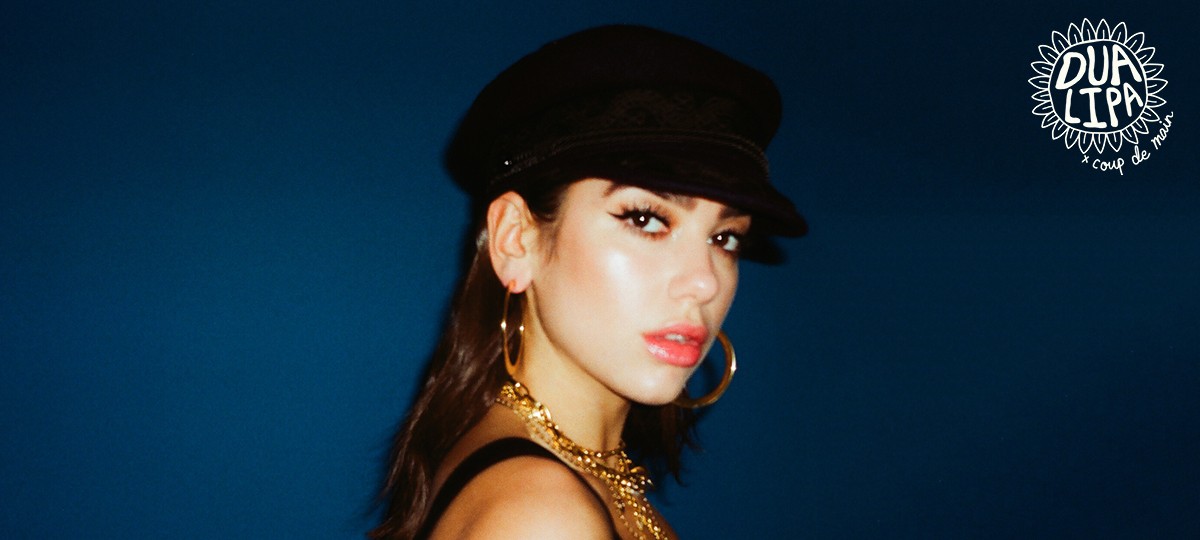 In our first interview, via email at the end of 2015, Dua Lipa shared with us that playing an arena show was at the top of her bucket list. Little did Lipa know then, that less than three years later, she would accomplish exactly that, playing her first ever headline arena show at Glasgow's SSE Hydro on April 12th, 2018. It's been a whirlwind few years for Lipa, who went from releasing covers on YouTube to writing and performing anthems that have empowered her fans to be as strong and powerful as Lipa herself.
Not long after that first interview, Lipa played an intimate show at Birmingham's Sunflower Lounge to a full capacity of 120 people, where Lipa fondly reminisces about carrying her own gear up and down a steep, rickety staircase, and not having any dressing room, only a carpark to get ready in. It's sheer testament to the hard work she's put in over the past few years that this past April saw her play in that very same city to 16,000 people. Just take a look at her discography from the past few years - in addition to sharing her debut album last year, she's also released collaborations with the likes of Martin Garrix, Sean Paul, Whethan, and most recently Calvin Harris (their summer hit 'One Kiss' topping the UK charts for eight consecutive weeks).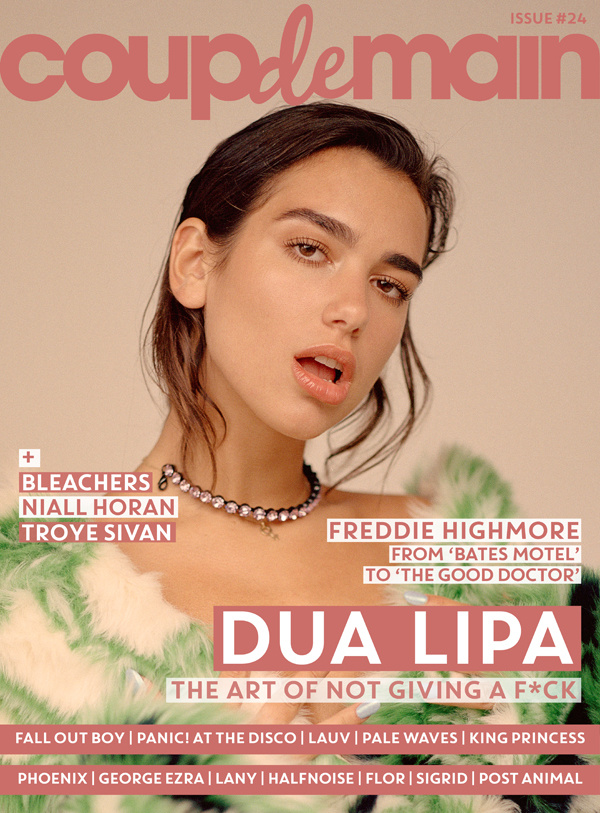 Much of Lipa's 2016 and 2017 was spent working hard to finish her debut album, so hard that it led to multiple delays in the album's eventual release. Lipa prides herself on being a perfectionist (it's a common trait amongst Leos, which Lipa proudly is), and when it came to her first ever studio album, perfection would take time. But the delays were worth it, as collaborations with Coldplay's Chris Martin (who features uncredited on 'Homesick') and Miguel were possible, and Lipa created a full body of work which represents a growth period for her songwriting and personal life.
This period of growth saw Lipa on a journey to find herself and her personality - and she currently sports a Leo necklace (that a fan gifted to her), which offers an insight into some of her personality traits. In a book on zodiac signs, Leos are described as "an inextinguishable source of warmth and light to your friends and family," which sums up Lipa well. After winning her second BRIT Award earlier this year (she first won British Female Solo Artist, followed swiftly by British Breakthrough Act), she brought her two younger siblings Rina and Gjin on stage to receive the accolade with her. Her mum and dad proudly sat in the audience.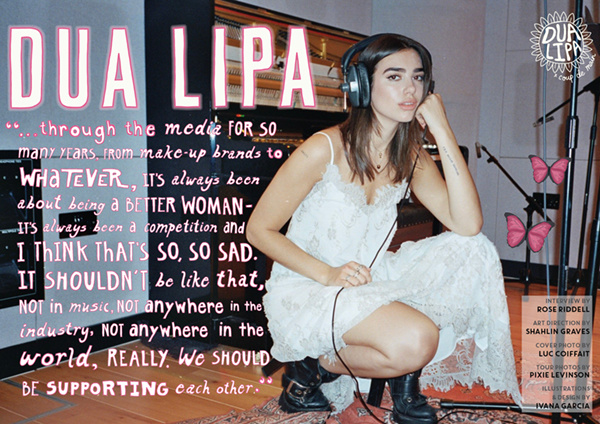 But her family extends beyond blood relatives - her traveling tour party are much like an extension of them, and so are her fans. It's an ever-growing family (Lipa is currently the 4th most listened to act in the world on Spotify), a network of fans that travel and devote themselves to Lipa, and an enthusiastic love that Lipa reciprocates both on social media and in real life, often shouting out fans on Twitter with memories of their past meetings, and finding time to meet them where she can.
Lipa prides herself on the importance of feminism in her life. It's integrated into everything she does, from recommending us 'The Beauty Myth' and other modern feminist texts for our Dua Lipa-curated book club, to her speech on stage at this year's BRIT Awards calling for more women in music ("Here's to more women on these stages, more women winning awards, and more women taking over the world"), to passing out advice on Twitter (recently she gave a fan her thoughts on toxicity: "I think a bigger fear is allowing yourself to stay around toxic people for too long").
In 'Bad Together', Lipa sings, "I don't care what's been done here before me," about a damaged relationship, but those words are just as fitting to her musical career. Lipa is 100% involved in every creative aspect of her career - from an old Versace ad that inspired the 'New Rules' music video, to basing her tour visuals on the work of abstract expressionist painter Mark Rothko. The live Dua Lipa experience is much the same as the environment Lipa fosters in her fanbase, a supportive, safe space that is a celebration of women and love. On her latest tour, a screen displayed a warning message before she performed 'IDGAF' which read, "You are about to experience some explicit language and behaviour. This is a song for all the fuckboys who have done you wrong."
The journey from the first Dua Lipa live show I saw in a shabby, intimate New York City dive bar in 2016 to today has been tremendous - much like her journey from Birmingham's Sunflower Lounge to Genting Arena. Whereas the first show was filled half with music industry folk who loitered at the back, drinks in hand, and half with devoted fans clamouring for the chance to see Lipa in such an intimate space, when we next saw her, opening for Bruno Mars at Auckland's Spark Arena earlier this year, the crowd made an effort to arrive early to catch a glimpse of the rising popstar - and sang along to every word.
Despite only playing her first headline arena tour this April, Lipa is no stranger to playing larger shows, having spent the last few years supporting the likes of Mars and her close pal, Troye Sivan. When opening for Mars in February, her first New Zealand shows, she got to play to sold-out arenas night after night, with only one day off in a packed week of shows. Not even a medical problem with her wisdom teeth in Australia could slow Lipa down for long - and after a few days of rest, enforced by her dentist, she was back on stage doing what she does best: not giving a fuck about anything except her performance, her art, and her fans, and owning it while doing so.
We spoke with Dua Lipa while she was in New Zealand about her debut album, gender equality, karma, and more…
COUP DE MAIN: Last time we saw you was back in August of 2016 in New York, just before you played the Mercury Lounge! SO much has happened since then. And you've made it to New Zealand now! Thank you for coming to visit us.
DUA LIPA: I remember doing the interview! Yeah, the Mercury Lounge. Of course!
CDM: When are you going to come back and play your own show for us? We need to see 'Room For 2' live!
DUA: Hopefully soon! I mean, I feel very lucky that I had the opportunity to come down with Bruno Mars and do shows. I think everything is so crazy and I'm really trying to fit in as many places as possible. So I'm trying to add more dates and hopefully come back for this album, but I have no idea.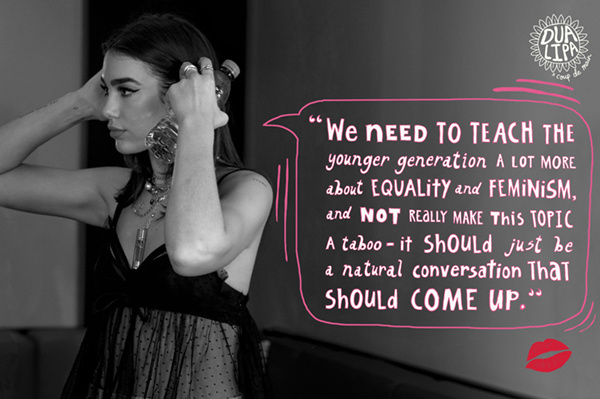 CDM: Last time we talked you said you were excited to one day play 'Room For 2' live, but we hadn't gotten to hear the song yet with your album not out then. I love the line, "Karma's got a kiss for you," in that song. Do you think it's important to treat others as you yourself would want to be treated?
DUA: Absolutely, I think it's really important to. I mean that's kind of something that you get taught in primary school, that it's always really nice to be treated the way you would want to be treated. Sometimes when you're a kid and you get moody and you're mean to someone, you think about it and you're like, 'Oh my god!' Now, when you kind of grow up and you think about some things, you're like, 'Oh my god, kids are so mean sometimes.' But yeah, absolutely.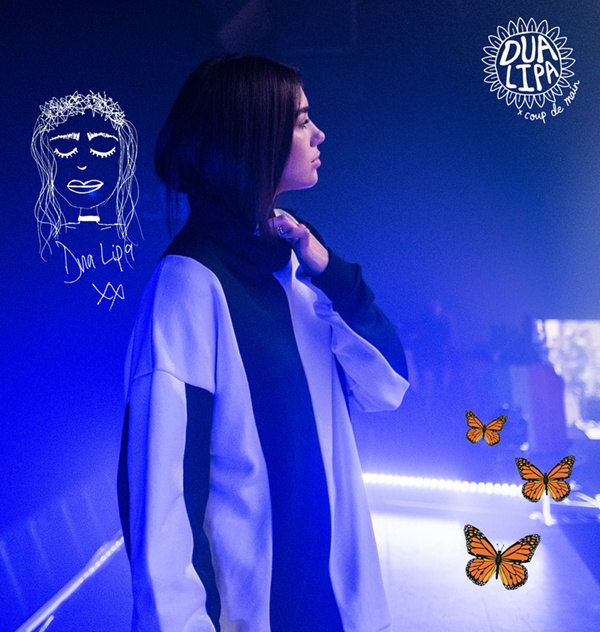 CDM: When we last had Charli XCX on the cover of our magazine, we talked about how there's an "unnecessary stigma pointed towards females in the music industry" and how she thinks it's important to "continuously talk about feminism and gender equality to raise awareness amongst younger people about the issues surrounding gender equality." Do you agree with Charli?
DUA: Absolutely, absolutely, absolutely. I feel like the younger generation is the future and sometimes older generations are kind of stuck in their ways. We need to teach the younger generation a lot more about equality and feminism, and not really make this topic a taboo - it should just be a natural conversation that should come up. I even see [with] my younger sixteen-year-old sister, she's really kind of picking that up, and even with her group of friends. It's a lot more about girls looking after each other and supporting each other, that's really the most important thing. I think through the media for so many years, from make-up brands to whatever, it's always been about being the better woman - it's always been a competition and I think that's so, so sad. It shouldn't be like that, not in music, not anywhere in the industry, not anywhere in the world, really. We should be supporting each other.
CDM: The younger generation are gonna be the ones running the world one day.
DUA: Exactly, exactly. So we've just got to put that in their face. It's just with everything that's happening, I'm glad it's happening now.
HOW I FEEL ABOUT GIRL POWER…
CDM: 'Genesis' is one of our favourite songs on your album, and we were excited to learn that New Zealander Leroy Clampitt plays guitar on the song and did some production work on it!
DUA: Oh, I had no idea! <laughs>
CDM: Did you deliberately connect your songs 'Genesis' and 'Garden' both with biblical references in the title?
DUA: Yeah, well 'Genesis', I called it 'Genesis' because it starts with it being "in the beginning," and I thought it was also cool for it to be the first song. I think I kind of just liked the poetic side of biblical references and theology, and I think there's something so beautiful about explaining the beginning of this love story and how it relates to something so heavenly, in a way. I think that's really quite picturesque and nice.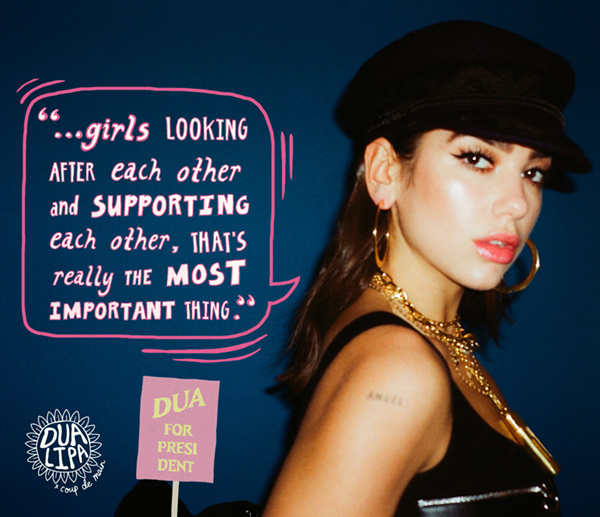 CDM: In songs like 'Genesis' and 'Be The One' you sing about the struggle of staying in love. Is it harder to fall in love? Or stay in love?
DUA: I think it really depends... I don't really know the answer to that. That's a really tough question. I think love definitely exists and I think falling in love is an amazing feeling, and I think when you fall in love with the right person, that love will never die.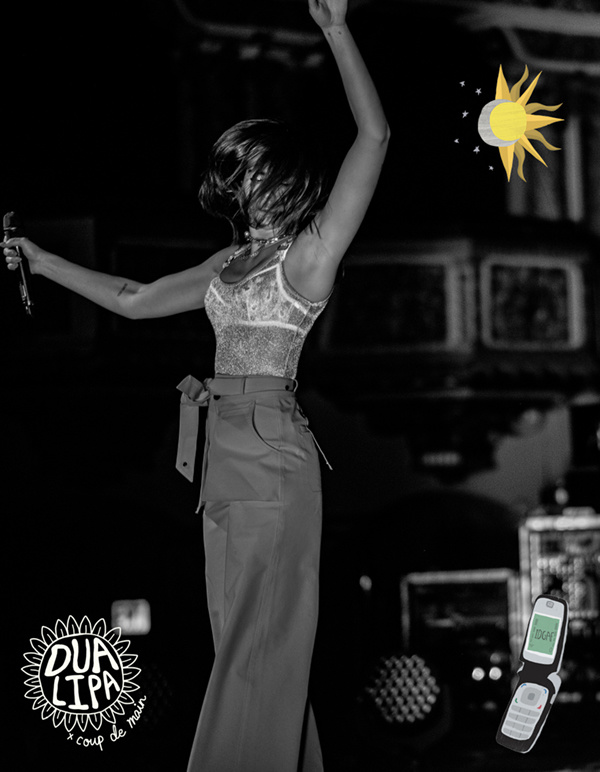 CDM: You've said about 'New Rules' that it's the breakup song you wish you'd had yourself when breaking up with someone. And you've now also gifted womankind with the sassy empowerment that is 'IDGAF'. Why is it do you think there is a lack of girl-power break-up songs in pop music (aside from obvious classics from Beyoncé and Rihanna)?
DUA: I don't know. I haven't really thought about that... but I feel like there are. I feel like there also tends to be songs where a lot of people relate to when people sing about having their hearts broken. There's also a really vulnerable side to that and it helps people relate to that and know that they're not the only people that are going through it - it's not necessarily a kind of "fuck you" anthem which is my style, but there's both of those types and I feel like people can really resonate with either.
CDM: And when we first spoke back in 2015, you said you wanted songs for "people to find a common ground with. To know that we all go through the same things in one way or the other. To know they aren't alone." And you've done exactly that with those songs!
DUA: Thank you so much!
IF I WAS PRESIDENT OF THE WORLD, THE FIRST THING I WOULD DO IS…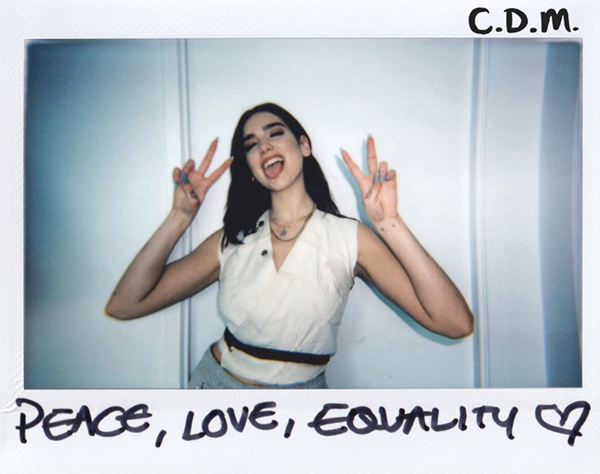 CDM: 'Thinking 'Bout You' is one of the oldest songs on your album, you first released a demo of it online back in 2015. Why did you decide to include it on your album?
DUA: Well it was 'Thinking 'Bout You' and 'Hotter Than Hell' that were the first two songs that I wrote and they were such a big part of this album. They really helped shape it. This album was a lot about who I am as an artist, and this whole kind of growth period and figuring out who I was. A lot of the songs are very different - it's all pop, but they have darker elements and it's quite diverse and it touches on lots of genres. But it was that song that was such a big part of it, that I didn't want to not include it. But obviously I delayed the release of the album just so I could add a lot of the new songs that I had been performing for a while, or some of the songs that I had released I just put into the deluxe, so I was still able to put out an album that felt very brand new for the fans.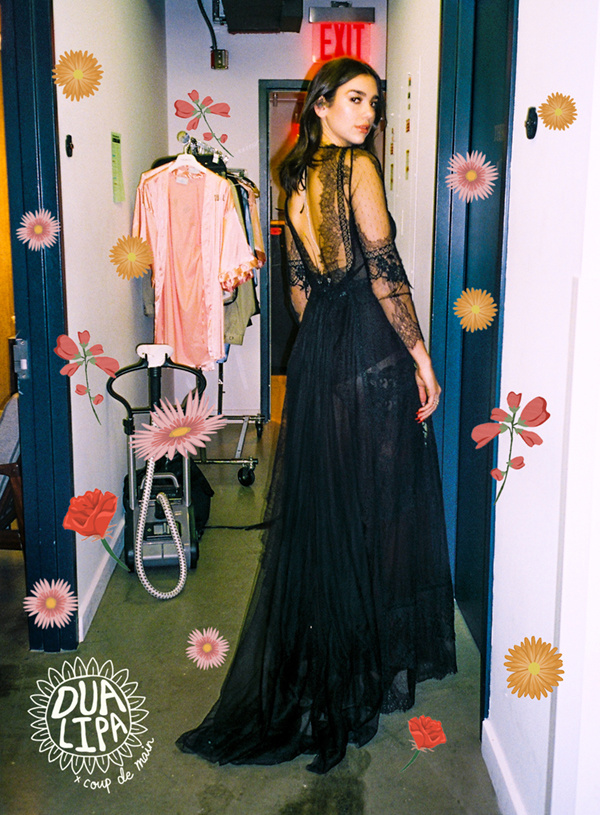 CDM: Have you decided yet what to do with the songs that didn't make your album? There were over 160 songs that you wrote over two years right?
DUA: <laughs> There was a lot of songs! I've written a lot of songs. And probably there's more now. I don't know what I'm going to do with them. Some I have revisited and some I might carry on exploring for the next album - change bits, maybe keep a chorus, keep a verse or something that I feel quite close to. But I also feel like if someone wants them I'm totally fine with other people having some of my songs. Sometimes I write songs and instantly when I leave I'm like, 'You know what, it doesn't feel like it's for me.'
MY FAVOURITE SONG ON MY ALBUM IS…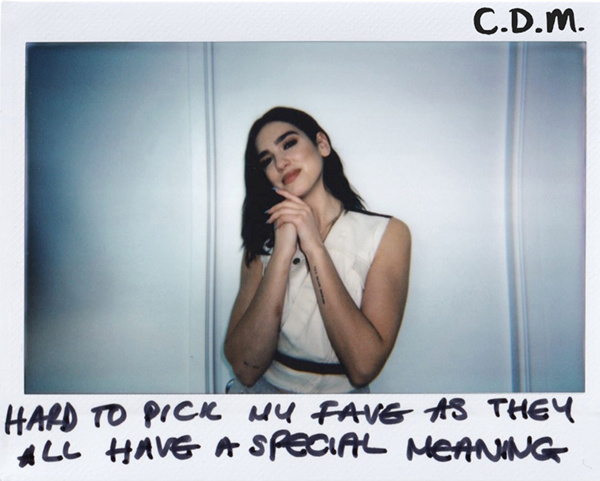 CDM: Do you know that feeling straight away, when you write a song?
DUA: Yeah. It's a weird feeling, but instantly I listen to it and I'm like, 'Yeah, it's good, but it doesn't feel like it's what I want for this project.' Sometimes it's tough because some songs are good, but sometimes it doesn't fit and there's nothing you can really do about it.
CDM: About 'New Love', you've said that you wrote it, "About finding my place in an industry that often seems to neither want nor need you." How do you feel about the music industry now in 2018?
DUA: Well, I definitely feel like I've made my mark in a way, and I've figured out who I am as an artist. I think especially in the beginning and while I was writing 'New Love', I was still in that kind of phase of really figuring out, 'What is the sound that I identify with? What do I feel the most strongly about?' And I feel like now I've definitely solidified that in my head, more so than when I was writing 'New Love'. I think my personal angle on the music industry has changed a lot, just like my personal journey has changed so much, that it's changed my perspective on it.
CDM: Have you been enjoying Milan Kundera's 'The Unbearable Lightness Of Being'? I saw you were reading it.
DUA: I think it's a brilliant book. When I'm touring so much and I'm so involved with my social media and stuff, when I get on planes I try not to watch any movies or anything, I try and pick up a book. It takes me a little while to finish stuff because I'm so busy, but it's such an amazing book and so philosophical and touches on a lot about the honesty in relationships, but also the darkness of infidelity, and a lot of it is very honest and real and it's quite interesting to read something from someone's quite honest perspective. Yeah, it's a great book.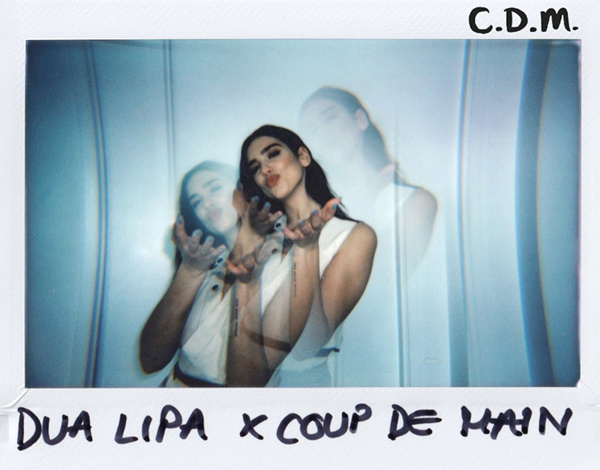 CDM: We're going to be doing a special Dua Lipa themed book club for our next magazine which you're going to be on the cover of, can you recommend any other books?
DUA: Absolutely. 'Girls' by Emma Klein, that's a brilliant book and I read that just before I started reading 'The Unbearable Lightness Of Being'. I am about to read, after I finish this one, 'The Hollow Chocolate Bunnies Of The Apocalypse'. And what else? 'Wabi Sabi' is a good book.

Dua Lipa's self-titled debut album is out now - click here to purchase.
Order a physical version of our cover story with Dua Lipa with a CDM x Dua Lipa zine - click here to purchase.
Watch the 'IDGAF' music video below…