A photo diary from... Dreamer Boy.
A photo diary from... Dreamer Boy.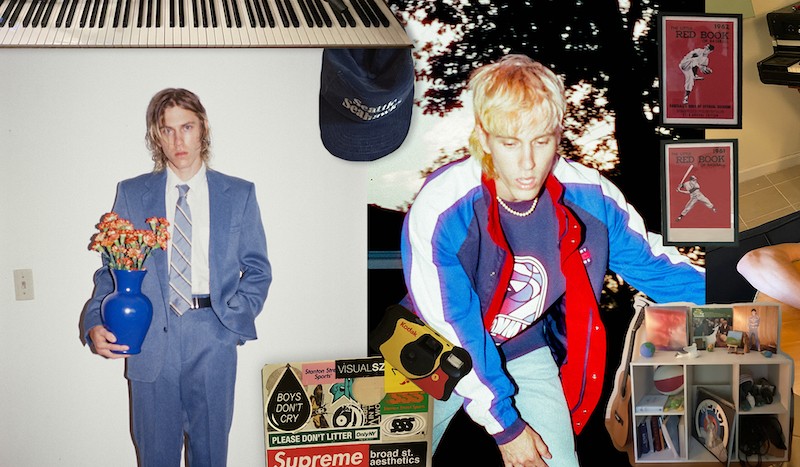 "I think I try to see the world as brightly and wholly as I can; I am an optimist and I carry a lot of hope," earnestly confesses the face behind Dreamer Boy, Zach Taylor, on how he tries to view the world and the workings of his mind. The Nashville-based musician continues, "Lately I've just been trying to figure out who Zach is at the purest level, without all the artistic expression, or clothes, or masks. That's what I am looking for right now." 
Taylor recently compiled a photo diary for Coup De Main - and we also had a chat about all things pertaining to his new record. 
COUP DE MAIN: "What's the use in keeping it inside?" you ask in 'Cry Baby' - do you think it's important to freely express your feelings?
DREAMER BOY: Absolutely, I feel like expressing your feelings to those around you is like an act of trust. When I wrote this song I was getting used to the idea that I was not a burden to anyone if I were to open up - this song talks about my frustration being stuck, but the freedom that can come from talking about it and growing through it. Start moving. Beginning anywhere. 
 
CDM: 'Don't Be A Fool' also emphasises a similar sentiment - "I know you're waiting for the right time... Don't be a fool just say the words that come to your mind if you don't jump you'll lose her." Do you have any advice for how best to jump in when fears of wrong timing might be crippling you from telling someone how you feel?
DREAMER BOY: It's so tough! You don't want to blindside the person, but sometimes you have no choice. I think I've learned that if you go about it with love, or respect of wherever the other person may be, it's going to either: 1) Give you an answer you need, or 2) Open up a new side of that relationship because you finally shared those feelings that you had kept secret. Taking that leap of faith either way can be necessary for growth. Good luck.
CDM: What was running through your mind while writing 'All Or Nothing'?
DREAMER BOY: I was actually in a hotel room in Los Angeles with a few of my best friends on our first tour, and I think I was just observing the way each of our friendships looked, and felt. I think when it comes to loving someone, it's either all or nothing for me, and I think I was really starting to learn how to love people during that time, and that's a journey that is still going on for me. I did the whole verse in one take with nothing written down, which was a really special experience, it just kinda came out… That's how the intro 'All The Ways We Are Together' happened as well; it's cool they are both the end caps to the album. 
CDM: In 'Sweatshirt' you say, "I'm an island these days." Do you still feel that way?
DREAMER BOY: I don't, luckily. In some ways I feel more comfortable knowing that there's a time to be alone and a time to lean on others. During the time that the song is about, I was so confused about where to put my love because it wasn't able to be shared with the person I really wanted to share it with… so then I just felt isolated.
CDM: Tell me how you view this world? What kind of music do you like to listen to? What inspires those thoughts in your head? [lyrics from Dreamer Boy's song 'All The Ways We Are Together']
DREAMER BOY: Wow, just wow… I love y'all. I think I try to see the world as brightly and wholly as I can; I am an optimist and I carry a lot of hope. I listen to all sorts of music depending on my day, but lately it's been Kurt Vile, Natalie Bergman, that new Tyler album, lots of late 2000s/early 2010s Kanye like 'Yeezus' and MBDTF, even a little meditative music just to float around when I'm on a run. The thoughts in my head are probably most inspired by my ego which I'm trying to navigate each and every day which is something we all have going on. So lately I've just been trying to figure out who Zach is at the purest level, without all the artistic expression or clothes or masks - that's what I am looking for right now.
CDM: 'Let's Hold Hands' is like the rose-tinted glasses wearing / hopeless romantic sibling of 'Puppy Dog'. I love it. What's the most romantic thing you've ever done for anyone else?
DREAMER BOY: I love the relationship those two songs could have, they are about the same situation, for sure. I don't want to toot my own horn here but I love setting up a little picnic, and setting a whole scene with food and drinks and music, and just spending some quality time.
CDM: Describe a perfect day for you...
DREAMER BOY: Perfect day is I wake up around 8:30-9am and work out or get my body active somehow, then make some food and catch up on sports, or watch YouTube while I eat, then hopefully go to the studio and work on some music. At the studio I like to spend segments of the time outside, and me and Bobby just talk… After the studio, meeting up with some friends for a drink or for food, and reading something super good before bed. That's probably a really simple day in my life but makes me happy.
CDM: Congrats on planting 1,500 trees thanks to fans streaming your album! Why was this something you wanted to do in support of Earth Day?
DREAMER BOY: Thanks, that was so amazing to see! We really just wanted to find a way to make some sort of action happen around the album. Bringing people together in community and doing something good is the most beautiful thing and we are working to do more projects down the line to make whatever splash we can of good in the world. Thanks to everyone who streamed for trees!! 💙
CDM: What's next for Dreamer Boy?
DREAMER BOY: I'm working on some new music for the Fall, it's really something I've never done before, in a lot of senses and for that reason it's really exciting. Looking forward to playing some shows as well which I'm announcing soon. Appreciate y'all, much love!
Load next