Interview: Clairo - doing it differently.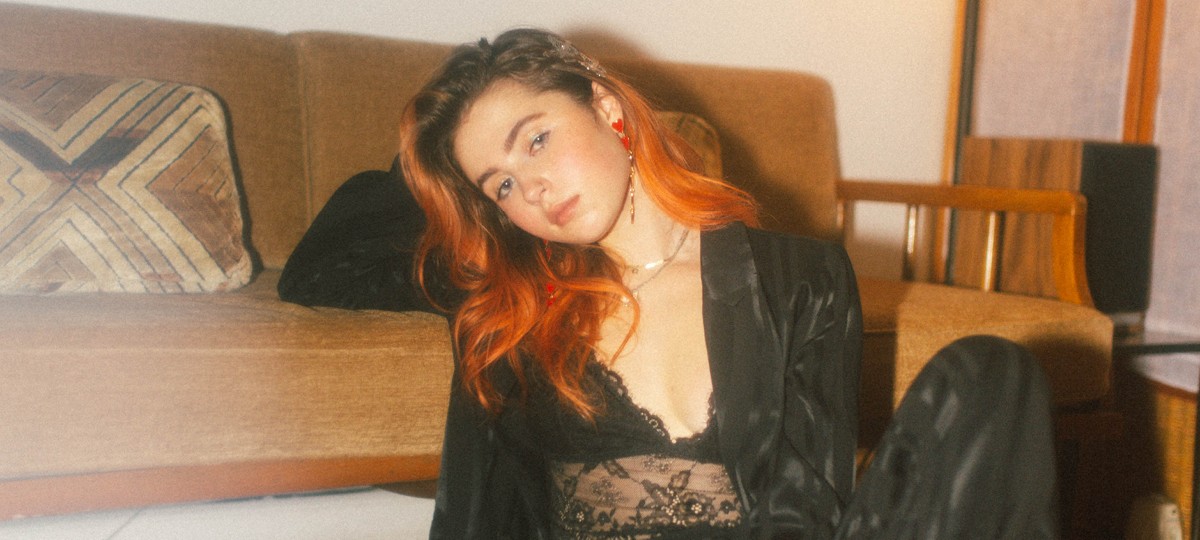 "It was important to me for the album to resemble handing the world a mixtape that I burned on a CD and made for you... Here it is! It's called 'Immunity'. Love, Clairo," says Claire Cottrill fondly of the emotional support blanket that is her debut album as Clairo, an eleven-track record that plays out like a late-night call with your best friend ("You can't listen to this album and not understand that there's an end to all things bad," she affirms), and adeptly aces that rarest of musical feats; that the album resonates more and more powerfully with every successive listen.
'Immunity' plumbs the depths of love in a way that only the rose-tinted glasses of youth can ("And I know that we got some potential / 'Cuz that look you gave me was so gentle," she sings in 'North'), delving into the unrequited, the platonic, and the potential of it all. Cottrill also shines a light on heavier feelings, with album opener 'Alewife' recounting her teenage self experiencing suicidal thoughts, while closing-track 'I Wouldn't Ask You' vocalises her struggles with juvenile rheumatoid arthritis and how it imbalances personal relationships, with a choir of nine-year-olds giving voice to how helpless it feels when chronic pain is a constant third wheel and your partner feels obliged to act as a caretaker rather than a companion. Cottrill repurposes all her past trials, tribulations, and torment into thoughtful parables; like hugs in song-form. She says she wrote the album for her fifteen-year-old self, further illuminating that, "To know that I can overcome a lot of the struggles I have had with depression, the fact that I can overcome my insecurity and my fear of vocalising my sexuality, the fact that I can look back at relationships and see what I did wrong, the fact that I can see my arthritis as something that's just a part of me instead of pretending I don't have it to feel more beautiful, these are all things that I never really speak about, but things that I always wanted to overcome. In a way, this album is really for me, but it's really for everyone else as well. It's just as much for me as it is for everyone else. When they hear it, I'm going to listen to it too, and I'll be reminded of the strength that I can find in music."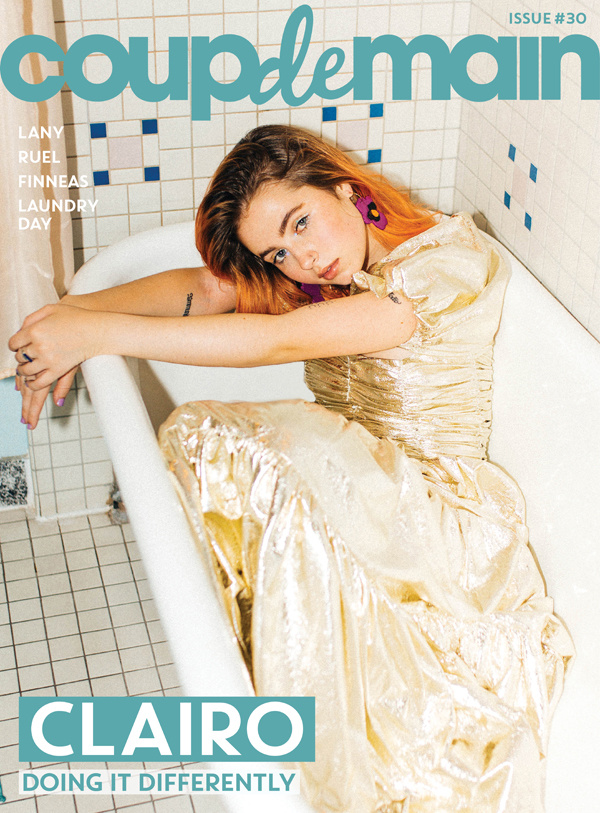 Click here to order a CDM x Clairo zine (i.e. a mini-magazine featuring photos + quotes from this cover-story).
Album collaborator Danielle Haim says via email about Cottrill: "She has such a unique voice and point of view. I remember coming in to visit Rostam while Clairo and him were working and I heard 'Bags' and I thought it was an amazing song. I'm so happy they asked me to play drums on the record and to have me be a part of the process." While co-producer / Jedi Master Rostam Batmanglij teased back in April four months before the album's release, "That nü Clairo music, it's about to change the world," and New York band Laundry Day say of their own recent experience in the studio with Cottrill that she "had so much to add" and that "she's so open, especially in a studio setting, and always willing to try a bunch of stuff. She was playing guitar on a bunch of songs and singing. She's just a good vibe and it's nice when someone really clicks in. We work in weird ways, we work very fast and we're kind of hyper and all over the place, and I feel like she added a new spice to it."
Cottrill's musical prowess is indisputable amongst her colleagues, and it's a woefully disenchanting portrait of the misogynistic 'behind every successful woman is a man' double standards that female artists are subject to and scrutinised by, when so much of the narrative spun about Clairo in 2019 still revolves around familial circumstances rather than an independent artist's deliverance of her best work to date (awarded a five-star review by NME), and inimitable execution of a creative vision entirely her own. There were no expensive music videos to herald the release of 'Immunity', no inescapable press campaign, and no high-profile musical features on the album, just eleven songs that really matter - and six of which, Cottrill is credited as the sole writer on. As author and activist Helen Keller once said, "The best and most beautiful things in the world cannot be seen or even touched. They must be felt with the heart," which is a sentiment that rings infinitely true of 'Immunity', with every song an intersection of emotional ley lines and heartfelt tenderness (on the album's release day, fellow musician Phoebe Bridgers tweeted: "Someone tell Clairo I really can't do this today and to please release the album on a different day I am not strong enough").
Last month, ahead of the release of 'Immunity' ("I think we got the masters back in April and then started immediately promoting it. It was kind of crazy. It felt like forever when we were doing it, but after we were done and started rolling everything out, it just felt so fast. Like, I can't believe it's already coming out, I'm so excited"), I find myself sitting opposite from Cottrill in a dimly lit Williamsburg bedroom, hiding indoors from the sweltering New York summer. Cottrill is drawing a self-portrait of herself and giggles, "Kitty has a round face like me," before going on to share how she inherited her talent for drawing cats from her mother: "She went to school for graphic design and then taught herself photography. She's amazing. But when I was a kid, I would always ask her to draw these little animals. When she was growing up, she would copy little animals from storybooks and I kind of learned how to draw little kitty cats from her." I ask Cottrill if she's more of a dog person or cat person and she answers immediately, "Way more of a dog person, but I think of myself as a cat for some reason" (which makes sense when you see how adorable the Cottrill family dog Tuck is). Cottrill frequently relays wise advice bestowed by her mother (she recently told Australia's Triple J that, "My mom looks at relationships in a really cool way, she thinks of them kind of as separate banks. She says that in all your more important relationships, you need to make deposits every day in order for it to function"), so it's no surprise that she has the initials of her family tattooed on her left arm (which Cottrill got done earlier this year while in Australia on the Laneway Festival circuit), as proudly showcased on the album cover for 'Immunity'.
Twelve months into a degree studying music business at Syracuse College, Cottrill made the decision to drop out to go on tour with popstar Dua Lipa. Prior to that, Cottrill had primarily been known for self-empowerment anthem 'Pretty Girl', which hit one million views on YouTube during Cottrill's first week of college and now boasts over thirty-eight million. In August 2017, Cottrill wrote at the time of uploading to YouTube that, "The reason I made this music video was to actually help myself. On the day I made this, my hair was greasy, my skin was bad, I had nothing to wear, and I didn't want to leave bed. I had just woken up in this video and you can definitely tell (lol). I felt really ugly but realised that it's perfectly okay to feel that way / have those types of days. The song is about a relationship I had where I felt I needed to be the perfect girl for another person... whether that's wearing makeup, doing my hair, wearing things they like, or even changing the way I speak / WHEN I speak. So, I felt that the only way I could make this video was to have a lot of fun looking disgusting and not caring at all! It's okay to have flaws and it's okay to embrace them and it's okay to be silly and stupid. You all might already know this, but I'm happy that I know this now." Even at nineteen, Cottrill was already wise beyond her years. Twenty at the time of us meeting, three weeks before her twenty-first birthday, Cottrill displaces her sunny disposition momentarily as she sagely dispenses romantic advice: "We all are the person that will change someone's life, it just has to be the right person and it has to be the right story." Next time you're questioning yourself, just think, 'What Would Clairo Do?'
Having just completed a North American arena tour opening for Khalid (who once called 'Immunity' shredder 'Sofia' his "fav song"), followed by Taylor Swift and Coldplay both in the same week recommending 'Alewife' to their worldwide followings, since the release of her album, Cottrill has been busy transcending her online success (over 399 million global combined streams, 80 million views on YouTube, and a combined social reach of 2 million) into other realms. Like Dorothy, Cottrill finds herself undeniably not in Kansas anymore; let alone Carlisle (the Massachusetts town with a population of less than 5,000 that she grew up in), jet-setting so often that room-mate Claud finds themselves without any excuse for dirty dishes at home ("I didn't leave them in the sink because I haven't been home for a month, so joke's on you Claud, wash your own dishes"). In a recent interview with Beats 1's Matt Wilkinson for Apple's Up Next series, Cottrill said, "I want to be a friend to the people who are listening to the music," and it certainly seems like that is what she's becoming known for now. "I want everyone to be able to listen to my music and feel as if they're included," she tells me, and explains the importance of relatable songwriting: "I think that there are very universal feelings in every story and it's important to highlight those, because everyone can relate and everyone can understand." And further thinking about her friends (i.e. anyone who has partaken in the 47 million streams of 'Immunity' in less than a month), in typical Cottrill fashion, she concludes that, "I just really want to make solid albums that are important and that say important things and help me get through my situations and that potentially help other people get through theirs." A friend in need is a friend indeed, and Cottrill continues to prove it time and time again; song by song.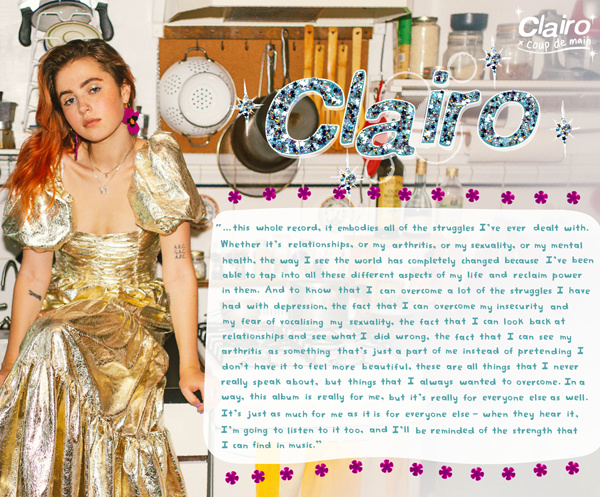 [Vegas Puff Dress by Georgia Alice. Midnight Patch Earrings by Gorman.]
COUP DE MAIN: Your album's opening-track 'Alewife' is so beautiful, sonically it makes me think of how painters start a painting by establishing the composition and sketching out important shapes first, before later filling in the colours and adding definition. Every second of that song sounds like you're painting with feelings.
CLAIRO: Thank you so much!
CDM: Was it therapeutic for you to write 'Alewife'?
CLAIRO: Yes, that song is extremely special to me, just because it's about an experience that I never really shared with a lot of people. In eighth grade, I was having a really hard time dealing with my depression that's been on and off my whole life, and there was a time where I really felt like I didn't want to be here anymore. And instead of making this song about how sad that is and how bad I felt in the moment, I wanted to make it about my friend Alexa who called the police when she suspected that I was feeling this way. Even if it was just the thought, she still cared enough to intervene and be a true friend, which is something I didn't feel like I ever had and had never experienced until Alexa. So the song is really more of a love song to her and kind of a 'thank you' and a reminder to everyone else that there are people like Alexa that want to help uplift you and get you out of really terrible head-spaces. I'm in the best stage of my life right now, and I would have never known how great it was, but Alexa is a big part of my life and a big part of my story.
CDM: Thank you, Alexa!
CLAIRO: Yeah! Thank you, Alexa!! We love you.
CDM: Aside from being an actual transit station that you spent a lot of time at while growing up in Massachusetts, what else does Alewife station represent to you? Is it symbolic of your youth?
CLAIRO: Definitely. Alewife was the train station that went into the city nearest my town - there was a commuter rail in the town next to mine in Concord, but I usually didn't take that to the city. My friends and I would drive twenty-five or thirty minutes to Alewife and then I'd take the Red Line to Harvard Square or Davis, or switch to the Green Line at Park Street, and that was a big part of my early high school life because I found community outside of school through music and from kids I met at shows, and kids that lived in Cambridge. So I would go see them on the weekends and I would go out there to find music and to find shows and to immerse myself in something, because at the time I didn't really feel like I had any of that where I lived. I was kind of closing myself off and growing up was hard, but it was a big part of who I was at the time and how much I relied on that train station to get me to places where I felt myself.
CDM: I kind of enjoy the solitary thought aspect of being on public transport, that you can't really do anything else while commuting.
CLAIRO: Totally!
CDM: I feel like I always do my best thinking in the shower and on the bus to work.
CLAIRO: Me too. My favourite and most fond moments in high school are my drives to school or rides on the T [Boston subway]; they are really important to me. That experience, just sitting there and observing things around you and people around you, knowing that everyone has their own individual problems and their whole individual life that may or may not be more intense and different than yours, it makes things easier when you realise that everyone else has their own things going on.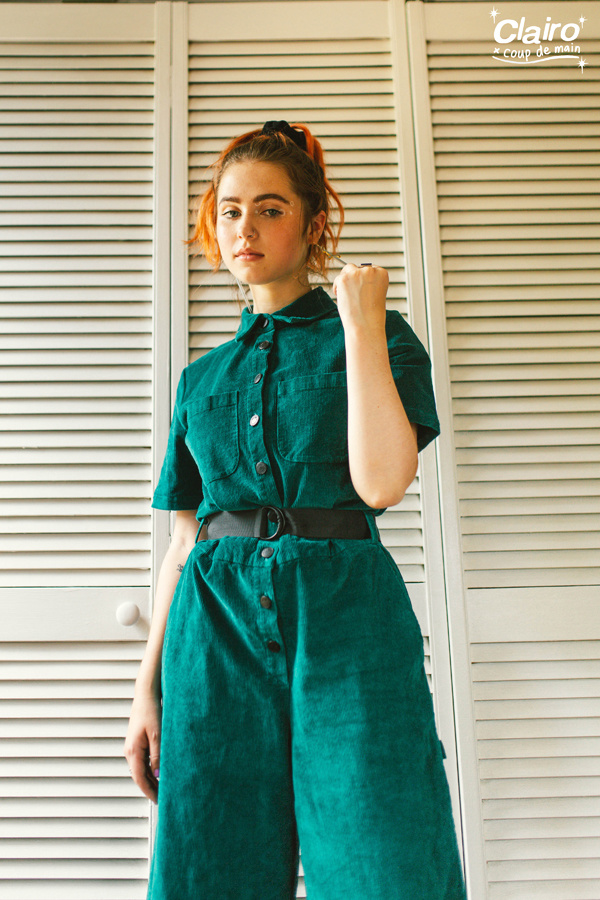 [Colour Block Jumpsuit in Green by Lazy Oaf. Sword Earrings by Juliette Stuart. Novelty Ankle Sock by Glassons.]
CDM: You mention eighth grade in that song, saying that it "was never that tight". Maybe it's because I've watched 'Eighth Grade', but that last year of middle school seems really significant to Americans. What was it about being thirteen/fourteen that's really stuck with you?
CLAIRO: It's the moment before you go to high school. High school is so big and it's such a big moment. There are cool kids, it's what all the movies are about, and it's what every love story ever is about when it's about teenagers. You hear so many stories and you want to experience all of it, and it's a scary time. When you're in eighth grade, there's fear of that, but then also you start to learn more about yourself, and that time is all about learning about yourself, you know yourself enough to know that you don't want to be in middle school and that you want to branch out in terms of friendships and interests, but you're not old enough. That's how I felt. I felt like I was just trapped until I got to college. <laughs> And then once I got to college I was like, 'Fuck yeah!'
CDM: 'I've found my people!'
CLAIRO: Yeah! My mom always told me that too. She was like, "You're going to find your people in college, don't worry." I was like, "That's so far from now! What do I do until then?!" But, you make it work. And it's not so bad.
CDM: You also say, "I lay in my room / Wondering why I've got this life," which is such a quintessential teenage feeling, but does it ever really go away?
CLAIRO: <laughs> Ummm... no! That line is definitely just me being way overdramatic, but it's definitely a thought you have in middle school and high school. You're just like 'why me?' all the time, instead of being grateful for what you have. I feel like teenagers and middle schoolers, we tend to be really self-involved because we're only thinking about our own experiences and we're only thinking about why things suck for us. 'Why did this happen to me? Why is this only happening to me?' And when you grow up, things are bigger than just you - it's not just about you, everyone is going through something. I wanted to capture that self-involved almost narcissistic kind of attitude because I feel like I was that way growing up, I only cared about my own experiences, and then senior year rolled around and you're like, 'Damn! Everyone else is doing the exact same thing as me, everyone else is going through their own thing in a different form; we're all the same.' We've all been there, for sure.
CDM: With you naming the album 'Immunity', do you feel like you've reclaimed power over anything you've struggled with and any past negative feelings?
CLAIRO: Definitely. I think that this whole record it embodies all of the struggles I've ever dealt with. Whether it's relationships, or my arthritis, or my sexuality, or my mental health, the way I see the world has completely changed because I've been able to tap into all these different aspects of my life and reclaim power in them. And to know that I can overcome a lot of the struggles I have had with depression, the fact that I can overcome my insecurity and my fear of vocalising my sexuality, the fact that I can look back at relationships and see what I did wrong, the fact that I can see my arthritis as something that's just a part of me instead of pretending I don't have it to feel more beautiful, these are all things that I never really speak about, but things that I always wanted to overcome. In a way, this album is really for me, but it's really for everyone else as well. It's just as much for me as it is for everyone else. When they hear it, I'm going to listen to it too, and I'll be reminded of the strength that I can find in music.
[Satin Blazer + Pant, Bralet by Glassons. Oaffice Socks by Lazy Oaf. 1461 in Smooth Black by Dr. Martens. Lovestruck Earring by Ruby.]
CDM: Self-identity is such a constantly changing journey, but how are you feeling about where you are at right now?
CLAIRO: I feel good. I feel like finishing this record really centred me and it helped me put a lot of things into perspective. There's a lot of work that went into it. I feel like I truly put my blood, sweat, and tears into something that I'm proud of and that's all I really care about at the end of the day. I just really want to make solid albums that are important and that say important things and help me get through my situations and that potentially help other people get through theirs. I think music is one of the most powerful mediums and it's helped me get through anything and everything I've ever felt, and writing my first record was an overwhelmingly rewarding experience, to say the least.
CDM: How much of identity do you think is tied to yourself? Or what you take on from other people's perceptions of yourself?
CLAIRO: I think that it's easy to get wrapped up in what people say about you online. Especially when 'Pretty Girl' happened for me, I almost obsessed over the comments because I was just so shocked that anyone was speaking about me in general, that all these people had opinions at all, good or bad, and I would see a lot of good but I would also see a lot of bad, and I took it very personally in the beginning. I wanted to change a lot of things about myself and I wanted to not even do music anymore. I was like, 'Well, shit, this is the first thing everyone sees from me and it only scratches the surface of what I can do.' And it really affected me, but I think as time went on, and the more I created music by myself and with other artists that I really respect, and the more time I spent on my craft, the more confident I felt and the less validation I needed from people online. I found identity through music and through my love for music and just wanting to know more and learn more about what I'm doing. I've learnt that people will always have some sort of opinion of you, regardless of what you do, so it's extremely important that you go for what makes you happy and you go for the things that you find cool, because then everyone else will think it's cool if you're confident about it.
CDM: There are a lot of relatable moments on your album, but maybe two of the most relatable are when you say "pardon my emotions" in 'Bags' and apologise in 'Impossible' for wanting to talk to someone and hear their voice. Society has conditioned women into feeling like they're not allowed to take up space and it's a hard irrationality to shake. The poet Rupi Kaur once said: "Trying to convince myself I am allowed to take up space is like writing with my left hand when I was born to use my right." Do you feel like you've been finding yourself moving out of that mental space as you gain more confidence in yourself?
CLAIRO: Definitely. It's all about confidence. I think I'm slowly gaining confidence in myself and who I am, and I think that women definitely do apologise more than they have to. It was either an article or a video I saw, but it was about this woman who realised that before every question she asked in a class, she apologised. She was like, "Sorry! I have one more question." And that really opened my eyes. Like, why do we feel the need to do that when we really don't have anything to apologise for in that context? When I'm feeling vulnerable, when I'm feeling insecure in my situation with a person or in myself, I tend to look inward and apologise, and I think that's just how I've always been when it comes to things like that. Like if I'm going through something in my relationship, I usually look inward and I think it's me. So I think that was kind of me capturing that about myself, and having it laid out in my lyrics I'm faced with the fact that I do that and I shouldn't do that.
CDM: It's hard!
CLAIRO: Yeah, I think that my writing is a documentation of where I'm at currently, and I think my lyrics will evolve into something more confident as I grow, but it is funny to look back at my lyrics and read them and question why I even apologised in the songs in the first place.
CDM: The self-confidence you show in the second half of 'Bags' and then at the end of 'Softly' when you say, "I'm doing it differently," is so heart-warming though. I'm proud of you!
CLAIRO: Thank you!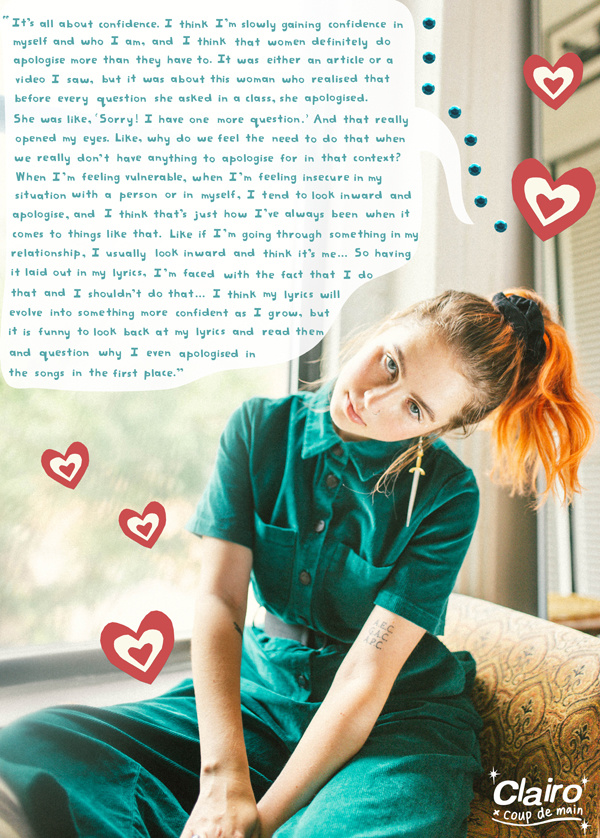 CDM: There's such a stigma against being "overly emotional" or wearing your heart-on-your-sleeve too much, from the 'Hysterical Woman' trope to female fans of boybands having their opinions invalidated and worth to society discounted. Is this something you ever see changing? Or do you think it's too ingrained into society?
CLAIRO: I think so. I think people are slowly learning about a lot of things. I think we have a lot of work to do in terms of stigmas towards women and the dialogue that we have about women in general, but I do see it changing over time. It's a hard question. I guess in my position, it's important that I continue to wear my heart on my sleeve. That's something that I've always done and something I'll continue to do. I personally can't make art without having a strong emotional connection to what I'm talking about, so that won't ever change. But hopefully it does change over time and I'll continue to do my part.
CDM: It's good for your fans to see you as a successful woman being soft and open about your feelings.
CLAIRO: Yeah! It's important to remember that being emotional and being vulnerable doesn't equal weakness. And I think that's something I've had to learn too, going through this process of having a viral video and learning how to be tough, it's really hard because I'm a very emotional person.
CDM: The internet can be very unkind.
CLAIRO: It can be very mean, but it's also everything to me. So I had to learn not to become bitter and not let that experience taint how I see the world because I'm really happy that I'm able to be vulnerable and that my willingness to be open and honest is a strength. I'm glad that I still have a little bit of that.
CDM: In 'Impossible' while reflecting on a former flame, you say, "And I know we're not the same as we were." With human relationships always being in a constant state of flux, do you think that once things don't feel the same, they can never be the same again?
CLAIRO: I don't know, because the specific situation that I wrote about in that song, it is still going. So I don't know yet! I feel like I'm still very young and I have yet to figure out if my past relationships can somehow evolve into a better one - like an ex-boyfriend or girlfriend, if that would actually end up being better now that we're apart? And once we meet again, will it change? I'm not sure. But I do think things will always be different, but it doesn't necessarily mean it's different in a negative way. It could improve, for all I know. I'll come back to you in a year. <laughs>
CDM: Side-note: I really love the Wurlitzer outro in that song!
CLAIRO: Thank you! That was Peter CottonTale. He's an incredible musician from Chicago and he worked on a few songs. He's so talented. When he did that riff, it was just so heartwarming for me. It was a moment that I wanted to put the kids talking in because I just thought it was so pure. I interviewed the children's choir [The Adderley School Choir] after working with them - I interviewed them for an hour and asked them a bunch of questions about their lives and about how they deal with emotions. I asked them questions like, "Describe your best friend? Tell me about your favourite day? How do you react when someone is mean to you?" And they gave back these incredibly intricate answers that sounded like 20-year-olds. I was like, "You're nine! Why do you sound like me? This is not okay." But hearing them laugh, and hearing them talk about what lockers are like in middle school, and hearing them talk about how much they like to write, and how one of them was starting a screenplay, and how they love their parents, it was just feelings that can't be replaced. It is the most joyful thing to witness kids talk about things that they love and to hear them laugh, and I needed to hear that on the record. There's nothing more beautiful than a nine-year-old laughing.
CDM: Claire, tell me about your favourite day.
CLAIRO: My favourite day?! Oh my gosh. I think one of my favourite days ever was in middle school. I was taking these pottery classes from the grandmother of this girl in my grade - she taught a pottery class and we'd go to her house which was in the middle of the woods and we would make these crazy creations. I remember I made a lamb and I gave it to my mom. And the woman who taught us had the best apples I have ever had in my life, she would cut them up and bring them out to us while we were making little animals, and it was in the middle of summer. It was perfect. The town I grew up in was really small and I was completely surrounded by nature growing up, which is something that I am so thankful for. It was everything to me. Going on walks and exploring and being in the middle of the woods taking pottery classes and eating apples! Yes, it was the best of the best.
CDM: What was it like working with Danielle Haim?
CLAIRO: Incredible! She's insane. One of the most talented people I've ever met in my life. I'm so blessed to have her on this album. As someone who listened to Haim all throughout high school, it was really surreal for me to have Danielle drum on this record and for her to like it enough to be a part of it herself. It was really a life-changing experience working with Danielle and Rostam and everyone in their family of musicians, and Ariel [Rechtshaid], and working with Dave Fridmann, working with Tom Elmhirst, Shawn Everett, and Emily Lazar - these are people that are legendary. Legendary people in their community! And Rostam opened the door for me through this record and I could not be more grateful. Honestly, I could not be more grateful to have been introduced to so many influential people. The credits on this record are probably my favourite part about the record if I have to be honest with you. <laughs>
CDM: In 'Impossible' you say: "How are you feeling? / How are you doing? / I'm sorry, just wanted / To hear your voice so clear." With social media giving us all the ability to lurk on almost anyone we want, do you think it's added even more of a sense of entitlement to wanting human contact from someone that you're interested in?
CLAIRO: <laughs> For sure! Of course. I think the fact that you can know what everyone is up to can make you go crazy. If you're trying to get away from someone it doesn't help you, and if you're trying to be closer to someone it also doesn't help you because you get too close and you start to know what their cousin looks like.
CDM: But you can't let them know that you know.
CLAIRO: No! You can never let them know that you know. But you know what all their extended family looks like and what kind of cake they baked last week. It's a lot and sometimes it can be a sensory overload. But I do think that you feel like you're owed that sometimes. Actually, no! I don't think that.
CDM: It's like an illogical irritability that if someone hasn't updated their Instagram story, you're annoyed because you want to know what they're doing, but you don't want to seem annoying or crazy by just asking them outrightly.
CLAIRO: Yeah, I think it's because everything is so instant now. If they're not posting what they're doing, you're like, 'What the fuck? What are you doing?! Tell me!' Especially if you're interested in them.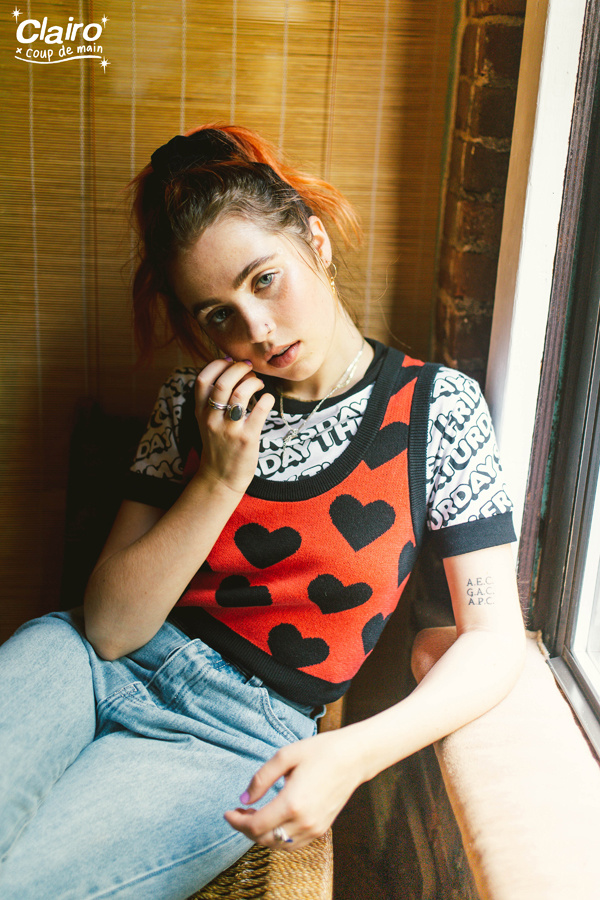 [Day After Day Ringer T-Shirt and Knit Heart Tank Top by Lazy Oaf. Mom Jeans by Glassons.]
CDM: One of my favourite moments on your album is in 'Sofia' when you say, "I just want to say / How I love you with your hair down." Isn't it funny how you can obsess over the most inane things when you feel strongly about someone?
CLAIRO: Yes! Of course! Women are beautiful and I've been with a girl that just looked so good with her hair down. I was like, 'Oh my god, please don't ever put your hair up again. You look amazing!' Just things like that. When she would have her hair up and then she would take it out, I'd be like, 'OH MY GOD.'
CDM: In slow-mo?
CLAIRO: Definitely in slow-mo. Like with the Spandau Ballet song 'True' playing in the background.
CDM: And then you wonder if they're having reciprocal thoughts. And if they have their own favourite thing about you.
CLAIRO: Yeah! I'm like, 'Do you care if my hair is down?'
CDM: I agree with you that 'Sofia' feels "powerful". Did you deliberately want to write an empowering song about your sexuality for this album?
CLAIRO: Definitely. I think it was super important that 'Sofia' was empowering because a common theme on this record was to take personal experiences that may or may not have a negative connotation and find the silver lining and find ways to uplift the listener. When talking about serious things like sexuality, or insecurities, or mental health, it's important that you have a light at the end of the song/tunnel. It's really important because there are so many sad songs that have no hope in sight and I just wanted to give the world songs that went there emotionally but came back more glass-half-full than empty. You can't listen to this album and not understand that there's an end to all things bad. Life is a constant up and down of happy and sad moments, and the peaks and valleys can happen in songs as well. Especially being a song about my sexuality, it was important to me that 'Sofia' was celebratory because it should be celebrated. At the end of the day it's something that I'm really proud of and I'm really happy that I can look at the world that way - that I can find beauty in women, that I can express that, that I'm able to express that, that I'm privileged enough to talk about it in an interview. It's important that I recognise how lucky I am to be able to be so open about something like that. I'm not the first person that should have a platform when it comes to talking about sexuality, but I'm here to recognise all of the people that go through really terrible things every day just to be able to express that about themselves way more than I do.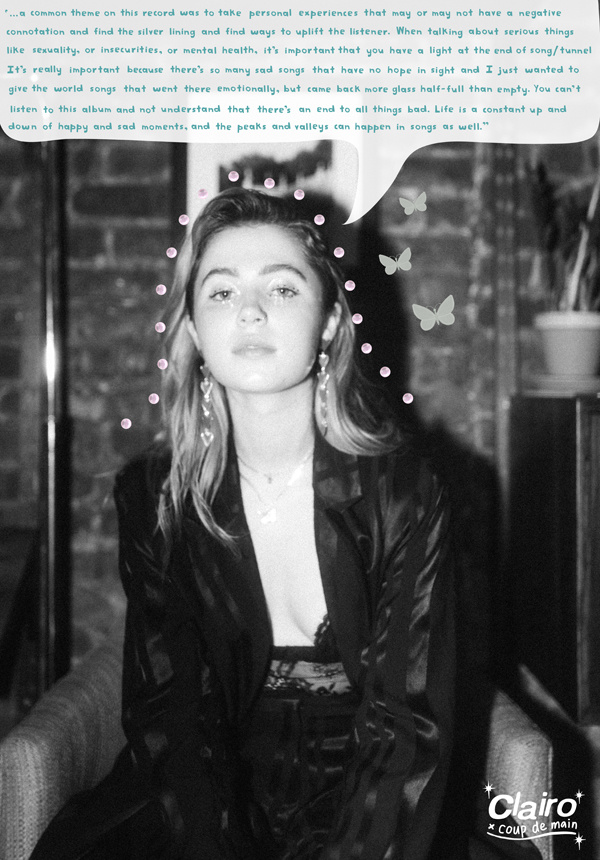 CDM: You told Paper magazine that you've only "been in relationships with guys my whole life," and it seems like it must be a really frustrating thing when bisexuality or queerness is often erased because of experiences like that. Like Halsey has had so many people accuse her of being straight because her public relationships have only been with men.
CLAIRO: Totally. I've only started to explore that part of my life. I've only been in relationships with men, but that doesn't mean that I haven't been torn up inside about how I feel about women. And how my feelings, normally, growing up and just in general, are very split. For so long, I was like, 'Emotionally, men understand me, but sexually, I love women.' For so long, I just thought it wasn't going to happen for me, that I can't have both, that I can't do that. It wasn't until I had a really powerful emotional connection to a woman, that I was like, 'Okay, this is for sure how I feel. I'm definitely not straight.' It took a long time, but it was only recently that I figured that out about myself. If someone says something like that to anyone, they just really don't understand that it's a process and it's probably something that that person is just beginning to explore.
CDM: As Jules says in the latest 'Euphoria' episode, "No room for heteronormativity in here!"
CLAIRO: No! No room for that!
CDM: In 'Closer To You', you explore the idea of "knowing this person is wrong for me but thinking I can change them." Do you think it's dangerous that pop-culture constructs of love and romance have conditioned us into thinking that you can change another person? Like, if only you were enough for them? Maybe then they would really love you?
CLAIRO: Yeah, I think a lot of that song is about me feeling like I'm not enough, or me feeling like I know this is wrong, but maybe I can be the one person that changes them. You read stories or you see movies where the guy has had failed relationships his whole life, and then he meets this one woman who just changes his whole life and changes his perspective on everything, and then now, he's this amazing person. And it just doesn't happen that way. <laughs> Maybe it does in other situations, but I feel like it's unhealthy to constantly feel like you have to win someone over to be in a relationship. At the end of the day, if someone wants to be in a relationship with you, they'll be in a relationship with you, and it won't be hard. But if someone's making it hard, it's not the right person. And as black and white as that sounds, it's so difficult to know. And I've been there, many, many, many times, where I feel like I'm fighting for something that doesn't exist. And I know that a lot of other people have been there as well. But I think it's important to acknowledge that you know internally that it's wrong. Going into it, you know deep down. If you ask yourself just a little bit harder, you know that all of these things that are not happening - they're not texting you back, they're not hanging out with you, they're not showing you that they care - mean you know it's not right!
CDM: You can't always be doing all the heavy lifting.
CLAIRO: Totally. But just the fact that we know this, and then we continue to go through with it because we feel like we'll be that one special girl that's just going to change it all... but in reality, we all are that girl, but just for the right person. We all are the person that will change someone's life, it just has to be the right person and it has to be the right story.
CDM: Thank you, Professor Cottrill!
CLAIRO: <laughs> Words from my mom!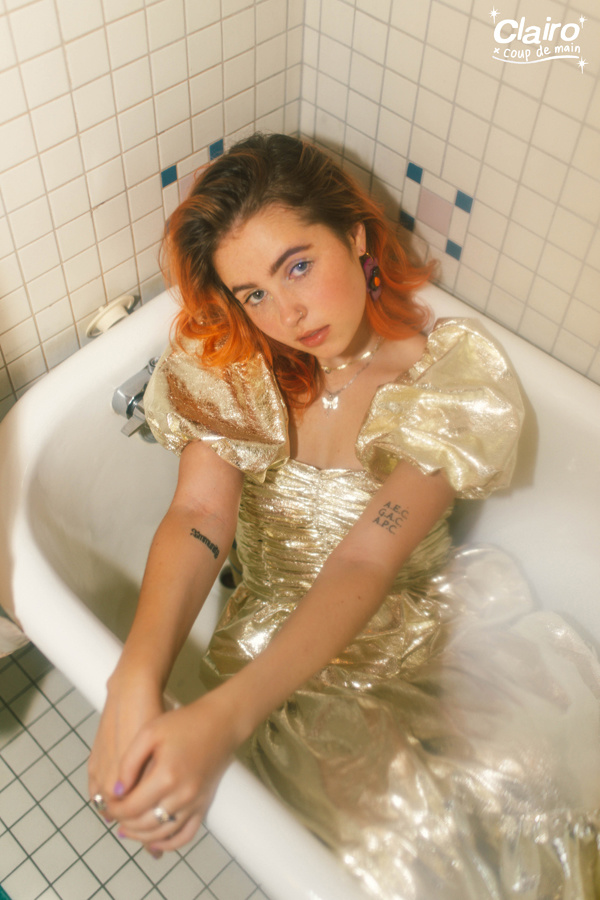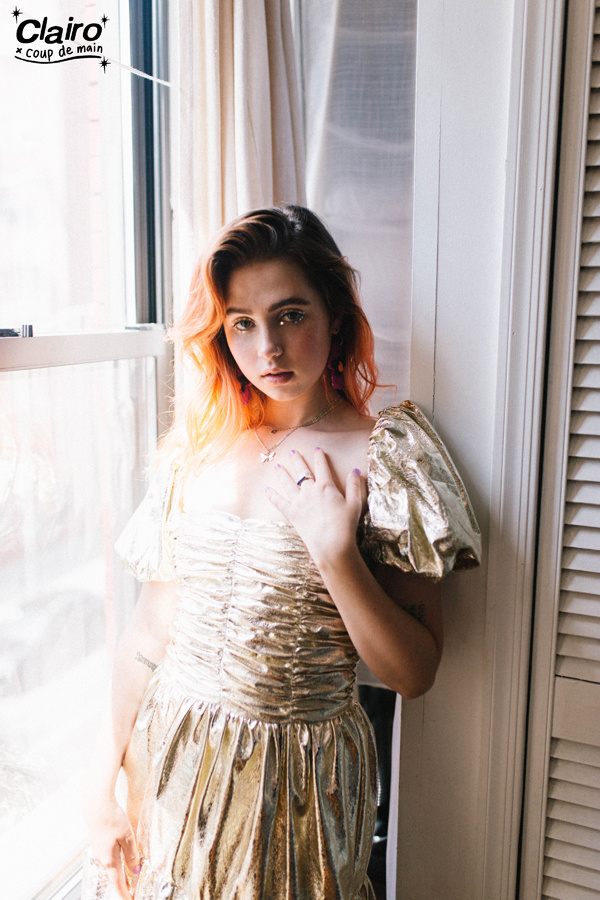 CDM: "I never let anybody in / Somehow you got under my skin," you say in 'North'. Why is it so scary to let your defences down for another person and let them in?
CLAIRO: That song specifically is about tour romances. Like, when you meet someone on the road and you become infatuated with the situation and you want to let them in, but you know that you don't have enough time for it to really make sense - and on tour, you learn to just have this guard up. If I meet anyone and if I have a connection with someone, I have to know that it's not going to last because we're constantly moving and we're seeing the world, it just isn't going to work out because things just don't work out that way, right? But then you meet someone and they get past that barrier and it becomes confusing because it's something you want so badly, but you know can't happen. And another lyric in that is "fingertips on my back / things I know that I can't have," and you have it right now, but knowing that it will go away is hard to grasp, because if you do actually fall in love with someone on tour, it's like, 'Shit, what do we do now?' <laughs> It's just a sweet song. I feel like it's happy/sad.
CDM: I'd forgotten that you debuted 'Feel Something' at your Roxy Theatre show last year in August until I heard the album. I love that song. It's one of my favourites. What was running through your mind while writing it?
CLAIRO: It's a song about the moment right after a relationship, or the moment when you know it's going to end and then it ends. Saying that, "You wanna feel something / But I don't feel nothing / Trying so hard to get over you / Wanna go back to the place where we started," all of that is about relationships that just have to end and you know that it can't move on. I think it's something that everyone deals with, but at that time, I was going through a break-up and it just made sense to me. Especially when you're the one that's ending it. I think at that time, mentally, I just wasn't where I wanted to be, and all I wanted was to be what the other person needed and I wanted to feel all of the same emotions that they were feeling towards me, but I couldn't feel anything because I wasn't happy with myself. It was before I wrote the record, it was a time where there was a lull in my creativity and my sense of self. I think I really felt lost at that time. There wasn't any room for me to give love to anyone else because I didn't really feel like I had enough to give myself. So knowing that it has to end and knowing that you're the one that ended it, and just wishing that you could have been what they deserved, I guess. But then it's also about both sides of it.
CDM: Your emotions in 'Softly' are very pure and heartfelt. Do you think there are different stages of love? Like in 'Softly' you mention "falling in love overnight" which can be a euphoric drug-like emotion, but very different to a love that's stood the test of time?
CLAIRO: Totally. I'm also talking about girls in that song - when you see a girl that's just so beautiful and you're falling in love overnight and you just have all of these pure-hearted emotions. When you first start to like someone, it's exciting and it's fun, and to me, when I hear that song, I picture someone frolicking down the middle of a New York City street being so in love, kind of like that scene in '(500) Days Of Summer' where he's just dancing and there's a flash-mob and he's just so happy about this girl. That's kind of the feeling that I have, but it's more me looking at this girl across the room and she doesn't know anything. She doesn't know how I feel, but I'm stoked on her. <laughs>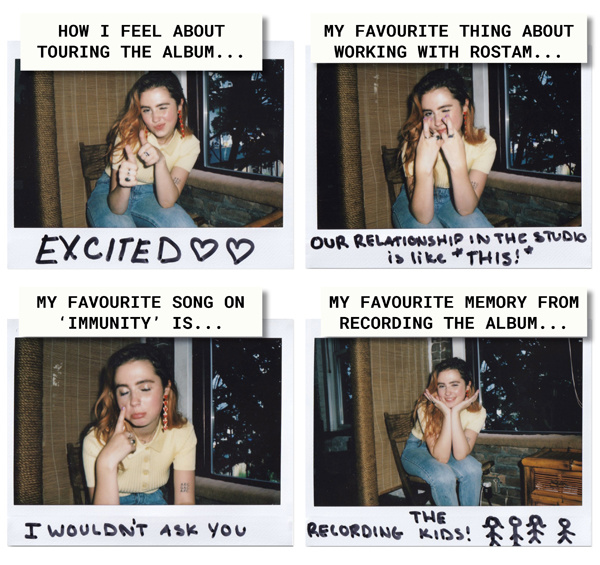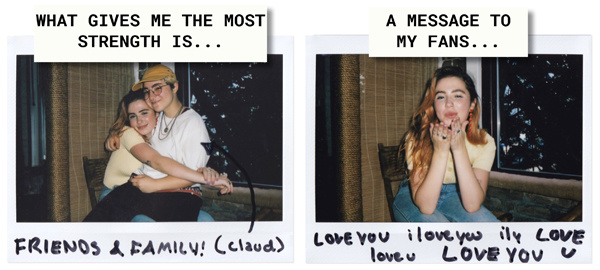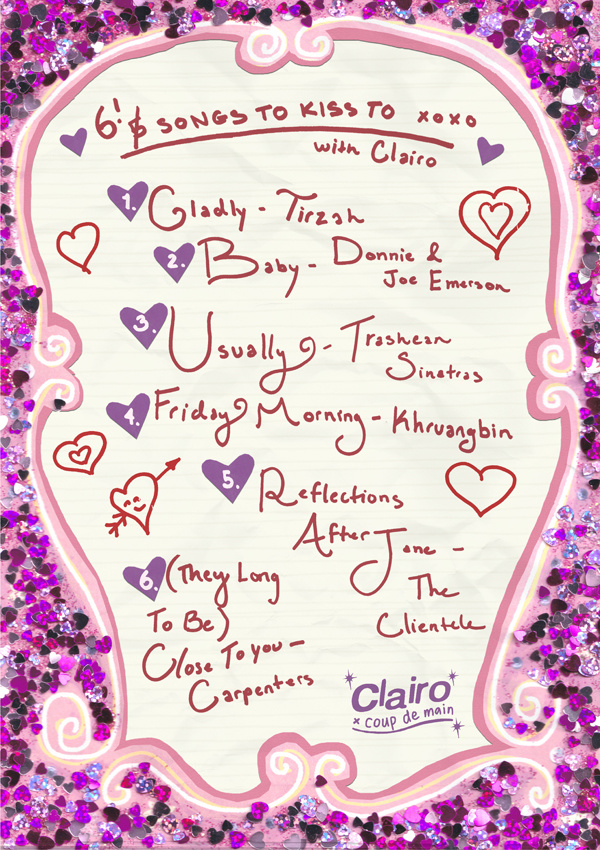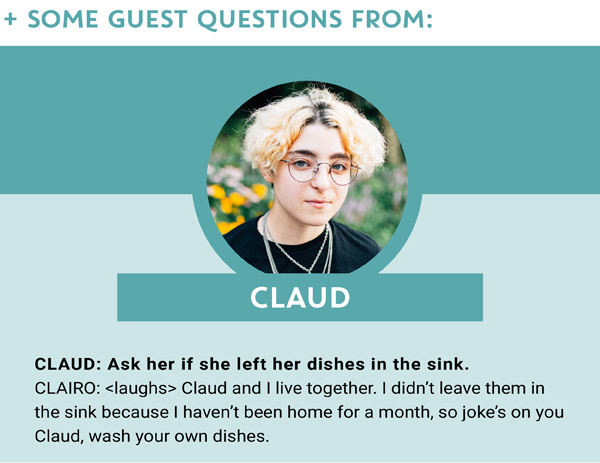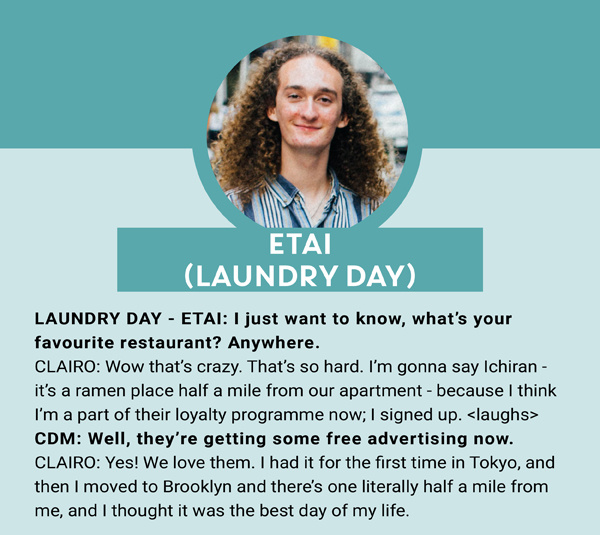 PHOTOGRAPHY BY SAM KEELER
MAKE-UP BY COLBY SMITH FOR EXCLUSIVE ARTISTS USING CHANEL BEAUTY
HAIR BY KOREY FITZPATRICK FOR EXCLUSIVE ARTISTS USING ORIBE HAIRCARE
Clairo's debut album 'Immunity' is out now - click here to purchase or stream it below: