Interview: Dakota Johnson, Cooper Raiff, and Vanessa Burghardt on 'Cha Cha Real Smooth'.
Interview: Dakota Johnson, Cooper Raiff, and Vanessa Burghardt on 'Cha Cha Real Smooth'.
"The original idea was two strangers helping each other get strong at two very different stages of life," Cooper Raiff shares about his sophomore directorial film, 'Cha Cha Real Smooth' - the charming story of 22-year-old Andrew, who has finished college, and as he puts it, "experiencing all the uncertainty that brings." Alongside Andrew's character is Domino (Dakota Johnson) and her daughter Lola (Vanessa Burghardt), and after a chance meeting at a bar mitzvah, a strong bond forms between them.
The film - which premiered at Sundance earlier this year - was produced by Johnson's own TeaTime Pictures, and she was heavily involved in the development of her character, Domino, working closely with Raiff on the script. On the expression of pure, undiluted emotion in film, Johnson says: "In films, I want to see more detailed conversations between characters. In most large commercial films, you don't see someone expressing complex emotions or feelings because maybe it's easier to be simple, but I don't believe that human beings are simple."
Raiff agrees, adding: "Especially in the beginning, I think there's a lot of usual exposition that they have to cram into those beginning conversations that you're talking about - those are the most fun conversations, when you're really just misfiring sometimes and getting to know a person really well."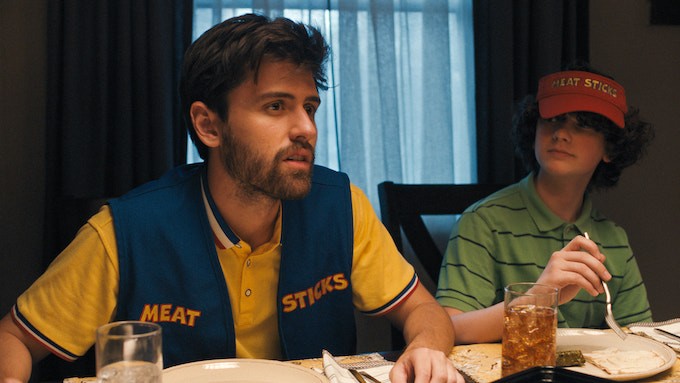 "Acting helps me understand myself and the people around me," Vanessa Burghardt shares about her own experiences working on 'Cha Cha Real Smooth'. Her character Lola is an autistic teenager, which Burghardt has in common with her on-screen counterpart. Talking more about Lola, she says: "Lola is an autistic character who is fully formed in a way that is authentic and represents the experience of a lot of girls on the spectrum. Lola is very naive, she's very innocent, but she is always on guard. And she's always protective of Domino."
The film dives head-first into the idea of soulmates, and Johnson is excited when I mention Arthur Aron's 36 questions - a series of questions which some say causes people to fall in love. She exclaims, "And then you soul-gaze for like four minutes?" Raiff is also familiar with the test: "That's one of the things!" So I quiz them, asking what question they would ask someone that would make them fall for them. Raiff contemplates: "Oh gosh, that's a really good question. Something about fear. Like: 'What's your biggest fear?' Not snakes, but.... 'What's a feeling that you're really afraid of feeling?' I think that always unlocks a connection really quickly. That's the one."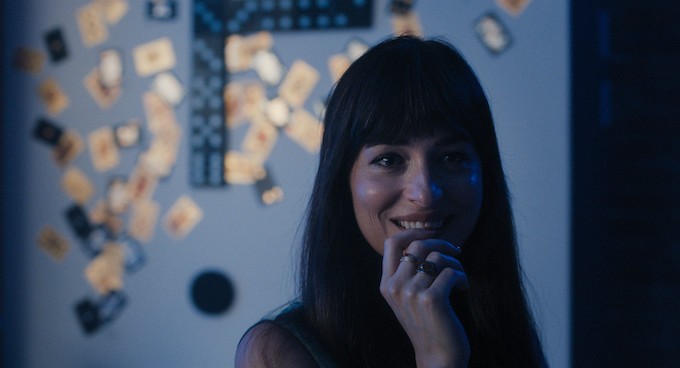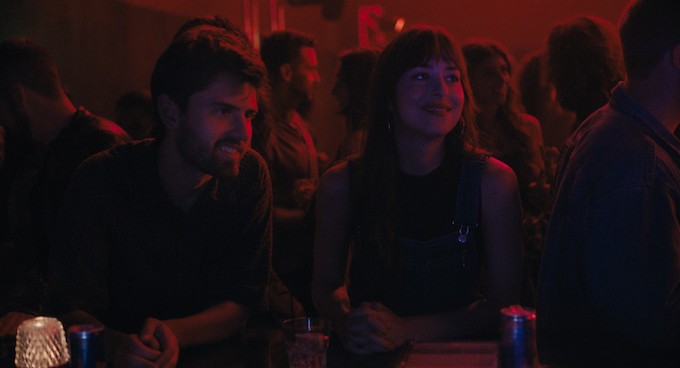 The film also delves into depression and fear through Domino's character, who always puts others before herself, and is frank about her mental illness struggles. When asked why fear can have such a hold on people, Johnson says: "I feel like that's like the greatest question of existing as a human being. Fear is so insidious, and it's so gripping, and feeling like you don't know what's going to happen if you do something or if you try something... the idea that perhaps it couldn't help you and you're unhelpable? That's such an insane question. Really going deep. I think the greatest and probably the most common obstacle you face in life, and the most repeated obstacle, is feeling afraid to do something or say something, or be something. And then either choosing to go through that or not. Right? Regardless of who you are or your circumstances."
After conceptualising and writing the film, Raiff wasn't planning on playing Andrew on-screen, but after working so closely with him, Johnson knew it had to be him: "No one but Cooper could play that role exactly as it's supposed to be done. There's so much of him in it. I said, 'Your DNA is all over this, so why don't you just seal the deal?'"
"Cooper is super smart, which made working with him a gratifying process. He really listened when I talked about what it feels like for a woman to fall in love with a younger man who has so much life ahead of him. There's a bittersweet feeling of connecting but knowing they are in completely different places. What was most attractive to me was this idea of a young man with a tender heart, not knowing where to go or what to do next. He's really full of so much love and acceptance and that was the story I wanted to tell," Johnson continues.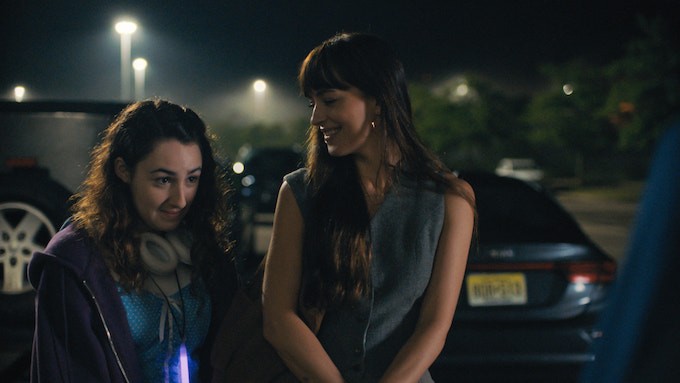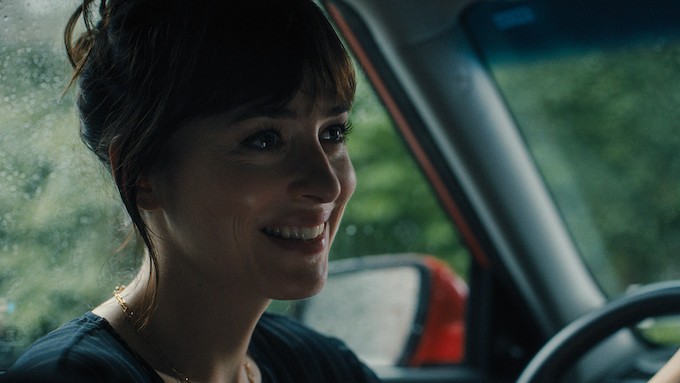 On the similarities that Raiff shares with his character, Johnson goes on: "Cooper has the ability to be so effortlessly charming that it could be cheesy but it isn't, because he cuts through that with his humour. Like the character, he is both deeply vulnerable and a deeply witty and sarcastic person."
However, where Andrew has a hilariously phrased Google Search history (at one point just searching "jobs plz"), Raiff's own history is much more NBA-themed: "It's not funny: I looked up stuff about Stephen Curry. Steph Curry was on my mind and I just went into this hole of figuring out who he's friends with outside of the NBA. So I looked up 'Steph Curry friends' and I thought that was a really dumb search, and nothing really came up."
'Cha Cha Real Smooth' is now streaming exclusively on Apple TV+.
Watch the trailer below...
Load next