Review: Bruno Mars & Dua Lipa - Spark Arena - February 2018.
Review: Bruno Mars & Dua Lipa - Spark Arena - February 2018.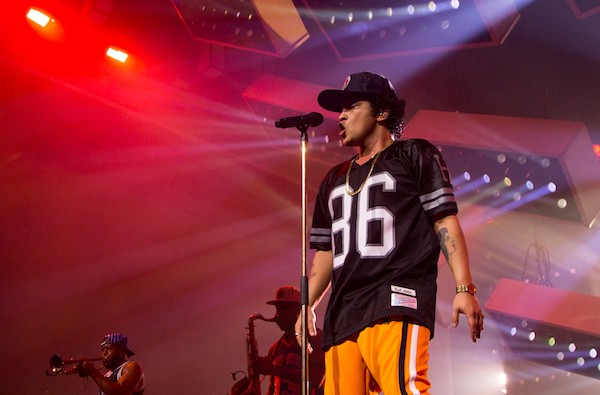 Kicking off what will be a month of touring throughout Australia and New Zealand (with mostly entirely sold-out arenas), Bruno Mars presented the 24K Magic World Tour last night with showmanship and musicianship like no other.
Taking to the stage first, hot off the back of winning an NME Award and two BRIT Awards was Dua Lipa, whose 45-minute set saw her storm through both old and new hits. Opening with 'Hotter Than Hell', backed up by her three-person band, Dua strutted back-and-forth across the stage, her flawless voice capturing the attention of the mostly-full arena.
As audience members continued to trickle in during the set, they were instantly floored by Lipa's undeniable talent at performing - early single 'Be The One' had everyone moving, before slowing things down for the more somber 'Garden'.
"If you've ever had your heart broken, this song is for you," Lipa preceded before launching into latest single 'IDGAF', leading a singalong of empowerment. Closing with 'New Rules', the audience excitement erupted for the song, and for getting that little bit closer to Mars' stage time.
The curtain surrounding the enormous stage went down, building anticipation for Mars' set, which kicked off at 9.30pm. Opening with his collaboration with Cardi B 'Finesse', the audience energy exploded from the minute he took to the stage with his impressive multitalented band, The Hooligans.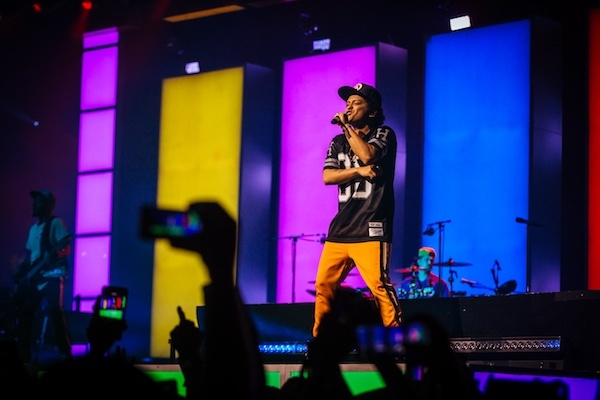 Continuing through '24K Magic' and 'Treasure' saw a literal explosion of fireworks - the show was a sensory overload, from the lit-up stage bursting in colours, to the well-rehearsed choreography, and of course Bruno Mars himself.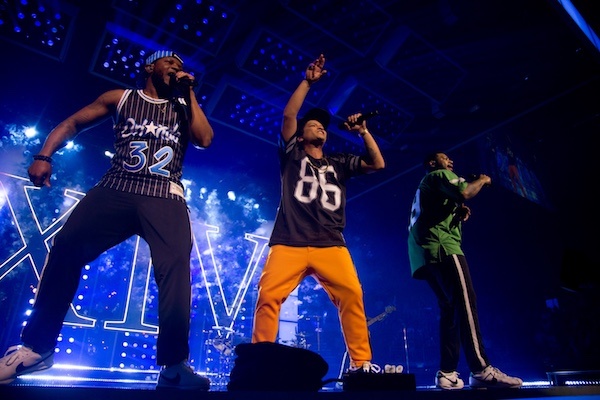 Each song saw the show turn on its head - from dark purple lights for 'Calling All My Lovelies', to emblazoned writing across the multiple stages in 'Chunky', to tetris light blocks descending from the ceiling for 'Versace On The Floor' - Mars played host to an audio and visual spectacular like no other.
Golden confetti rained down during 'Locked Out Of Heaven', following on from an emotional rendition of 'When I Was Your Man' which just saw Mars solo with piano-backing, before an triumphant encore of 'Uptown Funk' had everyone out of their seats and moving. With three more sold-out shows to go, Bruno Mars fans are in for a treat this week.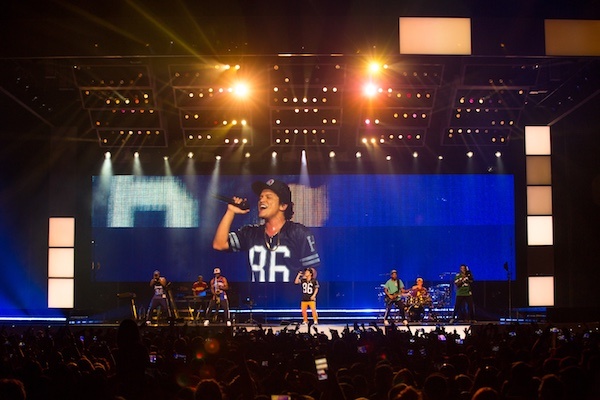 Set-List (Dua Lipa):
Hotter Than Hell
Dreams / No Lie
Lost In Your Light
Be The One
Garden
Blow Your Mind (Mwah)
IDGAF
Scared To Be Lonely
Begging
New Rules
Set-List (Bruno Mars):
Finesse
24K Magic
Treasure
Perm
Calling All My Lovelies
Chunky
That's What I Like
Straight Up & Down
Versace On The Floor
Marry You
Runaway Baby
When I Was Your Man
Just The Way You Are
Locked Out Of Heaven
Encore:
Uptown Funk (Mark Ronson cover)
Load next