Interview: BENEE - a new kind of kool.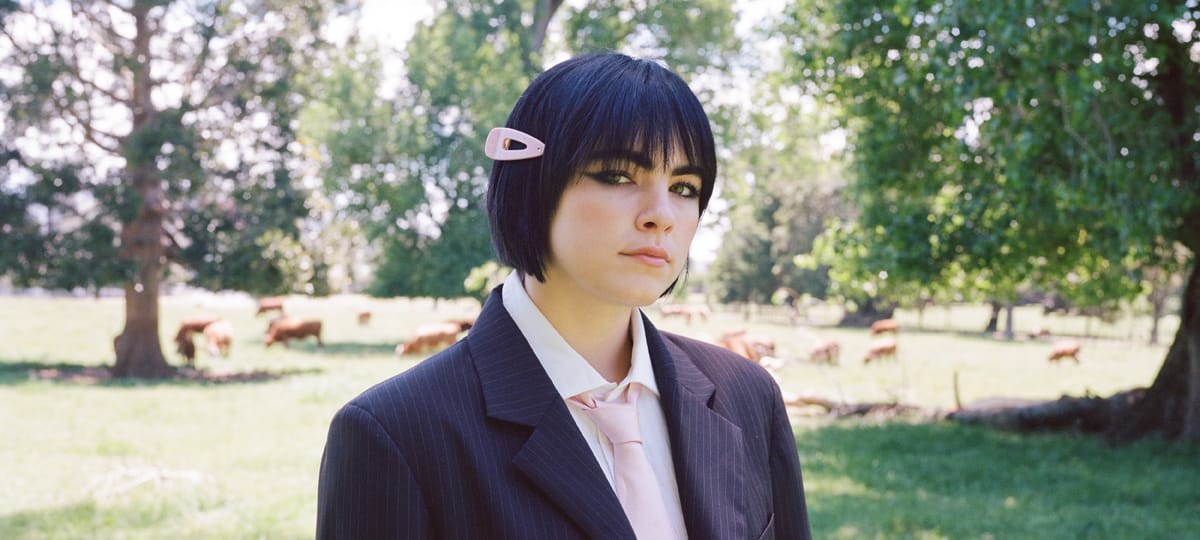 "I'm just a straight chiller... coming to the park in a full suit," laughs BENEE, dressed in a head-to-toe black suit with accented pink accessories, mid-pose with a background of cows roaming around in Auckland's picturesque Cornwall Park. For 20-year-old Auckland-native Stella Bennett, so much has changed in her life in 2020 - a year where she's adjusted to newfound fame with the success of global hit 'Supalonely', released her debut album, and moved out of home for the first time - but at the same time, so much has stayed the same, with Bennett retaining her same sense of self-deprecating humour and distinctive zaniness.
A few weeks prior to our photoshoot, Bennett is being the proverbial 'hostess with the mostest', relentlessly offering to make me a Chai Latte, or any other beverage of my choosing. I've arrived at her house thirty minutes before a scheduled Instagram Live conversation with rising American singer-songwriter Gracie Abrams, and between nervously preparing for the chat, her 7-month-old puppy Tui (known affectionately by Bennett as Noodle) wreaking havoc with a squeaky snake toy, and her recently adopted cat Padasio running through the living room, the chaos is real. Chaos has become something of a normalcy for Bennett, who has had to navigate a rapidly growing career in a year where a pandemic has been running rampant and causing mass-cancellations of live music, meaning musicians globally have had to re-think their approach on a career-wide level.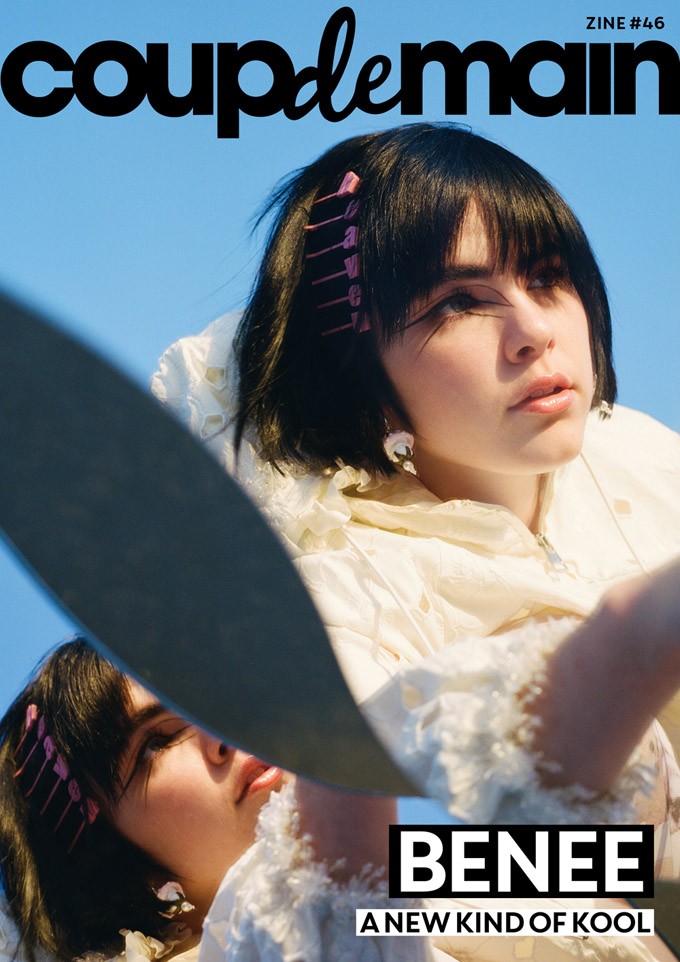 Click here to order a CDM x BENEE zine (i.e. a mini-magazine featuring photos + quotes from this cover-story).
Coat by Moncler X Simone Rocha. Hair Clips by Heavn by Marc Jacobs. Earrings by Beepy Bella.
Following on from two EP releases in 2019, 2020 was the year for Bennett's first full-length project, 'Hey u x'. Talking with her throughout the year (sometimes through a shared game of 'Animal Crossing'), it was an ever-evolving project, and several Covid-19 lockdowns only pushed her further creatively, with 'A Little While' written and produced entirely by herself at home. There's no lack of relatability in the lyrical content of 'Hey u x', whether she's mocking herself in 'Kool' ("I say stupid stuff, and embarrass myself, 'Cause I'm dumb"), pondering the future on 'Happen To Me', or struggling with getting to know someone in 'If I Get To Meet You' ("Can't seem to figure you out / Still my words spill out of my mouth"). Working with longtime collaborators Josh Fountain and Djeisan Suskov (plus a slew of new names and features including Grimes and Lily Allen), Bennett created a project which feels "like a message that you send to a friend" - at times conversational, at times worryingly dark, and at times just plain fun. Having only been released last month, it seems the message has connected, already racking up 48 million streams to date.
Storytelling through her music isn't the only place she excels, and Bennett is never one to shy away from sharing what's on her mind. Whether recounting her plan for a zombie apocalypse ("I often think about this because I think it could happen any day," she says with a tone of seriousness), or telling a hilarious story of how she attempted to adopt a cat that wouldn't be coaxed out of a dark room to even meet her, Bennett treats everyone she meets with an undeniable sense of friendliness, extending that warmth to the growing number of fans she meets on a daily basis. "I love meeting people and I love talking to people," she insists.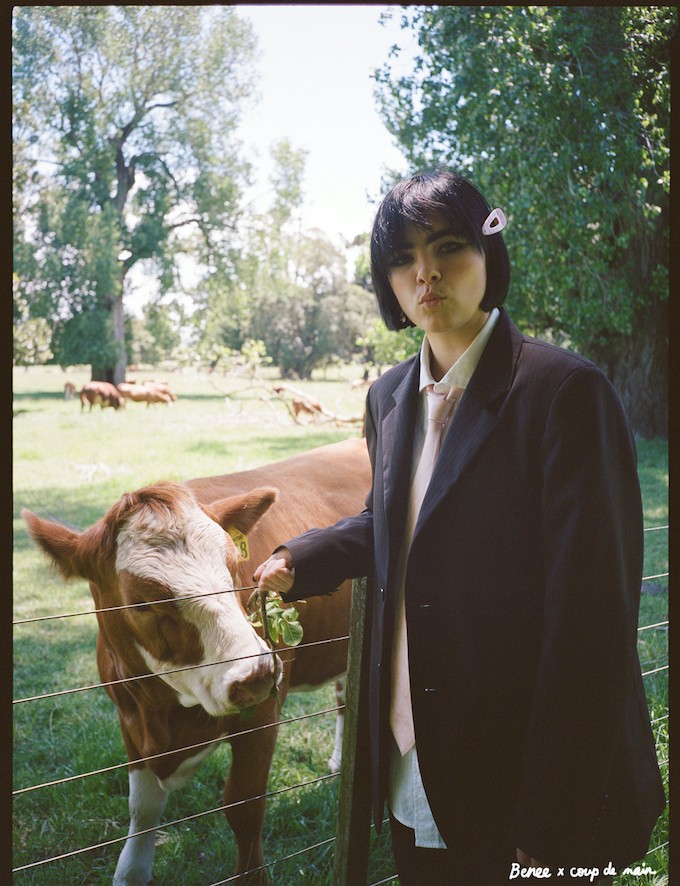 Suit & Shirt by Zambesi. Tie by Gucci. Hair Clip by The Marc Jacobs. Shoes by Martine Rose X Nike.
"Cool is a weird thing. Who the heck is cool?" Bennett questions, speaking in reference to the album's bass-heavy highlight 'Kool', an ode to being in awe of certain people in life that seem to have an air of effortlessness around them. "You're cool if you're bloody rocking yourself," she affirms, and with a sense of admiration for her fans, shares, "Someone I think is cool is someone who went to one of my gigs with a pride flag wrapped around them." Being undeniably yourself, and unafraid to be that self - rather than following any preconceived notion of 'cool' - is a high priority for Bennett, and it comes through in every facet of her creative pursuits. In turn, Bennett herself is helping to reinvent the very definition of cool, with a sense of identity that her fans can see themselves reflected in, rather than sitting on an aspirational pedestal.
"I'll see you, I'll catch you 'round", Bennett closes out her album, and there's no doubt that when she returns with her next project, no matter what form or style, it'll be injected with the exact same levels of personality and kool.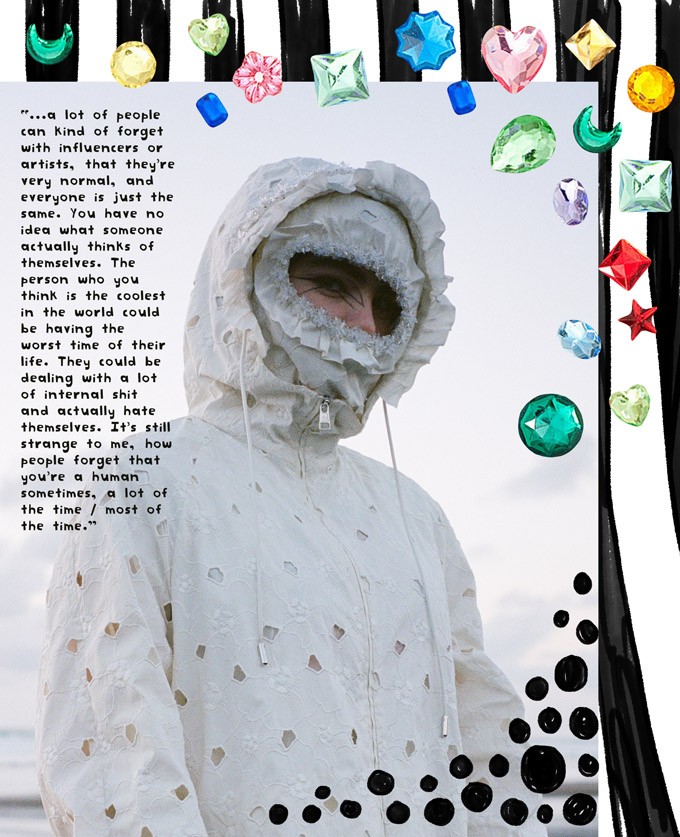 COUP DE MAIN: So much of this year for you has been watching numbers rise online, and seeing your success reflected in statistics. What was it like to actually see fans in real life on tour?  
BENEE: It was very weird. It was very odd. I feel like I didn't realise that after not playing a show in so long... I feel like I'd forgotten what to do. The first show was in Christchurch, and I didn't really know what to say. I was like, 'Shoot, I've got to talk in between songs.'
CDM: Do you plan that stuff?
BENEE: No, it's on the fly. You can tell because it's always rubbish that comes out of my mouth. But hey! We've toured with someone and we would watch all the shows and they would say the exact same thing. I'm like, 'Good for them,' but I'd be so scared that I'd muck it up and then not know what to say. Maybe it's better to just wing it and just say rubbish the whole time.
CDM: In your mind, what does 467 million streams look like? That's the current number of streams for 'Supalonely' on Spotify.
BENEE: Oh my gosh, I don't even know, I can't even think... Thinking of a room full of, like, 100 people right now, that's a lot. That's a lot of people, you know? I can't even count to one million. That's crazy.
CDM: Does performing to people come naturally to you? I remember you seeming particularly nervous at soundcheck for the Auckland show.
BENEE: I guess? Maybe it's something that comes naturally. It's kind of weird because I can't speak in front of people; I can't do speeches.
CDM: I used to always want to skip school speeches
BENEE: Literally, me too. When I first went out to perform, I was freaking out at the start, and then I got on and I was actually fine.
CDM: Do you think it's a different mindset you have when you're singing?
BENEE: I think so.
CDM: Is it stranger, when there are people you know in the audience, like your friends and family?
BENEE: Definitely. It's always a lot more, 'Oh my gosh, there are people who I know here.' It's always a little bit more intimidating. I guess family is nice. But then you overthink it, and you don't really want to mess up.
CDM: Obviously you can see people in the crowd when it's a small show. But often, it's just a large mass of people.
BENEE: It makes it almost better when you're playing to more people, I would say, which is weird, but a room full of 200 people, it feels so intimate. You're staring at people.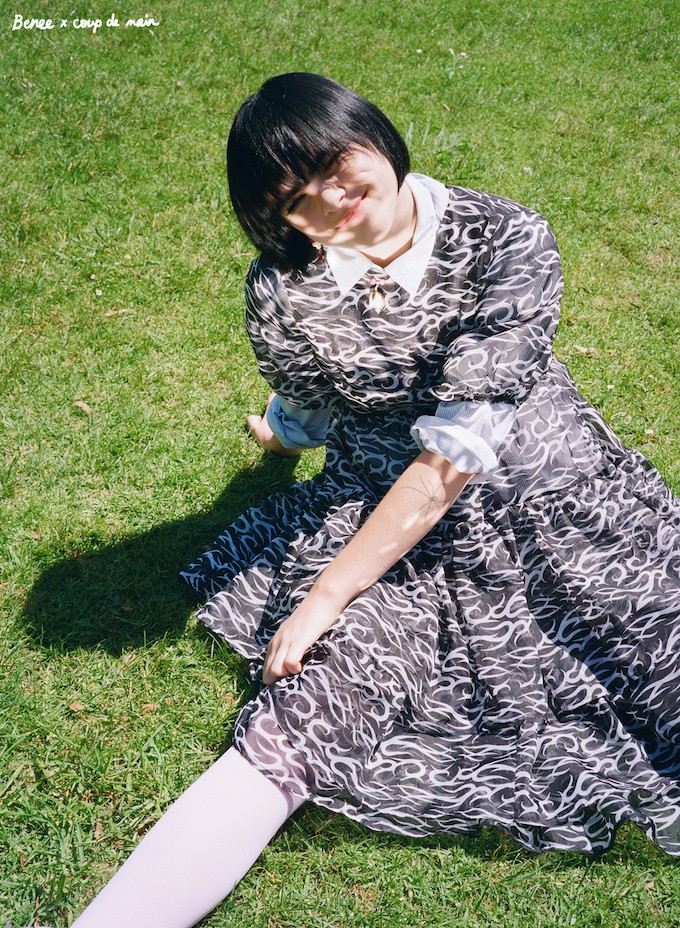 Shirt by Comme des Garcons. Dress by Ashley Williams. Necklace by Beepy Bella. Shoes by Eytys. Tights, Stylists own.
CDM: You played new songs on the tour too. Was that an interesting experience?
BENEE: It was weird. I was nervous. Because any song that people don't know, you're kind of like, 'Oh my gosh, is anyone going to even move to it? I'm already nervous about performing it, but are people going to be awkward about it?' So I was a little bit scared. But the crowds were just so nice. They were so great.
CDM: Can you sense the reaction from people quite easily in a live setting?
BENEE: Yeah, because I always look at a few people in particular.
CDM: Often artists will share songs or versions of songs on social media before they come out, but quite a lot of your album was entirely new for fans? Does it feel more exciting?
BENEE: Yeah, I think so. Sometimes I like to sneak teasers. I'm pretty sure I did a low-key one about 'Sheesh'; I think I posted a video of me dancing to it or something. But I like the idea that people just have no idea. I think for this album, the whole vibe is quite eclectic. A lot of the songs aren't like the music that I made before, and I just wanted it to be a big surprise to everyone when they heard it.
CDM: On the Instagram Live with Gracie, you mentioned you felt a strange guilt about being able to perform. How did you come to terms with that?
BENEE: I don't know... I think it's because I work with quite a few people in the States, and all the people I'm doing interviews with are in the U.S., and they're like, 'We're going into another lockdown.' I'm like, 'Fuck, here I am bragging about how I'm about to go on tour.' I guess I just realised: You're doing it for some people who need it and you're doing a live stream as well. It was more about celebrating and I think it also gives people hope because it's like, 'You guys, we can do it, and you can do it too!'
CDM: In 'Happen To Me' you sing, "And if I live to an old age / I would've seen everything change." Do you often think about what the future will be like? What do you imagine things to be like in twenty years from now?  
BENEE: I have no idea! That song, in particular, I was kind of writing about how if I lived to be old, because no one ever knows, I could get sick and die. Or I could fall off a cliff and die. I hope that doesn't happen. But it's a weird thing to think about: If you get old, what will happen to your life?
CDM: "My mind likes to wind itself up," is a very introspective lyric in that song. What do you do when you get stuck in your head overthinking things?
BENEE: Have a breakdown? That's exactly what happens to me. <laughs> Sometimes I don't realise that I'm putting a lot of pressure on myself or building up stress, and then all of a sudden, it's like, 'Why am I crying?' I had a breakdown at the start of the year. You know the 121 Festival? I was going to that. I drove to Wellington with my mates and stayed at Tia's house. I was with my friend, Helena, and she was fast asleep. But all of a sudden, I just started having this huge panic attack. I was like, 'Oh my god.' I thought that the house was going to flood. I thought that bugs were crawling on me. I started crying. I was like, 'I'm literally having a full-on fucking panic attack right now.' It's just because everything is just... the anxiety is so high, and sometimes you don't realise?
CDM: Do you have a way to deal with anxiety when stuff like that happens?
BENEE: I've been to a psychologist a couple of times. But to be honest, on that trip, I told everyone about it who was at the house. I was like, 'Guys, what the fuck, this happened to me last night.' They were all like, 'Oh my god, are you okay?' And I was like, 'I don't think so!' Then we got to the festival, and the whole time I was really on edge. [In terms of dealing with it] I just feel like you talk to people about it. I came home and just rested for a little bit. It's quite a weird thing.
CDM: When I'm really anxious sometimes I walk around shops like Kmart and I find it relaxing.
BENEE: I like the beach. I go and sit in nature. That's one thing that my mum said to me when I left LA early last year because I had just had enough of everything. She was like, "Nature is the best cure for depression." It's so true!
CDM: I wonder what it is about being surrounded by nature.
BENEE: I guess all of your attention is just focused on the trees blowing, or the waves, and it just clears your mind for a second, which is really nice. I think it makes your problems seem a little less significant. You're kind of like, 'Oh, they're not actually that important.'
CDM: But at the same time, everyone's problems are important.
BENEE: Yeah, that's totally true. They are. Sometimes I feel like I make my problems a lot bigger than they need to be, or I stress about something too much. But then you go out and you sit on a beach for a day and you're like, 'It actually doesn't matter that much.' But everyone's problems do matter.
CDM: You touch on the idea of change in 'Happen To Me'. Why do you think change is something that we as humans are naturally so afraid of?
BENEE: Oh my god. I think it's that fear of the unknown. People like to know stuff, and I'm a creature of habit. I like things that I'm familiar with, and I like to be around people who I really know. It's a freaky thing, the idea of change, that anything could change. People change, people leave; you change, you leave.
CDM: Do you think you have changed a lot yourself in the past few years?
BENEE: Nah, not really. I mean, maybe I'm a little bit more bossy with my work, but it's only work-related stuff - for the rest, I'm still the same.
CDM: Has it been empowering to be able to be bossy, and in control of stuff? It's hard being a businesswoman because you're constantly like, 'Oh, I don't want to be too aggressive.'
BENEE: It's weird because it's kind of gross, but you kind of have to be [bossy]. It sucks because you don't want to be mean, but at the same time, people aren't going to listen to you if you don't shout at them! I don't want to shout, but people aren't going to listen to me unless I make it very clear. Otherwise, it's going to be a dude talking over me. Or someone saying, 'No, you'd look better in this.' You just have to be the boss. I watched a video of Chlöe Swarbrick talking to some news presenter. He just kept talking over her! And she came off... maybe she was being a little bit loud, but like: I feel you. Especially if you're a politician, holy crap.
CDM: What do you think 16-year-old Stella would think of you now?
BENEE: I think she'd probably be pretty stoked for me... What was I doing when I was 16? I was just playing sports. <laughs> I was pretty carefree. A surf lifeguard. I played water polo. I probably would've thought that this is all pretty crazy.
CDM: In 'Same Effect' you sing, "There's something about you / Can't explain but I can't live without you." I feel like it's a very relatable feeling, that when you're with somebody, it's hard to imagine a life without them. What do you think it is about certain people in life, that we are just drawn to?  
BENEE: Oh my gosh, I don't know. This song specifically was about my ex-boyfriend. I wasn't even in a relationship with him when I wrote it. I feel like there's something about being in love with someone that is just so frustrating. For some reason, you convince yourself that you're not going to find anyone that's going to match with you as well. I have a best friend right now who's still going back and seeing her ex-boyfriend who is an absolute dick - like, horrible, he cheated on her. It's just the worst. She's still going back to him, and still thinks, 'I'm never going to find someone who gets along with me as well.' I'm like, 'Yes you will!' But it happens, your brain tells you, and I've been there, and I've felt that, and it's really weird and stuffed up. But I think with love it's just a weird thing, that when you're so attached to someone, you kind of forget that other things can still make you happy.
CDM: It's a familiarity thing.
BENEE: Yes! Because it's so hard to get comfy with someone.
CDM: And it's so much effort to get to know someone, and let them get to know you entirely!
BENEE: So much effort!
CDM: Do you find it hard meeting new people now? Who probably already have a vague idea of who you are, even if you haven't met them before?
BENEE: Yeah, it can be kind of weird because sometimes someone will be really nice to you. Like, really nice. Like, 'Oh my God, this is the coolest person in the world,' and then they're like, 'Oh, can I get a photo?', and you're like, 'Ahhh!' Not that I can't be their mate if they ask for a photo, but it kind of switches it, and it becomes blurry.
CDM: I feel like it can become quite transactional when it's like that. There's an expectation.
BENEE: Totally. I'd like to think that a lot of people that I've met quite recently are actually just nice, and we get along well. But there are some people who I meet, who are posting photos and videos of us and tagging me. The only thing they're caring about right now is that... But there are some people out there who are just there to have a good time!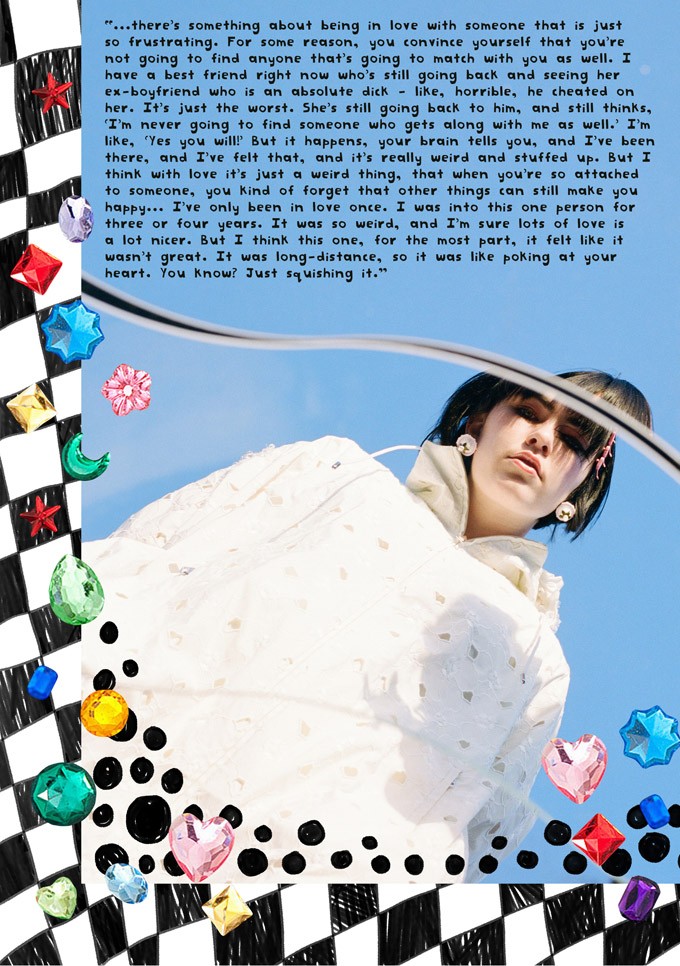 CDM: You open 'Same Effect' with, "It's funny, feel you poking at my heart." What does love feel like for you?
BENEE: Like that! I've only been in love once. I was into this one person for three or four years. It was so weird, and I'm sure lots of love is a lot nicer. But I think this one, for the most part, it felt like it wasn't great. It was long-distance, so it was like poking at your heart. You know? Just squishing it.
CDM: 'Sheesh' is soooooo so fun. It's such a vibe, and so different. Was it fun playing that in your live set on tour?
BENEE: Yes! That was my favourite song to perform. I'm very excited to perform it at the festivals coming up. I feel like it's gonna be a bunch of munters ready to smash the heads. That song is really, really fun. You don't have to worry about much because there's auto-tune on it; I sound like a robot. So many artists use auto-tune for everything. I'm like, 'Shoot, this is so much easier. I would never, but it is pretty cool.'
CDM: The concept of the' nice guy' that you mention in the song is really interesting, especially when you say in the pre-chorus, "Actin' like I feel the same." Do you feel like women often have pressure on them to be polite, especially around men who are actively pursuing them? It can be a hard space to navigate.
BENEE: Yeah, I was having a conversation with Tia or someone about this. You don't have to feel bad if you don't like someone. But I do, every single time someone is interested in me, I feel really awkward rejecting them. But, it's like, you're not attracted to everyone. It's so stupid that we're like that and that you feel like that. I guess with rejection, you do have to be careful with people's feelings. But at the same time, if someone's coming up to you and saying something, you don't have to feel bad about saying, 'Get away from me.'
CDM: Do you think it's something that comes with practice? I feel like the whole concept of saying no to someone is hard. I'm really bad at saying no to people, even if they just ask me to do something.
BENEE: Yeah, I'm still pretty bad at that too. I've had so many seedy dudes, like... <urgh> I'm just pretty over any kind of attention like that. I'm only attracted to like two people in the world.
CDM: 'Kool' is such a relatable song. It's quite funny to hear you be so self-deprecating about yourself. Do you think it's important not to take yourself too seriously?
BENEE: I feel like that's my whole vibe at the moment. Not taking yourself too seriously is a way to remind yourself that you're not that great. I mean, self-love is important, but at the same time, you can very easily be seen as cocky. And some people are cocky. No one likes someone who is super in love with themself and that's all that they can talk about.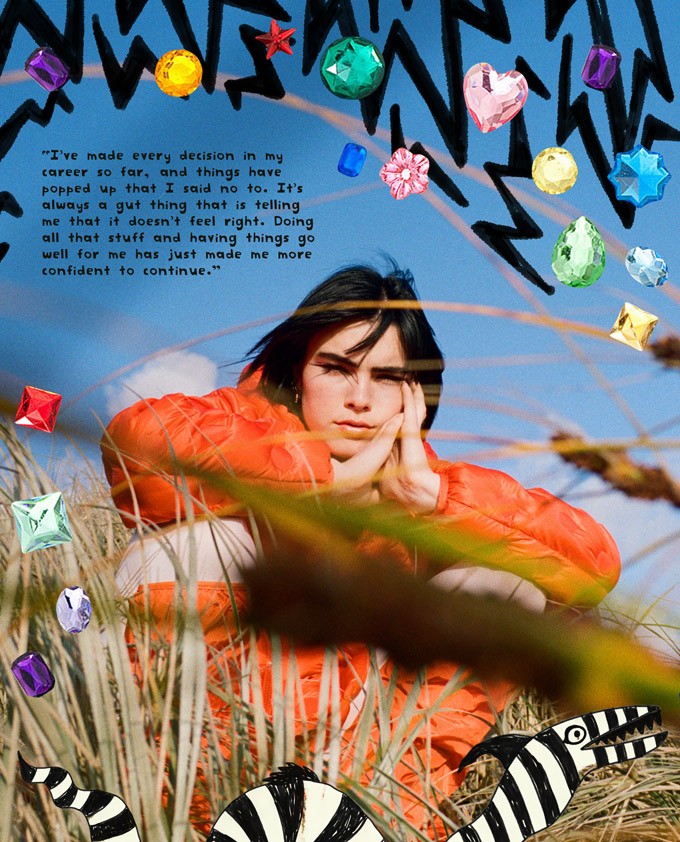 Outfit by Moncler X J.W. Anderson.
CDM: At the MTV VMAs in 1997, Fiona Apple said: "You shouldn't model your life around what we think is cool, and what we're wearing and we're saying and everything. Go with yourself." Do you agree with Fiona?  
BENEE: Completely. I feel like the whole thing with the song is me writing about a couple of other artists/musicians, who I think seem effortlessly cool. I'm writing as if I wish I could seem cool like them, but at the same time, someone's idea of cool is probably very different to what I think is cool. I was explaining an example to someone who was interviewing me the other week and I was like, "Someone I think is cool is someone who went to one of my gigs with a pride flag wrapped around them." I think that's the cutest human ever. They've got glitter on their face; that's a cool human. Cool is a weird thing. Who the heck is cool? You're cool if you're bloody rocking yourself.
CDM: Have you learnt to trust yourself more in recent times? In terms of going with your gut and believing in yourself?
BENEE: Definitely. I think that it's helped, and with everything that's happened, everyone else around me is like, 'You decide.' So I'm reassured. I've made every decision in my career so far, and things have popped up that I said no to. It's always a gut thing that is telling me that it doesn't feel right. Doing all that stuff and having things go well for me has just made me more confident to continue.
CDM: I always tell people that trusting their gut is the most important thing. It's such a weird thing to try and explain to someone because it's just a feeling.
BENEE: I feel sick when there's something that I don't want to do. It makes me feel uncomfortable thinking about doing something that I don't want to do.
CDM: Going back to 'Kool', do you think it's important not to place other people on a pedestal? For instance, I'm sure so many people think you are cool and aspire to be like you, but the song really proves that everyone has their own perception of themselves!
BENEE: Yeah, it's a very weird thing. It's something that a lot of people can kind of forget with influencers or artists, that they're very normal, and everyone is just the same. You have no idea what someone actually thinks of themselves. The person who you think is the coolest in the world could be having the worst time of their life. They could be dealing with a lot of internal shit and actually hate themselves. It's still strange to me, how people forget that you're a human sometimes, a lot of the time / most of the time.
CDM: It's been a weird year for such a number of reasons, but particularly for me I've felt it so important to be kind to all the women in my life - after seeing Trump as president, seeing everything unfold with Harvey Weinstein and Jeffrey Epstein, there are so many men in power oppressing women everywhere. I'm not sure if you're familiar with the Paramore song 'Misery Business', but it was a song that Hayley Williams wrote when she was just starting the band, and in 2015 she published a blog post addressing the lyrics, "Once a whore, you're nothing more," and the band also stopped playing the song live on their last tour. I know that you're someone who values her female friendships and supporting other women. It's definitely something you learn as you grow up, but kind of thinking about that in relation to your song 'Plain', where do you think you draw the line between letting yourself feel anger, and knowing that it's important not to tear down other women?
BENEE: My mum hates the song because it does sound like I'm pulling down another woman. I'm saying, "What a shame, you're so plain." But I mean, the song is actually me dissing a guy who's not having a great time being without me. I don't support any kind of bringing down other women. 'Plain' is not actually about anyone in particular, it's more about the idea of thinking about your ex moving on and kind of knowing that they're not happy, doing whatever they're doing. Don't bring down other women! I love women. Women are my favourite!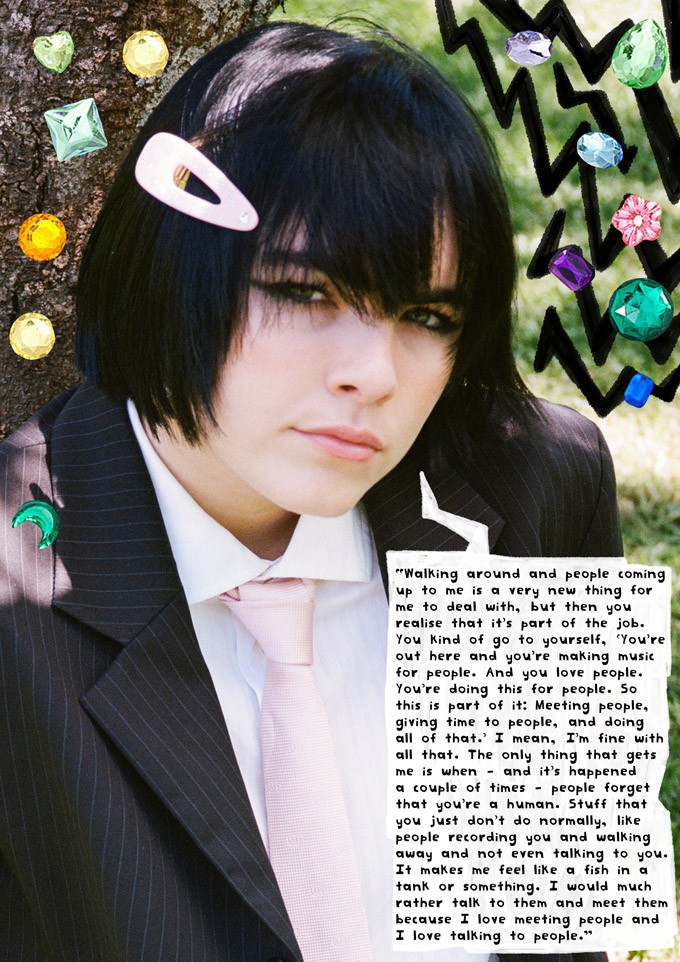 CDM: In 'Winter' you sing, "I'm out of place, I feel so weak, people starin' at me." 2020 has been a crazy year for you, gaining recognition and fame in such a short timespan. How have you found adjusting to that change in your life?  
BENEE: It's been quite weird. I'm still adjusting and getting used to it. Walking around and people coming up to me is a very new thing for me to deal with, but then you realise that it's part of the job. You kind of go to yourself, 'You're out here and you're making music for people. And you love people. You're doing this for people. So this is part of it: Meeting people, giving time to people, and doing all of that.' I mean, I'm fine with all that. The only thing that gets me is when - and it's happened a couple of times - people forget that you're a human. Stuff that you just don't do normally, like people recording you and walking away and not even talking to you. It makes me feel like a fish in a tank or something. I would much rather talk to them and meet them because I love meeting people and I love talking to people.
CDM: The whole concept of paparazzi is insane to me. We're in New Zealand, so it's generally fine, but I can't imagine being a celebrity out in the streets of America.
BENEE: Even Ella [Lorde] getting a photo taken of her at the beach. Are you kidding me? If someone did that to me... Okay, for one, I don't let anyone take photos of me at the beach. Not my friends; no one. I don't want any photos of me in togs anywhere. To think that someone can do that? It's not fair! No human should have to deal with that kind of stuff, but so many people do.
CDM: Especially women who are constantly body-shamed. Did you see all the stuff online when there were new paparazzi photos of Billie Eilish and she was so badly body-shamed?
BENEE: I did. I'm so glad we're from New Zealand and I don't want that kind of stuff to happen to me. Women already have to deal with so much fucking body dysmorphia, and stress about comparing their body to all the models who come up on their feed. That Billie Eilish thing was really horrible.
CDM: It's so tough. There are a lot of male artists who have managed to have completely mysterious personas like SBTRKT or Daft Punk, where you don't even know what they look like. But I feel like it's hard for women musicians because their look is inherently tied to who they are as a brand.
BENEE: It's so true. You think about the biggest popstars and how fit they are and how skinny and tan they all are; they put so much work into everything physical. They already have to worry about making music. Then they've also got to look like a barbie.
CDM: Because someone somewhere has told them, 'You must look this way, or you're not going to be successful.'
BENEE: Literally. And for me, that's not going to be a thing. It's just not ever going to be a thing. I don't look like that; I'm not ever going to look like a barbie. It's something that people are going to have to accept. But I can understand how easy it would be to just kind of fall into that kind of thinking that that's what you have to do.
CDM: I think that's why eating disorders and mental health issues are so common for that level of popstar.
BENEE: If I was Billie Eilish, and that happened to me, I'd be thinking about my body. Like, if people were telling me every day and shaming my body, I would be thinking about what I'm eating - and that's so, so horrible. It's just disgusting, and it's not even true. It's not fair. She's got a perfectly healthy body. It makes me really angry. I don't ever want that to happen to me. I don't ever want a beach photo. I'm gonna wear a wetsuit.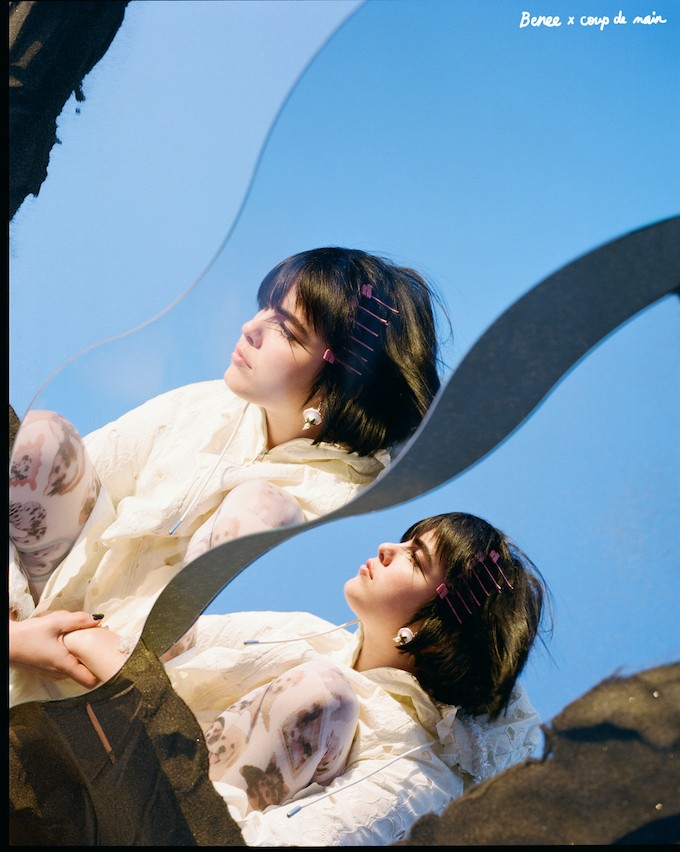 Coat by Moncler X Simone Rocha. Hair Clips by Heavn by Marc Jacobs. Earrings by Beepy Bella. Tights by Ashley Williams.
CDM: Am I correct in saying that 'A Little While' was written entirely on your own? And you also co-produced that song? What was that like?
BENEE: I made it in lockdown. That was nice. The producing I did differently because I write my lyrics normally. But in this case, I was on Logic, and I was producing it, which was quite weird and new to me. But it felt nice.
CDM: Is it something you want to learn about more?
BENEE: Definitely. I mean, I'm very busy. I do have to have time to chill, but then that makes me want to do that kind of stuff. It takes me a very long time to do it; it took a day of being stressed out about it. I was watching guitar tutorials, but I loved it, and I would love to do it again.
CDM: "I'm so used to being used," you sing in that song. It can be hard once you've been in relationships where you are treated a certain way, and then it becomes what you are used to. Has it been important for you to learn what it's like to not be used?   
BENEE: Heck yeah. I mean, you don't know if people are using you a lot of the time. I know some people who won't use me for stuff, but I know a lot of people who do. And a lot of people you love do as well, without knowing it.
CDM: I read online about how some people in life are just naturally going to give more of themselves and then some people in life are naturally going to take more.
BENEE: Yeah, that's a weird thing. Because even before all the music and everything, I've always been someone who gives stuff to my friends. I'll pay for my friends to do stuff. Now, people expect that of me. So it's kind of weird, but I love giving stuff to other people. But sometimes you switch off for a second and people are obviously trying to use you for something.
CDM: In 'If I Get To Meet You' you sing in the chorus, "All these words spill out from my mouth." Are you the type of person to always say what's on your mind?
BENEE: Pretty much, yeah. I think for that song, it was more kind of about that idea of being scared of becoming vulnerable with someone or maybe I say something where I'm like, 'What the heck, why did they say that?'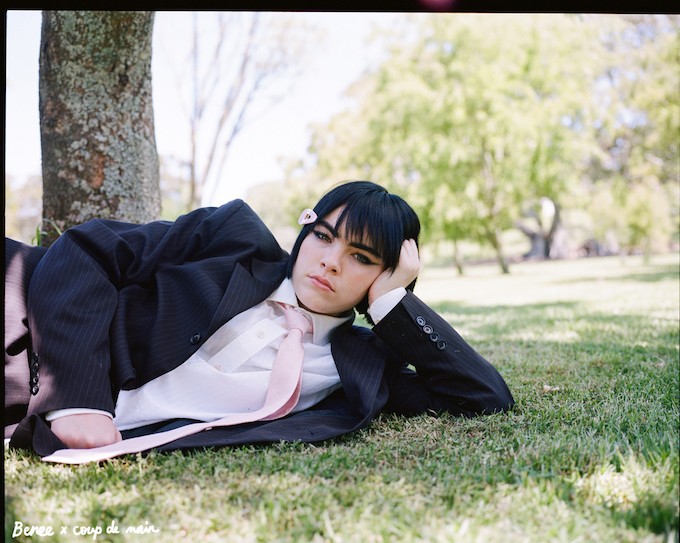 CDM: Halsey said in an interview with Vogue that: "Once you've put someone down on paper, you've reduced them to a character, and they no longer have the power that they do in real life." Do you feel empowered after you've put an experience into song-form?
BENEE: Yeah I think so. Especially with break-up songs, I always feel a little bit better about it. It's a nice way of venting. You get a lot of people relating to it and listening to it, and it's like, 'Shame, I won!' Everyone sees my side. Everyone knows what I dealt with.
CDM: You told Apple Music about 'C U' that: "I love to work and love to make music, and I love to meet people and work with people. Sometimes I think I really could do it - move to a farm and live there for the rest of my life. But I think I just want to go on holiday." When are you having a holiday?! Do you feel like you've had a break at all this year?
BENEE: I've had two weekends, I think. I've had a few weekends where I've gone to Wellington and partied and then come home. But I'm always working. I haven't had a week, or even three days of not thinking about music, or getting messages or emails at all. I think I'm going to ask for two weeks off next year. I do have to request it because I already know half of my year next year.
CDM: Is that overwhelming to think that so much of your next year is already blocked out?
BENEE: Yeah, it is. This was me literally in December last year, getting my schedule, and it was a really hectic one with shows all year. I was like, 'I know exactly what my year is going to look like.' It's weird to know that because normally you don't know what your year is going to be like. You've got to plan and you've got to request for time off early, otherwise you'll get shows booked or something booked. So I'm going to ask for two weeks away. I want to go to a bach somewhere, even if it's in winter, and just isolate myself. Somewhere by the beach. I'll probably end up working and making music.
PHOTOGRAPHY BY
KAREN ISHIGURO
HAIR & MAKEUP BY
LOCHIE STONEHOUSE
STYLING BY
ZARA MIRKIN AT STREETERS
ASSISTANT STYLIST:
JACK ROY
BENEE's debut album 'Hey u x' is out now - watch the 'Kool' music video below: