Interview: Beabadoobee - it's her world, you're just living in it!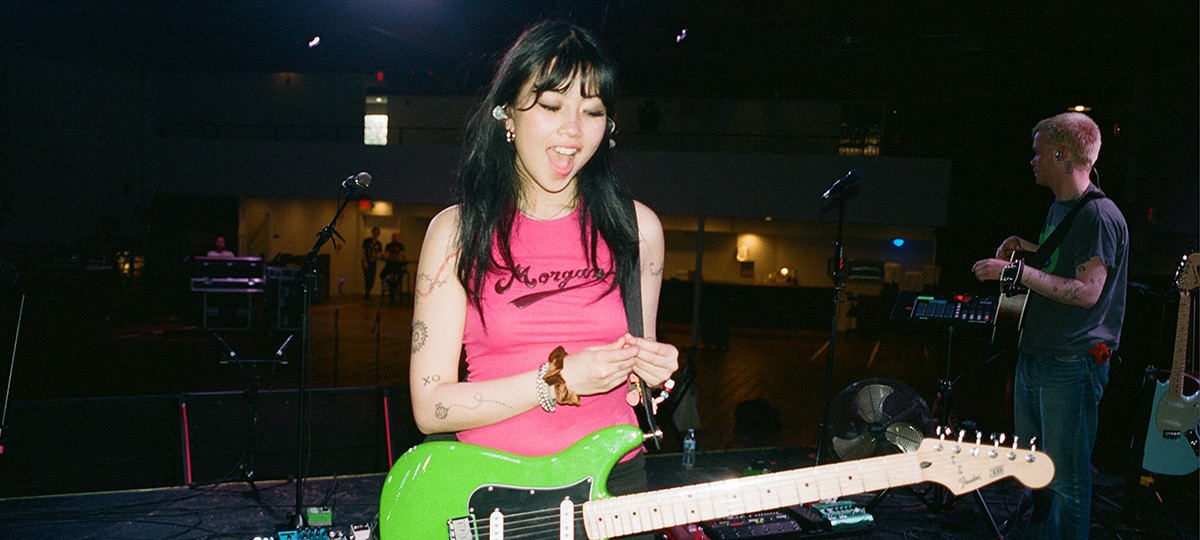 Close your eyes and picture an unpainted wooden door... alone and upright by some unnatural force, but so normal-looking, just plain and unassuming, like the front door to your childhood home or a grandparent's house. It's very unlikely, you think to yourself, that this could lead anywhere interesting but a sixth sense persists and so you find yourself reaching out a hand to open the door, drawn towards a curious energy suddenly emanating from the weathered door knob. Instantly, a gentle breeze tickles your nose, and the merry sound of constant chatter is carried to you in friendly whispers from the wind. Encouraged, you step through into a grassy glade surrounded by tall leafy trees, with the comforting smell of pancakes wafting through the air and cute fluffy creatures wandering everywhere for you to greet.
Sitting opposite me with her eyes still tightly closed and nose scrunched up in thought, Bea Kristi (known professionally as Beabadoobee) continues to describe aloud what her imagined world Beatopia looks like: it's very sunny, she can see all her friends, and she feels decidedly at home. Venturing further into Beatopia, Kristi describes to me a little pond in which she can see her reflection: "I look into the pond and I see loads of fish and my reflection; I think I'm tripping and my reflection is really fucked up." Queen of her domain, Bea also explains some other key features of Beatopia: that Beatopians co-opt a giant bee for their public transport system, to beware of naughty fairies that nibble on extruding body parts, and that an entity called The Middle Muncher exists because Beatopians refuse to eat the middle of things (of course!).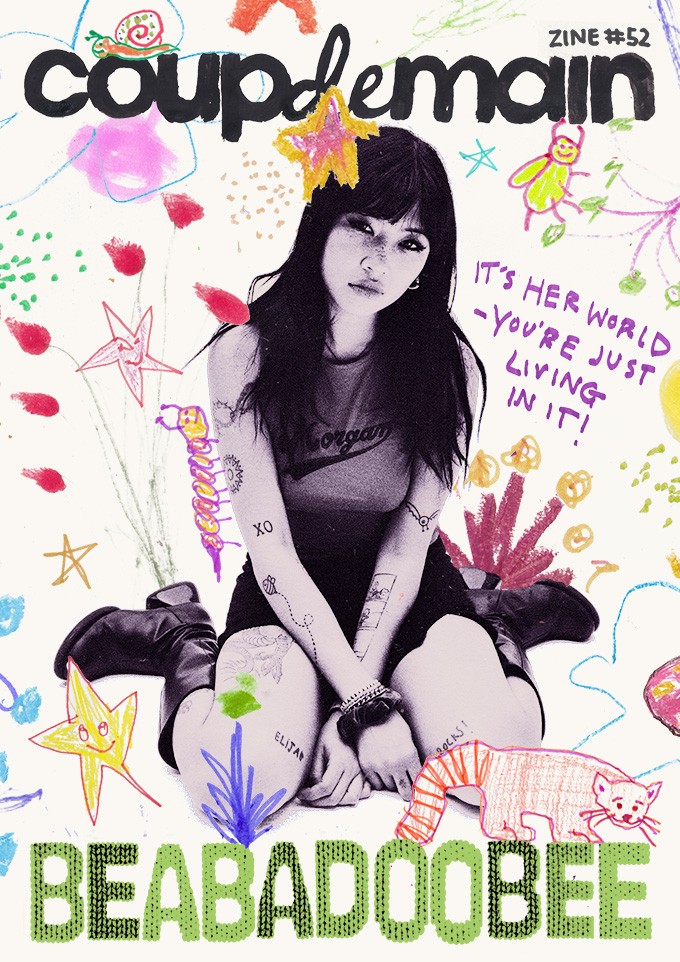 Click here to order our limited-edition CDM x Beabadoobee zine (i.e. a mini-magazine featuring photos + quotes from this cover-story) || Cover design and illustrations by: Wyatt Knowles.
Hanging out with Kristi is exactly how you think it would be. She's incredibly jet-lagged but still buzzing with excitement ("Sick! I genuinely just saw that; I think I'm so jet-lagged I genuinely just imagined Beatopia!"), she's prone to spontaneous Disney soundtrack singalongs ("You'll be in my heart," she busts out as 'The Lion King' soundtrack plays in the background), and she's enthusiastic about the fact that we are meeting today in a diner at lunch-time (a waitress delivers our order and we chant at each other in delight: "Carbs carbs carbs!").
Embodying the fancy-filled world of 'Beatopia' - first established by Kristi when she was 7, but buried deep in the traumatic aftermath of a childhood teacher and schoolmates cruelly belittling a poster she'd made showcasing her visionary creation - arrived an intimate album this year; a sophomore snapshot into the inner-workings of Kristi's brain and accumulated life lessons learnt lately. "You need to drink water, remember to pray / Eat so you're stronger and live for the day / Speak to your brother, check he's okay / Need to get out more, don't smoke all day," opens the affirmative 'Fairy Song', reflective of Kristi's refreshed outlook on conflict and new seasons of life. Listening to 'Beatopia' is self-care - it's a reminder that self-growth is non-linear, that the most important person to be kind to is yourself, and that it's okay to forgive others to give yourself some peace of mind.
True wisdom (the kind that usually has to be learnt the hard way, alas) is knowing when to draw strong emotional boundaries around yourself to keep you safe, and Kristi has survived it all - the bad ("You don't need me, as much as I need you"), the good ("I see my reflection so much clearer"), and everything in between ("It's easy if I pretend") - within the warm embrace that is 'Beatopia'. Homing in on the hard-won knowledge that the universe usually delivers with good reason, Kristi nestles up in her safe space, inviting listeners to share in portentous dreams about unfinished business (take heed of anyone that looks like a ghost in a dream), feeling at odds with other people but knowing that you've got to put yourself first, and being self-aware enough to want to remove yourself from toxic situations (which is usually easier said than done).
Urban legend says that if you drop a frog into boiling water, it will instantly leap out - but if you place a frog in a pot filled with pleasantly tepid water and then gradually heat it, the frog will not sense danger and remain in the water, unable to detect the gradual increase in temperature until it's too late. Similarly, life can be equally as complicated, with it being human nature to seek solace in familiar connections and nostalgia (regardless of the personal cost to yourself). As Kristi herself realised in the writing of this latest album: "I need time to grow and to exist." So, choose yourself. And if you've been looking for a sign, this is it: your feelings are valid and everything happens as it's meant to (even when you feel like screaming into a void and you've been crying all weekend). Beatopia is ready and waiting for you. It can be a home for us all. See you soon.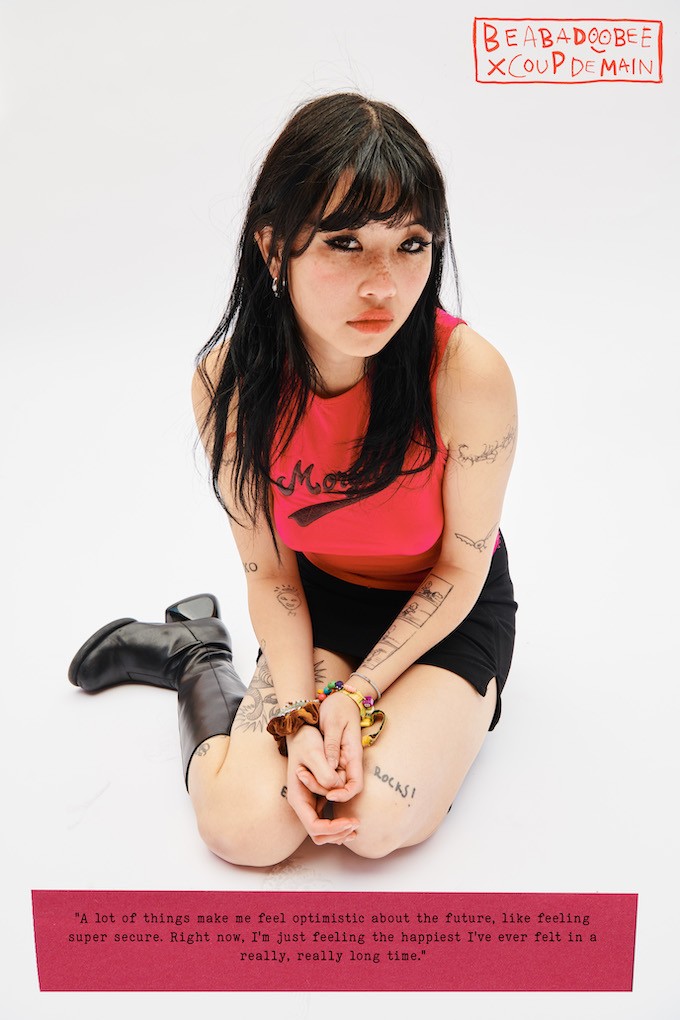 CDM: You can open your eyes now... I feel like I've been to Beatopia with you!
BEABADOOBEE: It's sick! I genuinely just saw that. I think I'm so jet-lagged I genuinely just imagined Beatopia.
CDM: Looking back on your experience of having had to endure your teacher and classmates ridiculing your Beatopia poster in school, what do you feel you have learned from that ordeal?
BEABADOOBEE: I was going through a lot of things during that... and that was kind of like the icing on the cake of feeling alienated, or just very out of place. It was almost an out-of-body experience, I didn't feel like myself at all, and I don't think seven-year-olds should ever have to feel that way as a normal feeling.
CDM: Narrative theory is based on the concept that storytelling is an important part of human culture, and that humans can share with each other their knowledge of experience through teachable moments in stories. Basically, that we can all learn together from each other's stories. I feel like narrative is a big part of the Beabadoobee world, and you've shared so many stories in song-form. Is there anything from your 'Beatopia' song-stories that you would like people to learn or take away?
BEABADOOBEE: 'See You Soon' because it was one of the first songs I wrote for 'Beatopia'. It encapsulated the entirety of the record in one song and all the feelings in one song, and it's all about accepting solace and shit times, and appreciating moments like that because it helps you grow as a person. I wrote the song after I tripped on mushrooms for the first time and it was after a long time of going out and getting really fucked up, and I'd beat myself up for it but I think it kind of made me the person I was at the end of writing the record.
CDM: When you do things for the first time, it's kind of like a reset for your body.
BEABADOOBEE: Totally.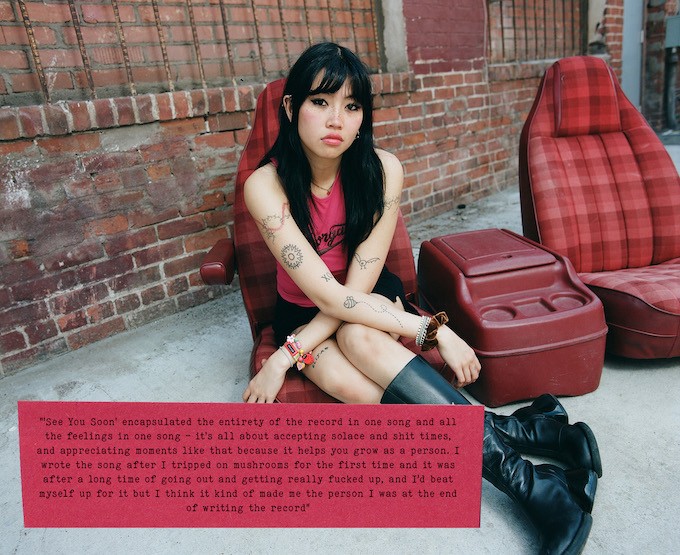 CDM: You've told me previously that you really want to be a nursery school teacher, which is interesting in the context of what we just spoke about, as story-based learning is majorly important for children.
BEABADOOBEE: Totally, and that's how I got into music for the first time. When I was younger and creating 'Beatopia', I wrote a lot of stories and a lot of poetry, and I think that's the best way that I like to learn. That's how my mum taught me a lot of things and I learn a lot from my own experiences in life. So I feel like it's worked out for me, and then if I sing songs about my life and tell stories, I think it makes everything more relatable to everyone.
CDM: What do you remember first learning in that way?
BEABADOOBEE: The way my mum taught me how to spell words and the sentences she put the words in, that would always make me remember how to spell the word. Let's just say you don't know how to spell bread, so you put it in like: "Oh, why bus the bread?" My mum would just come up with the most extravagant way of describing bread that it would make it stick in my head.
CDM: If you were to make up a sentence like that for 'Beatopia', what would it be?
BEABADOOBEE: Beatopia is a made-up world by a girl called Bea and it is crazy and smells like pancakes and mushrooms.
CDM: I love this pancake promo.
BEABADOOBEE: I love pancakes! I keep thinking about pancakes for some reason.
CDM: Do you still write much poetry?
BEABADOOBEE: Not really... I guess I write a lot of music now, so I think it's just replaced that. And my poetry when I was younger was just so straightforward.
CDM: "I am mad. Everything is sad."
BEABADOOBEE: Literally! I used to think it was revolutionary and amazing when I was 7. 'Wow, I was sick.' I guess it's just turned into music now.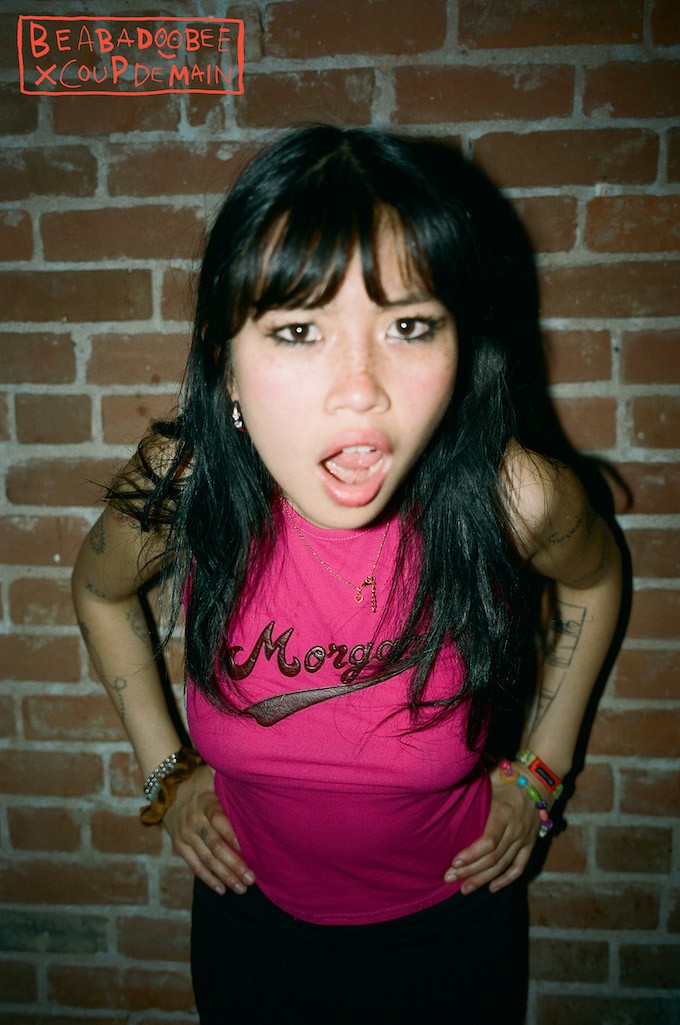 CDM: What's the last thing you wrote in your journal?
BEABADOOBEE: So cringe: my last entry was about my current boyfriend.
CDM: You seem happy, so I'm very happy for you.
BEABADOOBEE: Thank you! I am really happy.
CDM: I read once that it can be good for you to have an experience where only your reality exists because it's life-affirming to be able to have that control. Is that how you feel about Beatopia?
BEABADOOBEE: 1,000%, especially when I made it for the first time - I felt very not in control of my life with everything happening around me, but I needed some sort of escapism that made me feel like: 'Yeah, this is my shit; this is my world.' I really depended on that until, you know, shit happened, but it was nice having that back. And then I was running.
CDM: What's it like having returned to Beatopia 15 years later?
BEABADOOBEE: A little bit overwhelming, but while I was writing the record, I realised that the whole idea behind Beatopia was just a way for me to escape a lot of things that were happening at the time. So it was a sad thing I had to think about, but it was also really empowering, trying to uncover a lot of the feelings I had long repressed - like, very repressed feelings. I just had to face them, write about them, and get over them, and then it made me grow as a person.
CDM: Has Beatopia changed for you, from when you were seven to now?
BEABADOOBEE: Totally. To speak about it very plainly, I think it was way more visual when I was seven. Now, it's like a feeling. Just something that I had within myself that I had to take a little bit of time to dig up and find again
CDM: Like a little home inside your heart.
BEABADOOBEE: Exactly.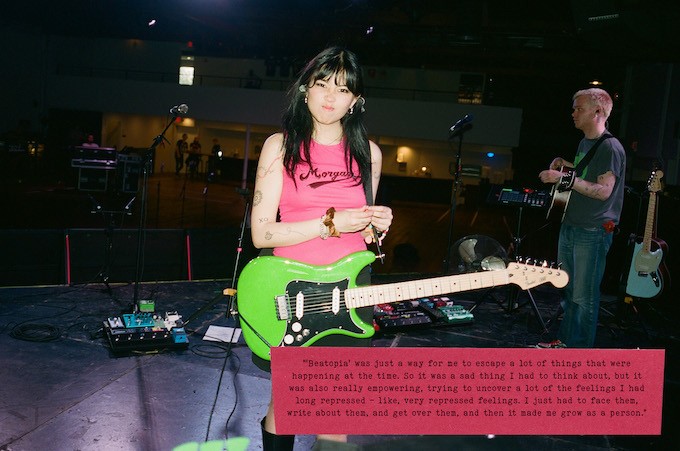 CDM: There's a lot of emphasis placed on how we think about ourselves in relation to other people and how we communicate with others, but it can be really hard to be deeply honest with yourself and be self-aware. Why is the hardest person to communicate with sometimes your own self?
BEABADOOBEE: At times, it's quite scary to face the truth. And for me, especially, I'm conditioned to just not face problems when they come to me and push them under the rug for so long. I mean, i.e. Beatopia. <laughs> It's really hard because it's something that I just don't want to be my problem until it becomes a really big problem, if that makes sense?
CDM: Until it becomes a panic attack?
BEABADOOBEE: Yeah, exactly.
CDM: What is the hardest thing about communication?
BEABADOOBEE: I don't know why my head goes straight to romantic relationships with this question, but I could probably only answer it with this: I think it's just having two people actually wanting to communicate with each other. Two people have to want to talk to each other. It can't just be a one-sided thing. That's the hardest part.
CDM: So, the flipside of narratives is that when we write these stories for ourselves, sometimes we have a tendency to cling tightly onto them to reinforce the ideas we have of ourselves - like how some people always paint themselves as a victim. Do you think it's important to sometimes look outside of your narratives you've written for yourself and break free from them?
BEABADOOBEE: Totally. And that's the good thing about music, is that it's so open to interpretation, that when I write a song and it gets released to the public, it's no longer mine. It's everyone's now, and then you kinda listen to it in a different light - like, it can mean so many other things and I can listen to it from an outside perspective. Writing music really helps me understand that. I totally get the fucking victim complex... i.e. 'Fake It Flowers'. Haha! My last album was a lot of talking about the past; talking about bad things, and I was kind of stuck in this rut of being like: 'Look, I'm doing this because this has happened to me and evidence is on this album, so you can't blame me for what I do.' But then 'Beatopoia' was like: 'Hey, you can't keep on doing that or else you will end up like a broken CD.'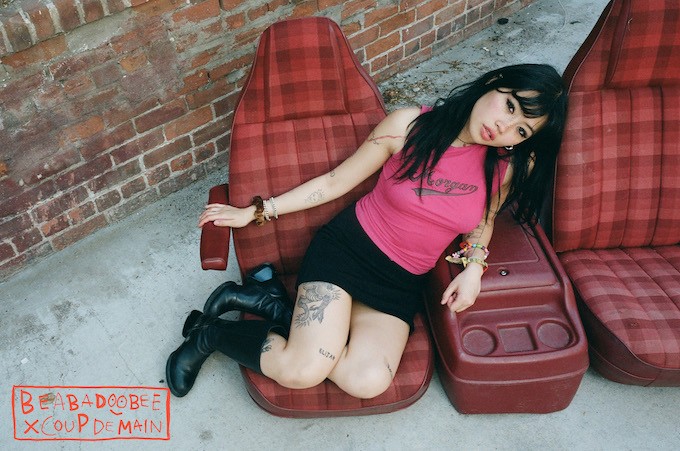 CDM: In 'Beatopia Cult Song' you say: "Is it me or recently time is moving slowly." Do you still feel like time is moving slow?
BEABADOOBEE: A little bit. After the pandemic, I've just kind of been in this weird daze, and at some points, I think it's moving fast, but now that I'm back on tour it feels like it's moving really slowly again. I think it's just because I'm really excited for Christmas. Christmas in London is super magical. And I've just got a place of my own, I've got a boyfriend, and I can't wait to get a cat and have a Christmas tree and eat loads of food and sit by the fire. I just love Christmas.
CDM: Does that feel like a very grown-up stage of your life now having your own house?
BEABADOOBEE: Totally. It's weird doing up my house and thinking about it like it feels normal. I live in my own house! I cannot believe I own a house! I'm like: 'Oh, I am cleaning MY kitchen!' That just sounds so stupid, but from living in my parent's house to never living on my own even once at all to suddenly living in my own place, is a massive jump for me.
CDM: How are you adjusting to that newfound independence? And being away from your family?
BEABADOOBEE: It's been hard at times. I actually haven't been alone at my house at all. If it's not my friends, it's my boyfriend, or my dad is there. And I really appreciate the people around me constantly helping me. I do feel a sort of independence, but it's an independence where I'm confident enough to let people help me instead of just pushing them away, because that was definitely a problem for me.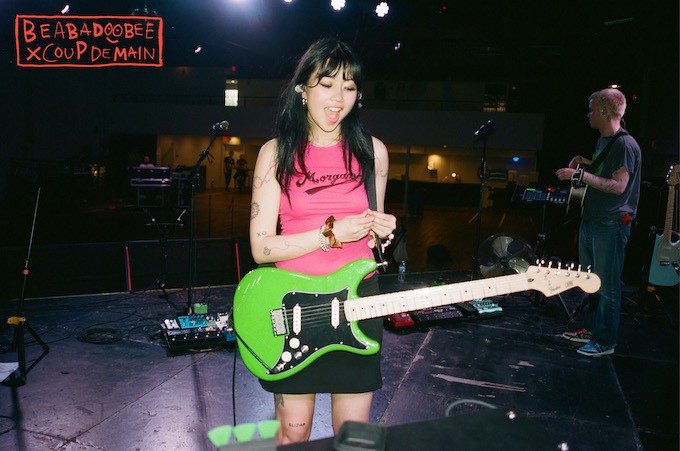 CDM: When you look back on your whole life thus far, are there any core memories that specifically come to mind as having been important to help shape your identity and how you feel about yourself now?
BEABADOOBEE: A lot, the list is fucking endless. The top ones that come to mind are probably: moving to London with my family and meeting my amazing group of friends who are all girls. It's so crazy because you get all this shit, like "girls are toxic", but I have such an incredible group of girlfriends! I've never found that connection with anyone else before. And moving into my place, that was a crazy experience for me, and this music thing. And breaking up, like going through my first-ever breakup, that was a very big milestone for me.
CDM: Has it been inspiring songs for your next album?
BEABADOOBEE: 1000%. I've already started writing it.
CDM: How do you organise your memories in your mind? Are there any specific triggers that transport you back? I think I organise my memories according to songs/albums that I've been listening to and artists that I've seen live.
BEABADOOBEE: 1000% it's albums and songs like The Cure and The Smiths - I can't help but think about my girlfriends when I listen to them. And OPM; old Filipino music like APO Hiking Society - I think about my family in the Philippines and I think about the move and I think about visiting Iloilo every year when I was a kid. I listened to a lot of Norah Jones through my breakup, so every time I'm listening to Norah Jones now, it's like: 'Wow, I'm on my shit.'
CDM: Are memories the most important thing that humans create?
BEABADOOBEE: I guess it's one of the most important things humans create. Memories are really lovely and really nostalgic, but I think it's important to make memories, instead of just dwelling in memories because I do find myself getting lost in them instead of focusing on the now and the future.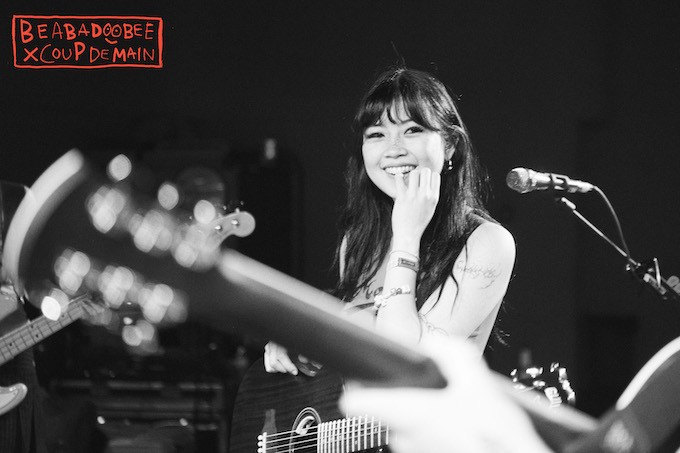 CDM: With self-acceptance being a big running theme throughout your 'Beatopia' album, how are you feeling now, looking back and thinking back on those songs?
BEABADOOBEE: I'm still definitely on the road to self-acceptance, but I definitely appreciate my existence more than like two years ago.
CDM: I appreciate your existence!
BEABADOOBEE: <laughs> Thank you! It was a lot of growth writing that record.
CDM: What do you think is the difference between loneliness and feeling alone?
BEABADOOBEE: It's very surface-level, feeling alone, like you feel alone at the time. I think loneliness completely consumes you and it's something that you get stuck in. It's like you're stuck in a bubble. When I say I feel alone, it's how I feel alone right now, but that's something that could be fixed. Loneliness is like you're far gone - and there was a point where I literally felt complete loneliness, like just a blank abyss behind these eyes.
CDM: The 1975's Matty Healy has said that at one point, Jack Antonoff had potentially been going to work with you on an album. What happened with that?
BEABADOOBEE: Yeah, it was meant to be 'Beatopia', but I think a lot of timings didn't line up. He was busy working on another album, and I was in London, and I'd rather the producer be there. I think it was better working with Jacob because he's one of my best friends and he's my best mate. It'd be wicked to work with Jack Antonoff and it be with me and Jacob too, because he is just my guy.
CDM: Would you want to do an album with Jack in the future?
BEABADOOBEE: I'm not writing anything off.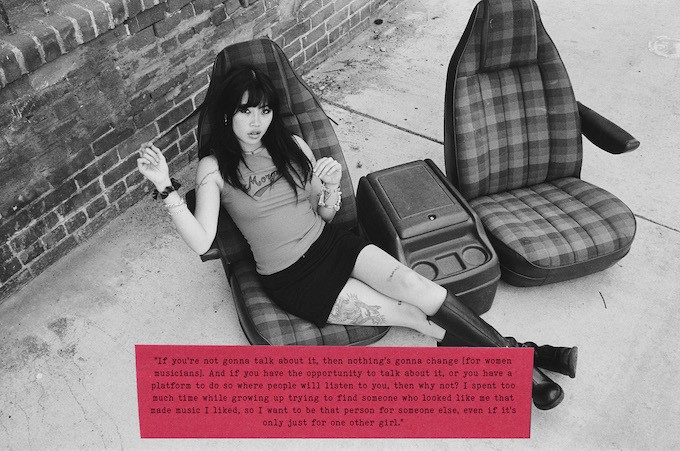 CDM: I love that you've been super outspoken about not only representation, but also about public conversations to encourage and inspire younger girls to become musicians. Why is that so important to you?
BEABADOOBEE: I get what they mean, that: "I'm just a musician." Like, okay, I get it, and fucking do your thing. I know! But my argument is: if you're not gonna talk about it, then nothing's gonna change. And if you have the opportunity to talk about it, or you have a platform to do so where people will listen to you, then why not? I spent too much time while growing up trying to find someone who looked like me that made music I liked, so I want to be that person for someone else, even if it's only just for one other girl.
CDM: What change do you want to see in the music industry?
BEABADOOBEE: Just making it so much more accessible in the music industry. Like, I don't know any female producers. It would be so sick to work with a female producer! I've worked with a few female engineers. Even crew members on tour, because that's one thing that I really struggle with - the only girl on my tours are my bassist, Eliana, and we stick to each other like butter on toast. And seeing more women on stage also really helps, like more women on festival lineups - it's just as simple as that.
CDM: I'm so proud of you for co-producing 'Beatopia' with Jacob! Are you excited to dabble more with production?
BEABADOOBEE: Jacob was really hands-on and teaching me. I'm very much a songwriter at heart still, where I come with the song, or I collaborate - especially with guitar chord progressions, I'd go in and Jacob would have a chord progression and I'd sing to it, which I've never really done before. It was the most collaborative experience I've had with anyone. But yeah, it was the first time. We worked with a lot of drum machines and I give all credit to Jacob for doing those drum machines because he is Teenage Engineering God. [Swedish company] Teenage Engineering sent us a shit ton of drum machines that are fucking futuristic alien-looking things and so complicated to work, but he's just sick.
CDM: Thank you, Jacob!
BEABADOOBEE: Thank you, Jacob!!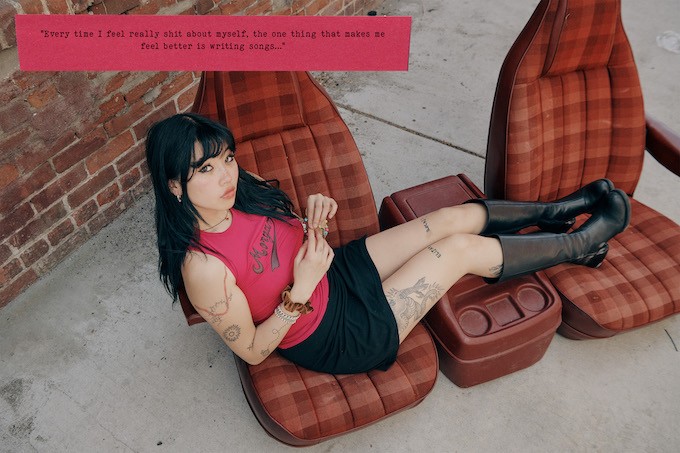 CDM: What's your favourite thing about yourself?
BEABADOOBEE: That I can write songs. Every time I feel really shit about myself, the one thing that makes me feel better is writing songs. I'm not saying I'm good at writing songs, but just the ability to put my feelings into songs - and those songs making me feel something, it's something that I'm really happy I have. Like, what else would I fucking do?
CDM: Is there a song that you're most proud of having written?
BEABADOOBEE: 'See You Soon'.
CDM: How much of dreams do you think are messages from our unconscious self to our conscious selves?
BEABADOOBEE: I'm totally that bitch to be like: this means something. I try not to dwell on it or else I just go insane, but I honestly just can't help the fact that if you're dreaming about that shit, it probably means something. Everything is kind of linked to something in your brain.
CDM: If you wanted a dream interpretation of your lyrics in '10:36' ("Saw you in a dream last night / You looked like a ghost")... apparently if you see someone you know in a dream and they look like a ghost, it means that you feel like you have unfinished business with them.
BEABADOOBEE: HA! Yeah, it's probably why my last relationship ended.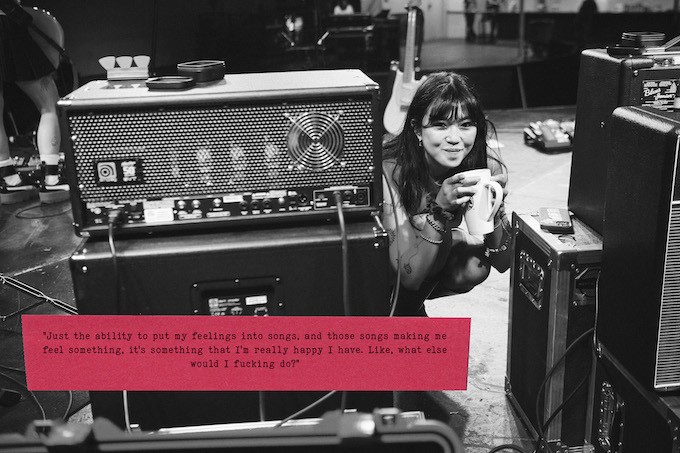 CDM: There's an idea that most people seek a home when they dream - do you relate to that?
BEABADOOBEE: I probably relate to that. It's so weird because all my dreams just kind of erase from my memory within 10 minutes, but in general, like in life, I feel like I'm always trying to find a home. And now that I've got a home, it's great, but I feel like I'm always trying to find a home and I wouldn't be surprised if my dreams are like that too.
CDM: What does home feel like to you?
BEABADOOBEE: Warm and nostalgic. And like a missing puzzle piece. It makes everything make sense.
CDM: How do you feel when you first wake up in the morning?
BEABADOOBEE: I felt really sad this morning. I think I just felt a bit homesick knowing that I'm on the other side of the world and in an opposite timezone. But when I wake up in the morning in London, I just feel really happy and really cuddly. I'm very much a morning person. I love the morning! The first thing that comes out of my mouth in the morning is what I want to eat that day. So I usually wake up and be like: "Pho! I want pho!" Or Tonkatsu, or eggs. It's usually the first thing that comes up; everyone always tells me: "Yup, she wants eggs."
CDM: Lastly, what makes you feel optimistic about the future currently?
BEABADOOBEE: A lot of things make me feel optimistic about the future, like feeling super secure. Right now, I'm just feeling the happiest I've ever felt in a really, really long time. And being able to do music and travel and having my own home. And a cat. I'm gonna get a cat: Mr. Fluffykins. I really want a Maine Coon.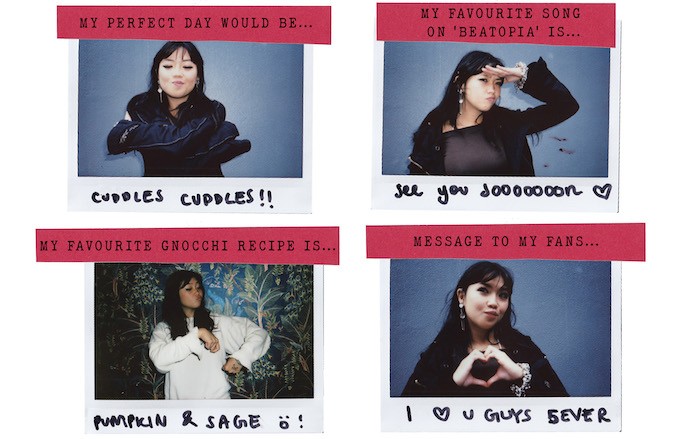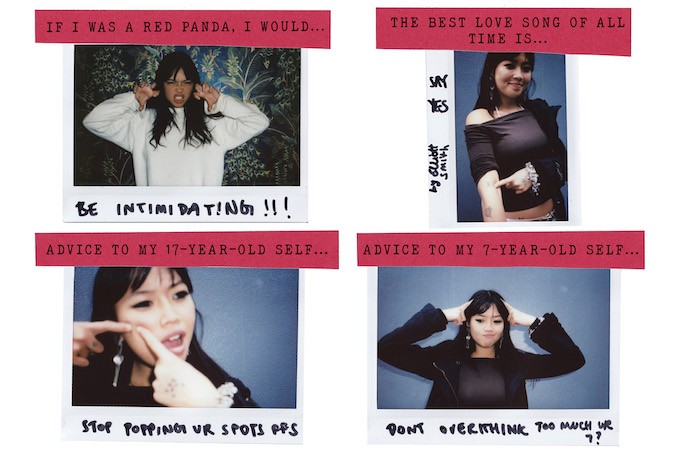 This interview has been edited and condensed for clarity.
Beabadoobee's new album 'Beatopia' is out now.
Watch the music video for 'Talk' below...