Review: Paul McCartney - Mt Smart Stadium, December 2017.
Review: Paul McCartney - Mt Smart Stadium, December 2017.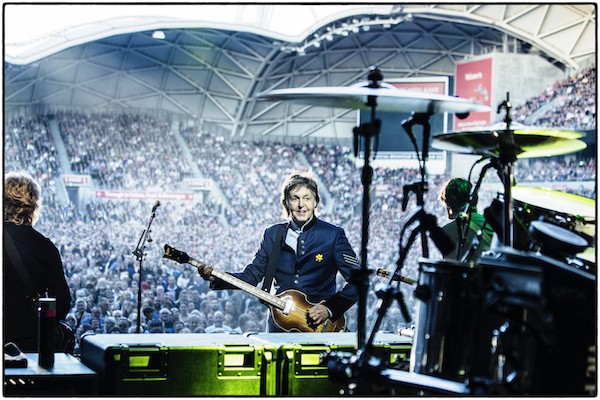 "Wouldn't it be great if he opened with 'I Saw Her Standing There'?" asks the Dad sitting behind me of his friends, who disagree and swiftly retort with, "No, surely he's got to open with 'All You Need Is Love'." And not having the heart to introduce these Paul McCartney fans to the existence of setlist.fm, I listen to them volley song suggestions between themselves for a full half hour in the lead-up to McCartney walking on-stage with a simple salute. This is the kind of heartfelt devotion that Sir Paul inspires amongst his New Zealand faithful, those that have been waiting since 1993 for his return back to our shores, and an adoring audience that will eat up every single B-Side, corny joke, or joyful grin bestowed upon them by McCartney tonight, but who are alas not psychic, as McCartney opens his set with The Beatles classic 'A Hard Day's Night'.
Having astounded audiences in Australia with his seemingly never-ending set, he continued that trend at last night's show, by playing an incredible 40-song repertoire in his performance - 32 in the regular set, and 8 in an encore.
As much as the night was for McCartney, it was full of dedications for others - 'My Valentine' dedicated to McCartney's wife Nancy Shevell, 'Love Me Do' dedicated to George Martin, 'Here Today' an ode to his relationship with the late John Lennon, and a ukulele rendition of 'Something' was a loving tribute to George Harrison. The heartfelt odes were intermingled with McCartney's hypnotic storytelling of back in the day, sharing stories from hanging out with The Rolling Stones, Jimi Hendrix, to the first time The Beatles ever went to Abbey Road Studios.
Between the classics, i.e. a solo 'Blackbird', a psychedelic 'Being For The Benefit of Mr. Kite!', and an emotive 'Eleanor Rigby', McCartney mixed in newer solo music, 'Queenie Eye', and 'New'. However, he acknowledged that he knew why most people were at the show - "We know when you like a song because when we play a Beatles song the crowd lights up like a galaxy of stars with all your phones out... and when we play a new song it looks like a black hole... but we are gonna play them anyway." The show also saw McCartney play his newest collaboration (with none other than Rihanna and Kanye West), 'FourFiveSeconds', with the lyrics cascading behind on the screens for all to see.
Closing his main set with 'Hey Jude', the outro singalong between all 30,000 attendees left the stadium echoing over and over, before a standing ovation brought McCartney back to the stage for an eight-song encore, making the night even more of a once in a lifetime opportunity. Playing The Beatles' classic 'Birthday' song saw McCartney wish many attendees in the audience a happy birthday, before the Auckland & District Pipe Band joined him on stage for a patriotic 'Mull Of Kintyre'.
By the end of the show, McCartney didn't seem phased at all by the three-hour set - a feat that many musicians would struggle with, truly highlighting the legend that he really is. Leaving the stage with a casual wave to the audience one last time, McCartney left the audience in awe of the 75-year-old artist, making it a night that no-one is likely to forget anytime soon.
Set-List:
A Hard Day's Night
Junior's Farm
Can't Buy Me Love
Jet
All My Loving
Let Me Roll It
I've Got A Feeling
My Valentine
Nineteen Hundred and Eighty-Five
Maybe I'm Amazed
I've Just Seen A Face
In Spite of All The Danger
You Won't See Me
Love Me Do
And I Love Her
Blackbird
Here Today
Queenie Eye
New
Lady Madonna
FourFiveSeconds
Eleanor Rigby
I Wanna Be Your Man
Being For The Benefit Of Mr. Kite!
Something
A Day In The Life (with "Give Peace A Chance" outro)
Ob-La-Di, Ob-La-Da
Band On The Run
Back In The U.S.S.R.
Let It Be
Live and Let Die
Hey Jude
Encore:
Yesterday
Birthday
Mull Of Kintyre
Sgt. Pepper's Lonely Hearts Club Band (Reprise)
Helter Skelter
Golden Slumbers
Carry That Weight
The End
Load next